Few chefs have had their next move followed with the level of anticipation that Dan Kluger has experienced since leaving his post at ABC Kitchen in 2014. And now the wait is over for fans of his vibrant, seasonal cuisine, as he opens his new restaurant, Loring Place, in Manhattan's Greenwich Village.
We stopped by to take a sneak peek (and lend a helping hand with some of the stylish finishing touches) just as Dan was gearing up for opening day. Read on for our Q&A about his inspiration for the restaurant's design and cuisine, and step inside the city's most talked-about new restaurant—no reservation needed.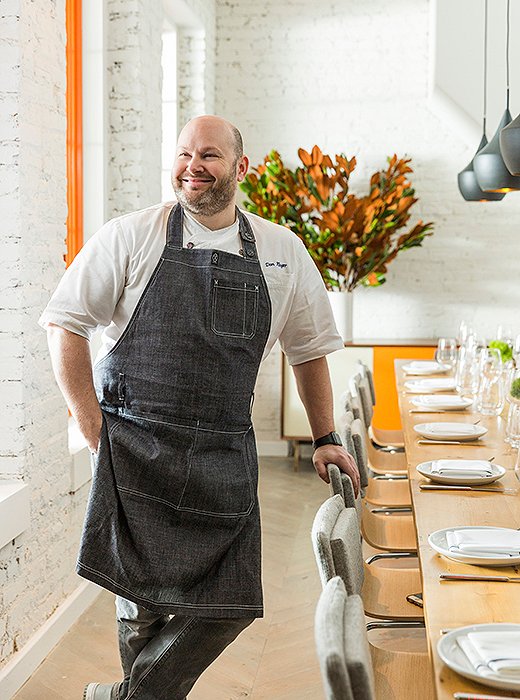 Q: First things first: What's it like to have the most highly anticipated restaurant opening of the year?
A: I wish it wasn't so highly anticipated! I would rather have been able to just open a restaurant and not worry about all of the buzz. But at the same time, it's very nice to be anticipated and for people to be excited about it. I'm obviously excited about it, but that just adds to the anxiety.
Q: You've worked in restaurants with gorgeous design before. What kind of atmosphere did you want for your own place?
A: Warm, comfortable, friendly, hospitable—all those words could be used to describe the atmosphere I wanted. I think they translate into the materials that we selected for the design and the ingredients that we use for the food. Everything takes those same notes in some form or another.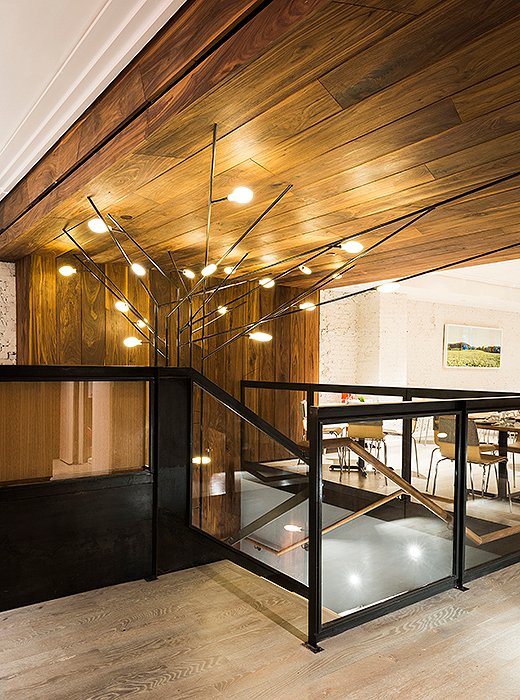 Q: Was there a particular style you were trying to achieve at Loring Place?
A: A lot of it was really based off of the space itself. That guided a lot of the design, but ultimately we really wanted to essentially feature raw materials. We wanted the brick to just be left alone as brick. It really became this process of finding raw materials that had their own character, their own voice, and just putting a polish on it to make them really stand out. It's the same with the food. We take just great raw ingredients, and we either put a tweak or a little twist on it to make it slightly elevated.
Q: Speaking of things that stand out, tell us about the tree sculpture in the stairway.
A: I'd had another space in mind before we signed this lease, and it was opposite a park, so I thought it would be so amazing to bring nature inside. When we got here I still liked that idea, so we started with a sculpture of a tree. The architect and I came up with this idea of using the tree in a very metaphoric sense—the steel became the trunk and the branches, and then these handblown-glass lights became the leaves. It's really fun, especially as you walk down and you see it from different angles.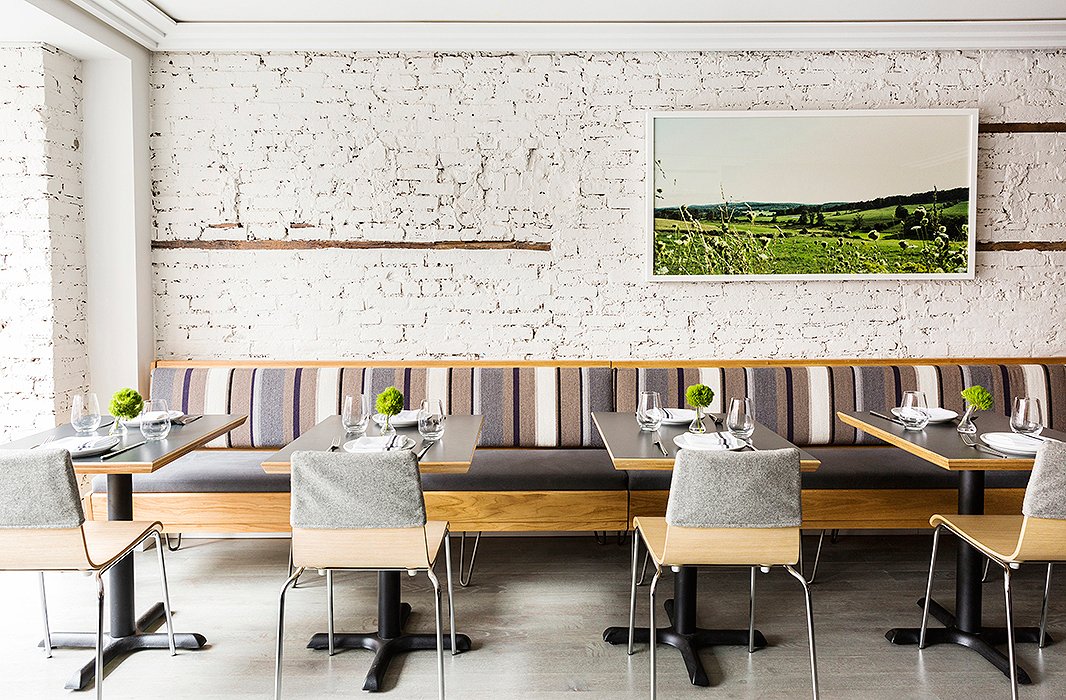 Q: You also brought nature in with the art. How did you curate those pieces?
A: I didn't want to start to have a mini gallery. To me, the people, the food, all of those things become the color, the things that you're looking at in the space. I wanted it to be very simple. I met an art buyer at One Kings Lane, and she agreed to give me a hand with the art.
Q: We love the photograph in the downstairs private dining room. What's the story behind that piece?
A: The architect and I had the idea to have a landscape in the private dining room. We can't get away from the fact that it's in the basement, so again, the idea of bringing some nature and some life in seemed really exciting. One of your art buyers at One Kings Lane introduced me to photographer Christine Flynn. We took her up to a friend's farm in Wingdale, NY, and she shot a whole bunch of different angles of the farm and put it together as a five-panel landscape. She just did an amazing job.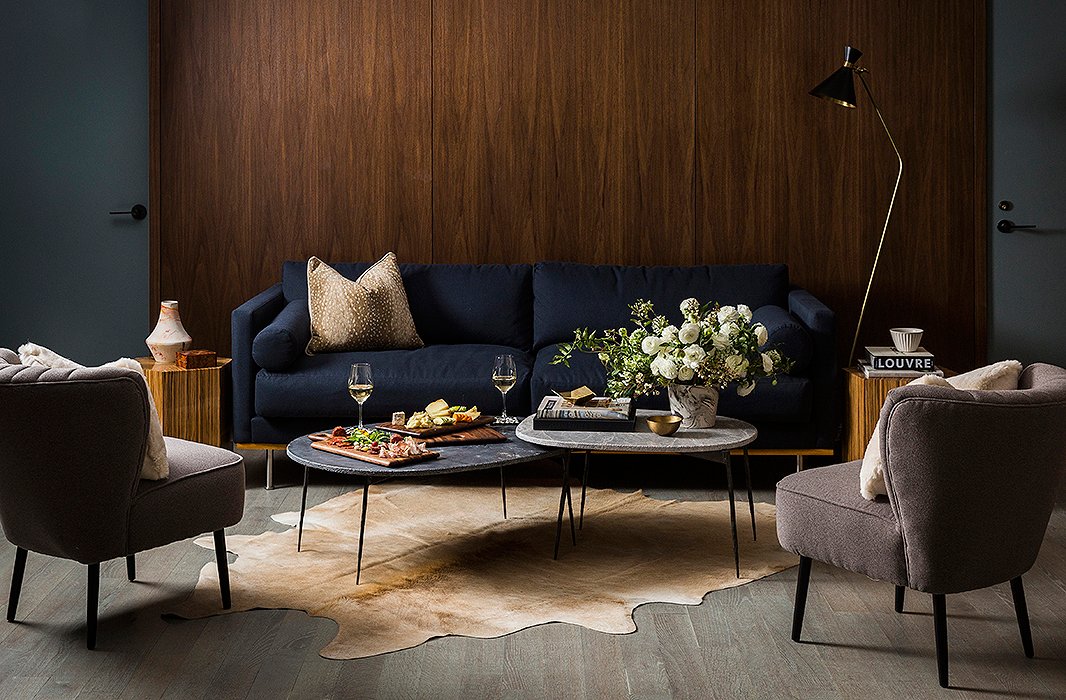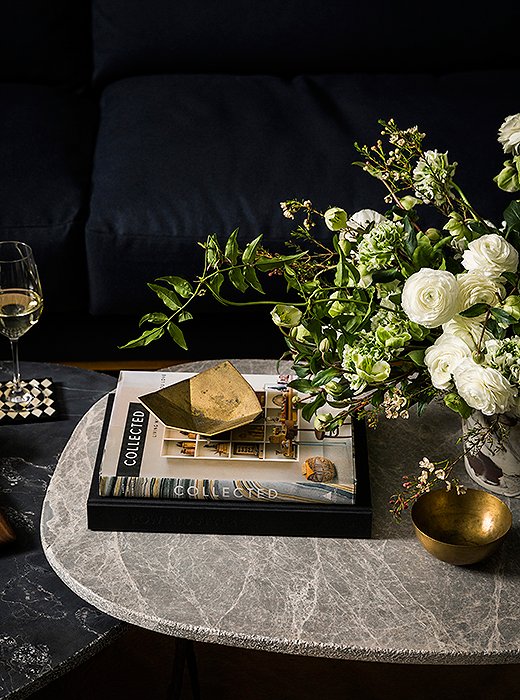 Q: You also worked with designer Nicole Fisher from One Kings Lane Interior Design on the lounge area in the downstairs private dining room. What was that process like?
A: It's a fairly large private dining room, and I didn't really want to do a retractable wall for smaller parties—I liked the idea of this one big open space. In talking with Nicole and your team, we came up with the idea to create a lounge area and to try to make it a little bit of an extension of the home and play off this warm and comfortable mentality that we wanted to create. I think it's really exciting that you can come and do dinner for 30 or 40 people but start your night sitting on a couch with a drink in your hand while somebody passes you some hors d'oeuvres.
It really became this process of finding raw materials that had their own character, their own voice, and just putting a polish on it to make them really stand out. It's the same with the food.
Q: The upstairs private dining room is also amazing. How did all those elements come together?
A: We have this great fabric wall and Tom Dixon lights with a brass interior. I knew I wanted something to play off of that. One of the first things I saw was the Arthur Krakower piece that's right when you walk into the One Kings Lane offices. I thought right away that something like that would be perfect for this room. We found three pieces that really worked in the space.
Q: There are so many great details throughout, particularly in terms of color. How did you want to use color?
A: I wanted to be able to have one or two pops of color, and orange being one of my favorite colors, I knew I'd want to use that somewhere. I knew that the windows needed a pop, and I just thought, for me, orange is a really fun and warm color.
Delicious Recipes from Dan's Menu!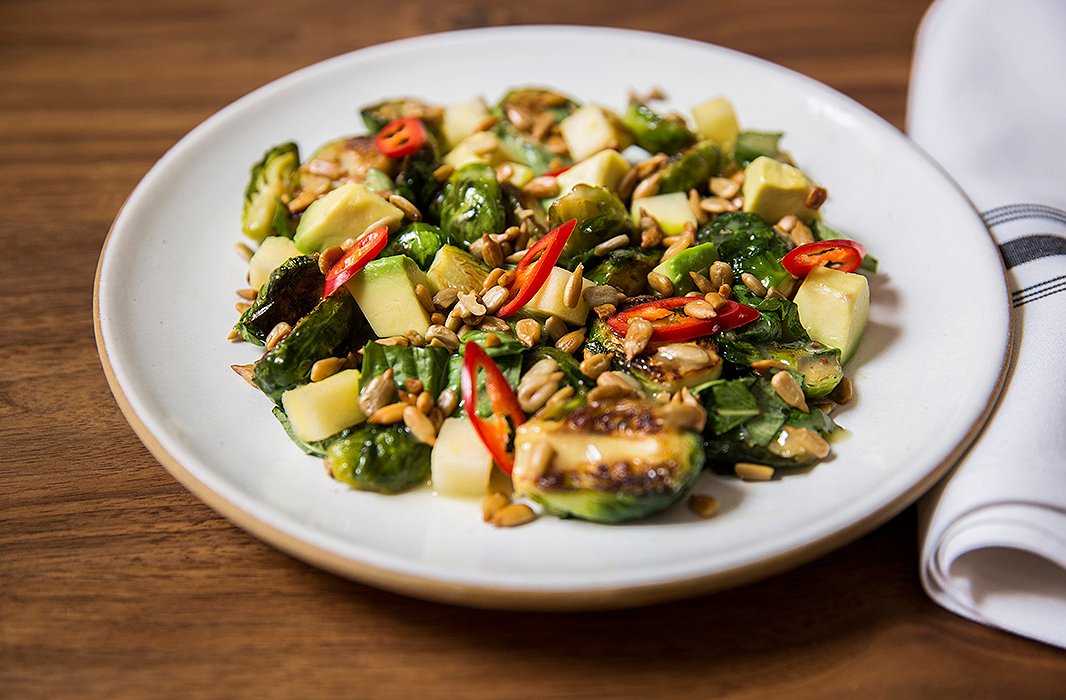 Roasted Brussels Sprouts, Avocado, and Apples
"This is a salad we've been doing for a while, and it's very seasonal. I really like its play on textures and flavors."
For the brussels sprouts
Ingredients:
2 cups medium-size brussels sprouts
1/4 cup extra-virgin olive oil
1 tablespoon kosher salt
Directions:
Fill a small pot with water and bring it to a rapid boil. Blanch brussels sprouts in small amounts for approximately 2 minutes or until tender but not fully cooked. Shock in iced water, dry on towels, and cut in half.
Preheat oven to 400 ̊F. Heat a sauté pan. When pan is hot, add olive oil, brussels sprouts, and salt. Place pan in oven and roast for about 5-8 minutes, stirring occasionally to make sure sprouts are evenly roasted. Remove from the oven and transfer onto a tray lined with paper towels.
For the dressing
Ingredients:
1/2 cup lime juice
1/4 cup champagne vinegar
1/4 cup extra-virgin olive oil
1 tablespoon Dijon mustard
1 teaspoon whole-grain mustard
2 teaspoons honey
1/2 teaspoon Tabasco
2 teaspoons kosher salt
Directions:
In a mixing bowl, combine ingredients and whisk until evenly mixed.
For the dish
Ingredients:
1 tablespoon extra-virgin olive oil
1/2 cup basil, picked and rough-chopped
1/4 cup mint, picked and rough-chopped
2 tablespoons sunflower seeds, toasted
1/2 red Fresno chili, thinly sliced with seeds
1 large avocado, halved and cut into 1/2″ cubes
1 Mutsu apple, quartered and diced into 1/2″ pieces with skin and held in lemon water
3 tablespoons dressing
zest of 1 lime
coarse Maine sea salt
freshly milled black pepper
Directions:
Heat the same pan the brussels sprouts were roasted in on medium-high heat. Add olive oil, and quickly fry basil and mint leaves. Add sunflower seeds and chili slices, and toss. On a platter, plate brussels sprouts and evenly sprinkle avocado and apple. Drizzle with dressing, and top with the mix of herbs, sunflower seeds, and chili. Finish with lime zest, sea salt, and black pepper.
Bee's Knees Cocktail
"The Bee's Knees is a pretty common cocktail, but we use a local gin and a local honey. Again, it's really trying to find exciting ingredients that really speak to us and to what we do and putting our twist on it."
Ingredients:
1 ounce honey water (see below)
1 1/2 ounces Barr Hill Gin
3/4 ounce freshly squeezed lemon juice
lemon twist for garnish
Directions:
To make honey water, mix 1 cup of honey and 1/4 cup of hot water. The water should be hot enough to mix with the honey so that it makes a syrup. Pour an ounce of the honey water, the gin, and the lemon juice into a shaker with ice. Shake vigorously, then strain into a glass. Garnish with a lemon twist on the edge of the glass.