With a list of clients that includes Jessica Biel, Patrick Dempsey, and Lea Michele and a newly opened West Hollywood hot spot (Au Fudge) garnering much buzz, fashion stylist, interior designer, and restaurateur Estee Stanley has a firm grasp on Los Angeles. About a year ago, she decided it was time to embark on a new territory: the Hamptons. The mother-of-two and her husband, filmmaker Bryan Furst, bought a summer home in what she lovingly calls her "happy place": Sagaponack, NY.
This spring the designer teamed up with One Kings Lane Interior Design to transform the screened-in porch, one of the most highly trafficked areas of her home, with a collection of sprightly pieces that were made for summer. Here, Estee tells us more about what she envisioned for the space, which is featured in the latest issue of Better Homes and Gardens. Read on for a sneak peek.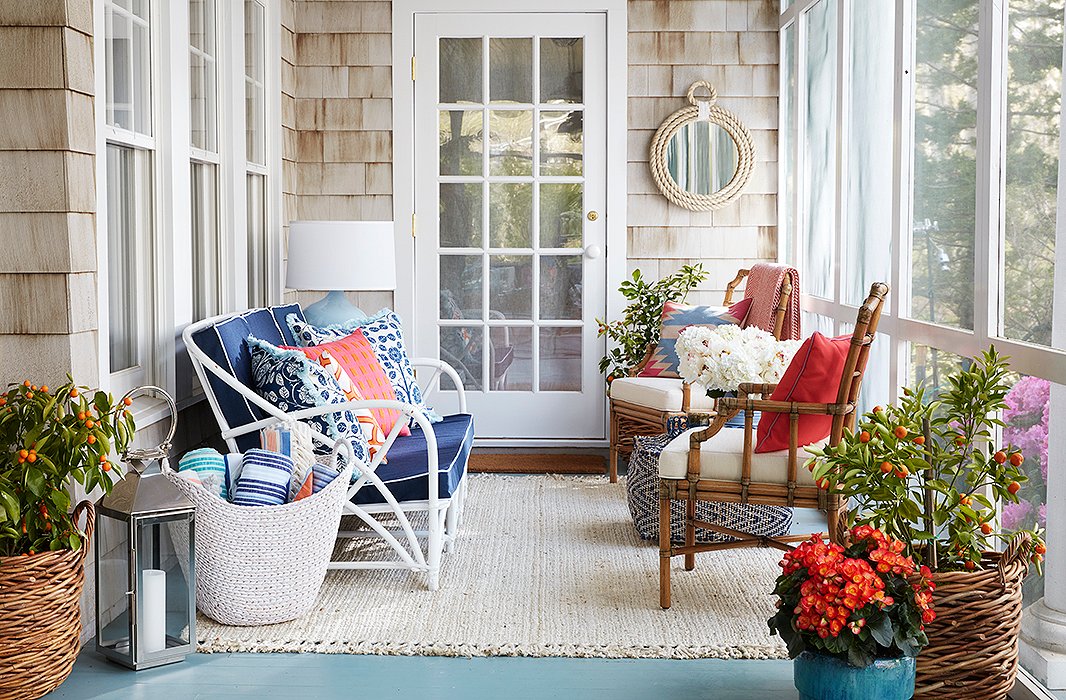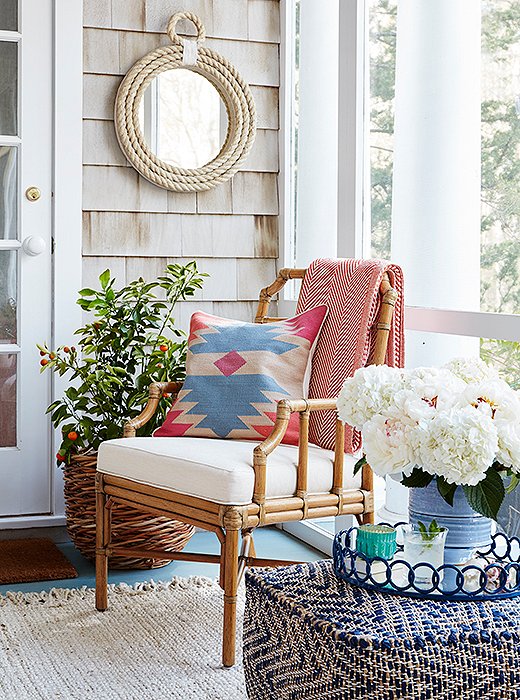 Dual Purpose
When we speak with Estee, our conversation is punctuated by children imploring Mom for snacks. "That's not gluten-free—nice try," she tells them before returning to us: "Sorry, I have, like, seven kids in my house right now." The quick sidebar sets the tone for the spirit of the space, where children are likely running barefoot and entertaining is routine. For her porch, the designer envisioned a place "where during the day, people would want to just hang out and chill all day long, and at night, where you would want to have a party," she says.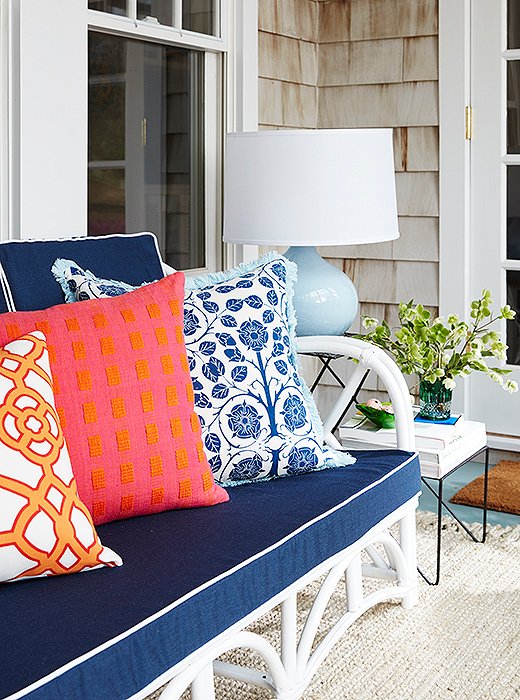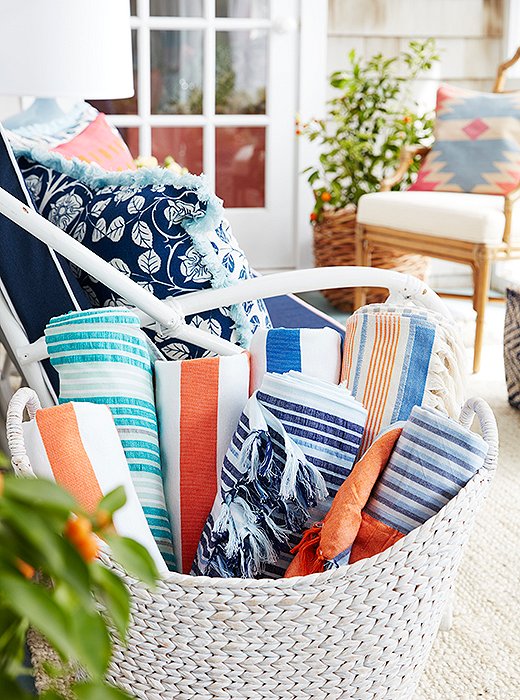 A Deviation in Style
The designer decided to steer away from her usual palette of neutrals and soft, dusty shades toward a preppier selection of navy blue, white, and pink. "I think because I'm so muted in L.A., and the Hamptons, I feel, is so colorful and preppy, I wanted to kind of go in that direction, especially since the rest of my house is very muted," she says. "I wanted it to feel lively and vibrant and colorful out here."
Collaborating with the in-house designers from One Kings Lane, Estee talked through what she liked and what the Interior Design team thought would work well in her space. She eventually settled on a selection of casual furniture pieces in navy, white, and cream, complemented by colorful accessories.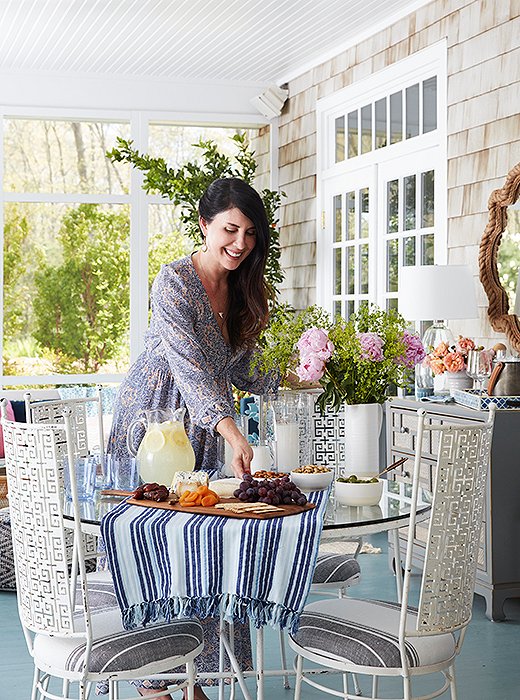 I wanted a place where during the day, people would want to just hang out and chill all day long, and where at night, you would want to have a party.
Mixing It Up
The porch's personality comes to life through a spirited mix of patterns, from pillows with kilim, floral, and trellis prints to a floral club chair to a bone-inlay tray with a Moorish design. "I just tried to be really out of my comfort zone and pick as many pink and blue patterns, hoping they would all go together well," Estee says. "Hopefully they did. I'm really not used to doing that much color together. It just felt like fun. I was kind of imagining doing my daughter's room. It was going down that path."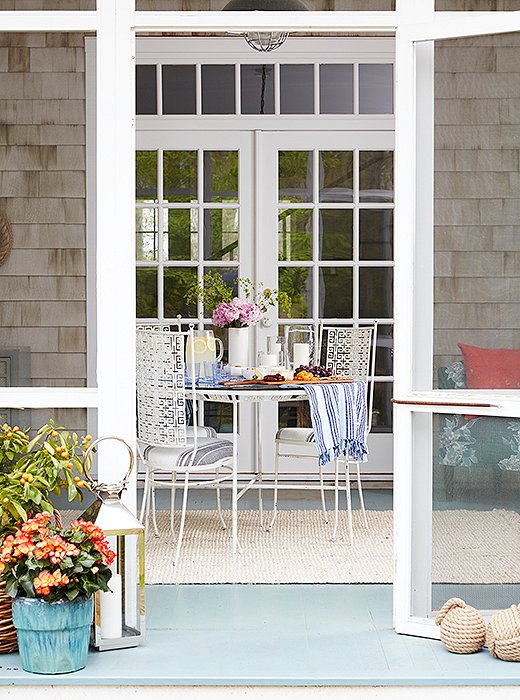 I love it. It's such a great room. And we've already had so many parties here, especially at night. Everyone really loves it.
Rules for Outdoor Decorating
Though screened-in, her porch is no stranger to children in damp swimsuits and guests fresh from the beach. When decorating for the outdoors, the designer looks for materials that "can withstand a lot of wear and tear" but are also comfortable. She recommends patterns and darker colors, "which let you get away with more staining." And since a space like this one is in use from dusk 'til dawn and dawn 'til dusk, "it has to be very multifunctional for day and night."
Estee loves the redesigned porch so much, she says she rarely leaves it. "I haven't gotten off the couches. Everybody really, really loves it. We've had so many parties here already, especially at night. Because it's so bright and colorful, I was nervous that it wasn't going to shift into night very well, but it really has. It's great."