When television personality and fashion designer Whitney Port moved her business into her father's office six years ago, redoing the space was not her priority. "We're a family business. I work with my brother and sister," she says. "As a small company, our efforts were not in decorating." As in other traditional executive offices, filing cabinets, a bulky corner desk, and the requisite task lamp dictated the decor. Now that her line, Whitney Eve, is an established brand, we felt it was time she had a space to be proud of.
When you're giving a friend decorating advice, you usually learn something in the process. Such was the case when we stepped in to redo Whitney's office. Revamping her workplace revealed a slew of ideas that we realized can translate to just about any living or work area. Below, tour Whitney's bright and modern redesigned space and steal some of our decorating tricks for your own home.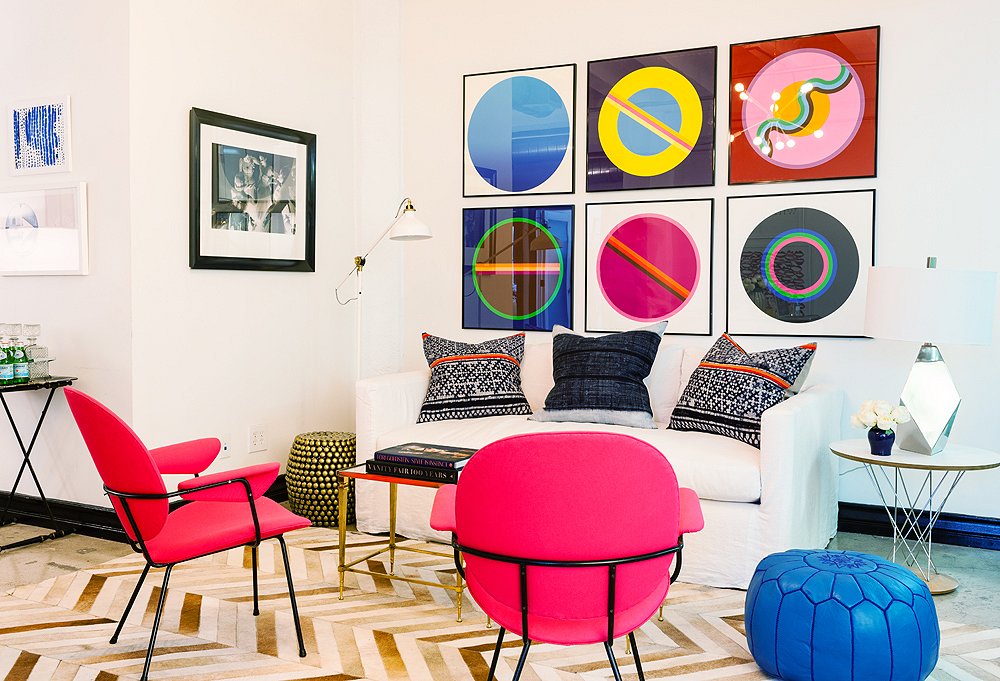 Tip No. 1: Shop According to Scale
One of the biggest issues in Whitney's office? The furniture was all too big. We replaced an oversize leather couch with this straight-sided white sofa. Choosing a deep seat over a wide silhouette allowed for the same amount of seating in a slimmer, more comfortable style. The poufs and stools provide even more seating while taking up little space.
Tip No. 2: A Good Dresser Can Live Anywhere
Since they're traditionally used in our most personal space—the bedroom—dressers bring the comfort of home to any place you put them. While it might not seem appropriate to have a dresser in a company office, Whitney says the new furnishings "have people acting more relaxed." In case you're wondering, all those drawers and cabinets store cleaning and office supplies.
Tip No. 3: Simpler Can be Better
Another issue with Whitney's office pre-makeover? Dark furnishings and lack of light. The obvious solve was to make everything superwhite to promote a feeling of lightness. We also realized, though, that in a white room we didn't need to layer on much more for it to feel decorated. The Pendleton fabric on the chair, the chinoiserie pattern on the garden stool, and the modern print behind the desk added more than enough color and pattern to feel stylish.
Tip No. 4: Any Blank Wall Can Become A Bar
So often we encounter blank wall space and aren't sure what to do with it. Why not add a drinks tray? With or without alcohol, a refreshments hub instantly turns a room into a place to casually entertain. The best part: A tray and a stand are all you need to make it happen.
Tip No. 5: Showcase Rather Than Hide Storage
Naturally Whitney's office features clothing on racks—she is a fashion designer, after all. Since we're forever in need of more room to store clothes, these rolling racks got us thinking that maybe more closet space is not what we need. Whether it's for coats in the foyer or your best dresses in the bedroom, take a tip from this fashion studio and let it all hang out.
Tip No. 6: You Need Only A Great Table And Chair to Work
Whitney's original desk was classic executive style full of drawers and filing cabinets, with a rolling chair to match. By bringing in an industrial worktable, topped with rustic wood painted in a modern gray, and adding a wingback chair(that just happened to have wheels), we created a dreamy office using absolutely no "office" furniture at all.
Tip No. 7: It's Okay for Art to be the Same Size
We didn't actually intend for all the art to be roughly the same size on this floor-to-ceiling gallery wall. Whitney already owned some prints from One Kings Lane; as we added complementary artwork, we focused on increasing the impact of the visuals rather than worrying about varying the size of the art itself. To break up any feeling of monotony, we added a circular mirror as the central focal point.
Tip No. 8: If One Rug Doesn't Fit, Try Two
Fall in love with a rug but it's not the right size? Why not fall in love with another and pair them up? While we're big fans of layering rugs on top of one another, here we only slightly overlapped a tie-dyed style and a Moroccan rug to fully cover the cement floor. Remember to use superthin rugs, like dhurries, to make it work.
Tip No. 9: You Need Less Storage Than You Think
In the age of digital archiving, offices certainly don't need all those clunky filing cabinets, and the same goes for your home. Why save photos and papers when you can scan and store them on your computer? Then pick one serious storage piece, like this dramatically tall étagère, to house the things you're left with. Most of what's left will likely be books and personal objects you'll want to display rather than hide.
My father recently passed away, and we were keeping everything as it was for the sake of holding on. It wasn't until One Kings Lane came in and helped me let go of things that we were able to move forward. It's nice to walk in every day with a fresh perspective.