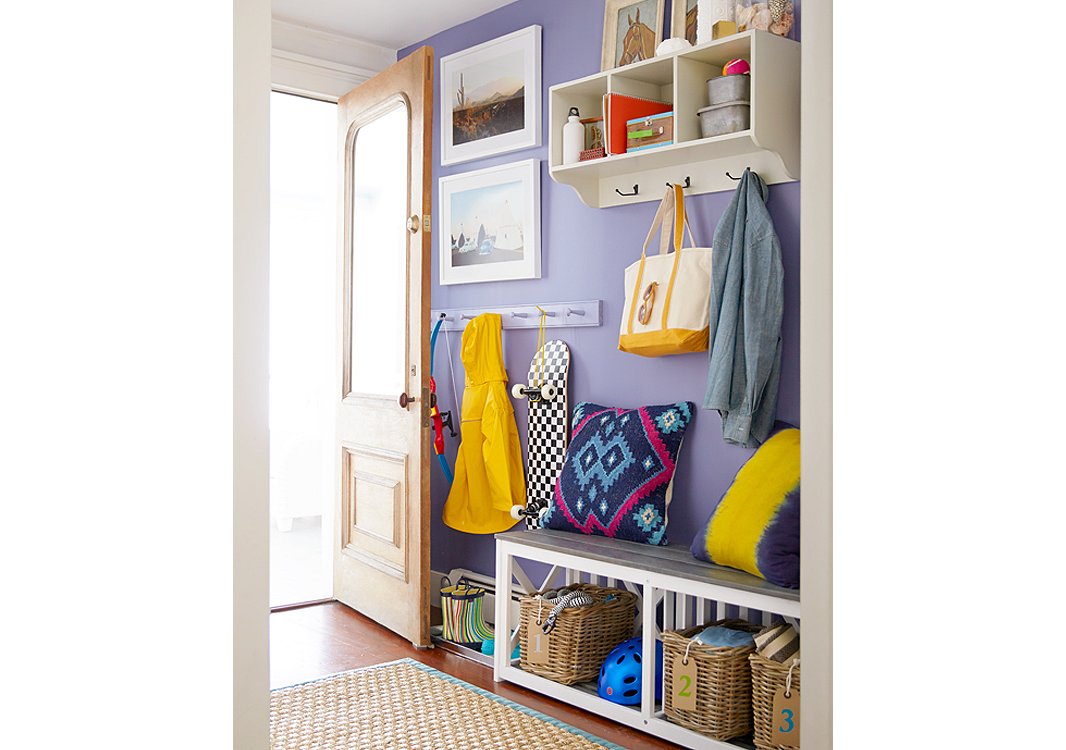 Don't let the name fool you; a mudroom has serious style potential. Our stylists used some of their favorite decorating tricks to revitalize the mudroom of one lucky staffer, and the result is a space that feels more finished and is definitely more functional.
1. Fake a Closet
Use peg racks, hooks, and bins to create custom storage options for every family member. Hanging some hooks at a kid-friendly height will make it easy for them to handle the hanging themselves. A bench helps ground storage bins, even if they just sit in a tidy row on the floor underneath.
2. Wake Up the Walls
Even a busy utility space craves decor. The addition of a few paintings or photographs instantly makes the area feel more polished and considered.
3. Get Comfy
Pillows on a bench make sitting to take off boots more cozy while adding a splash of pattern and pizzazz. Since the mudroom one of the more hectic rooms in the house, it's best to stay away from delicate fabrics like silk. Our stylists love the durability and pattern of a kilim pillow.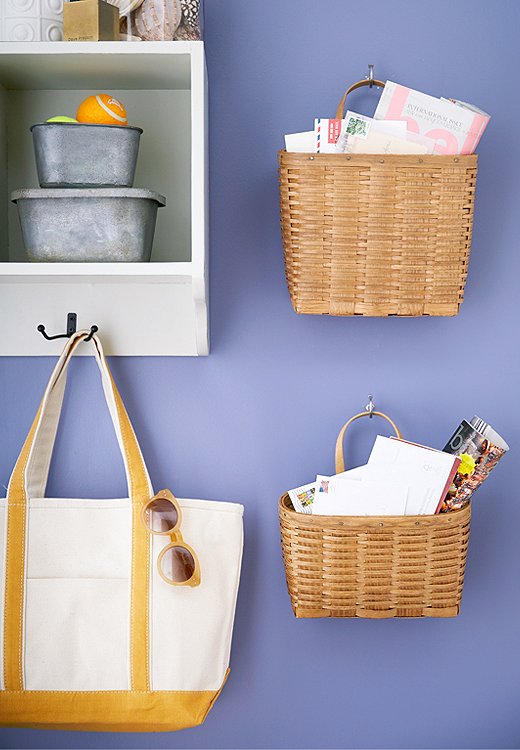 4. Mail Control Center
Give yourself a place to sort (and discard) mail as soon as it arrives and before the inevitable piles start. Having two designated areas, one for recycling-bound bits of mail and one for important letters or bills, also ensures that party invites or (dare we say) tax information won't sit buried among catalogs for weeks.
5. Use Flexible Storage
Bins and baskets are your friends year-round, but what you store inside may change. A basket that holds books during the school year can hold beach toys in the summer. Hooks can hold umbrellas just as well as they hold damp beach towels.
6. Shoe Spots
Not a fan of muddy footprints? A tray or a mat keeps footwear neat and dry and prevents dirt from getting tracked into your house.
7. Minimize Mess
Get a durable outdoor or sisal rug to dress up the space while trapping dirt as it comes in the door.
8. Key Plan
Rows of hooks near the door make it easy to establish a keys-go-here routine.
9. Do It in Any Space
Don't have a built-in mudroom? Don't worry. With the right pieces (a bench, wall-mounted cubbies, a slim cabinet), the smallest entryway can be turned into a high-functioning space.
10. Custom Cubbies
By Number: Create a simple system with a stamped number on a tag. Dad's #1 and so on…
By Picture: Photos of the kids' faces on bins will help them remember where their hats go.
By Color: Mark bins with a stripe or a circle in each person's favorite hue.