Getting away from it all can be as simple as escaping to your balcony, patio, or poolside—especially when you're lazing among pieces from the One Kings Lane Outdoor collections. Available nowhere else, these outdoor furnishings let you live your style alfresco.
In addition to two popular assortments from last year, we're introducing three new collections this season. All are carefully crafted of weather-resistant materials designed to last for years. Not sure which is right for you? Think of where you'd like to while away your summer to find the collection that will transport you there without your having to leave home.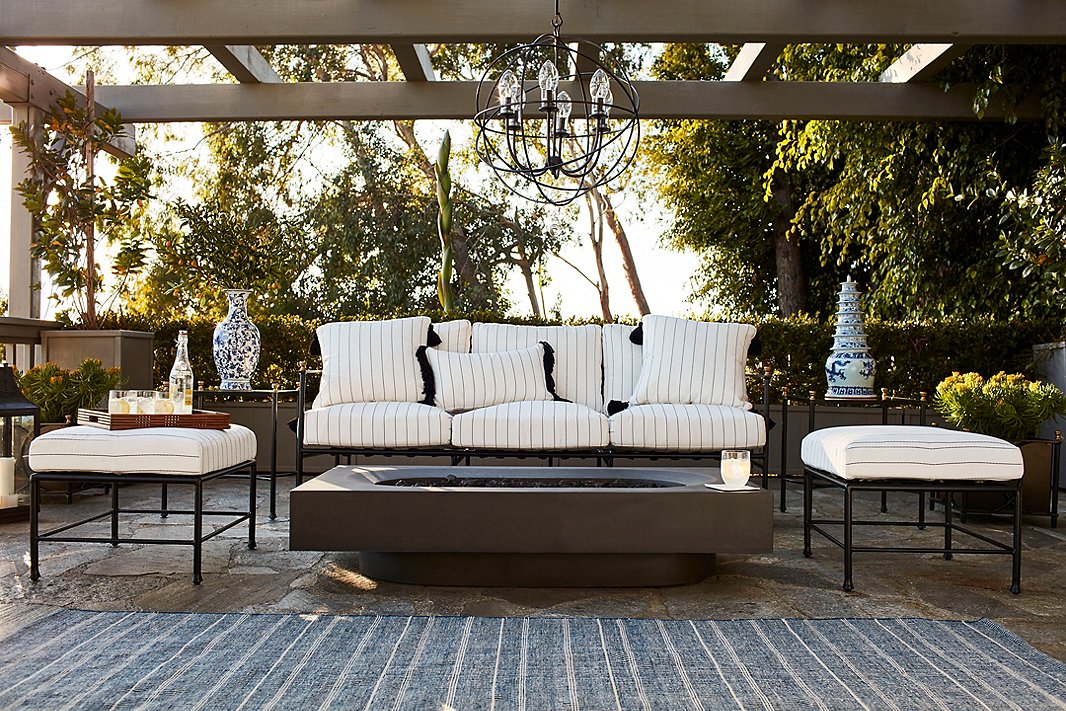 Dreaming of Paris?
Inspired by the elegant wrought-iron designs of Belle Époque France, the Frances Collection was our top-selling outdoor assortment last year. The graceful frames appear to be made of iron, but they're actually constructed of durable powder-coated aluminum, so you don't have to worry about rust, and you can easily move them in and out of the sun or the shade. (The chaises even have wheels for that reason.) This year we've added planters to the assortment, which already included chairs, dining furniture, sofas, ottomans, and tables. The colorfast, mold-resistant pillows and cushions are just as chic as the frames, with tassels, fringe, and contrast welting providing a dash of Parisian élan.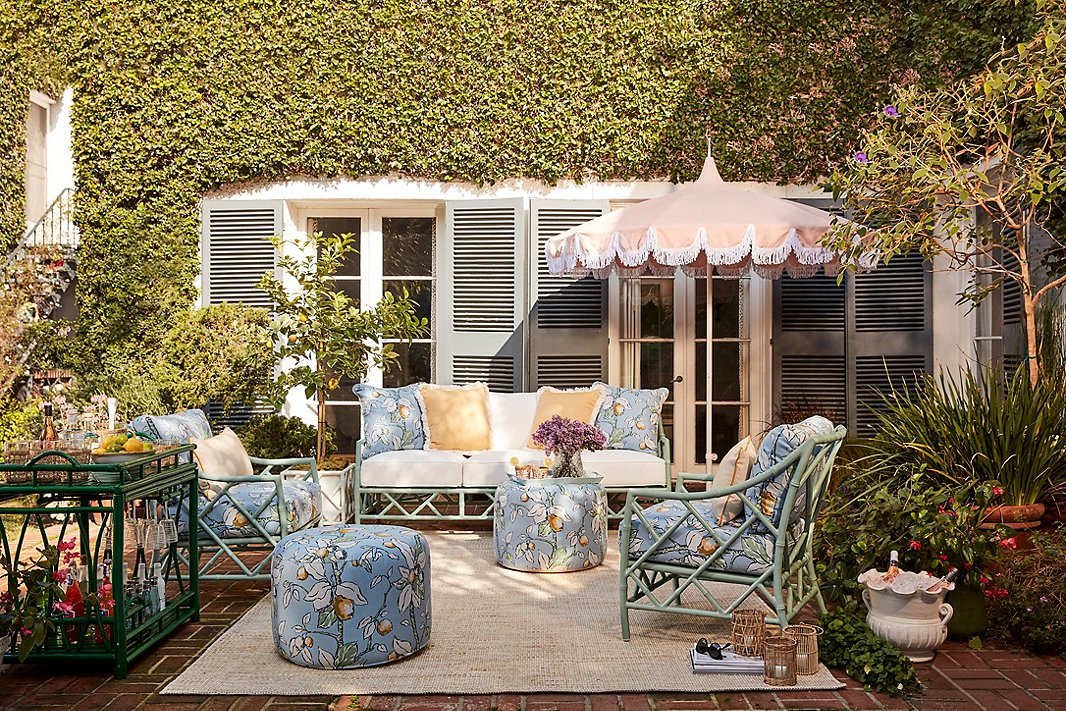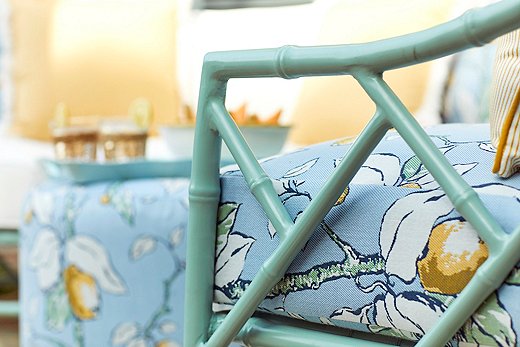 Longing for Palm Beach?
The Celerie Kemble Kit Chippendale Collection, created by the celebrated designer exclusively for One Kings Lane, is also back by popular demand. The fretwork frames resemble bamboo, in keeping with the Chinese Chippendale inspiration, but they're made of aluminum lacquered in sleek white, flirty celadon, and new this year, a woody brown. Also new to the collection are planters along with poufs and pillows in yellow-and-white stripes and navy-on-white dots. All the cushions are mold- and soil-resistant, of course, so though they look luxe enough to place on your living room sofa, they'll stand up to the elements just fine.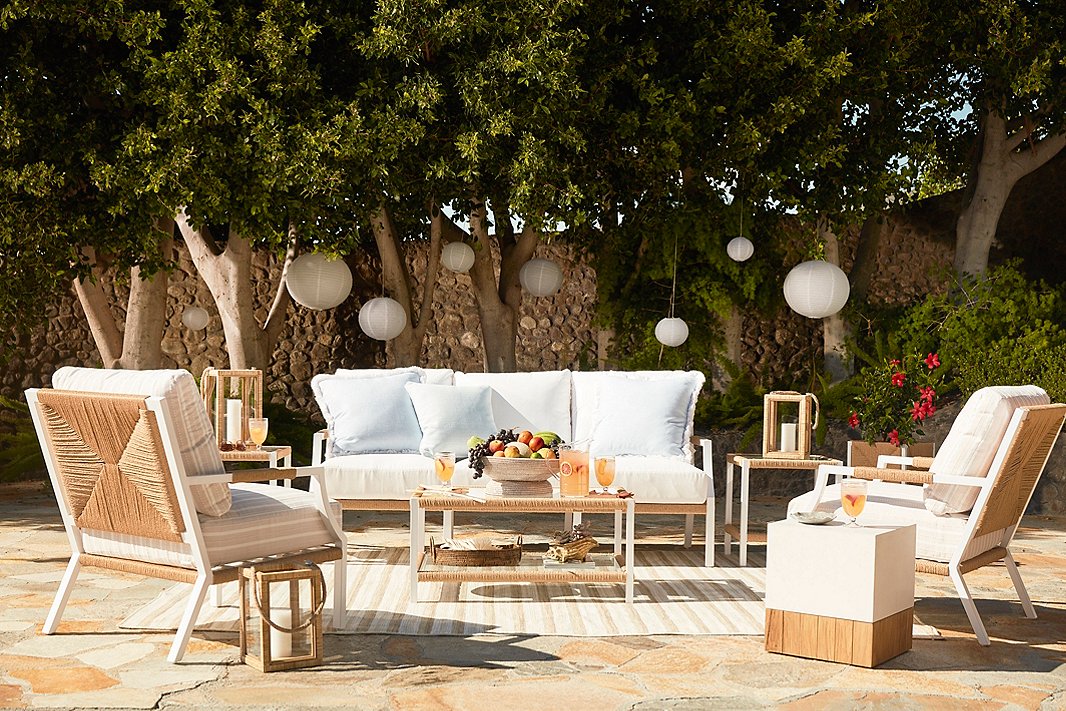 Eager for the Hamptons?
New this year, the Harper Collection marries tailored silhouettes with the organic texture of woven rush. The chairs and sofas feature handwoven trim and seat backs that ensure the pieces look smart from every angle. The tables are trimmed with the wicker too, as are the planters. Unlike natural wicker, which can take a battering from rain, sun, and wind, the resin wicker we used here looks like the real thing but is impervious to the elements. Solid and striped cushions (we especially love the white-on-black pinstripes) add to the natty effect.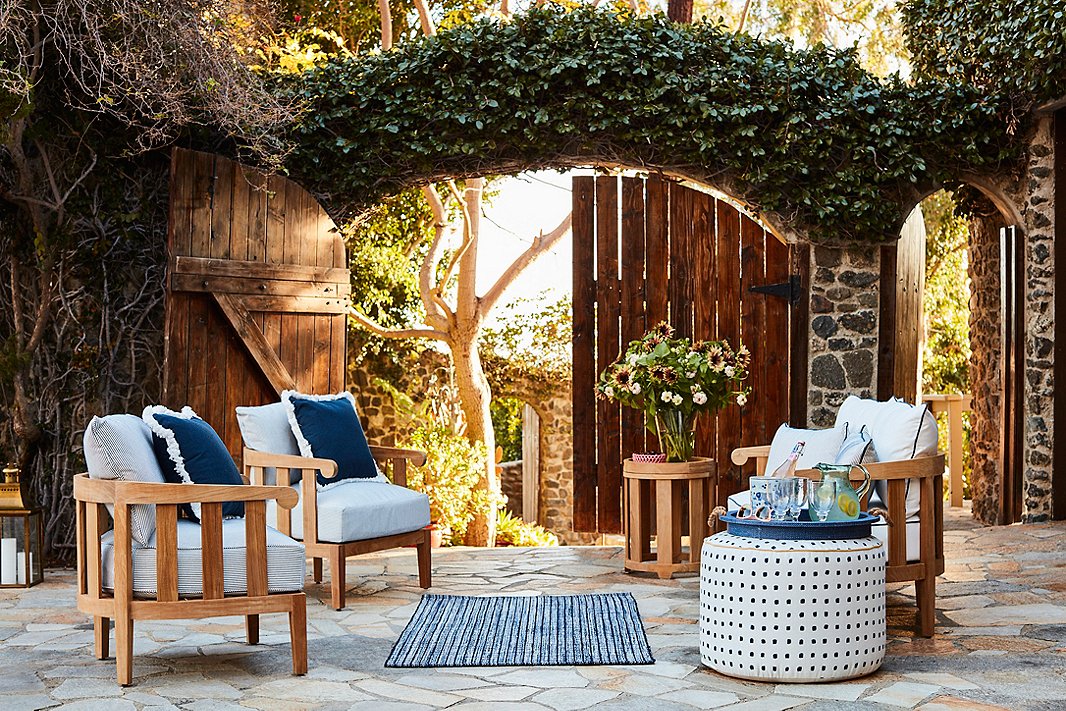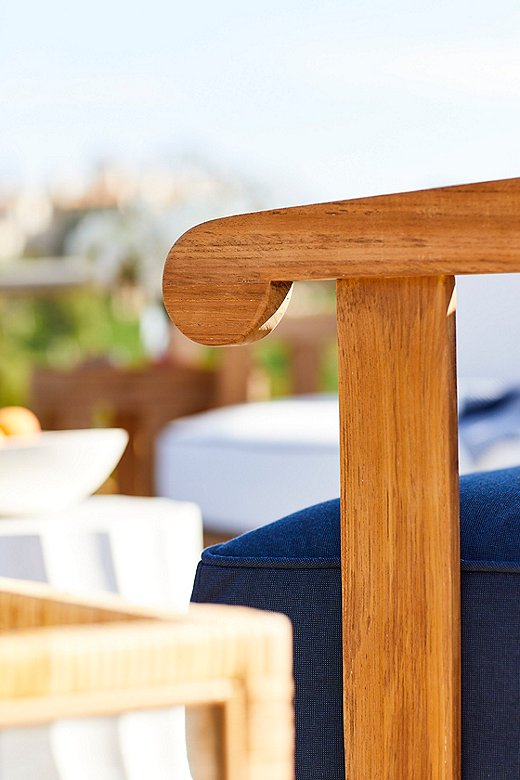 Fantasizing about Bali?
A major export of Indonesia, teak is perhaps the ultimate natural material for outdoor furniture. Not only is it one of the strongest hardwoods, but its natural oils repel termites and other insects, and it's highly resistant to moisture, so you needn't worry about warping. Buy a teak outdoor suite now, and your children and grandchildren will likely be able to enjoy it decades from now. Our new Highland Collection is made with grade-A teak, the highest quality available; its smooth curves and strong lines show off the dense grain to perfection. Much of the assortment has been scaled to fit well on apartment balconies and in other small spaces. Perhaps our favorite piece is the Highland Side Table; topped with a removable tray, it's ideal for entertaining outdoors or in.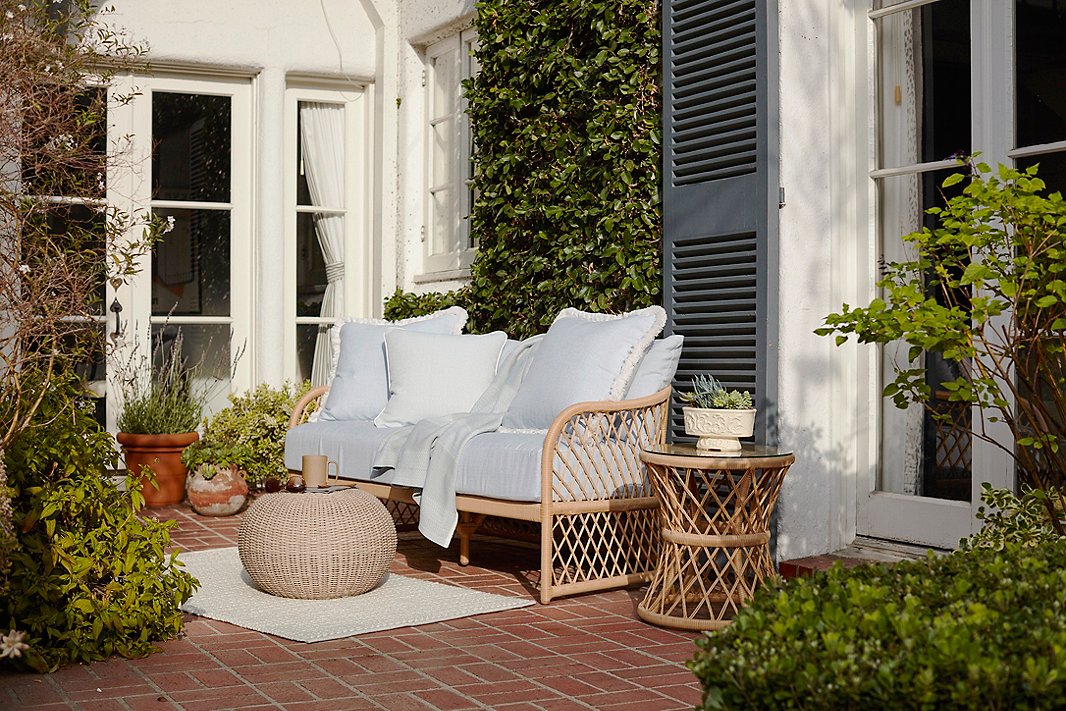 Yearning for Tulum?
Like the Harper Collection, our Carmel Collection is made with handwoven, UV-resistant resin wicker. The looser weave and curvier silhouettes, however, give this furniture a more laid-back, boho appeal. Don't be fooled by the seeming delicacy of these pieces: The frames beneath the wicker are made of steel-reinforced aluminum, and all the hardware is stainless steel. The tightly curated collection consists of a lounge chair, a loveseat, and a side table, all of which are perfectly scaled for even the most compact balconies and porches.