Gabby Malpas has been creating works of art for three decades, but it wasn't until 2014 that she finally called herself a full-time artist. Hailing from New Zealand and now based in Sydney, Australia, Gabby paints intricate watercolors of the flora and fauna that surround her, each imbued with rich symbolism—and just a touch of fantasy. "I wanted to make the viewer look again—something unexpected to catch their eye," says Gabby. Below, she shares the inspiration behind her work, her guilty pleasures, and what it takes to find (and maintain) her artistic mojo.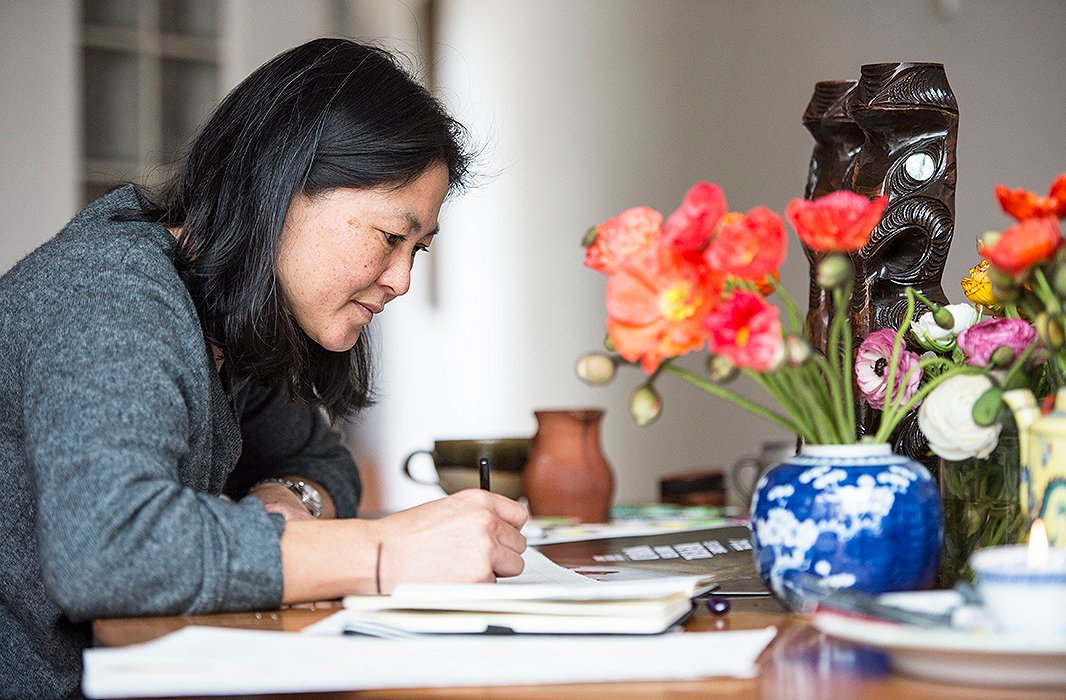 One Kings Lane: How would you describe your current style?
Gabby Malpas: Definitely a fusion between Western and Chinese styles. There is more than a splash of botanical art thrown in too.
What's your process for creating a piece?

I call my creative state my mojo. I think every artist can relate that the mojo is a fickle thing: Some days it's there, and some days you're just not feeling it. I've learned not to stress about that but to go with the flow.
These days I always have a list of creative projects I set myself—whether it's new work for a show or for licensing clients, collaborations, or experimental pieces I make to further ideas for a new direction. Because I generally try to paint every day, I have trained myself to work through my projects until completion.
The first thing I try to do is make sure my space is ready. I'm not tidy at all, but I try to declutter the studio as much as possible and to have my worktable mostly cleared and ready for work.
I have a series of notebooks, and I will often draw very rough sketches or ideas that I refer to when starting work. I take these notebooks to museums, to gardens, and to places I go to for inspiration or when traveling. I also take a lot of photographs; while I draw plants from life, they will often fade and die before I've completed the work, so I take photographs of how the plants "go." I feel it is important to know as much as possible about the plant structure—enough that a gardener will know what they are, but with enough artistic license to make it my own.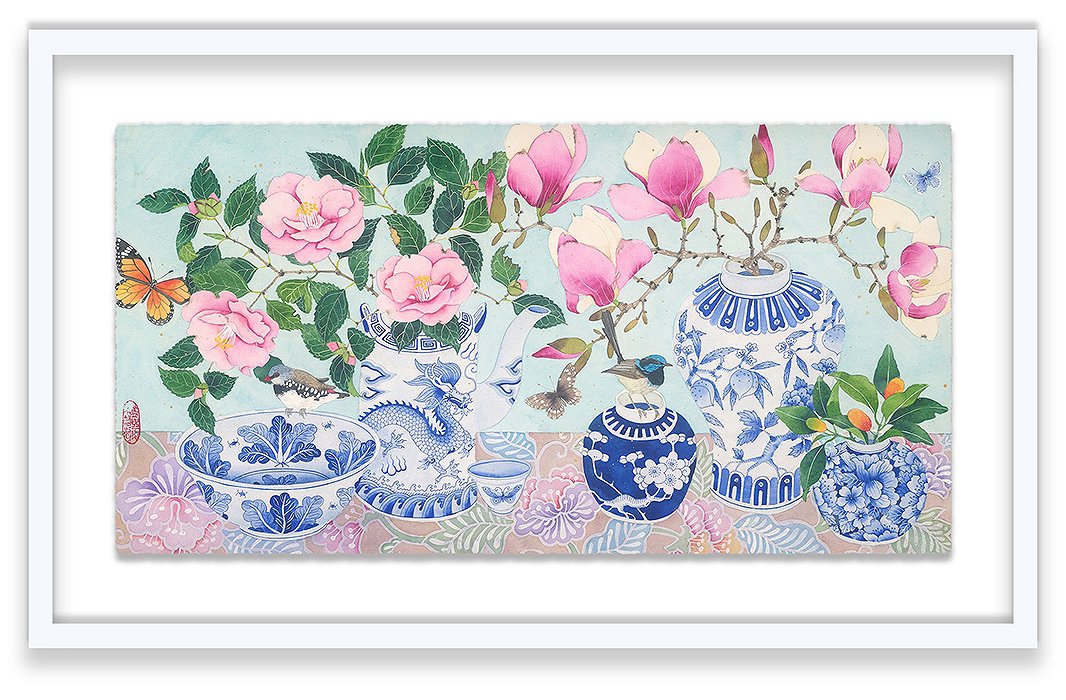 What is your creative space like?

My studio used to be the kitchen table. Now I have a dedicated studio, which is a spare room in my house. It is next to a small courtyard filled with plants that I have painted—or will paint—and I'm connected to the outdoors that way.
What's your ideal working environment?
I'm definitely a studio painter. I mostly work with a laptop in the background as I use stored photos for reference, and I'll also answer emails. I sometimes have some music or, lately, old TV shows playing in the background. Usually I work in silence, but not every day.
I used to work best in the early mornings, but now I am finding that toward the end of the day I'm most productive—that's when everything generally starts coming together and I finish pieces. I am usually working on a number of pieces; some take longer than others, because "mojo." I find that quite often I have an idea in my head for months or even years but somehow don't get it down on paper or canvas until, bingo, one day it happens.
Don't judge me, but about a month ago I got really nostalgic for '80s American sitcoms that we used to watch at home in New Zealand… I started with The Golden Girls and am halfway through Maude (I never watched it in the '80s, it was too risqué for us), and I am also halfway through The Mary Tyler Moore Show. Some of the writing on those shows is just fantastic. I'm also a big fan of '70s/'80s disco and house music circa 1995, so sometimes I have that playing in the background too.
I wish I could say I'm a little more highbrow—but nah, that's it really. Around 6:30 to 7 p.m. I shut down work for the day. I make dinner, then it's sofa time and Netflix!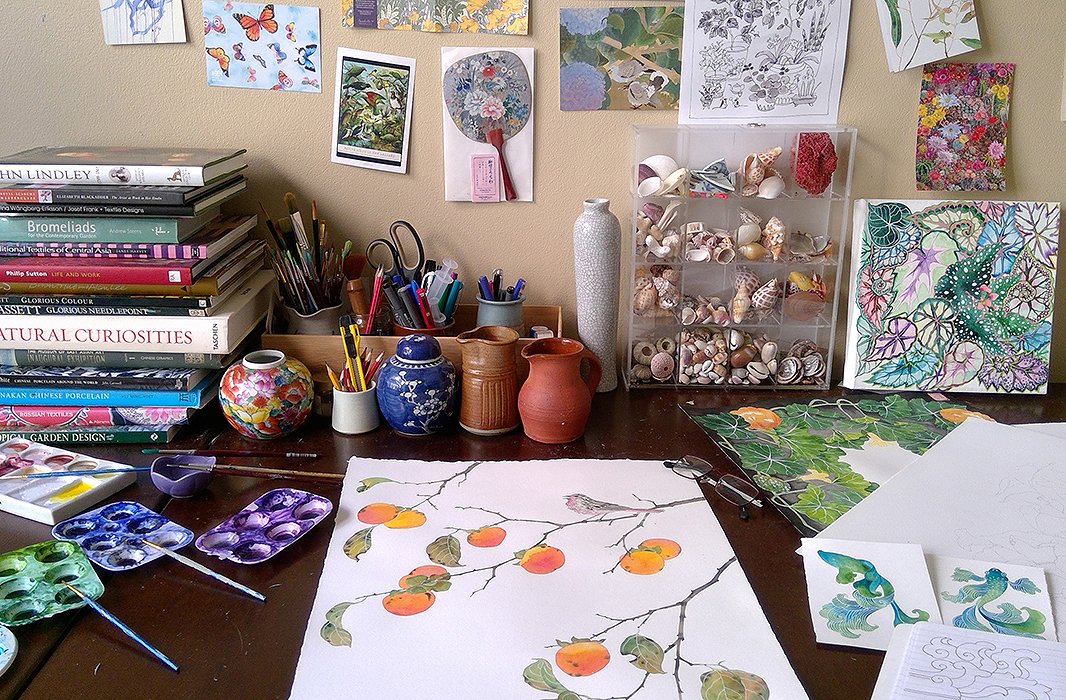 Your works for One Kings Lane are done primarily in watercolor. What do you love about the medium, and what do you find most challenging?
I trained as a potter. For my graduate show I made a series of thrown terracotta vessels with majolica glazes in the European tradition, though my works were very painterly. When I left art school I no longer had access to the equipment for ceramics, so inks and watercolors on paper was a natural progression. Watercolor is a lot like working with glazes, as it is very fluid. You have to let it do its thing and let the magic happen. You've also got to be pretty fast—especially in an Australian summer—as it dries quickly, and if you dither or overwork something it shows. I sometimes find it is very unforgiving in that I am a very messy worker, so spills, splotches, and smears quite often appear in my paintings. Lately I've learned to embrace these as part of the process.
I used to find that one of the scariest things was a large white blank piece of paper, so some of my works will have stitching in them. Apart from adding texture to the image it actually breaks up the white space so the paper is less confronting.
What inspires you most?
Something happens when I see pink. It's the most beautiful, joyful, feminine color, and Diana Vreelend was absolutely right when she declared, "Pink is the navy blue of India."
Plants and gardens have inspired me my entire life. I have always loved flowers and have spent years learning how to capture what I see but in a way that is unique. I think I'm finally getting somewhere.
My muse for the last 10 years has been Hillandale Gardens in Yetholme, New South Wales. It's a cottage garden owned by my friend Sarah Ryan, and even though Sarah has not left New South Wales, Australia, it could be right out of the Home Counties of England. Every summer I make the six-hour round trip to see her, walk through and see what's new, take note of new plants growing, and discuss our ideas for the following year.
Every year I paint a series of works simply called "Sarah's Garden," with corresponding numbers. They are joyful works about female friendships—especially those gentle ones we nurture as we get older. And every year those paintings get a little closer to how I want them to be.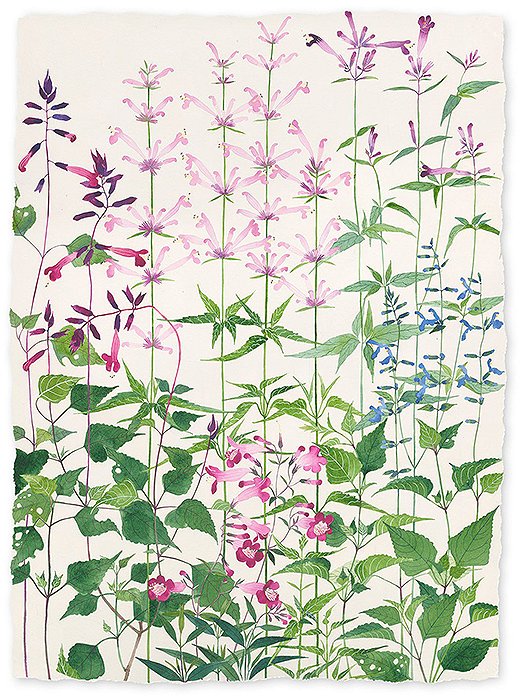 What's your go-to cure for artist's block?
My painting tutor in 1984 at art school said to me, "Don't freak out. Go with the flow," and he was absolutely right. Especially when I was working full-time and painting after-hours, it was really hard to finish paintings and keep the mojo alive. I've learned not to force it. Taking time out, going to a museum or a gallery—seeing other creative work always gets me inspired—and sometimes just meeting up with friends or doing something social will help kick-start that creative energy.
If I'm really stuck, I limit myself to working small—there's nothing like the quick mojo fix of finishing a small work quickly, and they always look good when small. However, because I generally do something creative every day, I'm finding it less of an issue—plus I have a growing list of stuff I really want to paint, so my issue at the moment is more around time!
What is the significance of the floral and chinoiserie motifs you use in your work?
I probably started painting gardens on paper at art school. When I left New Zealand in 1988 and traveled through Southeast Asia for about 10 months on my way to the UK, I started painting the fabulous sea creatures, flora, and fauna I had never seen before, and they became recurring features in my work. Along the way I saw Indonesian batiks and Peranakan ceramics and was inspired by their patterns and colors.
Thirty years later these items feature a lot in my work, but these days a lot of my works have messages. As a Chinese and transracial adoptee, raised in a white family, I started making work about my life experiences around 2014. I had met my [Chinese] birth mother in 2004, and although my work always had an Eastern influence, it exploded into the joyful and very Asian—but also Western—imagery you see today. I had to wait until I was ready; I wanted my images to communicate my feelings but in a respectful and loving way, and with a little bit of humor that binds us all. While it has taken over 30 years to get to my current style, I know I am still developing and evolving.
So many of the motifs—such as the blue-and-white florals—actually came from my notion of "same but different." As transracial adoptees, we look like every other person of color you meet, but in reality our life experiences are so unique that generally only other transracial adoptees can relate. Florals are a way of connecting us all: Nearly all of us have a favorite flower or plant, and it's always a thrill when someone tells me I've painted their favorite!
The frequent appearance of Peranakan and blue-and-white ceramics are a nod to my training as a potter: I love blue-and-white china, but it amuses me to think of its origins—possibly China's most successful export ever! The history of Peranakans has fascinated me, and in some way I identify with them: They were Chinese migrants who lost their own language and culture as they assimilated into their chosen societies but were always noted as not "from there."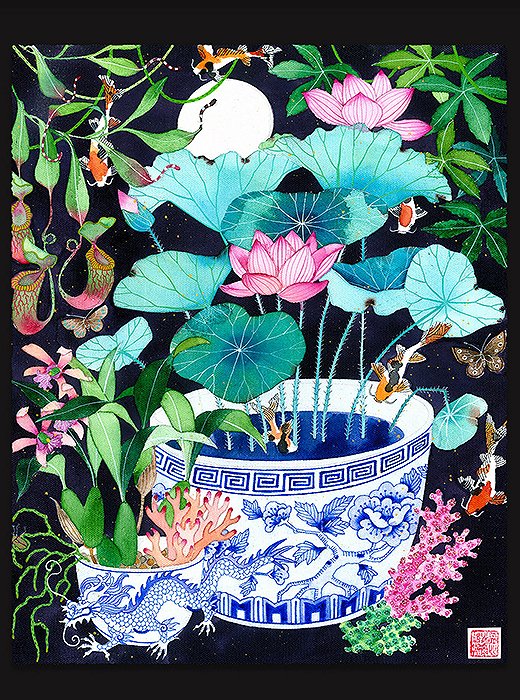 Has anything about your creative process changed since you became a full-time artist?
Fundamentally I don't think my process has changed that much, and I know I am still refining my technique and evolving as an artist. I have noticed that my work is improving faster now, and I'm finding it easier to get new ideas down because I am working on them every day. I must confess that I did have help; I engaged an art mentor in 2014 who has helped me get here and hopefully beyond. It's a joint effort.
I consider myself so incredibly fortunate to be able to say, "This is my job!"
What do you hope viewers take away from your work?
I've been honored to have had people from all walks of life tell me that they identified with my work's adoption themes. I think it's great to touch people in that way. As I volunteer in the adoption community here in Australia for various organizations, it is also an effective and engaging way to put my own personal views across.
But mostly my work is about joy: If my images put a smile on people's faces, then I consider it a job well done!