We've long been fans of Bolé Road Textiles, a standard-bearer of artisanal weaving. Founder and designer Hana Getachew recently spoke with us from her home in upstate New York about her unique style, her love of color, and how her Ethiopian heritage is at the heart of everything Bolé Road does.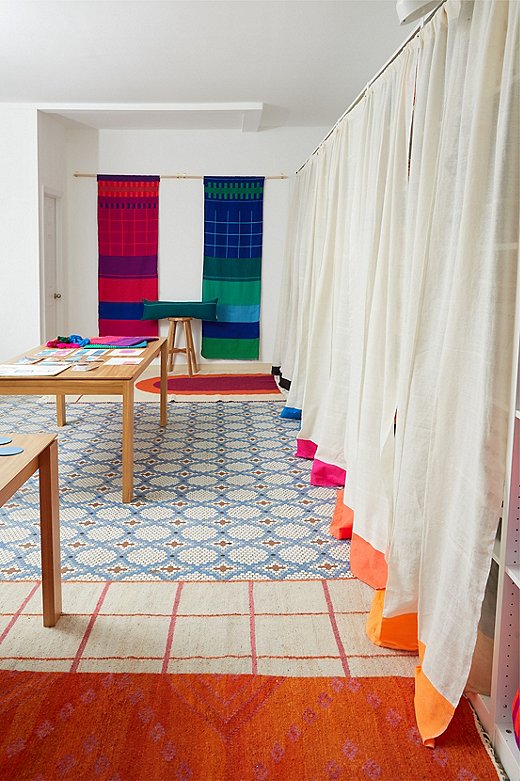 Meet Hana
Before masterminding Bolé Road, Hana studied interior design at Cornell and worked at a major architecture firm in New York City for 11 years before striking out on her own. "When you do anything, when you have a career, you work really hard," says Hana. "I was thinking, 'Wow, I'm putting so much effort into these Fortune 500 companies and all of that energy, all of that focus, could be shifted to Ethiopia.'"
And shift she did. Bolé Road was born shortly after, in 2014. In the years since, Hana and the company have landed on the cover of magazines, featured in Vogue, and a special shout-out from Beyoncé.
Get to Know Hana
Her favorite color combination: pink and orange
Her favorite design rule: symmetry
Her favorite design rule to break: "Any rule. You should be able to follow your heart."
Her greatest inspiration: Ethiopia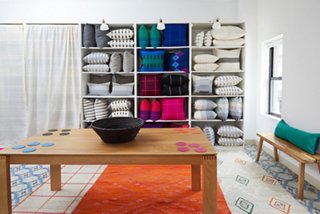 On Color
"I have a physical reaction when I see bright, vivid colors," says Hana. "It's just so inspiring and joy-inducing, so it has to be innate." As a design student, she expressed her love of color in the classroom and out, wearing electric combinations of oranges, yellows, pinks, and reds. "I was a walking rainbow," she says. Even as a corporate designer, "I'd always try to find a way to sneak in a lot of color into the project," she says. Her go-to trick was convincing clients that they needed a colorful mural of her design. "I loved having clients that were a little more daring," she says.
When creating Bolé Road, the only client she needed to please was herself. "Now that I have my own textile business, I can go crazy, unedited," she says. "I'm unrestrained in my love of colors." One look at the Mursi Pillow in cerise and you can see how far she takes that love: Bright pinks and oranges are woven in with shining purples and soft salmons. The Admas Table Runner mixes moody olives with pops of electric blue. Even more-neutral pieces such as the Kombolcha, Karo, and Bertu pillows serve as love letters to color.
On Heritage
Hana was born in Ethiopia, and her family moved to Canada when she was a young child. Growing up, she was enamored of the ethereal dresses her mother wore. "They were seen as jewels almost, as a treat, because they weren't a part of our everyday lives," Hana says. "They were for special occasions and holidays." Typical Ethiopian dresses are crafted from a gauzy white fabric and embroidered with exuberant colors and patterns. Playing dress-up as a child allowed Hana the opportunity to study them up close. "It was a fantastical experience that shaped my affinity for textile, colors, and pattern. I would stare at the different color combinations and see how intricate and detailed they were," she says. "It became part of my design evolution, my critique of what I liked and didn't like."
Armed with that knowledge and a desire to lead a more meaningful life, Hana created Bolé Road. The heart of her textile line is centered firmly in her connection to Ethiopia. The company is named after the neighborhood and the road where her family once lived. "I took two of the most important trips of my life on Bole Road," wrote Hana. The first was when her family left Ethiopia for North America, and the second was her journey back as an adult. As a businesswoman, she wanted to find some way to invest in the country. "If I produced products, generated revenue, that revenue would go back to Ethiopia. And that, to me, was something worth taking a risk for."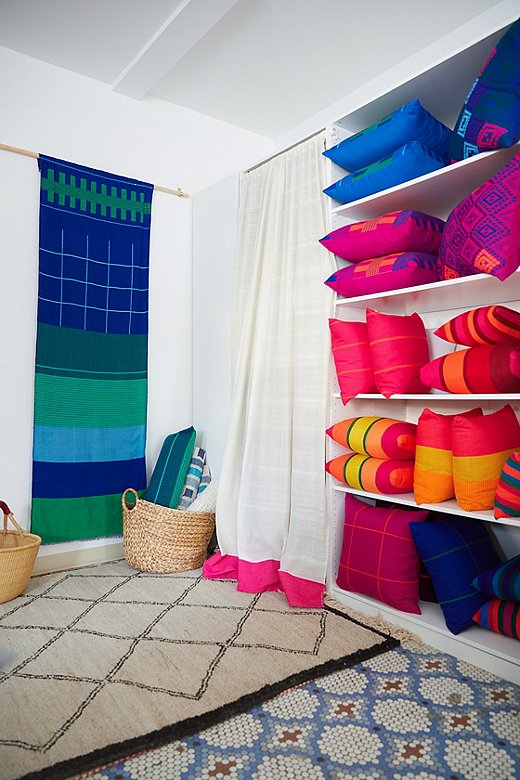 The Craftsmanship
All of Bolé Road textiles are handwoven in Ethiopia by a select group of artisans who have mastered the craft. Though weaving is traditionally done by the men of Ethiopia, Hana also partners with studios that are owned and operated by women. Her work with various collectives and studios circles back to her mission of shifting focus and energy to the Ethiopian economy. "It's about growing something," she says.
Ethiopian weaving techniques are unique because of loom construction. Hana shares more on the Bolé Road website: "While Western looms typically have four or more harnesses and treadles, allowing weavers to easily lift up various combinations of yarns on the warp to create intricate patterns, Ethiopian looms only have two harnesses. This means that in order to create a pattern the yarns need to be lifted manually with a stick in a technique that's similar to what we call 'double weave' in the West." Through this masterful craftsmanship and Hana's eye for style and color, Bolé Road stands out at the top of the field as a true modern heirloom.