Celerie Kemble's world is bright, colorful, and filled with Florida sunshine. The celebrated interior designer brings her Palm Beach sensibilities to every project she touches. Her outdoor collection, exclusive to One Kings Lane, is no different. Everything from the furniture to the pillows reflects her signature flair. We caught up with Celerie to chat about her love of outdoor, the exciting new additions to her collection, and her next big project.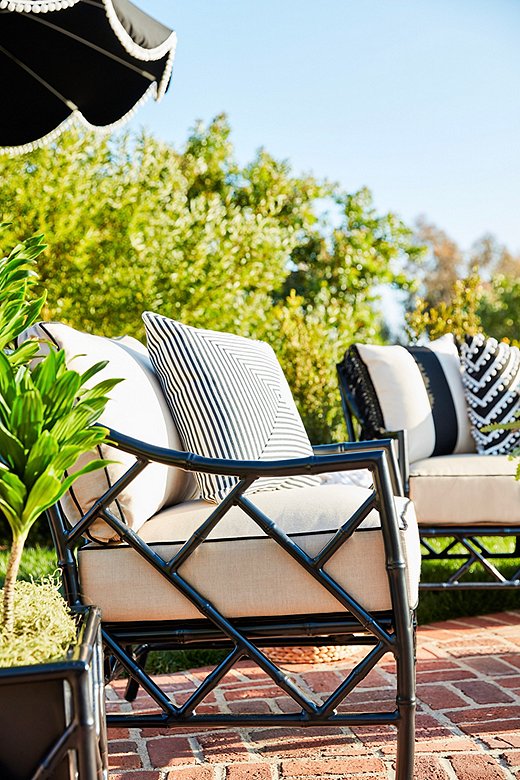 Celerie on Color
---
"My baseline taste was built on the backstory of a lot of people's fantasy," says Celerie of growing up in Palm Beach. "It's a very casual lifestyle, but it's luxurious at the same time." Palm Beach is a character unto itself, known for lavish living and colorful expressions. If Palm Springs is inspired by the cool, even tones of the surrounding desert, then Palm Beach is inspired by the wild flashes of color in the Florida fauna. "Aesthetically, Palm Beach is a bounty of inspiration," she says. This was the backdrop against which Celerie built her best-selling collection.
The latest color for the frames of the outdoor furniture, a serene and elegant black, gives her iconic collection a dashing new look. "I did a book several years ago on working without color, and I learned a lot about using black and white in design," says Celerie. "If you want something that's crisp against the side of a house or pool or on white painted floors, black can be the most striking, sculptural, and clean color." She also loves the way black highlights the details of the collection. "It shares the subtlety of the knuckles and elbows of the bamboo really well."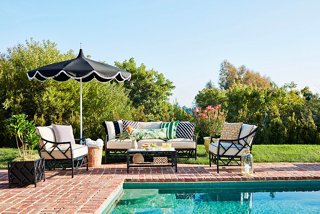 Styling Secrets
---
It's no secret that over the past year, people have been spending more time using their outdoor spaces than ever before. "What COVID has taught us is that a lot of people never put the effort into making an outdoor experience that was meant for more than a moment," she says. The explosion of interest in outdoor furniture and design was a long time coming. "People made it a priority because they had to. Once they realized the capabilities, their universe expanded enormously." Her next book focuses on teaching people exactly that. "I'm excited for readers to see how much collecting you can do and incorporate into your outdoor areas, and how much your outdoor can join your indoor." Island Whimsy will be available through Rizzoli later this spring. 
Crafting that seamless flow between worlds is fairly easy for Celerie. "I follow the same rules for indoor decorating," she says. There are no special secrets to making your outdoor space look as fabulous as your indoor. Find a color palette, stick to it, and accessorize accordingly. Celerie's go-to accessories are colorful blankets, vintage end tables, and umbrellas. And no outdoor space is complete without a good bar cart or serving station. "One of the often-forgotten pieces outdoors is a service table," she says. "I always try to remind people that you'll need somewhere to put your pitcher, your glasses, and your food."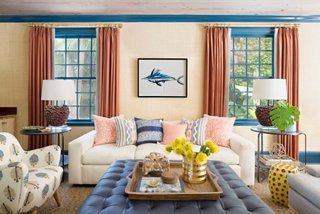 Celerie's Recipe for Entertaining
---
Because Celerie is a master entertainer, we asked for her outdoor must-haves. Follow her tips and tricks to throw your own spring soirée.
The set-up: No outdoor party is complete without florals. Celerie loves small potted plants at the height of bloom. She also swears by movable umbrellas. "Light can be the adversary," she says. Umbrellas allow you to control the amount of light you get. If your party extends into twilight hours, you'll need candles or up-lights to add the right amount of illumination.
Her must-have accessories: Candles (with a hurricane), colorful blankets, and Supergoop! sunblock.
On the menu: "I like food people can get messy with," she says. Her ideal menu is a medley of fresh seafood and a crisp white wine. She loves roasted oysters and cracked stone crab claws, along with grilled fish and a summer rice. Celerie also swears by a recipe of grilled shrimp marinated in salsa given to her by her sister Phoebe, head chef of Kemble Kitchens.