As day turns to dusk and dusk into night, some carefully placed lighting will provide warm ambience, enough light to eat by, and a measure of safety along dark paths. Much like its indoor relatives, outdoor lighting can be made up of a combination of overhead, wall, and table fixtures. Additionally, lamps that sit on the floor—in the form of lanterns and hurricane lights—can provide a dash of summertime style. Our handy guide will help you choose the right types and styles for each application. Oh, and be sure to look over the expert safety tips before you start illuminating your outdoor spaces.
String Lights
These versatile strands of sparkle can do almost anything: define edges and borders; wrap columns, banisters, or even trees; hang suspended over a space like twinkling stars to cast a magical and romantic glow.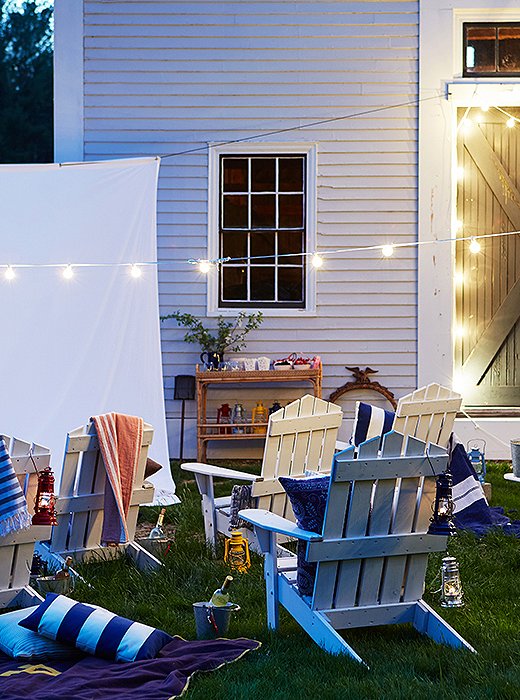 Length: The best way to estimate the length you'll need is to use twine as a stand-in, stretching it from point to point exactly where your lights would go. (Don't forget to include enough to reach the outlet.) For columns or trees, measure once around and multiply that by how many times you'll wind your light around. Once you determine the total length, divide that by the length of a single strand for the quantity you'll need to purchase.
Installation: To attach to walls, beams, columns, and trees, use a staple gun with 3/8-inch galvanized-steel staples (they won't rust). Start near the power source, and make sure there's a little slack when you attach the first point (after unplugging, of course). Always keep the strands centered so you don't staple through the wiring! For larger, more spaced-out bulbs, staple half way between each bulb. For smaller, closer lights, you can get away with stapling every 12-24 inches, depending on the weight of your lights.
To tap into the starlike magic of string lights, try suspending rows of lights overhead. This is especially romantic under a covered patio (provided the ceiling is high enough) or over an alfresco dining space. For string lights spanning more than 10 feet, you'll want to first install thin guide wires and then attached your lights to those using twist ties the same color as the wires.
Bulbs: Smaller bulbs provide a gentler, more decorative background twinkle, while larger ones can provide a fair amount of direct illumination. Remember that once they're installed, you can always add other types of lighting for extra brightness. Consider where your lights are going and don't overwhelm.
Colors: White lights are the most versatile; colorful strands or fun bulb covers can be vibrant options for special occasions—shell-shape ones for a beach house, flamingos for summertime, mini Japanese lanterns for the backyard. Halogen and LED bulbs are brighter and cooler, while incandescent or Edison-type globes are timeless and warm.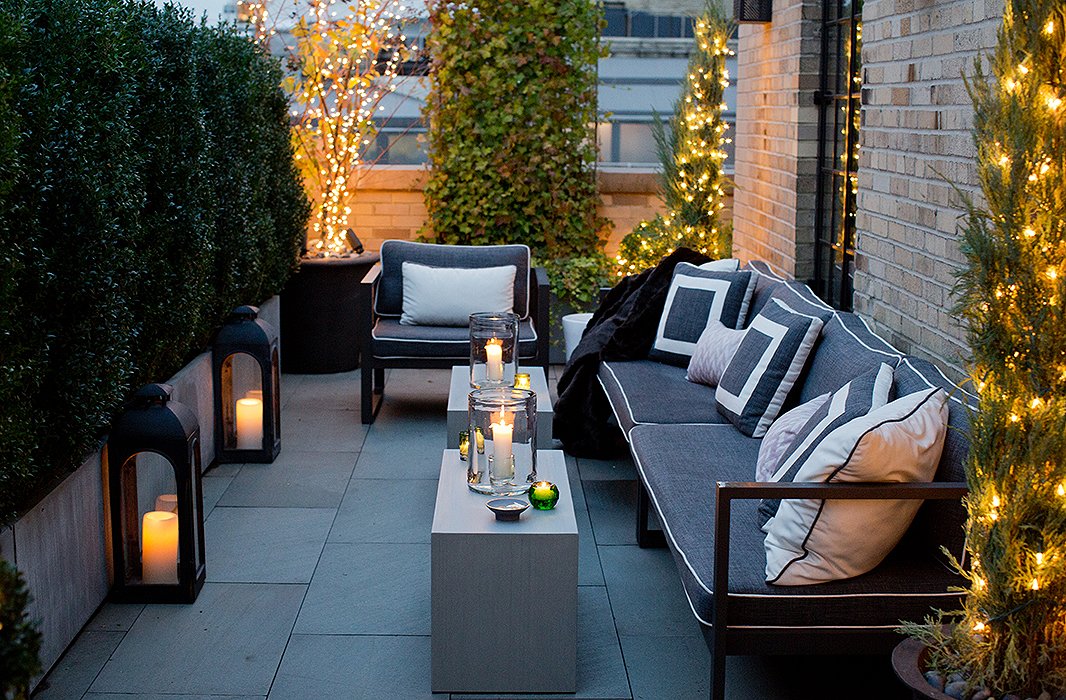 Hurricanes and Lanterns
The ultimate in atmospheric lighting, lanterns and hurricane lamps provide a chic glow and a nautical touch wherever you place them. Because most hurricanes can easily be moved, you can bring them with you as you progress from table to pool to seating area. Electric lanterns, of course, will work well in fixed locations.
Sizes: We like to work backward and think about the task at hand, dividing them into three basic groups:
Tabletop (small)—as a substitute for tapers, a row of 6- to 12-inch hurricanes are nautical but nice. Anything taller than 12 inches will prevent guests from seeing one another.
Accent (medium)—perfect on either side of a console, a pair of 14- to 18-inch lanterns will nicely illuminate your buffet. Or place a pair of 24-inch-tall hurricanes on separate side tables to spread around ambient light.
Floor (large)—whether tucked into the corners of your patio, clustered by your entry, or placed poolside, lanterns taller than 24 inches are statement pieces with high impact.
Light sources: Candles are more moody and romantic, but you have to replace the candles often and deal with dripped wax. Electric-bulb lanterns can go for weeks or months without replacing but are tethered to the wall. We also like to consider flameless candles as a low-maintenance option.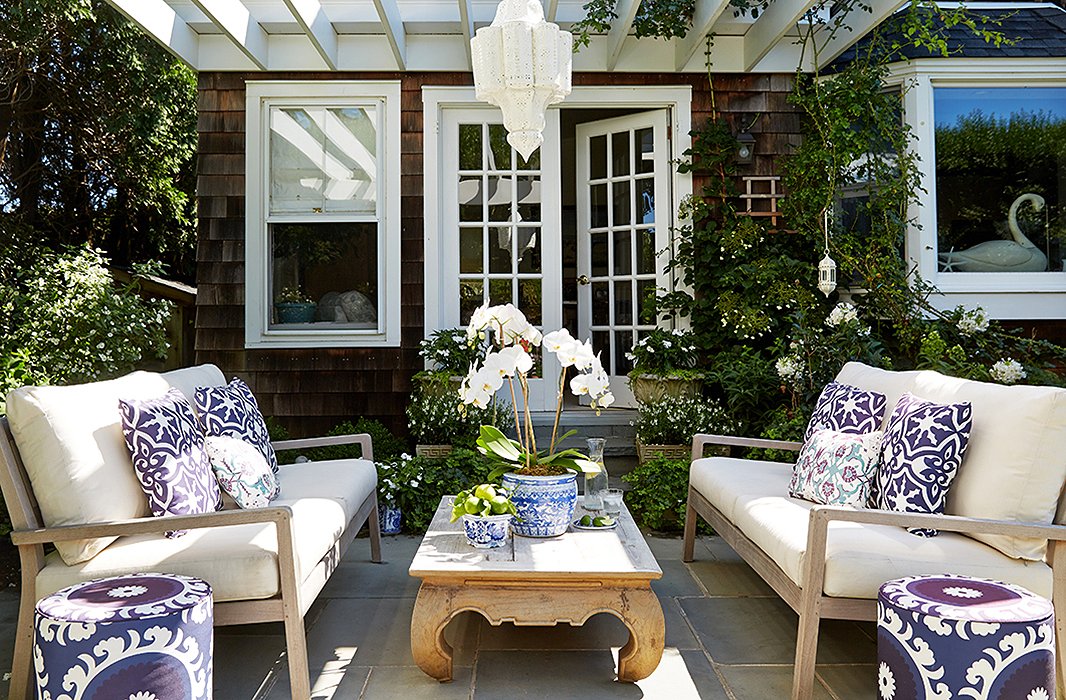 Pendant Lights
When trying to create a real "room" feeling for your outdoor space, nothing beats a hanging lamp. It's a total natural over the dining table, of course, but it can also help anchor a sitting area or illuminate a dark corner.
Placement: In a dining area, the bottom of the pendant should be about 32 inches from the top of the table. If your outdoor area has a very high ceiling (say, more than 8 feet), you can raise the pendant about 3 inches per extra foot of height. You could also hang a pendant or chandelier from a large tree branch and create a whimsical seating or dining area away from the house. (You'll have to run a wire all the way there, of course.) If people might be walking under the fixture, make sure it's at least 7 feet off the ground so that no one hits his or her head.
Sizes and shapes: Practically any style you can get for indoor use is also available for the great outdoors. Check out our guide to dining room lighting to determine what works best for you.
* Installing pendants is a job for an electrician or a contractor.
Flush Lights
Think of these flat (or flat-ish) fixtures as having all the functionality of a pendant light without the clearance issues. They're especially great for places with lower ceilings (say, less than 8 feet) where something dangling wouldn't be practical. These are a very popular choice for covered outdoor spaces since unlike pendants or chandeliers you don't have to worry about gusts of wind.
Placement: Anywhere you might put a pendant but don't want to risk banging your head. They are also a natural for under the eaves or over an entryway.
* Installing flush lights is a job for an electrician or a contractor.
Sconces
These versatile fixtures can demarcate a nook, add ambience to a dining area, or guide you along a path, and they come in a vast range of styles for mixing and matching. How many sconces you'll need depends on where they'll hang. Here are some suggestions for the best matches of number and place.
Single: next to a door that's flush with the wall, especially if it isn't centered (place on the wider side).
Pair: on either side of a doorway or window that's recessed or perfectly centered; over a console table used as a server; on adjacent walls of a corner nook.
Three or more: along an outdoor dining area wall to provide ambient light and cut down (or even eliminate) the need for overhead lighting.
Lighting tip: If you want overall illumination, such as in an outdoor dining room, opt for sconces with exposed bulbs. For pathways, choose downward-facing fixtures that wash the wall and walkway in guiding light.
* Installing sconces is a job for an electrician or a contractor.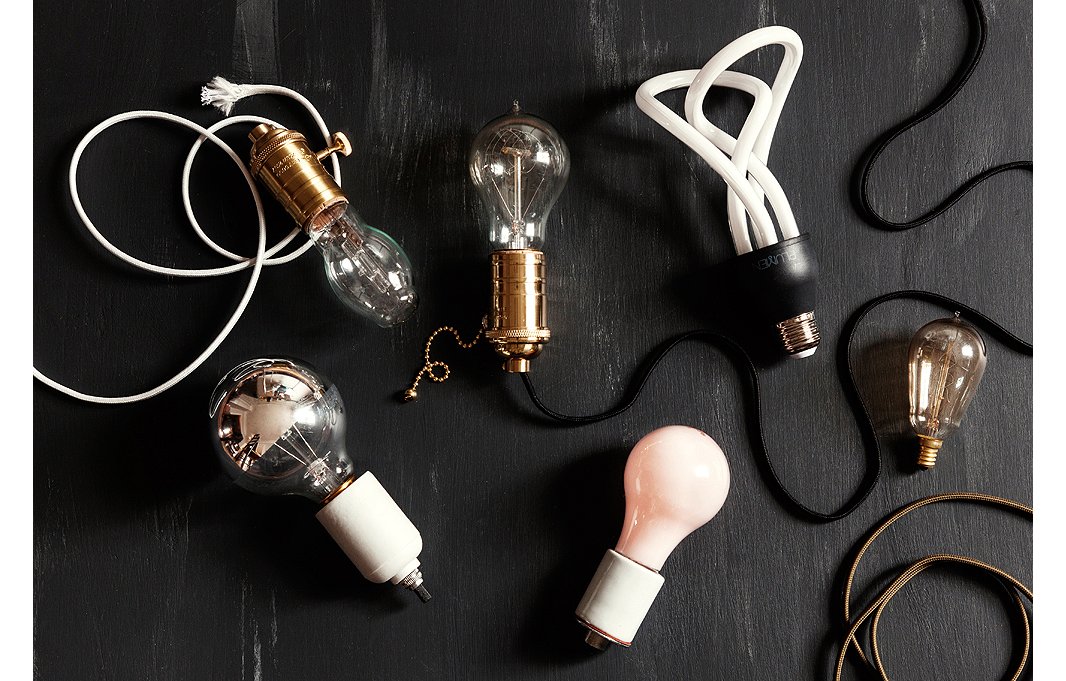 Safety First!
When it comes to outdoor lighting—or any lighting for that matter—safety comes first. We tapped Brett Brenner, president of the Electrical Safety Foundation International, for the safety measures to consider for your outdoor lighting.
• Most of these installations are not DIY, with the exception of lanterns, hurricane lamps, and string lights. For all others, it's best to hire an electrician.
• Make sure every fixture and bulb is rated for outdoor use. Even places that are under a roof can still get damp and very cold, so the lighting needs to be able to handle that. Some fixtures are rated for "wet locations," so if the fixture could get rained on, be sure it's up to the task.
• Always use a bulb of the correct type and wattage. If you do not know the correct wattage, contact the manufacturer of the lamp or fixture. A bulb with excessive wattage may overheat and cause a fire.
• Install bulbs with extended lifespans in hard-to-reach locations to limit the number of times you have to climb a ladder, move furniture, or engage in potentially dangerous activities.
• Use extension cords that have the label of an independent testing laboratory and are marked for outdoor use. Extension cords provide a temporary solution and should not be used long-term or permanently.
• If an outlet will be exposed to the elements, it needs a special "in use" cover to keep it—and the plug itself—dry if it gets rained on. All outdoor outlets should be GFCI-protected to prevent electric shock.