No matter how well turned out your home is, there always seems to be one spot that just isn't quite there yet, whether it's a breezed-past entryway or an ignored laundry room. For our co-founder Susan Feldman, the sticking point in her Hollywood Hills pad was none other than the home office where she started One Kings Lane. "For a whole year I worked in there every day from early morning until late night. When we finally moved into a real office, I walked out, closed the door behind me, and didn't look back."
After a renovation that included her kitchen and her guest room, Susan decided to turn her attention back to this noteworthy but neglected room. With the help of Alex Reid, One Kings Lane's marketing and special projects manager, she overhauled it, transforming it into a welcoming, work-friendly space where she and her husband, Bob, now sometimes find themselves just hanging out.
BEFORE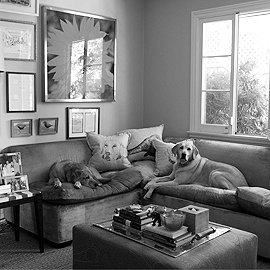 "When I used to work from home, the dogs would hang out in there with me all day long," says Susan. "Then when I finally moved out, it became their office. To be nice, the room was a disaster. I'd actually been working out of the kitchen recently to avoid going in there. It was way overdo for a rehaul."
Before they dove into the reno, Susan and Alex mapped out a layout. "Once we figured out the big items like the bookshelf and the couch, the rest of the pieces fell into place," says Susan. Then the duo nailed down the room's palette. "I was very much feeling navy blue, so we started there," she says, "and we balanced it out with lighter, more feminine khakis and creams."
One of the keys to creating an inviting home office where work feels more like play is to treat it like any other room in your house. "There isn't any reason your office can't be beautifully decorated," says Susan. "Fill it with items you love, use great vessels for your pens and paper clips, and think outside the box for your storage solutions, working in pretty baskets, bowls, and trays."
There isn't any reason your home office can't be as beautifully decorated as any other room in your house.
At first, Susan was picturing tall twin bookshelves flanking a couch, but she and Alex decided that carrying the shelving across the top of the room, bridge-style, would imbue the space with a more homey, cozy vibe. "We left the back of the shelves open so that you could get a peek of the grass-cloth wallpaper, which made the room feel lighter," she says. To organize her shelves, the self-proclaimed "accessories nut" pulled all her beloved accents out of the office, then with a critical eye (paired with Alex's expert second opinion) edited down everything that came back in. "This time I wanted my shelves to look layered and interesting, not cluttered," she says.
BEFORE
"The original layout of the room just wasn't working for me—it was jumbled and anything but streamlined. Plus I didn't have enough storage, so it always seemed crammed full of stuff," Susan says. "And there are ways to utilize small spaces that don't have to feel like that."
Susan opted for functional yet design-forward pieces that would get the job done and look great while doing so. "There are so many beautiful, comfortable chairs out there," she says, "and why not, instead of a utilitarian desk, use a gorgeous side table or secretary?" She stationed her desk by the windows to make the most of the natural light. "I also love it being there because I can flip my chair around and use it for additional seating if needed."
BEFORE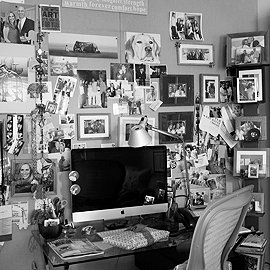 "One of the things I did like about this room was that it had a whole wall I could use as an inspo board," says Susan. "That said, it got a little out of control at the end—there was stuff pinned on top of stuff pinned on top of stuff. But it was still important to me that we incorporate one in my new office."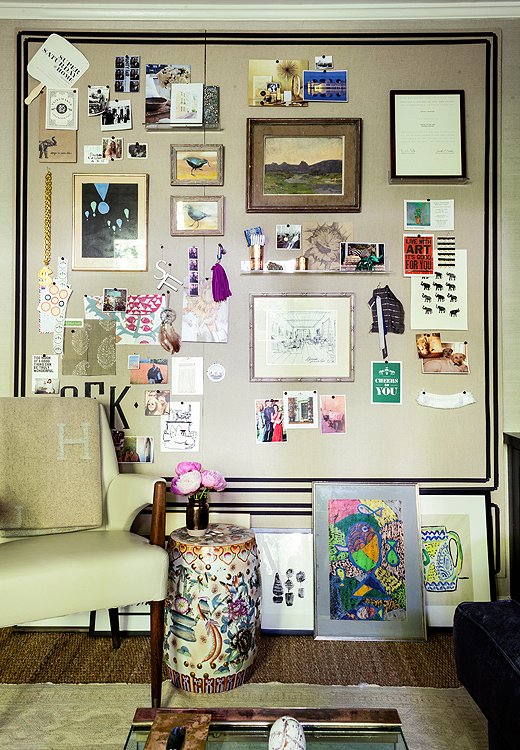 For Susan, having an inspiration board was not a maybe, but a must. "You can use it for ideas for specific projects, pieces that bring back memories or tell stories, or just another location for the things you love," she says. Her board acts as a catchall festooned with everything from oil paintings scored years ago in Paris flea markets to adored family pics to the diploma of her dad, who, inspiringly, went back to school at age 80 to get his MFA.
To build this board, Susan started with the shelves and framed pictures, using these as anchors—"moments that will stop your eye," she says. She then filled in the empty spaces to create an eclectic collage. "What's up there is a mix of family photos, mementos from my travels, bits and bobs from personal and professional experiences, and things that I just like. Basically everything together adds up to my life." The finishing touch? A grosgrain-ribbon frame.