In our series "My Mix," we explore how our favorite designers and trendsetters embrace personal style not just at home but in every facet of their lives, asking them (among other things) to share the one moment that has come to encapsulate their unique aesthetic. This week we sat down with Roller Rabbit founder Roberta Freymann. Read what she has to say below, and see how she's come to live her style here.

There's no foreign trip that I take that does not either inspire me, touch my heart, or entertain me. I usually pick countries where I know the experience will be unique, but India continues to fascinate me, even after visiting it more than 50 times over the years. The colors, the people, the devotion, and the soul: It's changed the way I behave, and it's changed the way I think in life. I still go two or three times a year; I always find something that I haven't seen before.
My decor mix is…
Bright colors, bold textures, and lots of art.
Every home should have…
Fresh flowers.
My favorite color combination is…
Turquoise and blue.
I always mix…
Roller Rabbit with my collection of Baccarat crystal and Limoges tableware.
I never mix …
Friends with business.
Beauty is…
A house full of family and friends (especially of the canine kind).
My ultimate playlist includes…
Anything in Mozart's Figaro and Astor Piazzolla's "Adiós Nonino."
My favorite book is…
One Hundred Years of Solitude by Gabriel García Márquez.
The most stylish movie is…
In the Mood for Love by Wong Kar-wai.
My first big splurge was…
An Hermès bag, whose style name I can't even remember.
My favorite high-low mix is…
My vintage Indian gold beads with a crisp white cotton shirt.
A little black dress looks best with…
I wouldn't be caught dead in an LBD.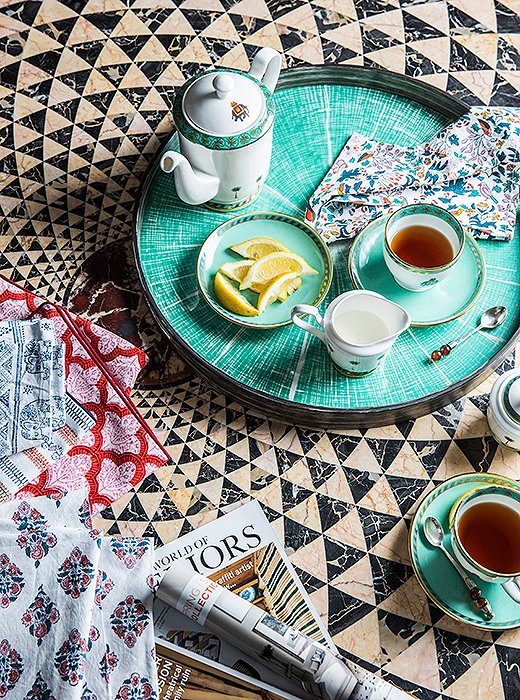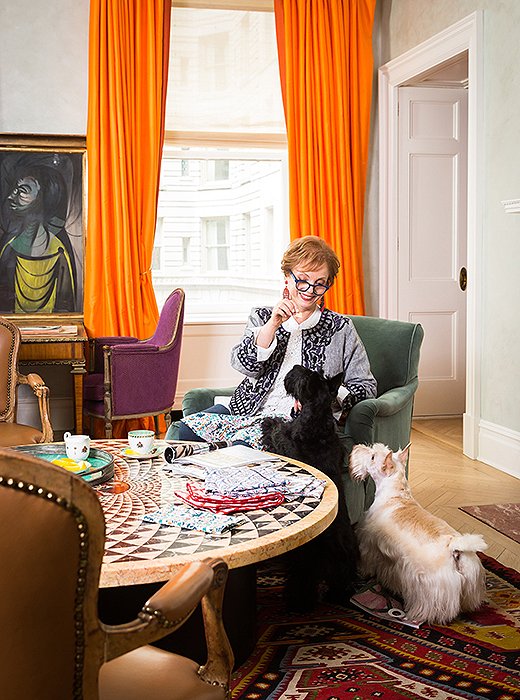 My coffee order is…
Ristretto, black, one sweetener.
And my cocktail of choice is…
Campari with fresh orange juice.
My favorite flowers are…
Orchids for the look and lily of the valley for the scent.
My best-ever vintage score was…
The many suzani bedcovers I bought from a textiles dealer in Bangkok.
My favorite place to check in is…
The Imperial in New Delhi.
I mix up my weekday routine by…
I'm in the office every day, but I entertain constantly, so that keeps my weeks quite lively.
For a dinner party with friends, my go-to dishes are…
Pasta or risotto—both simple but delicious.
When I'm in a rut, I always…
Say, "Tomorrow the sun will shine."
There's no foreign trip that I take that does not either inspire me, touch my heart, or entertain me.