A well-designed kitchen is key to a well-designed life. So we tapped a few of our design friends to show us everything we need to know about creating a kitchen that's both functional and stylish. Read below for their advice!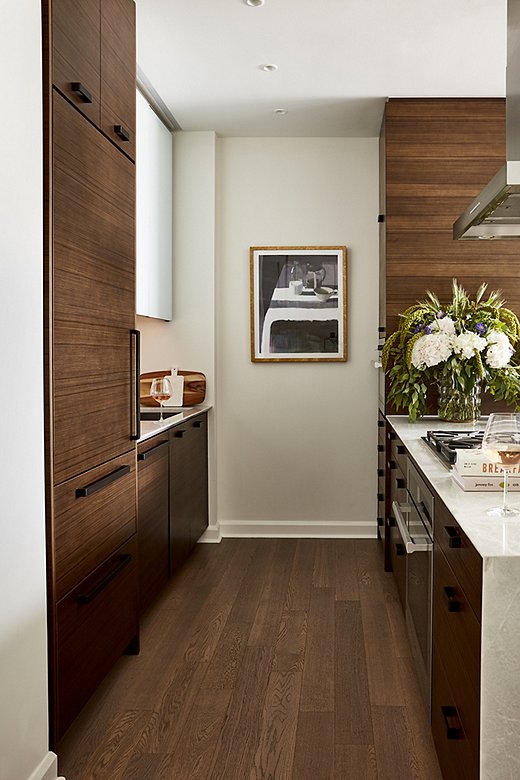 For Your Consideration
Form follows function, and nowhere is that more true than in the kitchen. "The kitchen should be tailored to the chef," says New York-based designer Lilse McKenna. Ease of use should be at the forefront of the design. The three most important parts of that equation are space, lighting, and organization.
Space: How much space you'll need and where you'll need it should be the first thing you figure out. Most kitchens need a six-foot radius for optimal work flow; in other words, if you stand in the middle of your kitchen, your main appliances and work surfaces will be no more than six feet away. Another way to ensure that things flow naturally is by being cognizant of where you place appliances. "The sink and refrigerator should not be in conflict with one another," says kitchen designer Sarah Blank. If someone opens the refrigerator door, does it jab the person washing dishes at the sink (or for that matter, is it impossible to open the fridge while someone is standing at the stove?).
Lighting: A mix of ambient and task lighting is needed to create an atmosphere fit for cooking and entertaining. "It should not feel like a school cafeteria," says Lilse. Ambient lighting such as pendants and flush mounts keeps the overall room well lit, while task lighting such as table lamps provides extra brightness where needed. "Make sure everything is on a dimmer," Lisle adds, "so that when you are finished cooking and ready for a glass of wine, you can actually enjoy it."
Organization: An unorganized kitchen is a hectic kitchen, and a hectic kitchen is every chef's worst nightmare. We've written a few guides on how to organize your kitchen and pantry, which you can read here and here. Some quick takeaways are below.
Opt for organizational aids. Pot racks, ginger jars, canisters, and cloches are your friends. Baskets are a must for the pantry. 
Edit down. If you want your kitchen to look magazine-worthy, edit down what you have on display. Keep clutter off your counter by finding a place for everything. "Understand your own inventory and allocate a space for the items you want to keep," says Sarah. 
Style it. Kitchen styling is an art. Particularly with open shelving, simplicity is key. Maintain a low visual profile; don't stack items too high.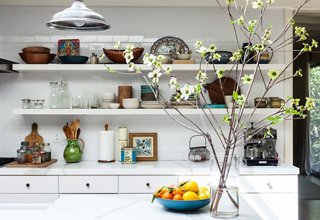 Materials Matter
Deciding what materials you should use in your kitchen can be overwhelming. "Remember that the kitchen is a work space and select finishes accordingly," Lilse says. Sarah suggests avoiding porous materials that can easily stain. The most difficult choice of material people have to make in a kitchen is that of the countertops. We've broken down a few of the most common options below with their pros and cons.
Marble is a popular choice because it adds a bit of glam to a kitchen. What it lacks in practicality it makes up for in aesthetics. Pros: A luxurious polished look. Good for baking and rolling dough on. Cons: Not very durable. Porous and easy to stain. Scratches easily.
Granite is marble's less sexy cousin. Granite countertops have become increasingly popular. It's more durable than marble but less durable than quartz. Pros: Heat resistant. Cleans easily with soap and water. Variety of colors. Cons: Semiporous and will stain.
Quartz is one of the most durable countertop materials out there. It works well for families and requires little maintenance. If you love the look of marble and granite but don't want to worry about the upkeep, go with quartz. Pros: Not porous. Cleans easily. Heat resistant. Durable. Cons: If you like the wild look of marble and granite, you may have a harder time finding that in quartz countertops.
Butcher block countertops have earned a lot of buzz in recent years thanks to the popularity of farmhouse style. They are more affordable than stone but require more upkeep and care than many people realize. They are a workman's countertop. Most designers would suggest getting a butcher-block island instead of using it on all the counters. Pros: Affordable. Natural aesthetic. Cons: Requires a lot of upkeep. Porous and easy to stain.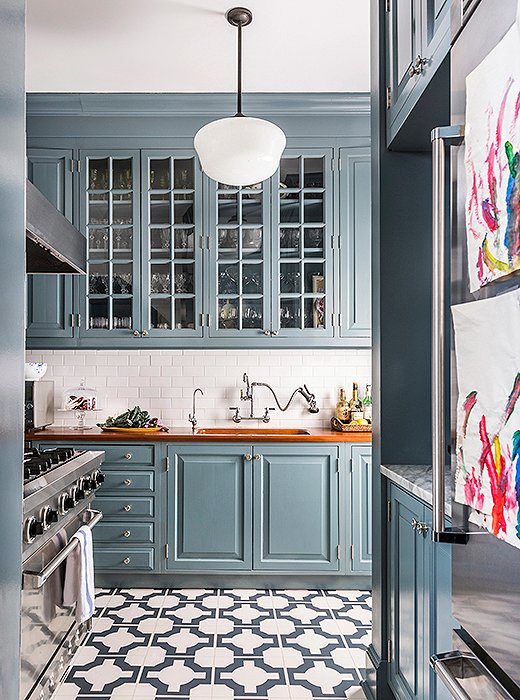 5. Soapstone: Never has a material turned a group of otherwise like-minded people against each other so fast. People either love or hate it. This aesthetically pleasing material is soft and can dent with the drop of a knife or canned goods. These marks add to the patina that some people love but can be annoying to others. Pros: Creates a beautifully unique aged patina over time. Cons: Soft and easy to damage. Porous. Requires monthly upkeep and oiling.
Color Story
White kitchens were all the rage in the mid-2010s. As maximalism and color have returned to the house, so too has color found its way into the kitchen. Adding color can set your kitchen apart and keep things fresh. "I love color in a kitchen, but you do want to select colors you can actually live with," Sarah says.
Go bold. If you want to create a wow moment, opt for colored cabinetry.  You can start by picking colors from the art or fabrics in your kitchen to create a cohesive color story. You can also make a statement and go dark and moody in the kitchen. The options are endless.
The soft approach. If allover color isn't your thing, don't fret. "Select areas that can be changed easily to add the color," Sarah says. For example, "an island is a wonderful space to introduce color," says Jordan Schehr, a member of the One Kings Lane Interior Design team. Play with the color placement for a subtle surprise. Sarah suggests going with glass-fronted cabinets and painting the interior. Lilse likes to go for the unexpected: "I always think a painted floor is a good idea," she says.
Decor Galore
Kitchens are utility spaces, yes. But they are also an extension of you. Treat them as you do the rest of your house.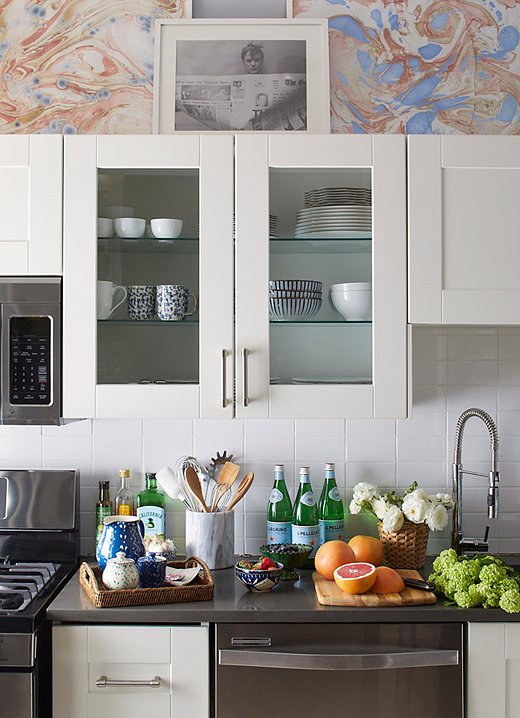 "Just because it's a workhorse of a room doesn't mean it can't host art," says Jordan. "Adding sculptural elements to an open shelf or surface introduces beauty and points of interest that break up the more functional and rectilinear design of a kitchen." We've gotten into the weeds of the functionality of these spaces but let's not forget that the kitchen is also a gathering space. "Guests will be spending time in your kitchen, like it or not," says Lilse. You'll want to focus on making it feel homey and warm, as appliances and hard countertop surfaces can make it seem cold. Adding art and rugs is a great way to do that.
Trend Watch
Design trends are both the antithesis and the naissance of good design. The key to making trends work is to find those with staying power, especially in the kitchen. "Beware of trends that lean too hard into an inflexible design motif," says Jordan. "Tile cannot be switched up the way a throw pillow can in the living room. Same goes for that lime-green fridge." 
With that in mind, there are a few trends our designers are excited to explore. "I hav always loved a darker, moodier kitchen," Jordan says. (If you do too, check out our recent home tour with Olivia Song.) Sarah is interested in exploring more organic materials in the kitchen and powder-coated painted vent hoods, "which have a softer look yet are durable," she says. For Lilse, the best kitchen trends come in a different form. "I'm not a big trend follower in terms of design, but I do love to cook, so I'm always interested in learning about new appliances."
Design School
Now that you've got all the information, you're ready to make the hard choices. Just don't forget the key takeaways.
Make ease of use a priority. This is the most important part of kitchen design. Every choice you make should optimize the functionality of the space.
Know thyself. Do you spend hours creating elaborate meals, or is your microwave your most-used appliance? What's more important to you: good looks or maximum convenience? Being honest about your habits and priorities will help you choose the right appliances, materials, and fixtures.
Stay organized. The most successful kitchens are the ones with a clear organizational system. Find one that works for you and stick to it.
Mind your choices. If you love color, go for color. Just ensure that the permanent fixtures such as tile and appliances are colors you'll want to live with forever, or at least for decades. If you're indecisive, add color with paint and accessories.
Live well. Kitchens are a gathering space. Treat yours as you would any other space in your home and decorate it with care.