One of the oldest, largest, and best-known markets in the country, the Brimfield Antique Show is hallowed ground for vintage enthusiasts, serious collectors, and A-list designers. Thousands of vendors—dealers in fine antiques and owners of thrift shops alike—descend upon the tiny town of Brimfield, MA, for three week-long stints every summer. As a result, the market has a little bit of everything: Moroccan rugs and glass fish floats, chinoiserie lamps and rustic furniture.
It's this promise of a treasure hunt that led us to send our photo art directors—the brilliant stylists behind the shots you see on One Kings Lane every day—to shop the scene and refresh our in-house prop closet. Each stylist is known around the office for a certain signature aesthetic, so we couldn't wait to see what they'd bring back.
During two long days, our fearless stylists trekked miles, perused thousands of booths, haggled with dealers, and even waded through a torrential afternoon downpour. The result was well worth the effort: Our team scored tons of one-of-a-kind finds, including a life-size brass duck, a 19th-century writing desk, and a bevy of other things they didn't know they needed. Read on to see what made the cut—and get expert tips for shopping the market.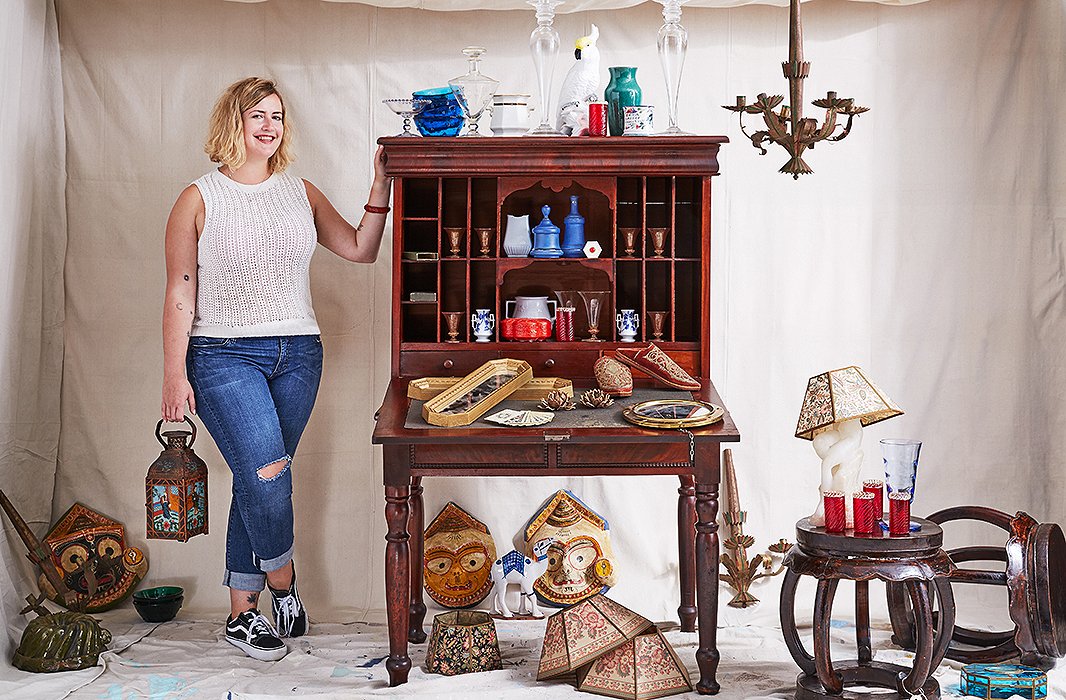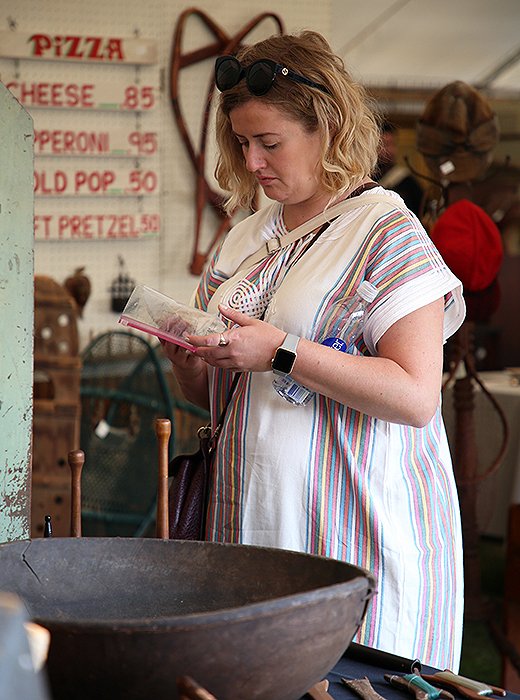 Eileen's Global, Collected Elegance
Her style: "I'm a maximalist but in a traditional way. I like things from all over the world, and I like a lot of color. For furniture, I usually stick to classic pieces."
Her shopping list: "I knew I wanted to find Murano glassware—it's really beautiful, and it's always in interesting shapes and colors—and we found some! Otherwise, I was looking for things that felt new and different and traveled."
What she bought: Eileen was focused mostly on the little things—but little things that made a colorful and character-filled statement. Tribal masks, a blue-and-white camel figurine, a mix of bright vases, a headless marble sculpture, a ceramic cockatiel, and an Italian chandelier with matching sconces were just a few of the global-inspired finds she brought home.
Her favorite find: Like a mother naming her favorite child, Eileen was hard-pressed to name her number-one find. "I love all the little things I got, but the Civil War-era secretary desk is super-versatile and is a great new addition to our prop furniture. It's something that we didn't have before."
Her best Brimfield advice: It's all about comfort and being prepared for whatever Mother Nature might throw at you. "Bring clothing for all types of weather, and comfortable shoes!"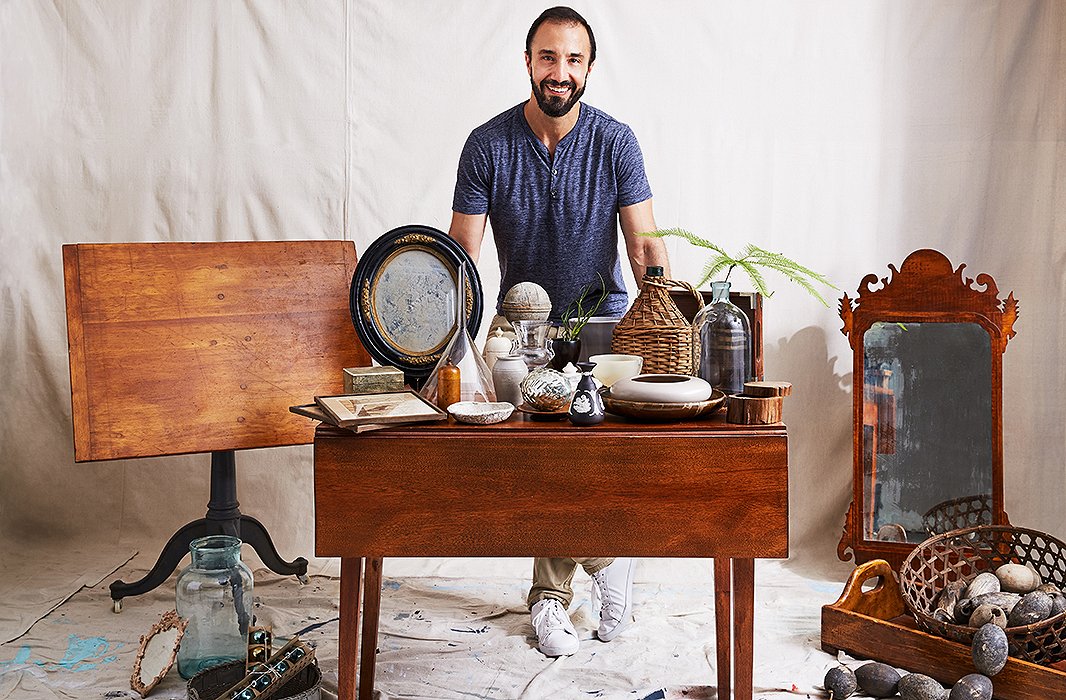 Anthony's Clean, Uncomplicated Ease
His style: "Slightly modern, really mixing vintage and modern pieces together. I like simple shapes. And for color, I like neutrals. Designer Thomas O'Brien is a big influence and inspiration."
His shopping list: "Glassware, small tabletop pieces, and unique wood objects."
What he bought: Anthony was drawn to pieces made with natural materials such as wood (a drafting table, a tree-trunk-inspired box, a carved mirror), marble (a bowl, a lidded box), and stone (an outdoor finial, a stoneware vase). He also picked up a few nautical-leaning finds, including a seaglass-hued jar and a strand of weathered fishing floats.
His favorite find: A set of two small jars in brown and cream that used to hold kitchen spices (seen just left of center on Anthony's table). "I love how they have the finials on the top. They're very elevated."
His best Brimfield advice: "I like to take a second look at things. In a booth, I do my first scan and get a sense of what the vendor has. Then I go back and look a second time, because I always see something I didn't see the first time. It's about pacing yourself."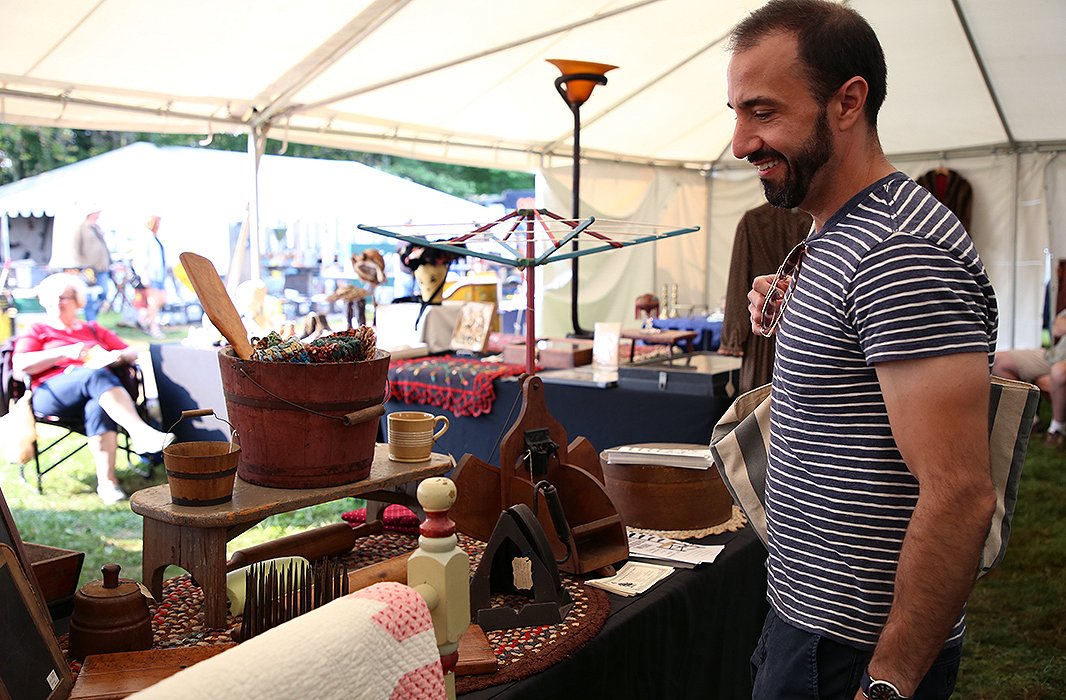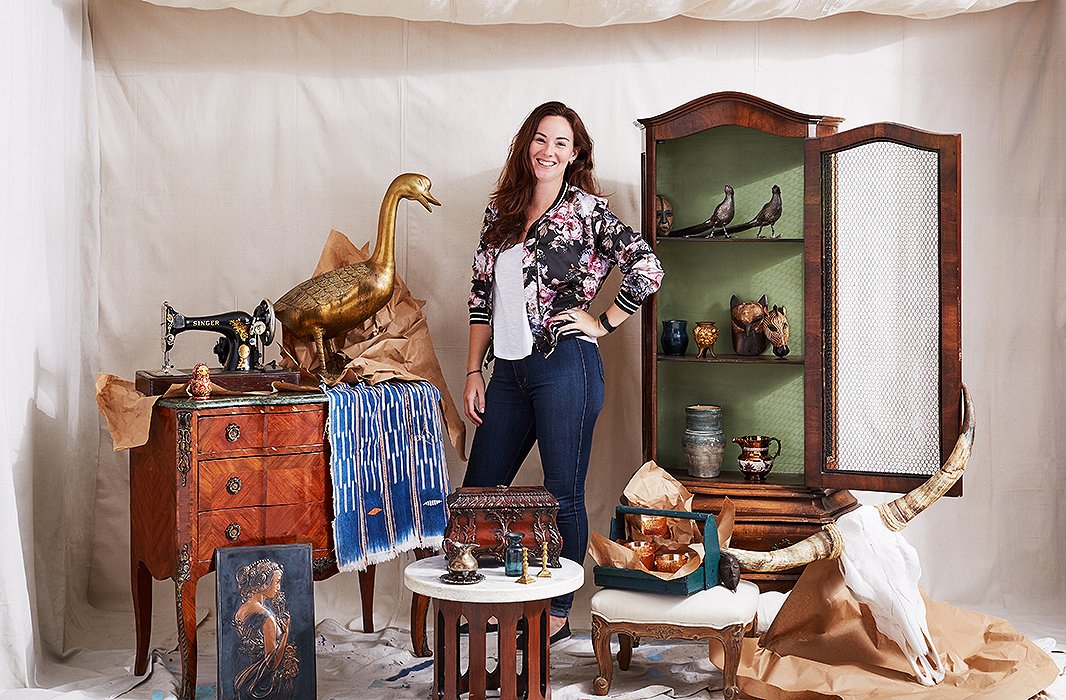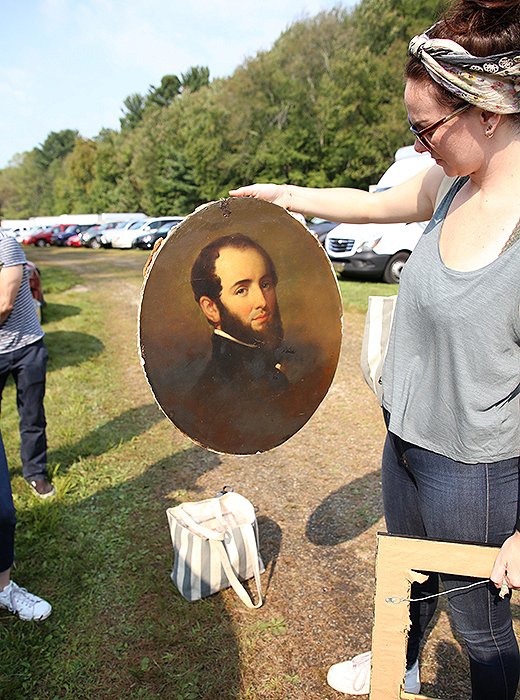 Erika's Rustic-Meets-Traditional Twist
Her style: A mash-up of rustic and classic aesthetics, and never without character-filled antiques. "I like the attention to detail of traditional pieces, and pieces that feel like they have a story."
Her shopping list: "I was looking for things that stood out and felt really different, like beautiful wood furniture and unique taxidermy."
What she bought: Erika didn't find any taxidermy, but she did pick up plenty of other animal-inspired finds, including a cow skull, a wooden horse mask, and a pair of small sculptural birds. She scored big in the furniture department, coming home with a marble-top dresser, a set of wood side tables with terrazzo-tile tops, and a gorgeous display cabinet.
Her favorite find: It's a toss-up between the wood display cabinet and the brass duck (which she was tempted to take home for herself!).
Her best Brimfield advice: "Don't let yourself get overwhelmed by it all! There are plenty of treasures to be discovered."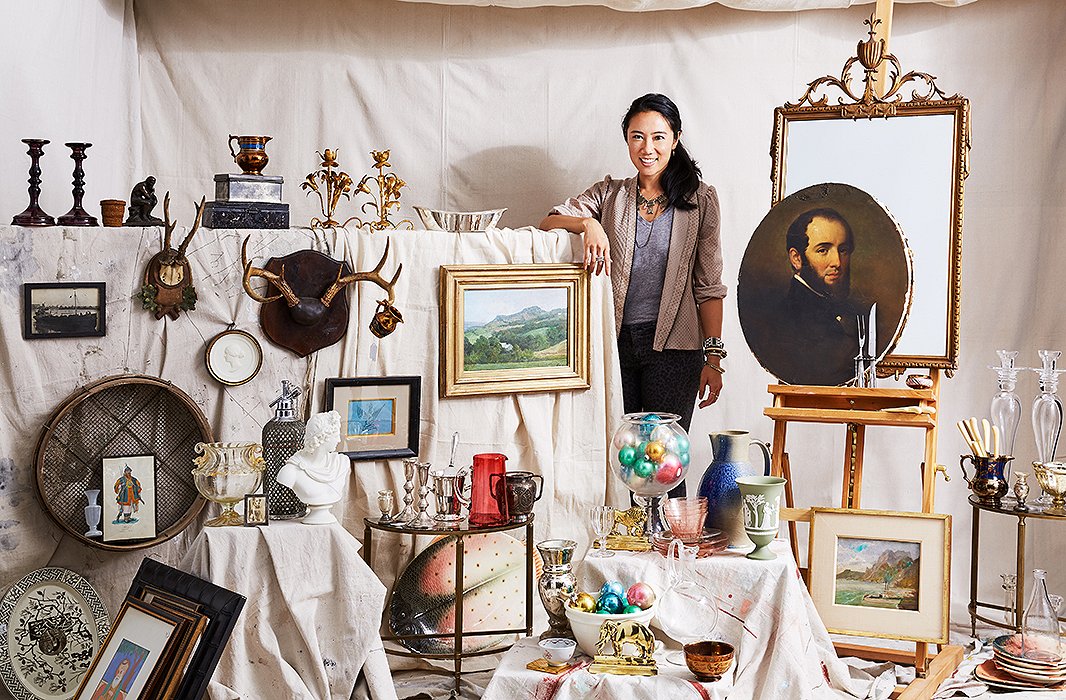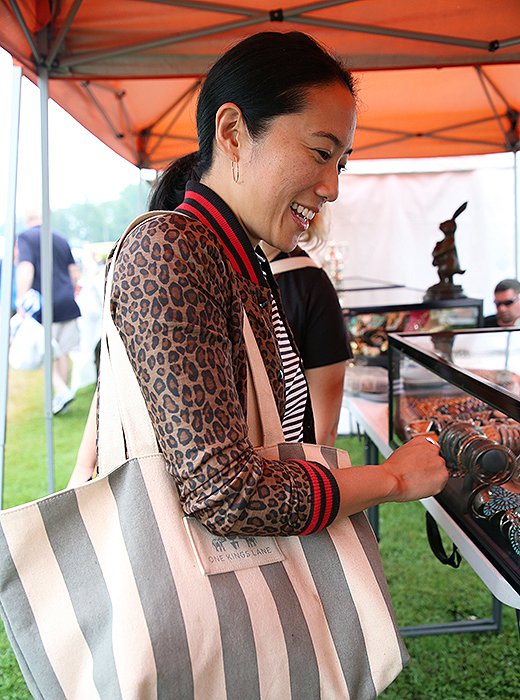 Michelle's Modern Take on the Old
Her style: "I'm a little bit modern. But at the same time I like old things—but ones that have that modern, minimal twist. I like very clean lines in objects and furniture."
Her shopping list: "I wanted to buy a lot of vintage art and wall decor to use in our shoots. Vintage pieces add a more real, layered look."
What she bought: "I find when I'm buying stuff that I build a theme. A lot of what I bought this time was in darker tones. I was drawn to black frames and dark wood because it contrasts so nicely with modern, white spaces. I also kept buying copper lusterware—I'm excited to build our fall looks around those pieces." Also in her shopping cart: sterling-silver accents, a handful of candlesticks, clear blown-glass vessels, and mounted antlers.
Her favorite find: "I love the pair of silver candlesticks I found. They have a geometric shape to them, even though they're old. They're very sculptural—I've never really seen anything with that shape."
Her best Brimfield advice: "When you walk into a styled, high-end booth, sometimes it's best to just visually enjoy the way things look. The real bargains can be found in the more unorganized tents—and often you'll find the same or similar items at a much better price. On the other hand, you want to make sure you love something completely versus buying it because it's a bargain. These are things you'll have forever!"