If you've stopped by our recently opened Soho flagship shop—or perused photos of the residential-inspired space online—you've likely taken notice of the handiwork of UK-based cabinetmaker Plain English. Founded in 1992 by Katie Fontana and Tony Niblock, the company has (luckily for us) branched out to the U.S., opening a beautifully appointed showroom in Manhattan and taking on an increasing number of clients stateside. We were thrilled to partner with Plain English for the kitchen of our Soho shop, which features custom cabinetry handcrafted of top-quality materials—just like all of the company's other bespoke kitchens, closets, and utility spaces.
Be sure to stop by One Kings Lane Soho to see Plain English's artistry in person—you'll find us at 143 Spring Street (at Wooster Street) in Manhattan. If you're interested in working with Plain English on a project of your own, you can make an appointment to visit the company's NYC showroom here. (Quote OKL10 when booking to receive 10% off!)
And if you're not yet tuned into the (admittedly) niche world of handcrafted cabinetry, a crash course from Plain English design director Merlin Wright is sure to change your mind. Read on to discover the very British roots of the company's designs, and get ready to see cabinetry in a whole new light.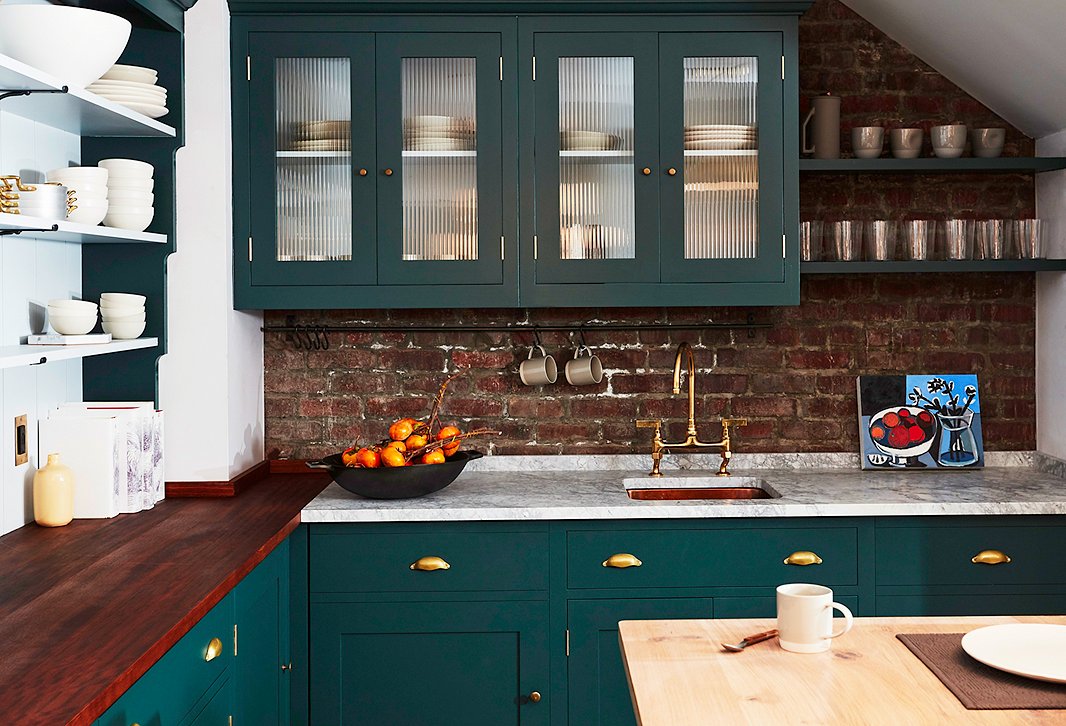 The British Aesthetic
As the name Plain English suggests, the brand's philosophy rests on a foundation of simple design and high-quality craft, all with a distinctly British character. Britain's Georgian period serves as a key point of inspiration; Plain English designers visit country homes from the 18th and 19th centuries to gather notes on color, form, and proportion. Why this particular period? As Merlin says, "The Georgian era was a high point of British design, when details and proportions were refined to a harmonious balance."
In the classic manor-house dichotomy of upstairs and downstairs, however, Plain English finds affinity with the latter: the working kitchen, built for function rather than flash, with straightforward layouts and unfussy details. This approach gives Plain English cabinetry "a timeless, understated look that is classic rather than fashionable and works well in both traditional and modern buildings," says Merlin.
Plain English's signature color palette also has roots in the Georgian era, "when low lighting meant that people often used strong, sometimes contrasting colors, all of which would have been made from natural pigments," Merlin notes. "Past collections have been based on the faded colors found in grand old British houses, and more recently on food colors such as 'kipper,' 'sauce,' and 'mushy peas.'"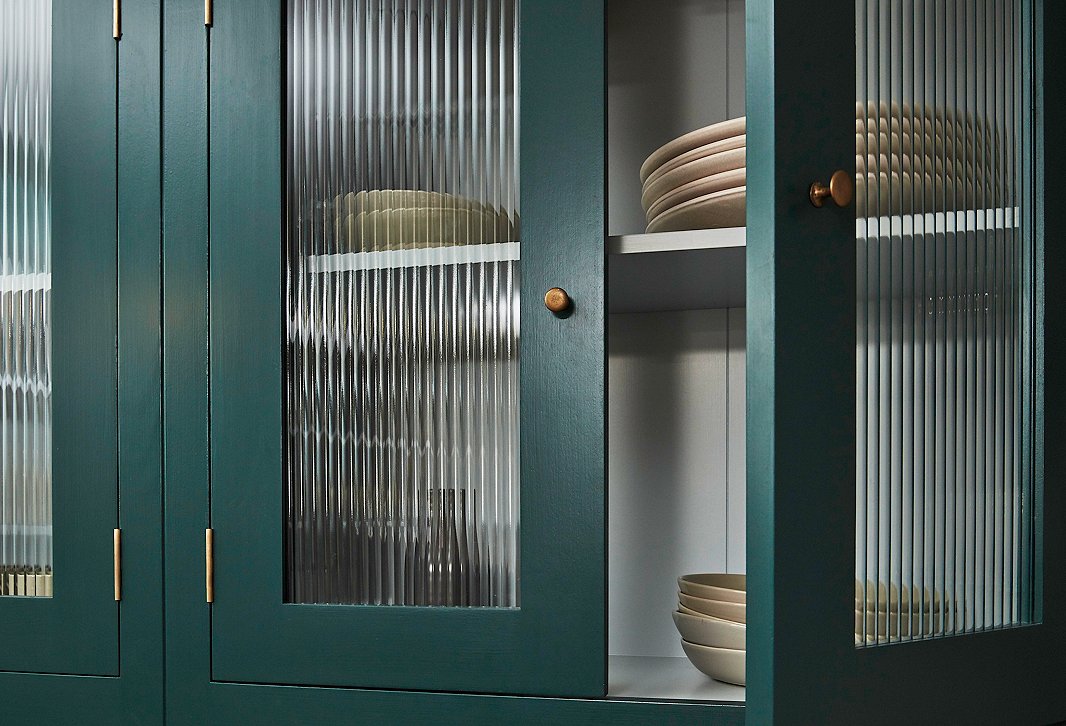 The Quality Craftsmanship
Because a Plain English kitchen is designed to be used, the company chooses materials and finishes that wear well or even improve with time. Countertops might be crafted of honed stone, oiled wood, steel, or zinc, depending on the client's needs. Cabinets are typically hand-painted by brush, Merlin notes, "which shows the subtle gestures of the painter and which, unlike a sprayed finish, can be repaired or repainted."
As for construction, Plain English users traditional techniques that have stood the test of time, such as dovetailed joints and drawers that glide on waxed wooden runners. The result is a kitchen that simply works—day after day and decade after decade.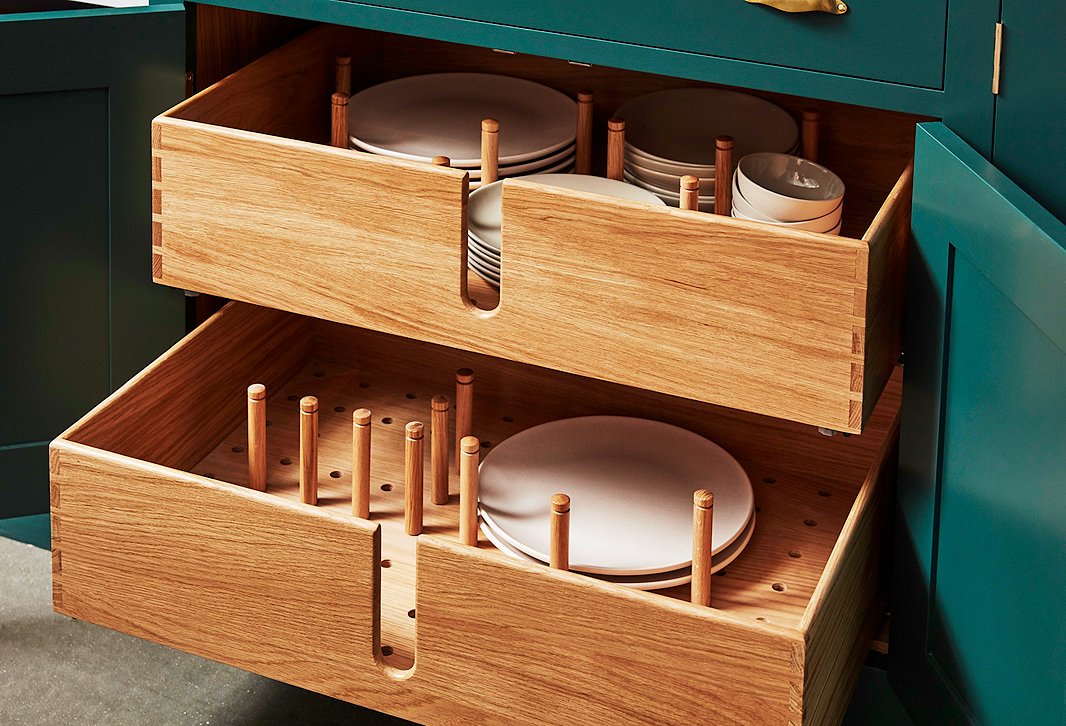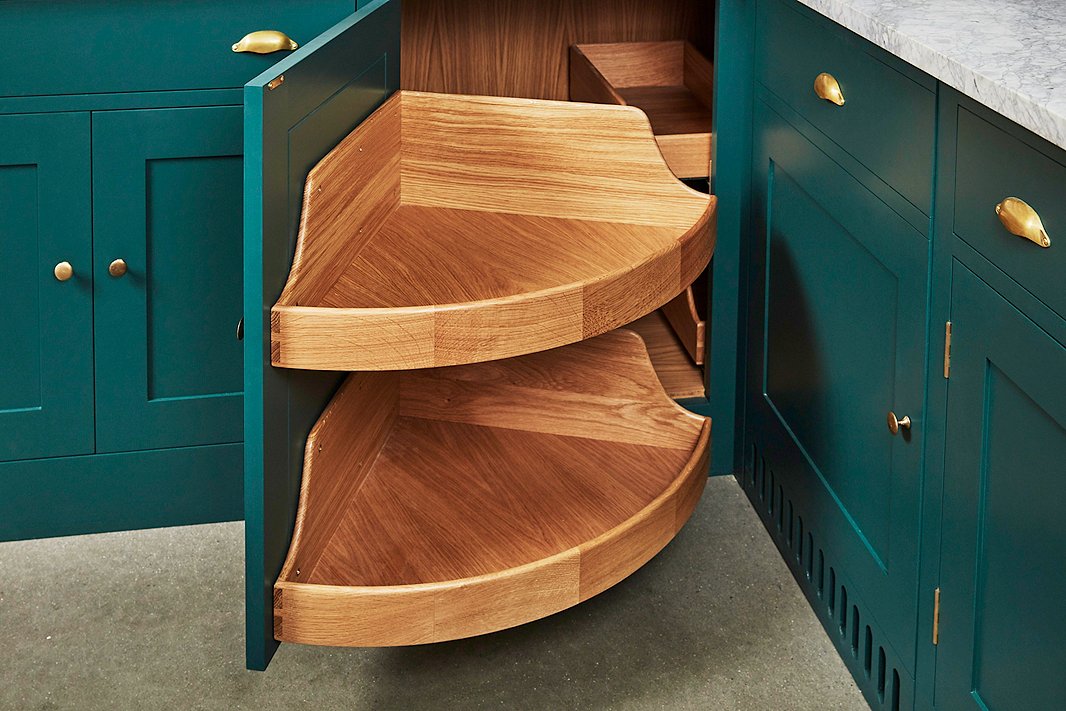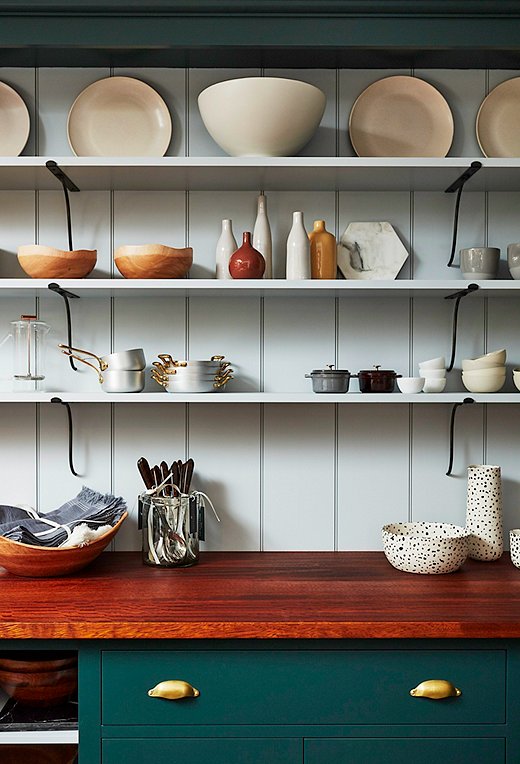 The Smart Solutions
The clean facades and classic fittings of Plain English kitchens conceal a bevy of smart storage and organization tricks, all of which can be customized to suit an individual client's needs. Opt for drawers specially designed for recycling, trash, and compost bins, or choose a rubber-bottom divided drawer for storing bottles of wine. Flatware drawers can be felt-lined to keep silver looking good; dinnerware drawers feature pegs that you can reconfigure to accommodate plates and bowls.
And of course, the overall layout of the kitchen is thoughtfully considered too, and ultimately tailored to the needs of each client. "There are common-sense rules about layouts, but the emotional aspect of using a kitchen is just as important, so we won't spoil the feel of a space with an over-adherence to theories," Merlin says. "The main thing is to work with the client to form an accurate picture of how they will use their kitchen, as all clients are different."
There are common-sense rules about layouts, but the emotional aspect of using a kitchen is just as important.