Every Sunday in our #DearOKL Q&A column, our expert editors answer your decorating questions.
This week, we took to Instagram and asked you to ping us with all your lighting queries. And to that we say… keep reading! We've answered a select few below and are working our way through the rest, responding on our social channels as we go. When it comes to creating a well-lit home, there's no shortage of tips and tricks, but the most important things to keep in mind are: 1.) function 2.) do you love it? and 3.) every room looks better after dark with three to five sources of light. Aside from that, don't be afraid to experiment with shapes, sizes, genres, and shades to achieve a scheme that's uniquely you.
Q: I have an odd space in my home just big enough for a small dining table, but overhead lighting isn't an option. I'd like a cozy spot where I can have a coffee or check some e-mails, but have no idea what to do for lighting. Help!–@lamere_muses
A: First off, lucky you @lamere_muses! If only we all had a niche to fit a table for two. There's nothing better than an intimate spot for time alone or good conversation with someone you adore. Since it sounds like you won't be using this for dinner parties, sacrifice some of the table's surface for a slender table lamp outfitted with a low-wattage bulb. It'll shed light on your tea and create a warm ambiance while the sun wanes below the horizon. For a little inspiration, here's a nook in Frank Faulkner's Columbia County home, where he turned a tight space into a cozy moment with the incorporation of a classic brass lamp. Just be sure to keep scale in mind: In scenarios like these, we suggest something with a shade (for ambient glow) and nothing taller than 20″-23″. If it's too tall, or too wide, it will overpower the entire vignette.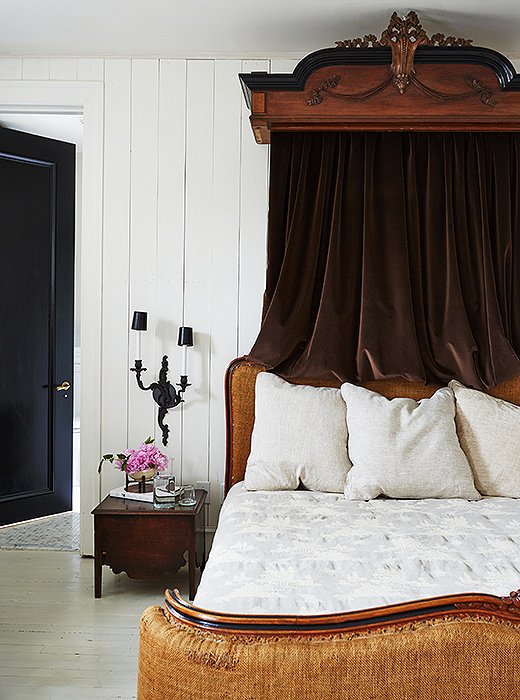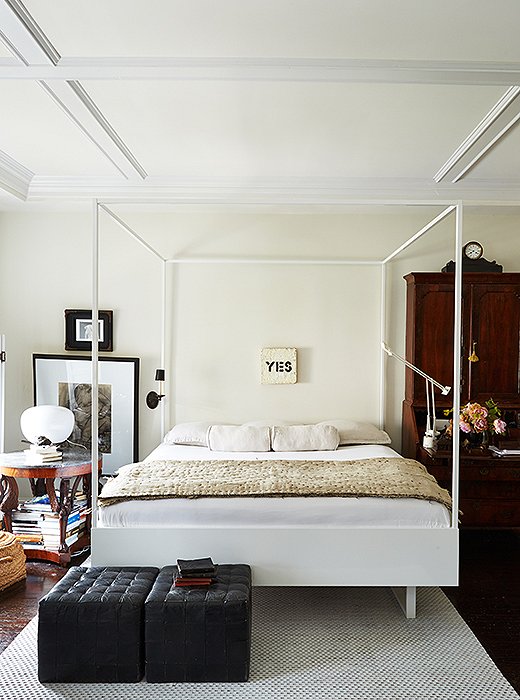 Q: My boyfriend and I just moved in together and we're having problems deciding on bedside lamps. I like to go to bed early, but he's a book editor who's always up late reading what he claims will be "the next great American novel" (insert eye roll). How do I give him the light he needs, but still get my beauty sleep?–@dmb
A: DMB, we hear you. Those of us who've ever had to share a bed can definitely relate. If he can't read his books elsewhere and a lights out policy is simply not possible, we suggest you opt for task lighting or variations thereof. Interior designer Darryl Carter achieved functional elegance in his bedrooms by way of a contemporary desk lamp and more traditional sconces shaded in black. They're sources of light that not only look good, but also have the added benefit of a controlled glow. While on, they only light one half of the bed, leaving the other half pleasantly dark for a good night's sleep.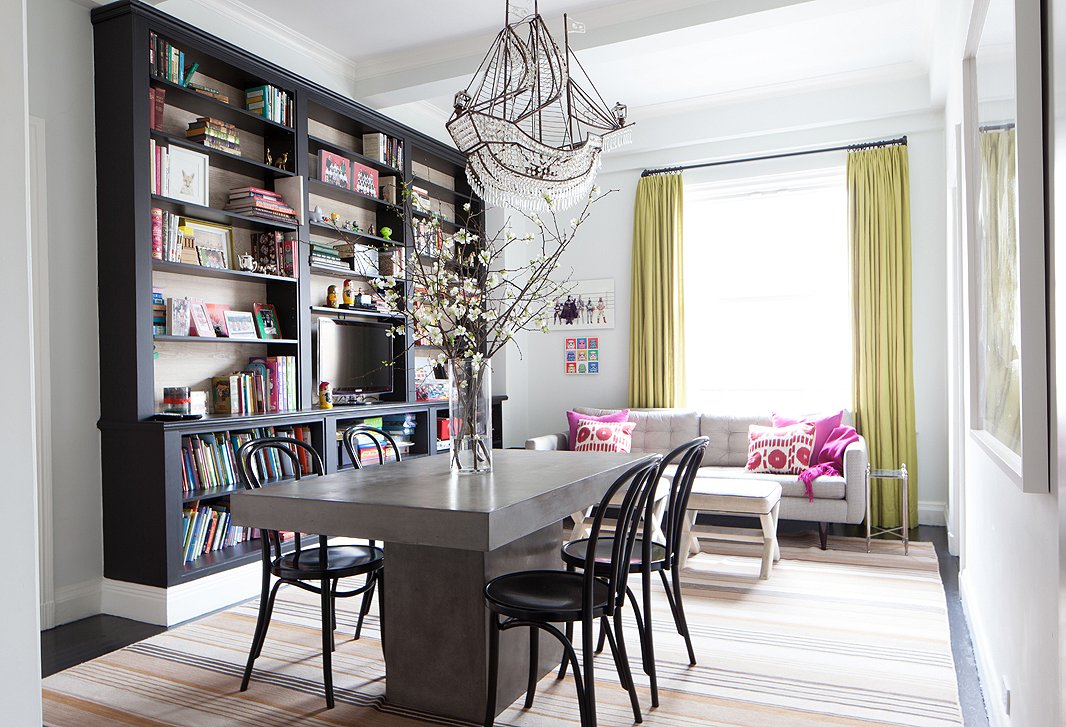 Q: We need an unusual light to hang over the dining table in an open plan living kitchen room, thoughts?–@mrshkelly
A: Hey MrsHKelly! Add some artful definition to your open plan with a chandelier that reads more like a sculpture. Something with a eye-catching form will help define the dining area from the rest of the space, without hindering the airy appeal of your wall-less set up. Have a look at our collection of fixtures from Canopy Designs—they're full of unusual masterpieces, ranging from crystal ships to branches blossoming with iridescent blooms. Because of their aesthetic impact, they can be hung in virtually any environment and hold their own. In other words, these luminous showstoppers need no assist from the rest of your decor to look right at home. And as for how high to hang it? Check out our guide to finding the perfect dining room light.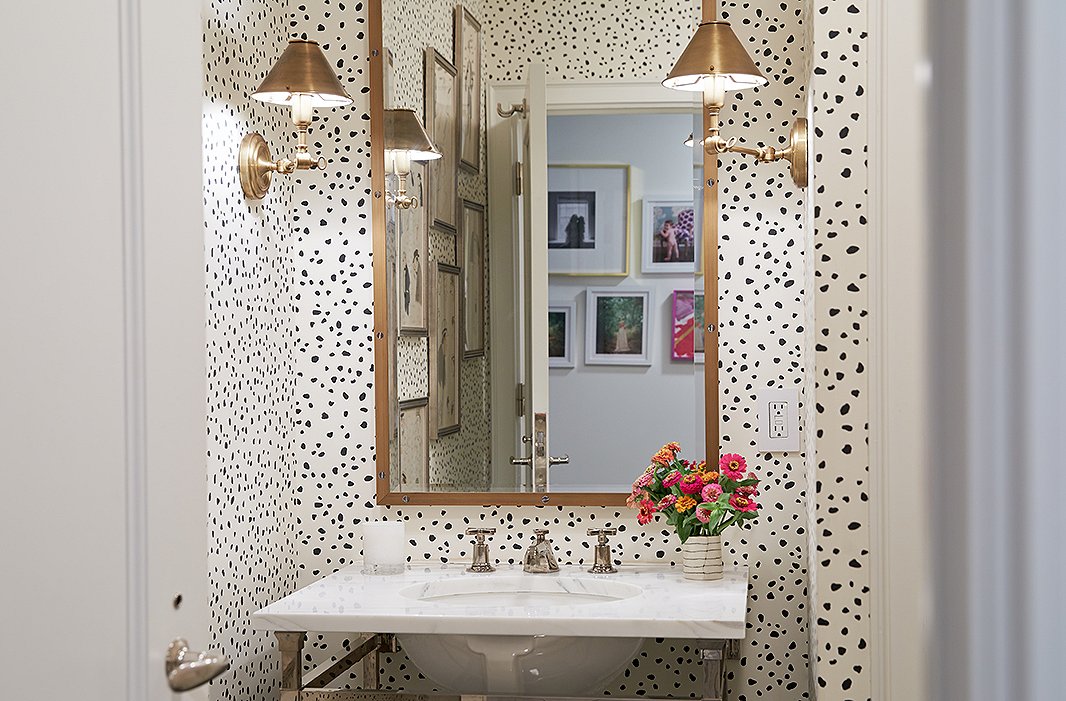 Q: What are some transitional bathroom sconces or lighting that will tie together black and brushed brass?–@whitgreens
A: Dear Whitgreens: If black and brass is what we have to work with, why not go for a fixture that's black, brass, or a combination of both? Though you could mix metals, sometimes it's nice to emphasize cohesion in small spaces like bathrooms by matching light fixtures to what's already there. And if a transitional look is what you're after, focus on finding sconces that pay respect to the classics we've all seen before but are stripped of superfluous ornamentations; this is an instance where utility trumps motif.
Have a question? Ask us!
---
And while you're at it, set up a complimentary one-on-one consultation with one of our talented designers at The Studio at One Kings Lane.