What is an interior designer but a person who helps transform a structure into something more magical? This ability to turn brick and wood into a place where memories are made is special. The journey of transforming house to home is beautiful, stressful, and deeply interesting. It is also the subject of Georgia designer James Farmer's ninth book, Arriving Home.
Known for his Southern design sensibilities, James never shies away from his love of pattern and color. This home is no different. Located in north Georgia, this lakeside abode was the second project James has worked on with this family, something he considers to be a high honor. "In these longstanding working relationships, personality, collections, sentiments, and style all merge," he writes in Arriving Home.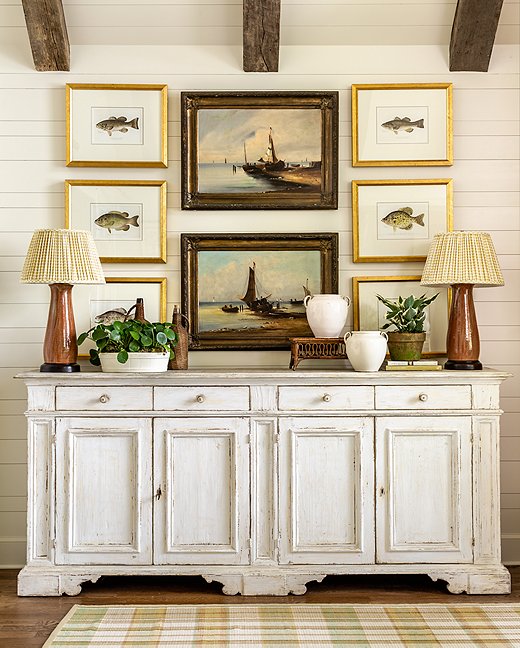 The couple who own this house have used it as a second home for years but were looking to make it feel more like a true escape. "When they purchased the house it was basic," James tells One Kings Lane. It resembled any house you could see in any neighborhood anywhere in the United States. "Our opportunity was to give it the proper vernacular so that it looks appropriate not only for a lake but for the Deep South."
Before James started the interior design process, he and architect Greg Busch, with the help of Bonner Buchanan Custom Homes, gave the space an architectural makeover. They opened up the entryway, added floor-to-ceiling windows in the main living area, improved the kitchen, and expanded the house's overall footprint.
Personality is a huge part of Southern design, and this lakeside home is no different. James went neutral on the walls. White paint set the tone in communal areas such as the kitchen and the living area. He added personality through layers of color and pattern. Soft blues, warm browns, and poppy greens reflect the colors of nature.  
Collected objets and art are dotted through the space. "There's something about the tactile response to emotion," James says. "You can feel something in your heart, but you can also feel that someone held this figurine or this porcelain bird or this plate in another generation and it brought the same response to them. It carries across time." This enduring emotion found in objects is what gives the space a great deal of warmth. It's also what helps transform it from house to home. 
Interiors aren't forever, but they do shape us in ways we don't expect. A fabric might resonate with you because your grandmother had it in her house when you were a child, or the painting that once hung in your father's office could still bring you cherished memories. These items are to be savored and used in fresh new ways. Arriving Home teaches you that, and this home certainly shows how to do it.