This home is a love letter to California living. Designed by Tammy Price of Fragments Identity for James and Kimberly Van Der Beek, this 1930s Spanish Colonial honors the ease of indoor/outdoor living. Tammy's designs seamlessly connect the raw beauty of California and the comfort of a well-designed home. How did she do it? By layering in her iconic textiles and sticking to her signature color palette.
"I confess I'm something of a Fragments fangirl," Kimberly told Architectural Digest. And the Van Der Beeks certainly aren't the first boldface names to hire Tammy because they love her take on California-inspired boho living. (You can read our home tour with actress Abigail Spencer, who hired Tammy to bring her signature style to her Los Angeles home, here.)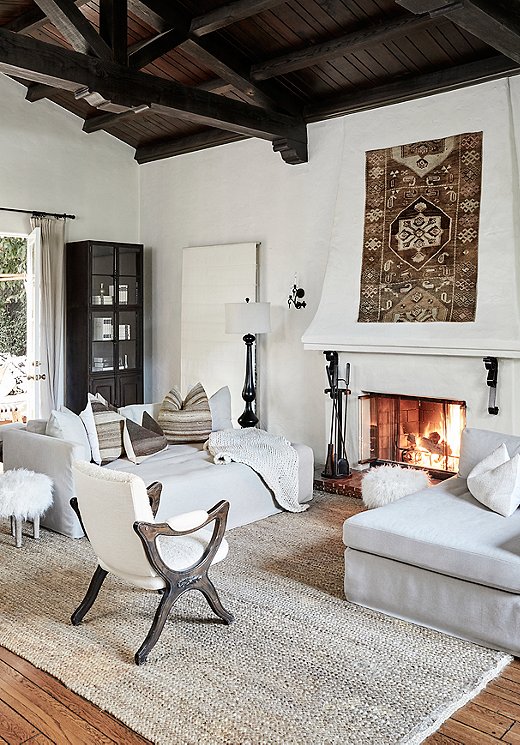 The Van Der Beeks' Beverly Hills home needed a designer's touch. "Our home was a crazy jumble of pieces from different places we'd lived before, all commingling, but not very happily; I called it the Island of Misfit Furniture," the Dawson's Creek and What Would Diplo Do? star said. Tammy brought in new pieces from her signature collection and combined them with a selection of the Van Der Beeks' existing furniture. She slipcovered their existing modular sofa and layered it up with warm-tone pillows, sheepskin accents, and cable-knit throws. "Those different layers bring the room alive," Tammy tells us. "When you're dealing with tonal things, bringing in the texture pulls it all together."
Because the Van Der Beeks have young children and a love of outdoor living, durability was the most important part of Tammy's design—but never at the cost of style. James and Kimberly asked Tammy to choose pieces that could seamlessly translate from one room to the next, even if the next was their patio. "It was important in everything we did," Tammy says. "The pillows on the sofa in the living room can go to the outdoor, and the outdoor pillows can go to the indoor. I just want it to all play together."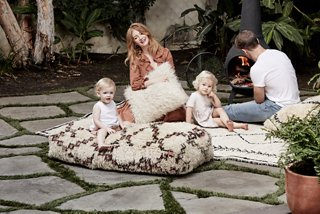 And play together it did. Once Tammy wove her style throughout the Van Der Beek narrative, the Island of Misfit Furniture was no more. Warm tones brightened up the white walls and married nicely with wood architectural elements. Rattan, sisal, and vintage kilims facilitated an easy transition from indoor to out. And though the Van Der Beeks have since decamped to Texas, their love of rustic simplicity with a touch of boho sophistication remains.