Interior designer Jenn Feldman doesn't play it safe. But her bold choices are less casual rule-breaking than a reflection of her thoughtful, client-centric approach. "I come at things very emotionally: How do you want to feel? How do you want to live? How do you want to see your family?" Not your typical design-speak, but very appropriate from a one-time psych-art major and former PR maven who had her decorating jones validated when Nate Berkus turned up at her door to tell her she'd won Oprah's first design contest. Eight years later, she heads her own design shop and partners with kindred-spirit clients such as Melissa Levin, co-founder and co-creative director of children's clothing line Spritely Kids.
Melissa put her family's three-bedroom Hancock Park, Los Angeles, cottage and guesthouse in Jenn's maverick hands. "The only must was that our home represent our family and how we live," says Melissa, who started Spritely Kids when she couldn't find fashionable, functional outfits for daughter Hadley. "Our life is full of fun, laughter, sticky hands, dirty paws, and love! We don't take ourselves too seriously, so our home needs to be consistent with that."
"We met and it was an instant connection," Jenn says. "We just kind of spoke the same language." The two free spirits joined forces to turn Melissa's home into a cheeky, sophisticated, family-friendly space.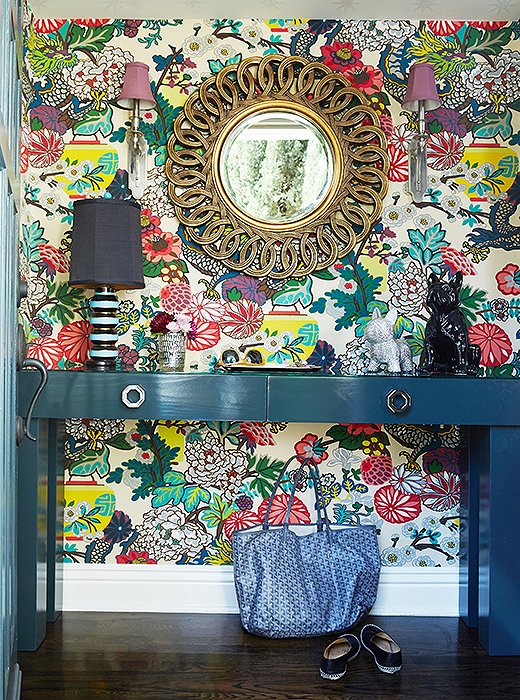 Wild for Wallpaper
The strong statements begin straightaway in the entry hall. Jenn is a big believer in working with what you've got, so rather than trying to disguise the small space ("I think we had two inches of clearance between the door swing and the console table!"), she put a big, splashy Schumacher paper on the walls (Chiang Mai, which she'd been saving for a "really special" client).
Jenn invoked one of her mantras, "Everything matters," and used the paper to set the tone for the rest of the house. Right away it introduces you to the Levins' sense of style and fun, preparing guests for the vibrant palette in the rooms that follow. "When you're walking into a home, not only should it make you happy," Jenn says, "it should make a statement."
When you're walking into a home, not only should it make you happy, it should make a statement.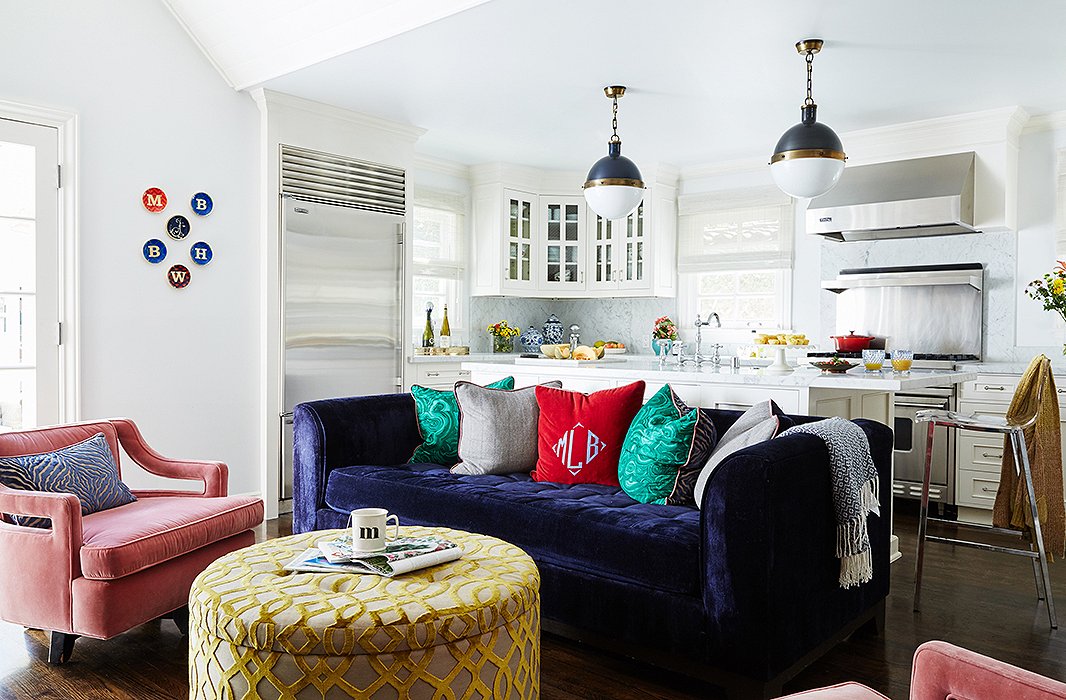 The Heart of the Home
For all her stylistic adventures, Jenn knows that function and form need to be in lockstep. "My wheelhouse is working for families with young children and dogs. I'm always asking myself, 'Is this going to work for them?'" Luckily, Melissa and her family (husband Brian, son Briggs, daughter Hadley, and French bulldogs Waffles and Jelly Bean) have more than enough room to hang out, eat, cuddle, and nap in the open kitchen-cum-family room. "We love hosting everything from informal play dates to fun holiday parties to more-formal events," says Melissa. "The layout lends itself to the welcoming, inviting feeling we wanted. Nothing is too formal or contrived; it's just a comfortable, functional, and beautiful space for everyone—dogs included."
To make her palette pop here, Jenn kept the space light and bright. Where kitchens are concerned, "I just crave the simplicity of white," she says. She added energy with a sapphire sofa dressed with mismatched throw pillows and a pair of vintage armchairs she had covered in pink velvet.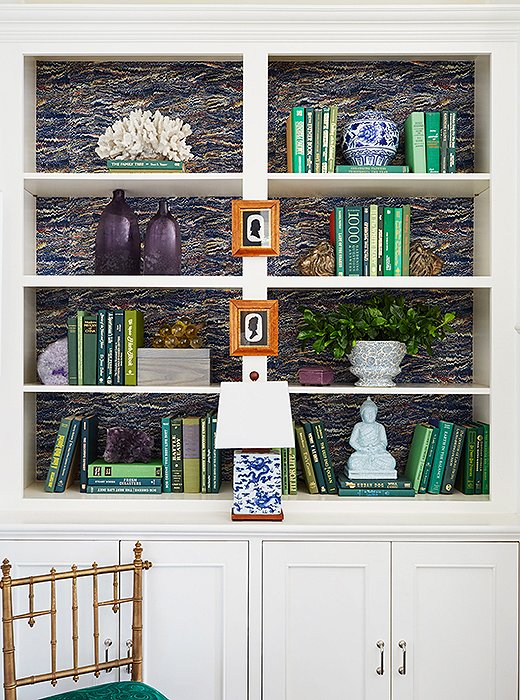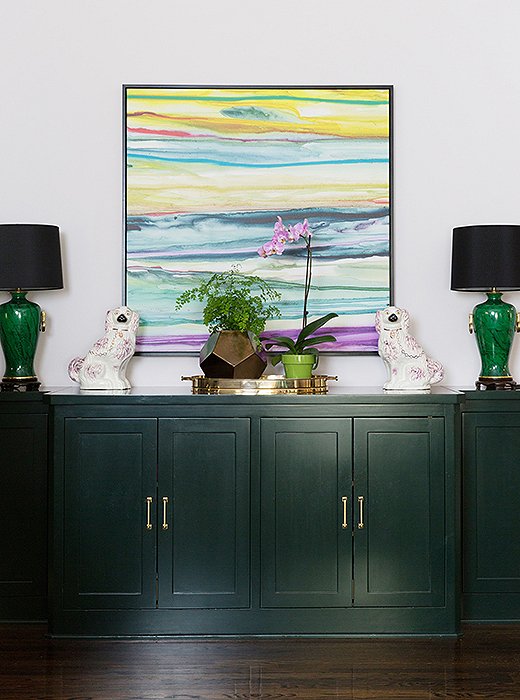 Big Style in Small Places
Jenn's wallpaper odyssey extends to the built-in bookcases: She papered the backs with Twigs' colorful Pheasant pattern before adding books she organized by color. The designer likes little "surprise moments" that delight but don't overwhelm and says that using a chic paper in a small area is a great way to add sophistication without breaking the bank. "The paper was a bit expensive," Jenn admits. "We just didn't need a lot."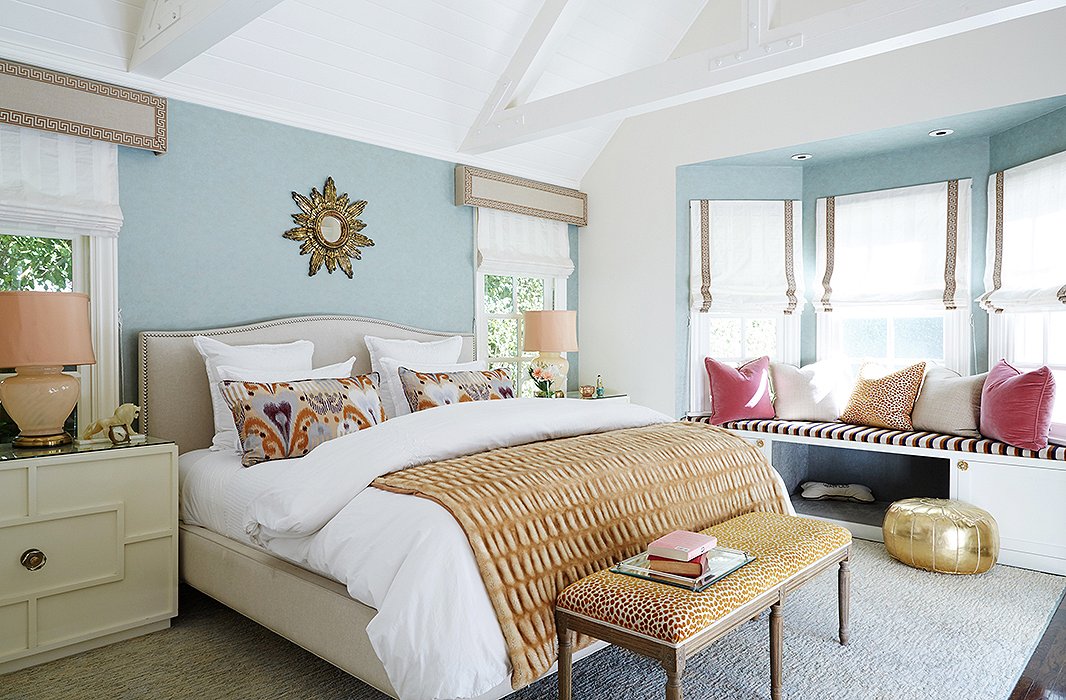 Blissed-Out Bedroom
In the bedroom, Jenn took a more restrained approach, relying on a softer palette and luxurious finishes. "Jenn took me to her favorite places to dig for special fabrics, which really helped make the process a more intimate and personal experience," Melissa says. No-fuss white bedding is layered with pattern and subtle gilt touches. The effect is mature, serene, and eye-catching. Function was also never far from Jenn's mind. "They're a dog-loving family, and in their bedroom, they really wanted Waffles to have a bed." Hence the custom window seat, complete with dog bed.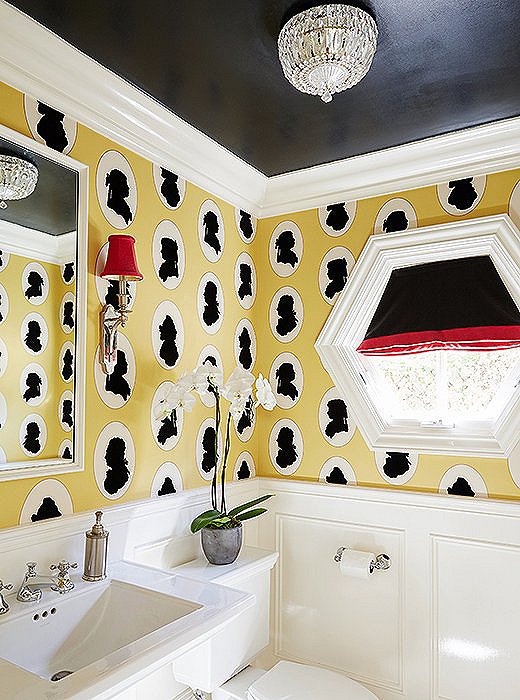 The Poshest Powder Room
"I'm a big paint-the-ceiling girl," Jenn says. When she considered the Benjamin Moore Black now gracing the powder room, she was a little worried about scaring Levin—but Melissa agreed that a painted ceiling would complement the room's molding. The crystals in the flush-mount fixture left by the previous owners ensure plenty of light is bounced around. As for the bold cameo wallpaper, Jenn had it "in her back pocket," and Melissa jumped on it. "We just loaded up the walls and the ceiling, and it's this perfect little jewel box," Jenn says. "Melissa was never a client to be safe, and to me, that's like the whole story of the bathroom."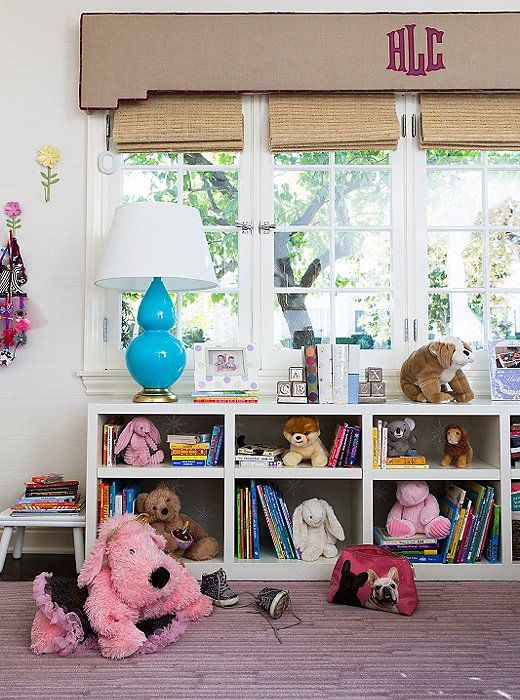 Now Entering: Kid Zone
"Just because they're children doesn't mean they deserve any less sophistication," Jenn explains of her approach to kids' rooms. Hadley is treated to a chic monogrammed window treatment and a subtle purple palette that plays nicely now and will continue to do so as she gets older. In Briggs's room, painted striped walls flank whimsical whale wallpaper, which Jenn was careful to put on the interior so that it wasn't visible from the rest of the house. Melissa trusts her instincts when it's time to green-light such bold moves. "I have always been comfortable with color because I associate it with emotion," she says. "And I'm totally confident with making choices that might seem risky as long as they feel right to me."
I'm totally confident with making choices that might seem risky as long as they feel right to me.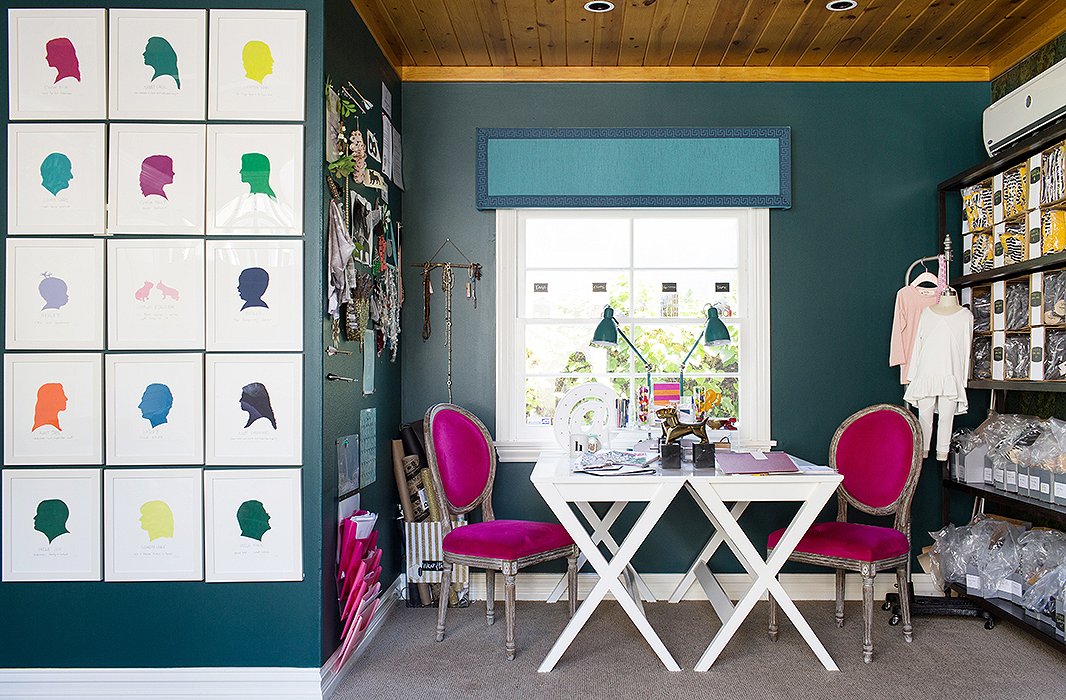 Work Hard, Play Hard!
Like many other L.A. homes, the Levins' includes a guesthouse, which is also used as a playroom and a work space. First on Jenn's list was designing and installing custom storage—something she did throughout the house: "Nobody ever cried because they had too much storage!" Adding a wall of silhouettes by Brooklyn artist Carter Kustera brought the family feeling. "I remember when Jenn mentioned the idea to me in the midst of our project, and I immediately agreed," says Melissa. "We decided to create the wall exclusively for these portraits and revealed them to everyone in our family on our daughter's first birthday… needless to say it was a fantastic surprise." Melissa describes Jenn's ability to transition the alcove space into an office area as nothing short of "game changing. The details make it just perfect, allowing me to feel inspired just by sitting at my desk." She particularly fell for the sophistication of the design—the natural wood, the white molding, and the teal walls. "The guesthouse is one of my favorite places in the world," she says.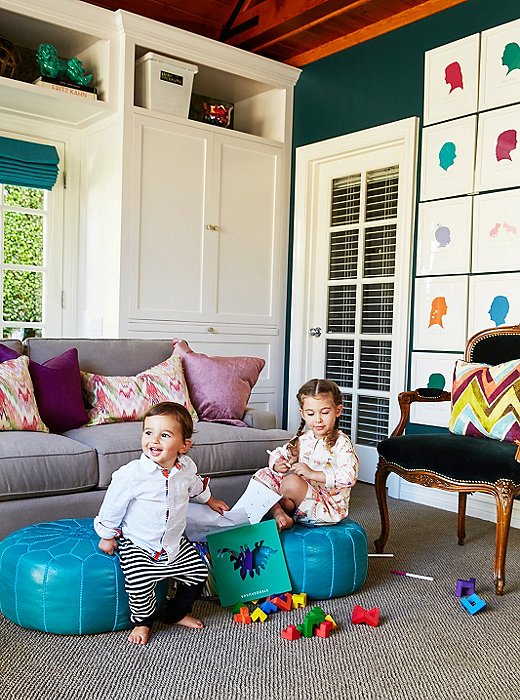 The details make it just perfect, allowing me to feel inspired just by sitting at my desk.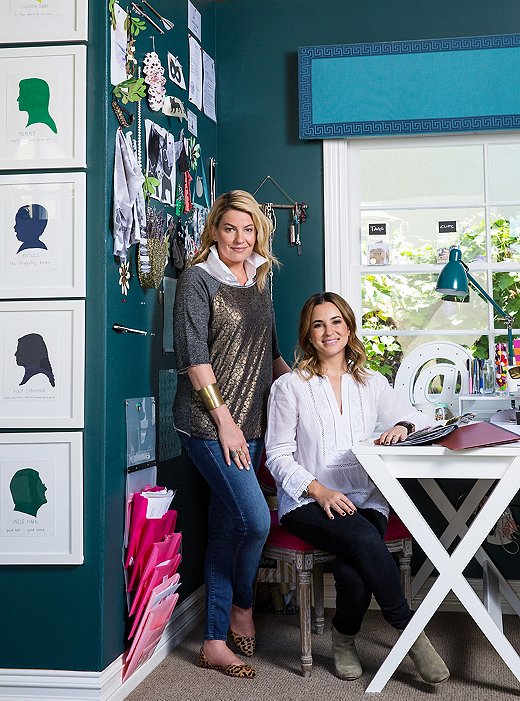 The Dream Team
The cohesion of the home's interiors speaks for itself, and that's a tribute not only to Jenn's talent and vision but also to her having had the perfect partner in Melissa. "From the beginning of this process, Jenn understood exactly what I was looking for and my distinct and definitive taste and style," says Melissa. "The entire project was very organic, and every detail from fabric to furniture fell into place as it was meant to be."