As founders of Pencil & Paper Co., Gen and Ben Sohr help launch brands, guide home renovations, dive into anything that needs their vast design wisdom (Gen's background spans interior design and visual merchandising, while Ben's covers architecture and store design), and created two wonderfully fresh art series. But here's what we love the most: Gen and Ben don't just paste ideas onto mood boards—they actually renovate, design, and move into their favorite projects as they go. Each home becomes a laboratory for their freshest ideas and how they want their own family to live.
When they left jobs in corporate America to settle in Ben's hometown of Nashville, the couple landed on their most delicious project yet: a 1930s house, virtually untouched since it was built. They set about renovating it into a blissfully fresh version of a Southern home—more family-style than formal, with a palette that seriously pops. Along the way, Gen converted to Southern living. "Our life here is so focused around family and friends and entertaining and cooking," she says. "Southern hospitality is real."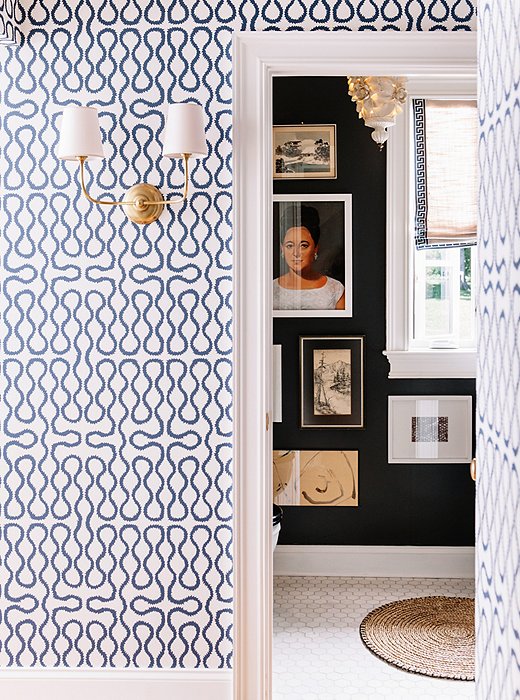 A House Reimagined
As with any other house, this one had a few limitations intrinsic to its original design—such as the lack of a foyer. The front door opens right onto a staircase. As Gen says, "It's very vertical living here! It's like a Brooklyn brownstone or a London townhouse in that sense." Beyond a few unchangeable architectural features like the stairs, there were plenty of opportunities to reimagine the layout. The house needed new plumbing, new electrical systems, new everything, so it was taken down to its studs and walls were shifted around. The couple built their Pencil and Paper offices into the lower level, the main living space and the master suite into the ground level, and the bedrooms and an entire floor of play space above for their children, Lucy and Oden. After five months of renovation the family settled in.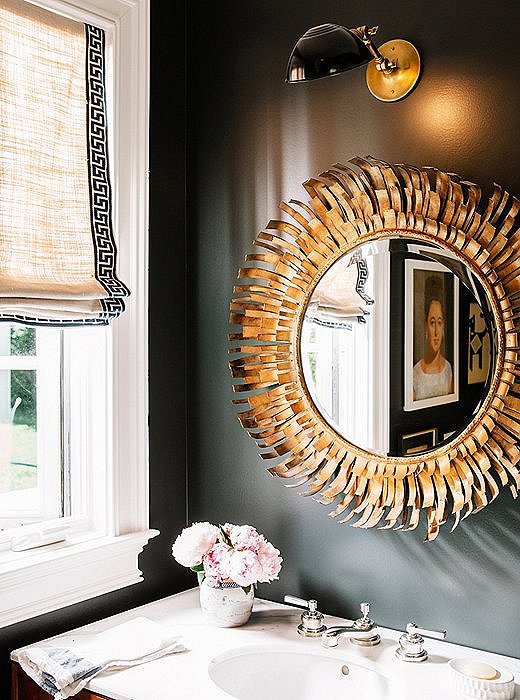 It's very vertical living here! It's like a Brooklyn brownstone or a London townhouse in that sense.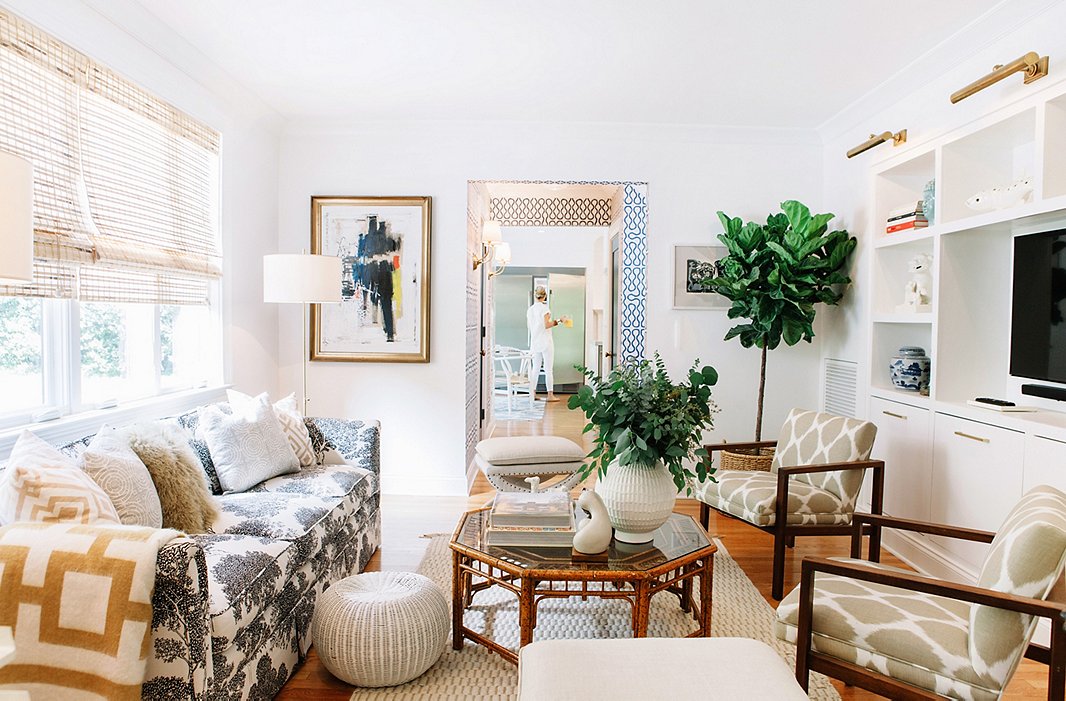 Embracing Modern Living
When they redesigned the house, Gen and Ben made the strategic decision to have a large kitchen, a living room that would be somewhat on the smaller side, and no formal dining room. This updated layout could be the blueprint for modern family living: Everyone gathers and eats in the kitchen, and the living room feels cozier with a single sitting area, unlike a more formal living room that might have two or three sitting areas.
When the couple entertains, cocktails happen in the restful living room to put everyone at ease. As with everything else in the Sohrs' world, dinner parties are a joint venture. Gen explains the breakdown: "I'll do the invitations and set the table. And Ben orchestrates food, cocktails, music—he always has a vision for what he wants to do." After cocktails, the party moves into the beautiful kitchen for a chef's-table-style dinner. On quieter nights, the family cozies up for a movie. The placement of the television was a minor battle—the compromise was to surround it with beautiful white shelving and balance out its size with large-scale art.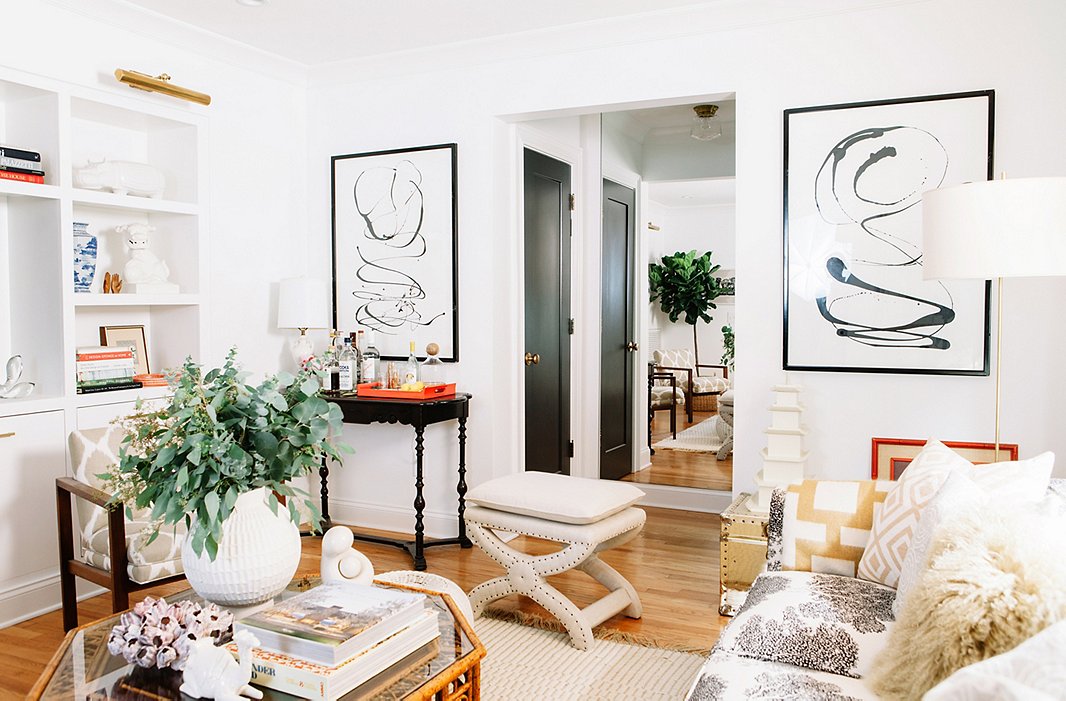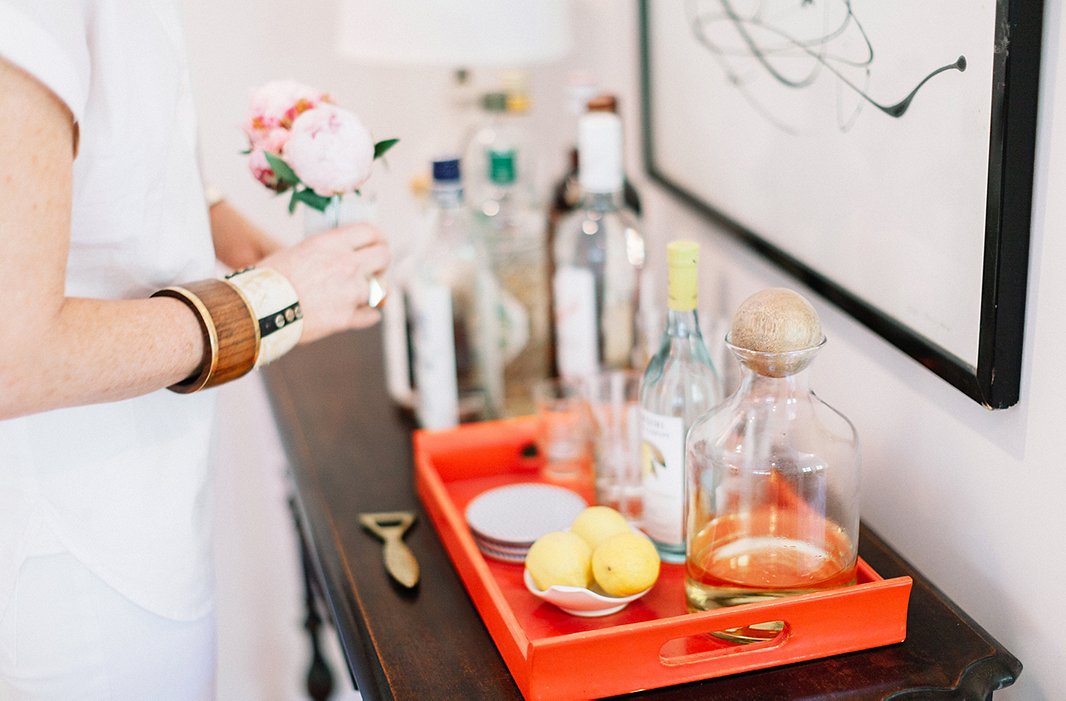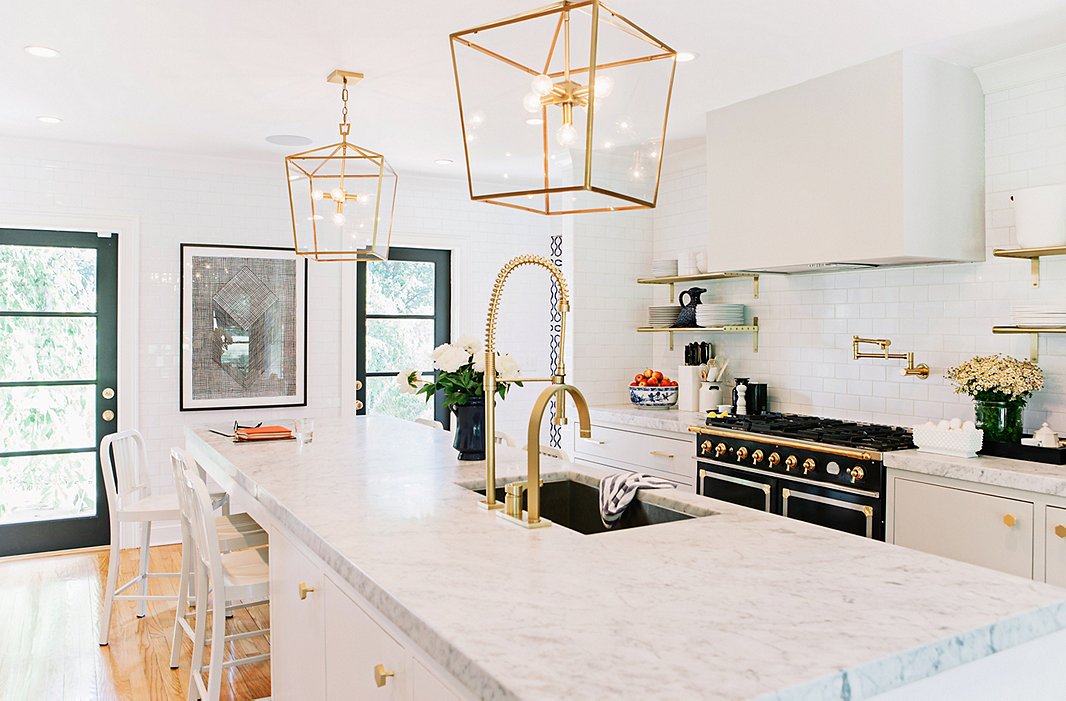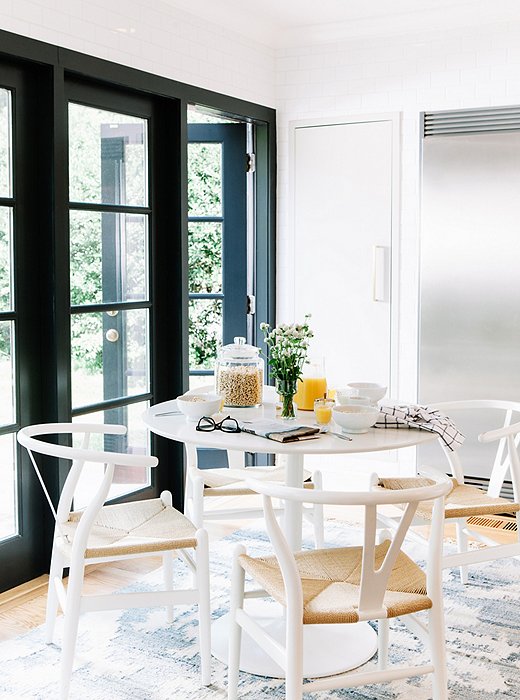 Building a Killer Kitchen
If Gen and Ben learned anything from their past lives in other houses, it was that everyone always gathers in the kitchen. To make the most of their space, they put the kitchen where the living room had been, keeping the original fireplace and adding an 18-foot-long kitchen island. They also opened up both ends of the narrow, long room with walls of French doors. 
The kitchen's pièce de résistance is the brass-and-black La Cornue stove. Gen's love for the stove is purely aesthetic: "It mixes all the metals I wanted to bring in—brass, stainless steel, chrome—so I think of it as integral to the house's whole design. Looking at it gives me pure joy." Ben, as the family's chef, was hooked once he saw how well the stove performs.  
Our life here is so focused around family and friends and entertaining and cooking. Southern hospitality is real.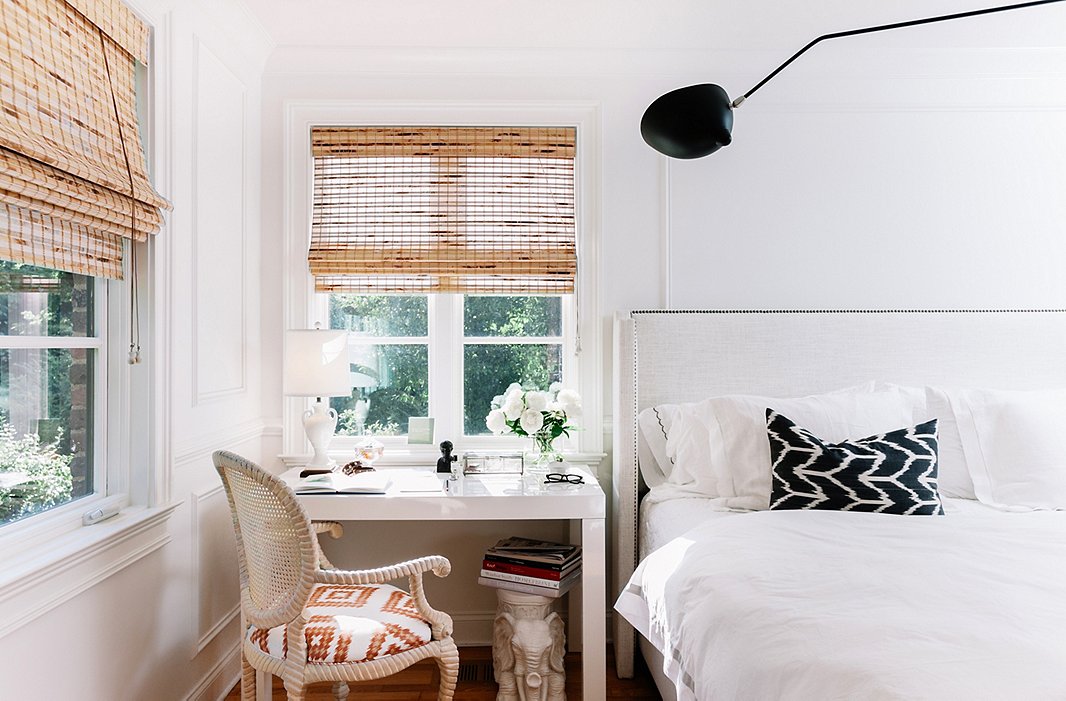 Mastering Shared Space
Rather than defaulting to the largest bedroom upstairs, Ben and Gen built a master suite onto the ground level. They savor the quiet that comes over the downstairs floor at night— "when no one's running around us." During the day, it serves as a nearby retreat—Gen might hop on the computer or read a magazine there. And in what might be the key to how the couple works so well together, this really is a suite. "After living in a number of houses together, Ben and I have learned that we stay sane when we have our own bathrooms and closets," says Gen.
The bedroom mashes up the couple's two styles (yes, they do differ). "My husband's aesthetic is much more spare and modern. He could live in a white box with three beautiful pieces of modern furniture and be so happy. And I'm a collector. I have so much stuff. So we figured out the hybrid of our aesthetics. One of his requests for this house was a very calm, grown-up bedroom."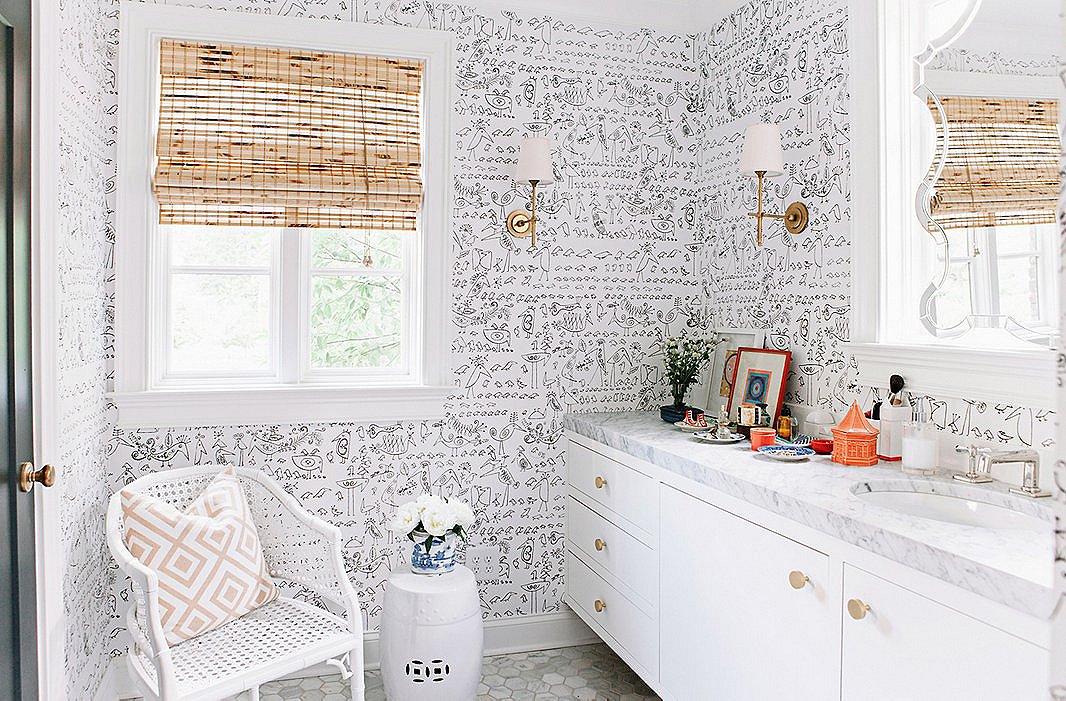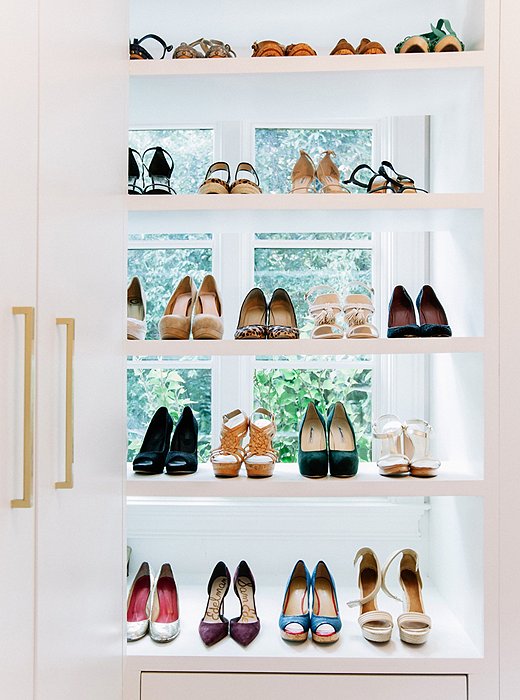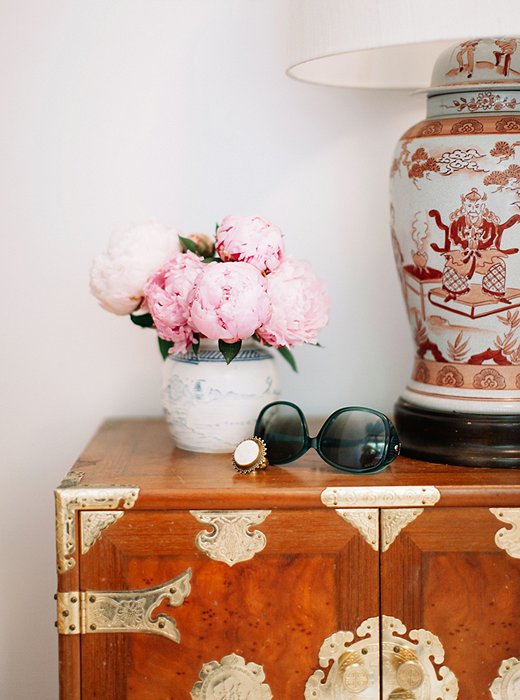 After living in a number of houses together, Ben and I have learned that we stay sane when we have our own bathrooms and closets.
Making Kids' Rooms Go Pop
For their kids' bedrooms, there was another type of collaboration. These rooms evolve as the kids grow, and Gen says they love the little updates that come with moving into a new space. In Lucy's room, the foundation is a white bed that Gen bought at an estate sale years ago. Lucy got new bedding for this bedroom—they made the primary-color palette more sophisticated by choosing a soft-yellow duvet and mixing some pink among the red accents.
Their son, Oden, is "super-opinionated about his style. And he needs space for his sneaker collection." A red-and-white cabinet, which has landed in every one of their homes, became the perfect storage piece for Oden. As Gen says, "It's about finding furniture that is kid-friendly but not actually 'kid furniture.'"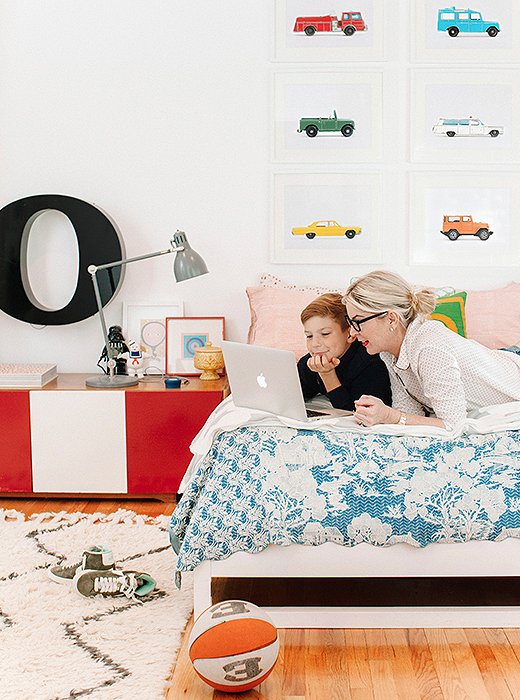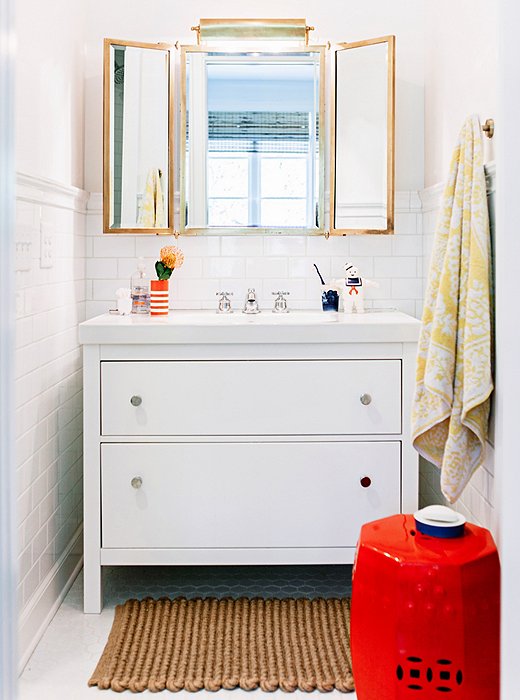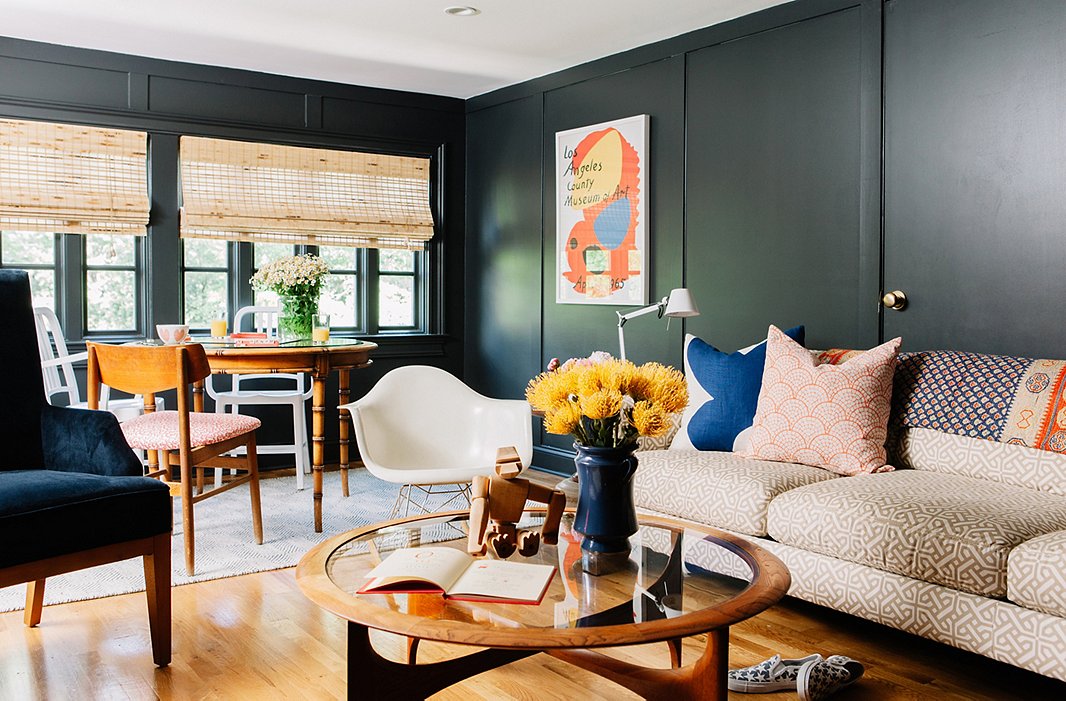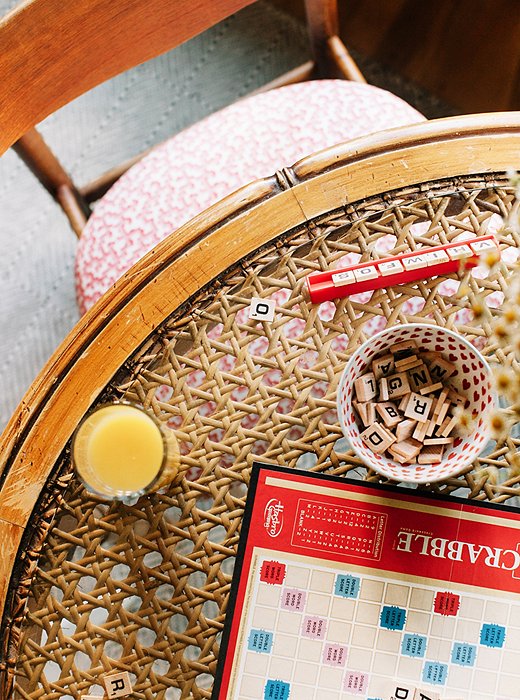 Designing for Downtime
When it comes to playrooms, some parents abandon any hope of maintaining a sense of style. But here, not only did Gen and Ben devote an entire floor to creating a "kids' world," but they also infused it with its very own sharp design scheme. The contrasts seen in the rest of the interiors are especially apparent here—for instance, the glimpses of white against the black-painted walls.
It might look magazine-ready, but this floor is dedicated to fun: The zone is about ping-pong, video games, board games, and weekend-long slumber parties. Lucy and Oden have 12 cousins in Nashville, and this is the perfect gathering space—and Gen and Ben don't have to see the mess until the weekend is over.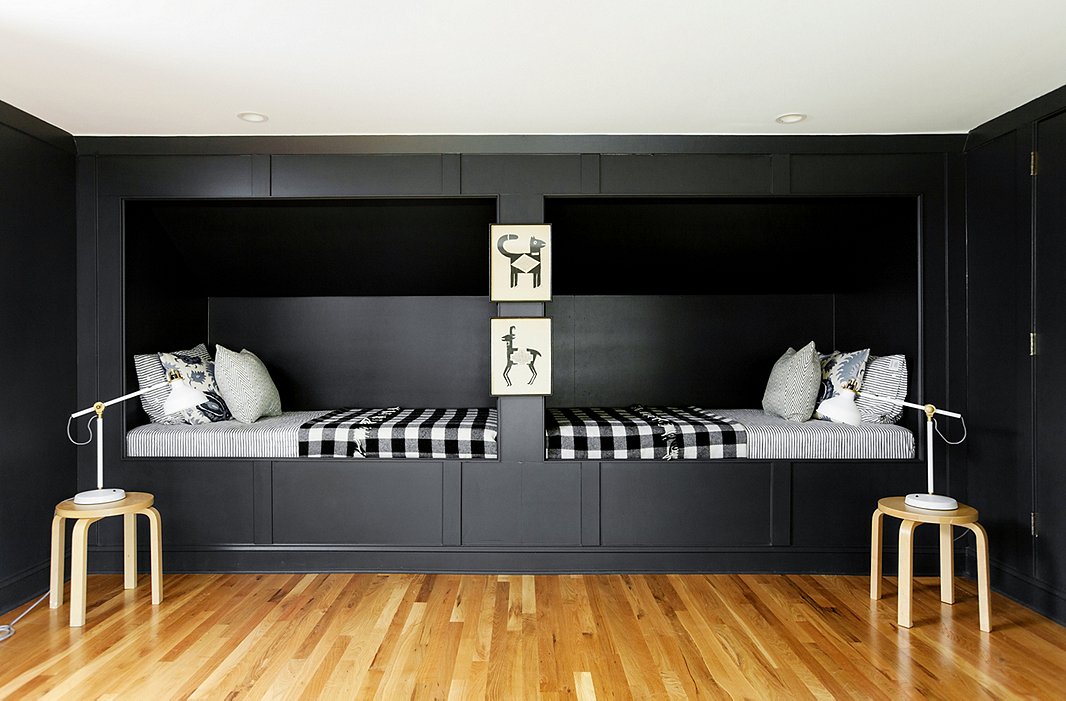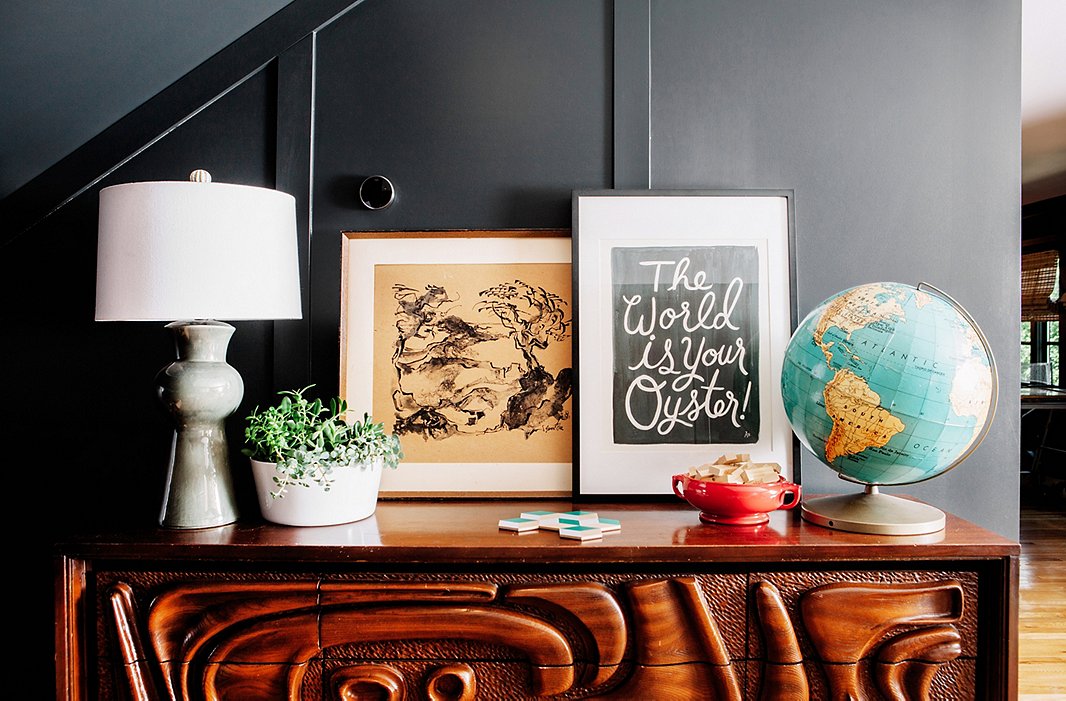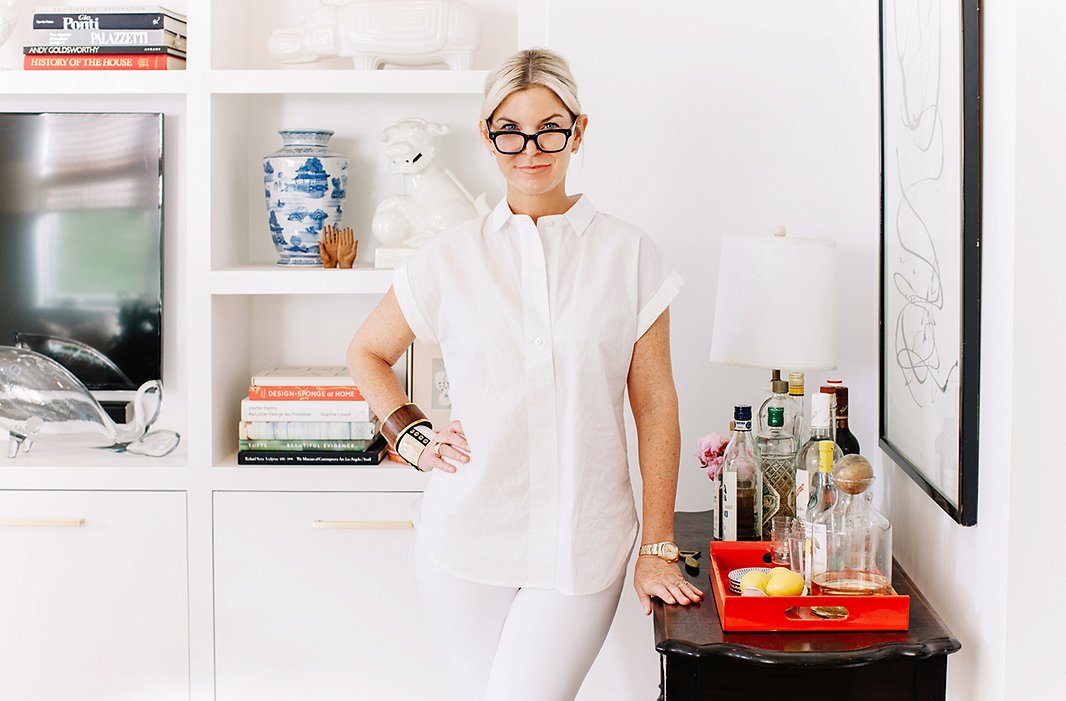 Settling Down, for Now
While they admit that every bit of a renovation can be exhausting, Gen and Ben see it as the ultimate creative outlet. A home's existing beauties and limitations stir their imagination. The challenge of finding ways to be authentic is a fun one—here they used many materials that were available in the 1930s when the house was built, such as Carrara marble, subway tiles, and hex marble floors. "Anything that touches the architecture, we make those things classical," Gen explains. "Then the furniture and fabrics can come in and add color and pattern. I've loved taking a great old Southern house and shaking it up in the interiors while still keeping its authenticity intact."
Though the family is hooked on Nashville, we wouldn't bet on them staying put in this gem. "As much as I like to nest and enjoy the finished space, we're always looking at real estate, and there are so many treasures in Nashville," Gen says. Who knows: There might be another diamond in the rough that needs the Pencil and Paper treatment soon.