You've got the new desk, stocked up on pencils, and found the spot in the house with the best Wi-Fi: It's time to go back to school, and this year things look very different. Gone are the days of doing homework at the kitchen counter. As classes move online, many families are having to transform their playrooms or kitchens into classrooms. We've gathered up some of our best ideas for making this transition as seamless as possible.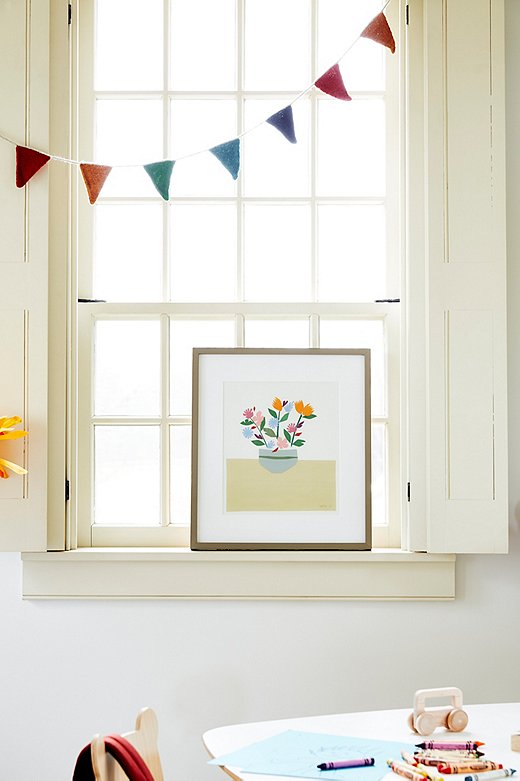 Designate an Area
To start, carve out a designated space within your home for school-related activities. A makeshift classroom will help your child to compartmentalize school and play. A quiet area away from too many distractions is best. Online learning will be a big adjustment for many kids, so you'll want to make the space as comfortable and fun for them as possible.
If you have to use a communal space such as the kitchen for a classroom, organization is key. You'll want to invest in desk organizers so that you can quickly stash all the school papers away when it's time for dinner. Baskets and bins are also about to become your best friend. Not only do they easily hide all the clutter of notebooks and workbooks, but they can sit in the open without ruining the look of your kitchen, den, or other double-duty room.  
Pick the Pieces
If you're lucky enough to have a separate playroom, you can easily transform into a classroom. The space needs three essential things: a place to work, a place to play, and a place to relax. Your kids will have the play thing down pat just by being in their playroom. It's the place to work and the place to relax that are important now that they'll be doing schoolwork there too. The needs of your kids might differ depending on their ages. Little kids won't need a desk but will need somewhere to work. Older kids will need a desk, and it might be time to think about investing in furniture that will carry them through high school and beyond.
Furniture You Need
Desk: If your kids are verging on tweendom, it is time to invest in a grown-up desk for them. They'll appreciate having the extra space and all the drawers for hiding papers. Just don't forget the desk chair. If you have more than one kid, you can create one giant table by placing the desks face-to-face. This setup anchors the room around the desks. If you only have one desk, try placing it by a window so that the kids can get natural light while they work.
Picnic table: If your kid is not yet ready for a grown-up desk, we suggest going for a kid-size picnic table. It can double as a study space and a lunch spot. If you have an especially messy art class project to do, just spread a disposable tablecloth over it for quick cleanup.
Reading chair: Kids deserve a spot to relax and kick back with a good book. Lucky for them, we have lots of comfy chairs to choose from. If your room leans modern, go for a more streamlined silhouette. If your room leans traditional, we have a kid-friendly overstuffed reading chair that fits the bill.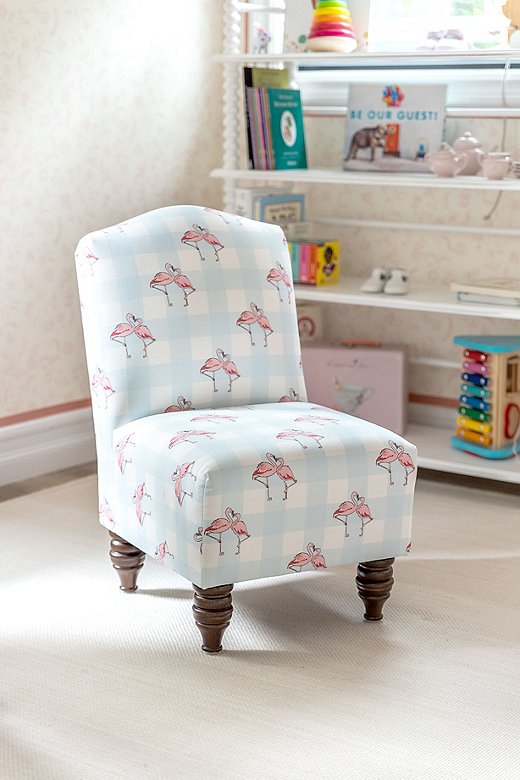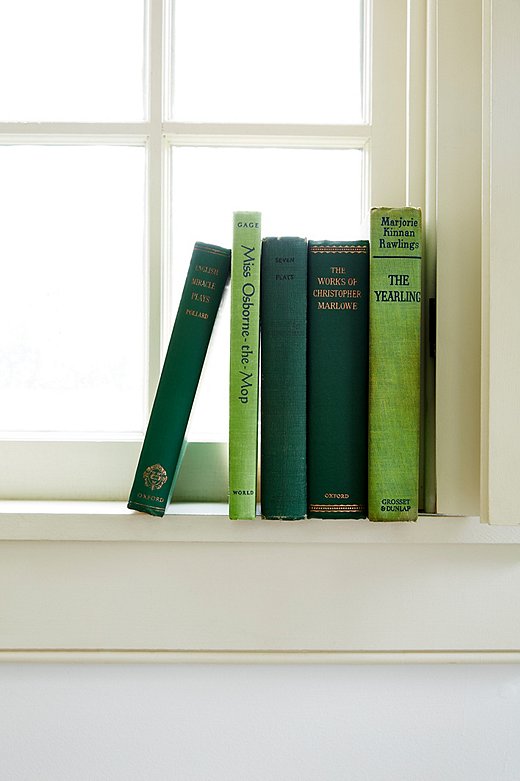 Think Chic
Kids' areas can be just as chic as the rest of your house. The key is to look for items that are as stylish as they are educational, such as vintage maps. We also love wooden toys and vintage books that are whimsical, durable, and chic.
Our Favorite Finds for a Kid's Room
Creative Outlet
If the thought of kids running around with markers and crayons sends you racing for the Magic Eraser, take a moment to think it over. What better way to encourage kids to get creative than by encouraging them to actively color on the walls—or rather, one specific wall that's been covered with chalk paint? We love the idea of creating the biggest canvas they'll ever use. It'll be the best art class they take all year.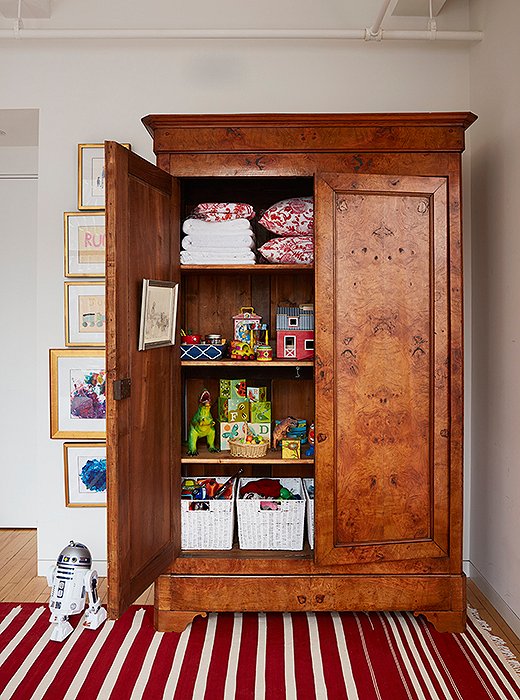 Clean Up, Clean Up…
Storage bins, toy boxes, bookshelves, and kid-friendly storage units are popular choices for keeping kids' clutter at bay. We also love the way the One Kings Line Interior Design team turned this hutch into a chic storage unit in this chic Manhattan apartment.
How to Organize by Age
Elementary-school kids: Younger kids are the hardest to keep organized. They have loads of toys everywhere, all the time: Clean it up and wait five minutes until you'll need to clean it up again! Soft storage bins and toy organizers should help you wrangle whatever supplies they need.
Middle-school kids: Middle school is hard enough, but going through middle school while on Zoom will be even harder. Make their lives a little easier by buying them something fun to keep their work space clean. We suggest a cute pencil cup or a stylish stapler.
High-school kids: High-school students can be trusted to do their own organization; they probably don't want help from their folks anyway. The best way to keep them organized is by getting them a good desk. Dress it up with fun decorative accents so they will want to keep it tidy.