As designer Jennifer Morris notes, butterflies are a symbol of rebirth. So it's not surprising that they make several appearances in this four-story townhouse she recently worked on in Manhattan's Gramercy neighborhood. The theme of renewal was a relevant one for her client, who having recently returned to the States from Italy with her two young daughters, was eager to embark on this new phase in her life.
"The first thing she said to me when we sat down was 'I want joy,'" Jennifer recalls. "It allowed me to be whimsical with her and whimsical with myself."
One way this whimsy manifested itself: with four dozen golden butterfly-shape door pulls by Ted Muehling on the fronts of the upper kitchen cabinets, functioning not as hardware but as sculpture. 
More butterflies appear in the second-floor media room, courtesy of the Fromental mural that spans one wall. "It's one of my favorite features of all time," Jennifer says. Anchoring that portion of the room is an equally lively patchwork rug, on which rests a serene, supremely comfortable white sofa. The opposite side of the room is a little more restrained—a plush ivory rug, traditional brown leather armchairs facing a limestone wall with a fireplace—and nods to the client's love of traditional design. 
So does the first floor's formal living room. Inherited pieces mingle with newer, but still classic, elements such as a tête-à-tête trimmed with nailheads and silky draperies fastened with a tasseled tieback to let sunshine pour through the French doors.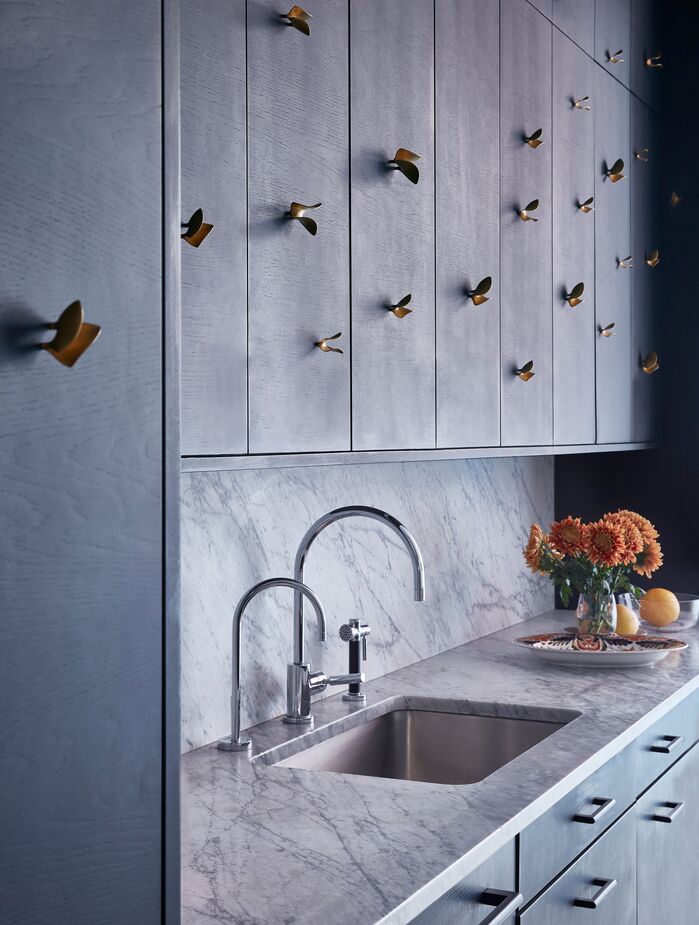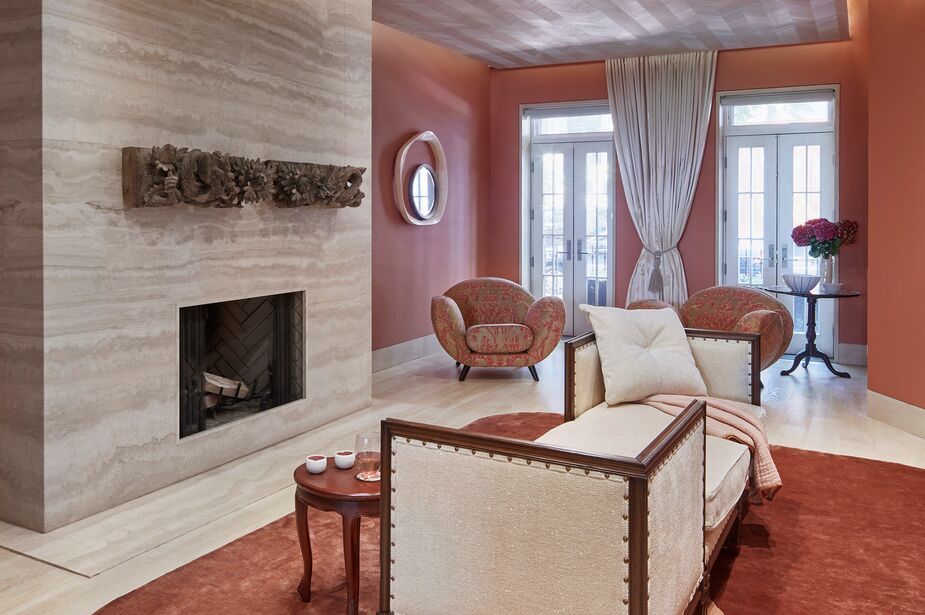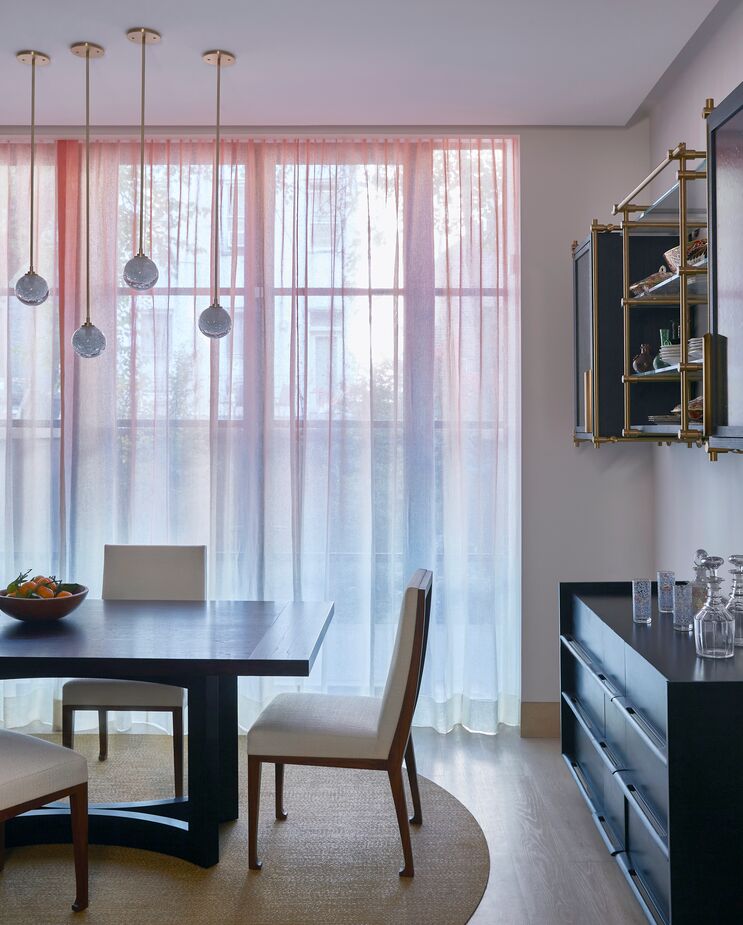 There are also nods to Italy in the living room, and in other spaces as well. The living room's two curvaceous chairs are by Italian heritage brand Fortuny, as is the pendant in the primary bedroom. The pink of the living room walls is meant to evoke a Tuscan sunset. ("We tested 40 different shades," Jennifer says, before selecting Farrow & Ball's Red Earth.) Warm pinks reappear in the kitchen, the dining area, the textiles of the media room, and the primary bedroom. "Pink is comforting, a cocoon," Jennifer says. "The home needed to be comfortable."
Of course, everyone defines comfort differently. The client's older daughter, for instance, is a big reader, so a bedroom without bookshelves wouldn't be comfortable for her at all. Jennifer therefore had a huge curved bookcase built for her room, with a cozy reading nook tucked in behind it. For the younger daughter, "a totally different creature," Jennifer says with a laugh, "we worked with a contractor and created a little duplex home with a bed up top and a drawbridge to a reading space."
Jennifer considers this "one of those near-and-dear projects," she says. "I do a lot of work in townhouses in Brooklyn where you inherit a lot of historical features that don't jibe with how we live. This property had been gut-renovated, so I was doing the opposite—I brought in a lot of historical details and Italian touches. I feel so lucky to have been a part of it." So does her happy client.