Sunny, spirited beach scenes. Calming seaside vistas. Judith Gigliotti's photography documents the vibrant intersection of humans and nature, resulting in beautiful (and best-selling!) works that bring new perspectives to a space. The Santa Monica, CA-based artist has traveled all over the world taking photos, though it's Italy's lively, sun-dappled coastline that she's drawn to most.
Read on for our Q&A with Judith and get ready to be transported.
How did you get your start in photography, and how did you turn it into a career?
I started out as a potter in the Bay Area with my own studio in Sausalito, CA. When we moved down to Santa Monica, I opened another pottery studio, and then my sister, the painter Jane Feil, bought me a camera. My first series of photographs was of flowers. I would arrange a single stem against a colorful background, using light to create what I thought was a beautiful effect. I fell in love with the results and hung flower photos all over my house. Jane convinced me to try to sell them, so I reached out to a few art buyers, and the rest is history.
What draws you to photographing nature and, specifically, the beach?
My husband has Italian roots, so we've spent every summer since we got married in the town of Amalfi and the surrounding villages. It's one of the most beautiful places in the world—the colors of the water, the throngs of people on the beaches, the bright umbrellas, the life! It just brings me joy.
How do you choose new locations to photograph?
Since I am really known for my beach shots, I'm always looking for the next place—one that is different or special. I simply explore the coasts and see what I find. I am always surprised!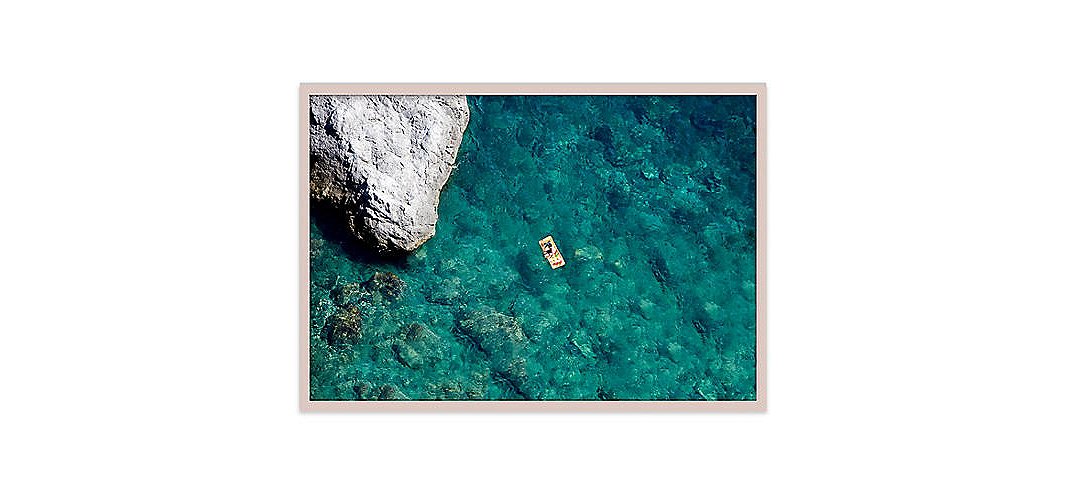 How do you capture those amazing aerial images?
Yes, my work is shot "from above," but I have never shot from a helicopter, a small plane, or a drone. I actually hike! I shoot from special spots I've discovered over the years, where the mountains are directly over the beaches. Sometimes I find myself in precarious positions to get the shot.
What's your creative process when you're out in the field? What's going on in your head as you're trying to get that perfect shot?
Sometimes I think I've shot the photo only to realize I'm not in love with the final image. And then a shot that I wasn't quite sure about turns out to be practically perfect.
Which artists and photographers do you look up to?
I love colors, all shades and hues, and I love light. Wolf Kahn is one of my favorite painters—I love his interpretation of landscapes and his colors. I've also been influenced by Henri Matisse, David Hockney, and my son Gabriel Gigliotti, who is also an artist. I also love the photographer Henri Cartier-Bresson—his photos elicit so much emotion.
What do you love most about running your own business?
I like forming personal relationships with people who are interested in my work. I am so appreciative of their interest and am happy to help them chose photos for their homes.
What do you want viewers to take away from your work?
Happiness.