It's safe to assume that Juliska co-founder Capucine de Wulf Gooding knows a thing or two about glassware. After all, her brand has been producing elegant mouth-blown Bohemian glass since 2001. What you might not expect is that she is a true connoisseur, well versed in both the history and the mechanics of artisanal glassware.
We wanted to find out more about how these one-of-a-kind creations go from vision to reality. Read on for a lesson in all things Bohemian glass, from its medieval origins to its very modern usage, straight from Capucine herself.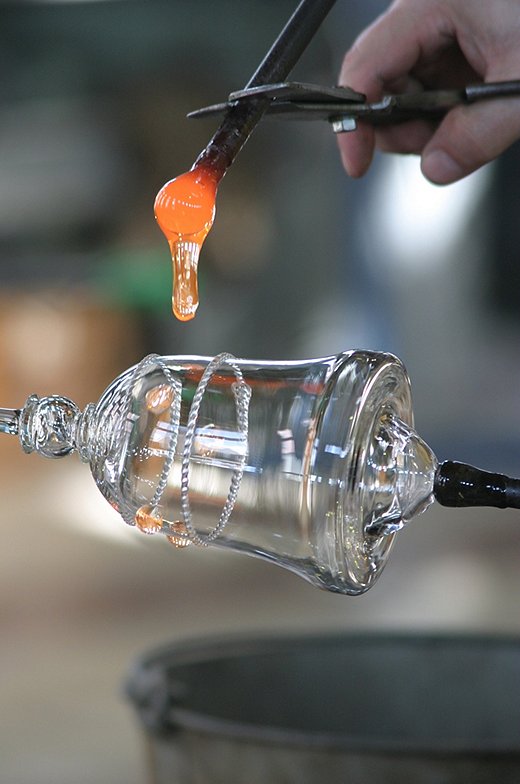 How Juliska's Glassware Comes to Life
Each Juliska goblet, vase, and hurricane begins as an old-school pencil sketch on paper. From there, Juliska works with teams of glass artists in the Czech Republic who find ways to turn these visions into reality—a task that isn't always a simple feat. Juliska's Graham glassware, for instance, features a spiral optic effect on the lower portion of the glass and a dappled effect on top, with the two sections divided by a glass thread border. At first the glassblowers weren't sure it could be done. Capucine convinced them to experiment, and the results are simply stunning. "We're really lucky to have partners who are willing to take risks and innovate with us," Capucine says. "That's why this glass has such unique characteristics."
Term to know: prunt
A globule of glass fused to another piece of glass. While prunts are often added as ornamentation, they originally served a functional purpose. "Back in the Middle Ages, not many people had flatware—even the aristocrats," Capucine says. "Most people ate with their hands, and the problem was the glasses were quite slippery. So these prunts actually kept you from dropping your glass." You'll find prunts on Juliska's Florence collection.
Why We Love Juliska Glass

It's made the old-fashioned way. Bohemian glass hails from the areas of central Europe once ruled by the medieval Bohemian kings, particularly regions in what is now the Czech Republic. Its beauty and quality has been recognized for centuries, and it's still made largely the same way today as it was in the Middle Ages: Master artists learn the glassblowing craft through years of apprenticeship, and each piece is made one at a time, entirely by hand.
Capucine and her husband, Juliska co-founder David Gooding, fell in love with Bohemian glass on a trip to Paris in 2001. "It was stunning—we'd never seen anything like it," she says. "We traced it back to the source, a very small manufacturer in the hills outside Prague that was remaking this antique glass with the same techniques and tools that they had been using in the 14th, 15th, and 16th centuries." Today this Czech Republic studio produces all of Juliska's Bohemian glassware.
It's timeless. Juliska's designs incorporate techniques and motifs that have been in use for centuries while reinterpreting them for the way we live today (one example: standard drinkware sizes). Glass prunts, thread detailing, and optic swirls have an undeniable Old World allure—yet there's also something strikingly modern about their sculptural forms and abstract shapes. As Capucine says, "You would look at that glass today and not know when it was made."
It's both formal and casual. Whether you're hosting a holiday dinner or serving takeout for two, Juliska glassware doesn't feel out of place. "The fact that the glasses are handmade keeps them very tactile and usable for every day," says Capucine. "And yet the fact that they're mouth-blown by artists gives them this elegance that makes them special."
It's (amazingly) dishwasher safe. With very few exceptions, Juliska glassware is dishwasher safe. "No one can believe it until they've done it," Capucine says. It's all the more reason to use these pieces every day.