If you find decorating a small home tricky, take heart: Even professional designers consider the process challenging. "It requires clever spatial planning to maximize the square footage," says Libby Smith, who recently opened her eponymous firm after working with Lilly Bunn and Bunny Williams. Decorating her own one-bedroom rental on Manhattan's Upper East Side "took drafting many furniture plans to nail the right one down."  
Libby's plan for her living area included a dining area off to one side. Rather than trying to separate it from the main sitting area, Libby used color to integrate it, covering the table in a cloth with red flowers that reference the red of the sofa's suzani throw and velvet pillow. "I wanted to choose a color that would pop given my mostly neutral palette," she says. "A gorgeous shade of red is bold and timeless. It livened up my space and added pizzazz."
The main living space is a happy medley of not just colors but also styles. "I was fortunate enough to inherit some beautiful family heirlooms and antique furniture, and even more fortunate that several pieces fit my space," Libby says. She sprinkled modern pieces among them, such as a minimalist bar cart whose golden finish matches that of the splayed legs on her curved dining chairs. "I love mixing antiques with contemporary furniture; it creates a fresh and inviting space."
The bedroom, however, is an ode not only to New Traditionalist elegance but also to a favorite color combo. "I'm a sucker for a classic blue-and-white moment," Libby says. "I fell in love with Schumacher's Bouquet Chinois and knew I wanted this to be the showstopper fabric in my bedroom."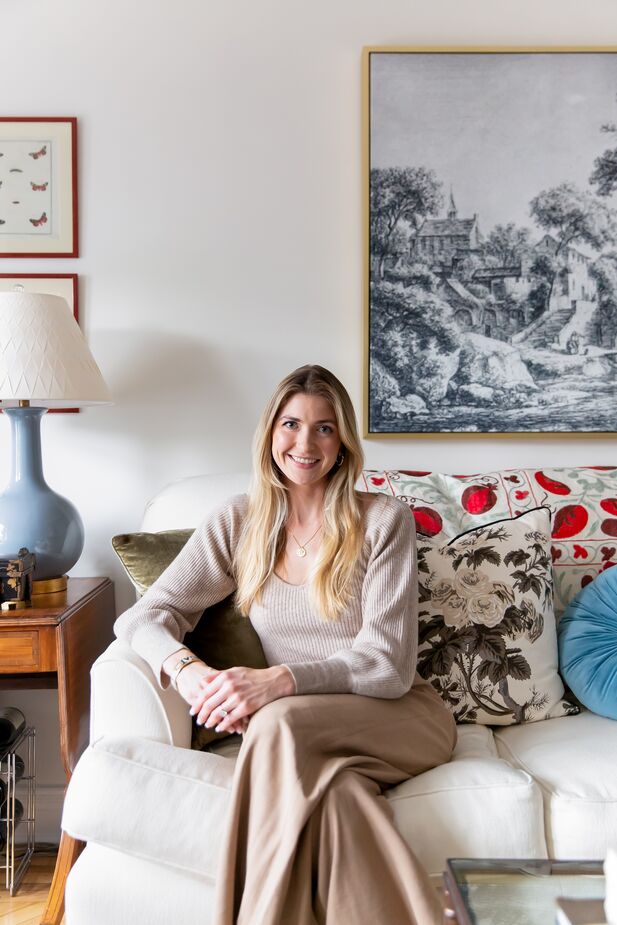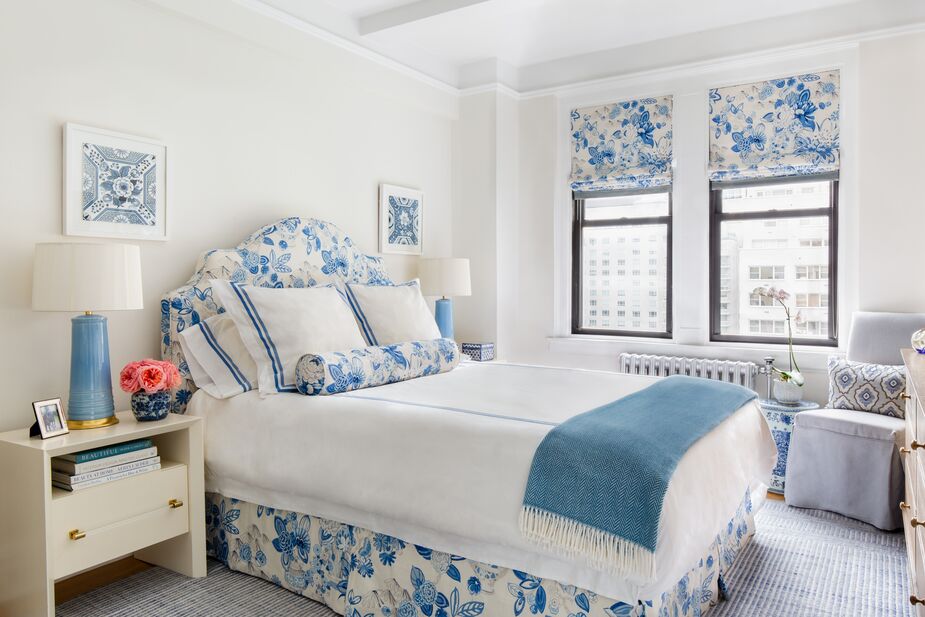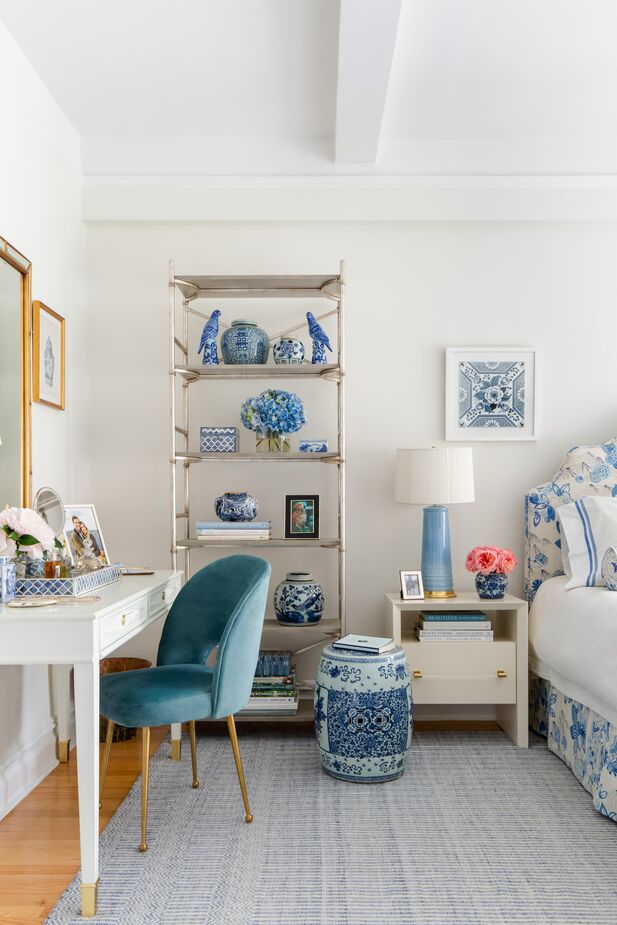 As if the apartment's modest proportions weren't enough of a challenge, there's the fact that it's a rental. Libby offers three suggestions for making a rental reflect your style:
• Invest in items you can bring with you to your next home. "You need to strategize and budget when decorating a rental," Libby says. "I knew this rental would not be my forever home, so I wanted to invest in artwork rather than decorative wall treatments. I sought after large-scale artworks that would fill my wall space and contrast my white walls. Other areas I wanted to invest in: custom window treatments (you can always repurpose the fabric for pillows or resize roman shades), throw pillows and blankets, dining chairs (they will always fit or find a purpose in the next home), custom Matouk towels and shower curtains, and custom bedding."
• Make peace with white walls. "Instead of resenting my apartment's white walls, I leaned into it and used it as a blank canvas. I added color in through upholstery, rugs, artwork, and accessories."
• Get creative when it comes to storage. "My kitchen didn't have a single drawer when I moved in. I purchased a butcher-block island cart, which was an immediate solution," Libby says. "A dust skirt is also a clever way to increase storage; I always have items under the bed hidden by a dust skirt. I keep several plastic storage bins under my custom-upholstered bed at all times." She even tucked a metal wine rack beneath the writing desk in her living room.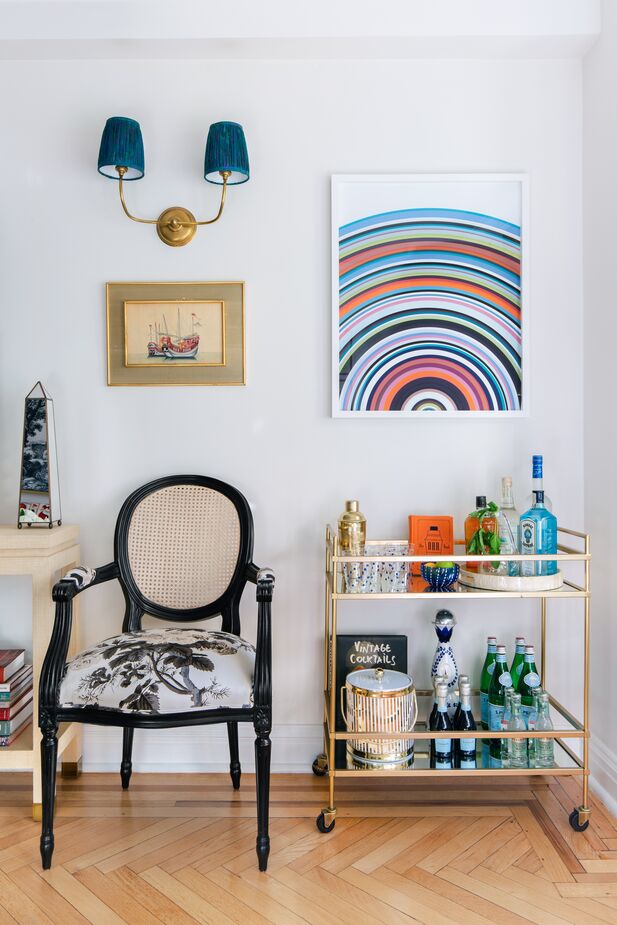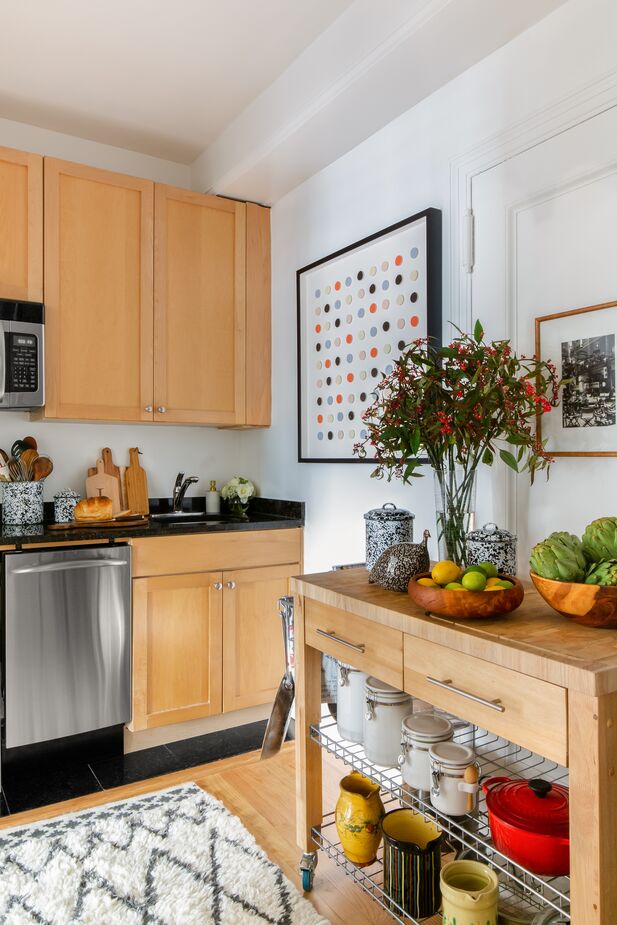 Having successfully worked around the limitations inherent in decorating a rental apartment—including "every decorator's worst nightmare: getting the sofa to fit in the elevator," Libby says—she's delighted with and proud of this, the first apartment where she's lived on her own. "It was such a fun experience decorating for myself and filling the apartment with my favorite objects and textiles. I will always think of this as my first home, and it holds a very special place in my heart."