Hidden amongst the Mughal flowers and jumping jackrabbits in Lisa Fine's iconic textiles, a deep love of art can be found. Lisa has long been a student of beauty. Growing up in Mississippi, her life wasn't all florals, chintz, and fine china. In fact, as she discusses in her first book, Near & Far: Interiors I Love, her parents were never ones to "fuss" over fabric swatches, paint chips, or the latest antiques up for auction. So just how did she become obsessed with all things decor? Well, her parents may have never been all that interested in the minutiae of decor, but they did have a deep understanding of what worked and what didn't.
"They instilled in me an appreciation for beauty that was never contrived, and they valued comfort over pretension," Lisa writes in the introduction of her book. If ever there was a way to describe Lisa's own sense of style, that would be it.
Near & Far explores Lisa's projects and the homes of her friends, all of which are or were design icons in their own right. We get an intimate look into the spaces of Charlotte Moss, Lee Radziwill, Penny Morrison, and John Stefanidis, among others. "All the interiors are reflections of the personalities who live in them. Most love to travel, to read, to collect," Lisa says. "These are interiors that have evolved over time and are timeless. I fell in love with each one the minute I entered."
The beauty of Near & Far is that all the interiors feel genuine—even the most traditional spaces don't feel stuffy. None of them are perfectly styled, and yet they are perfect. It's as if we walked in on them during the quiet lulls of a summer evening. This feeling stems, in large part, from the photography of Miguel Flores-Vianna. The way he captures rooms conveys such a sense of realness.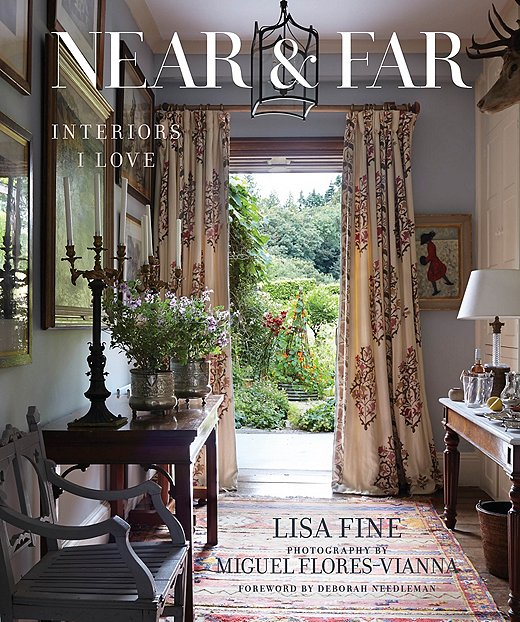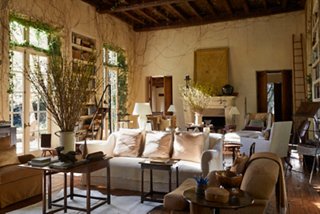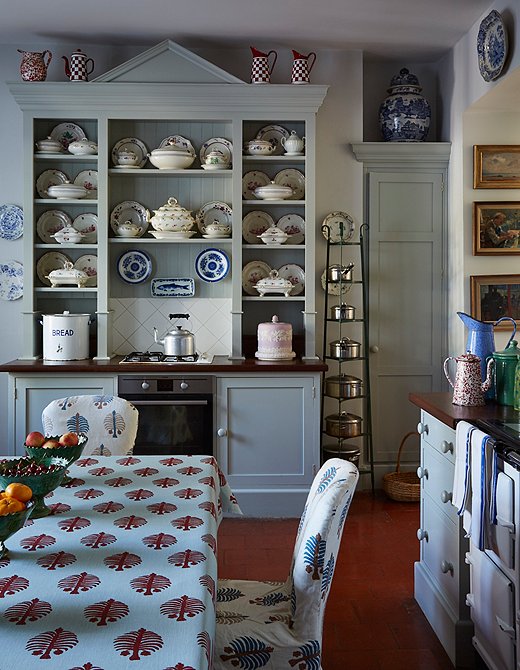 Lisa and Miguel have been friends for years, starting when they were editors at Elle Decor. "I was immediately attracted to his sense of adventure and insatiable curiosity," says Lisa. "His worldly background and love of history, art, and literature is reflected in the way he sees the world and in his work. Miguel finds beauty in the most humble and the most sumptuous."
Though some of the spaces in the book are not Lisa's designs, they are all imbued with her playful panache. Near & Far gives us insight into what inspires her creative pursuits. We learn just how her well-documented love affair with India began. She tells us about her habit of hunting down fellow designers across the world. (Continents, oceans, and time zones are no match for the determined.) There are discussions of classicism and exoticism. There's celebration of life and mourning for the days gone by. The book might focus on interiors, but it's much more personal than that. It's her inspiration brought to life.
Lisa's Words of Wisdom
---
On mixing patterns: "Go with what you love and you'll usually find a place for it. Don't be afraid to break the rules."
On picking flowers: "I'm not a gardener, and I am oblivious to seasons. I love auriculas, peonies, anemones, and I buy what's available at the time. I usually prefer combinations of pinks, reds, and oranges, or just go with white and green."
On decorating in general: "Every room needs at least one important piece of art or furniture."