With a directive that called for equal parts comfort and function, designer Tharon Anderson homed in on the needs of a growing family to create a sophisticated yet kid-friendly home in New York City's Tribeca neighborhood. "They're busy with the demands of work, school, and lots of travel," says Tharon of her clients, a young couple with children ages 8 and 11. Such a lifestyle called for an urban escape primed for low-key downtime during the week and hosting family and friends at dinner parties on weekends. From embarking on a structural remodel to choosing furniture both stylish and sensible, here's how the designer pulled it off.
Focus on Function
"While making selections, we strongly considered that the spaces would need to be multifunctional," notes Tharon. "Not only is the dining table for meals, but it also needs to serve as a workhorse for homework and creative projects." Equally practical is the living room's coffee table, which is actually two separate pieces pushed together that can easily be pulled apart "for use in various seating locations," Tharon says. Materials were another major point of focus throughout the design process. The seats and backs of the dining chairs, for example, were upholstered in leather in the interest of wipe-ability, and a just-as-durable form of chenille was selected for the living room's 10-foot-long sofa.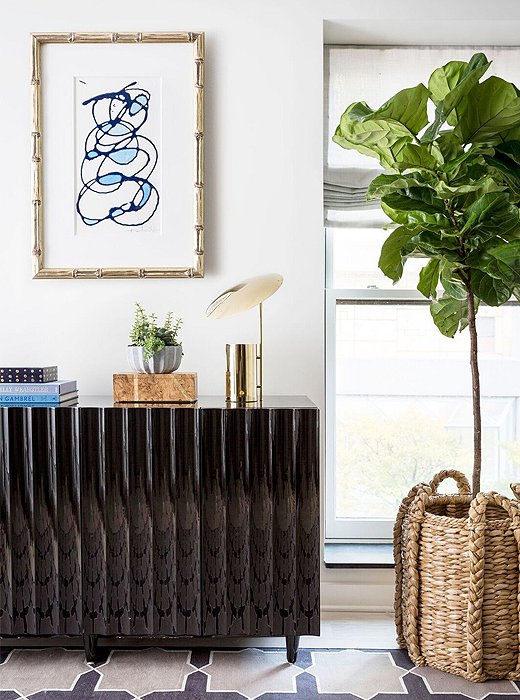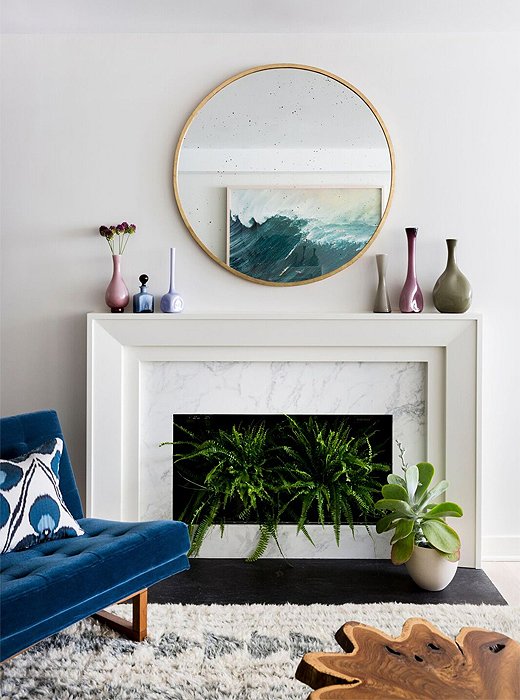 Clean and Serene
While each space has its own identity, the rooms fit together to form a cohesive whole. "With a relatively open floor plan, fabrics and finishes with a common thread were selected to allow the individual spaces to flow into one another," Tharon explains. Save the dining room and playroom, walls were kept white. This gave fashionable touches, such as an oversize photograph in the living room of surfers catching a wave and a royal-blue backsplash in the kitchen, the breathing room needed to make a modern statement. Accent hues, namely pale pink and dusty blue, repeat in the form of vases and vessels, throw pillows, and art throughout, while pattern play was kept delightfully subdued. Such style moves make for a soothing retreat in the heart of the bustling city.
With a relatively open floor plan, fabrics and finishes with a common thread were selected to allow the individual spaces to flow into one another.
A Space Just for Play

"During the remodel," says Tharon, "we added a playroom for the girls so they had a separate space to play with friends, do schoolwork, or unwind and watch movies." The color palette and contemporary edge flow perfectly with the rest of the apartment's scheme, but the room contains a few quirky touches to emphasize its purpose as a place to kick back: One need not look further than the framed print of a zebra emerging from a wreath of pink balloons to know this isn't a room that calls for sitting up straight. Giving kids their own space lets them exercise a certain amount of independence—plus it can help keep the rest of the home on the tidier side.

They wanted their home to be comfortable for downtime but also well appointed to host their many friends for dinners and parties.