Whether your living area is intimate or industrial-size, you still need cozy and dedicated places to convene with family and friends. Getting the layout just right can be tricky, but we're here to help guide you through the process. 
Here are four efficient, versatile sofa arrangements that will optimize the space you have—and give you the perfect environment no matter how you live or like to entertain.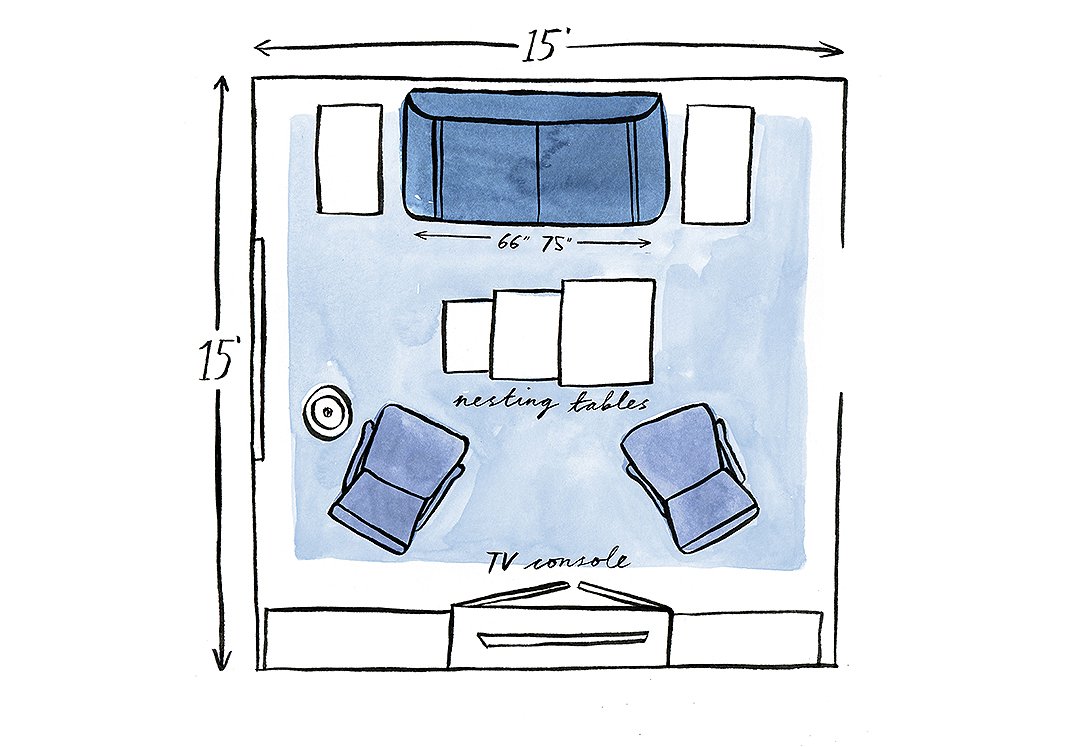 For a Small Space
The layout: In a smaller apartment (or even a larger space with a pass-through) opt for an efficient yet functional layout. Narrower sofas and armless or low-arm chairs keep bulk to a minimum.
The sofa: 66″ (settee or love seat)–75″ wide
Round out the space with… smaller side tables (18″–24″ wide) and occasional rounds (15″–18″ diameter) that provide extra surfaces for books, drinks, or even lamps; nesting tables will give you even more options. You can anchor everything to a fireplace or TV console (slightly smaller than or the same width as your sofa) either facing the couch or off to the side.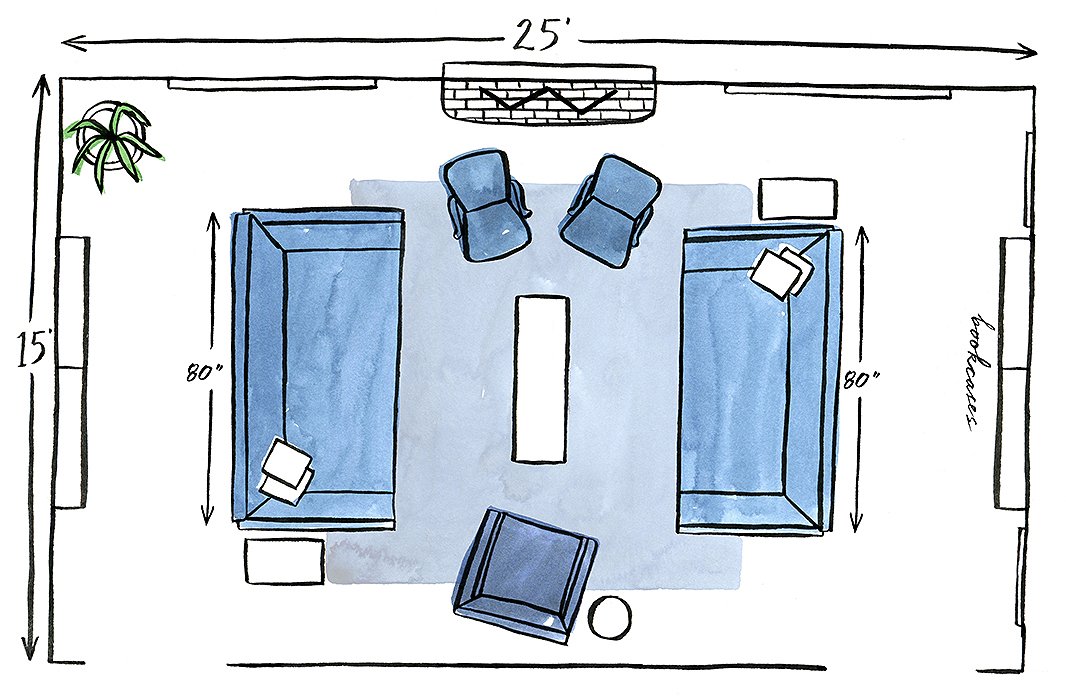 For a Formal Layout
The layout: If long conversations and discourse are your thing, it's important to keep guests focused on one another, and having sofas face each other creates this sense of immediacy.
The sofas: two 80″–82″ sofas
Round out the space with… a narrow coffee table (20″ x 50″) or cocktail ottoman to provide vital surface space without keeping guests too far apart to chat. Tall side tables make for the perfect perch for a table lamp or reference books (to help win arguments, of course), an étagère adds a nice holding place for accents and displays, and an optional armchair (or two or three) lets extra guests join in the debate fun.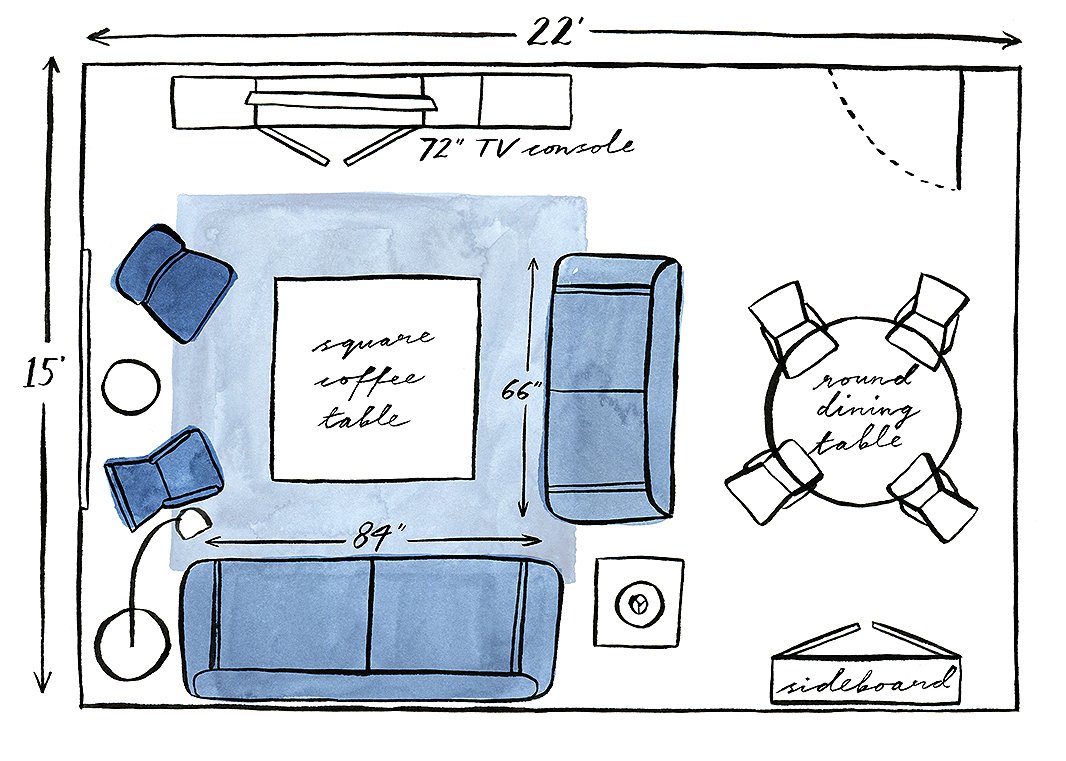 For an Open Floor Plan
The layout: Open floor plans are enviable, but sometimes creating an area for gathering and relaxing within them can be difficult. The way to go is multipurpose, with a U-shape seating arrangement that gives a large area a sense of focus and intimacy alongside a separate dining space.
The sofas: a 66″ settee or love seat and an 84″ sofa
Round out the space by… anchoring an arrangement on top of a 12′ (or larger) square rug, so that you create a room within a room. Be sure there are plenty of surfaces, such as drinks tables, to hold snacks and drinks, plus table or floor lamps at each grouping. You want to create a sense of having everything you need within reach.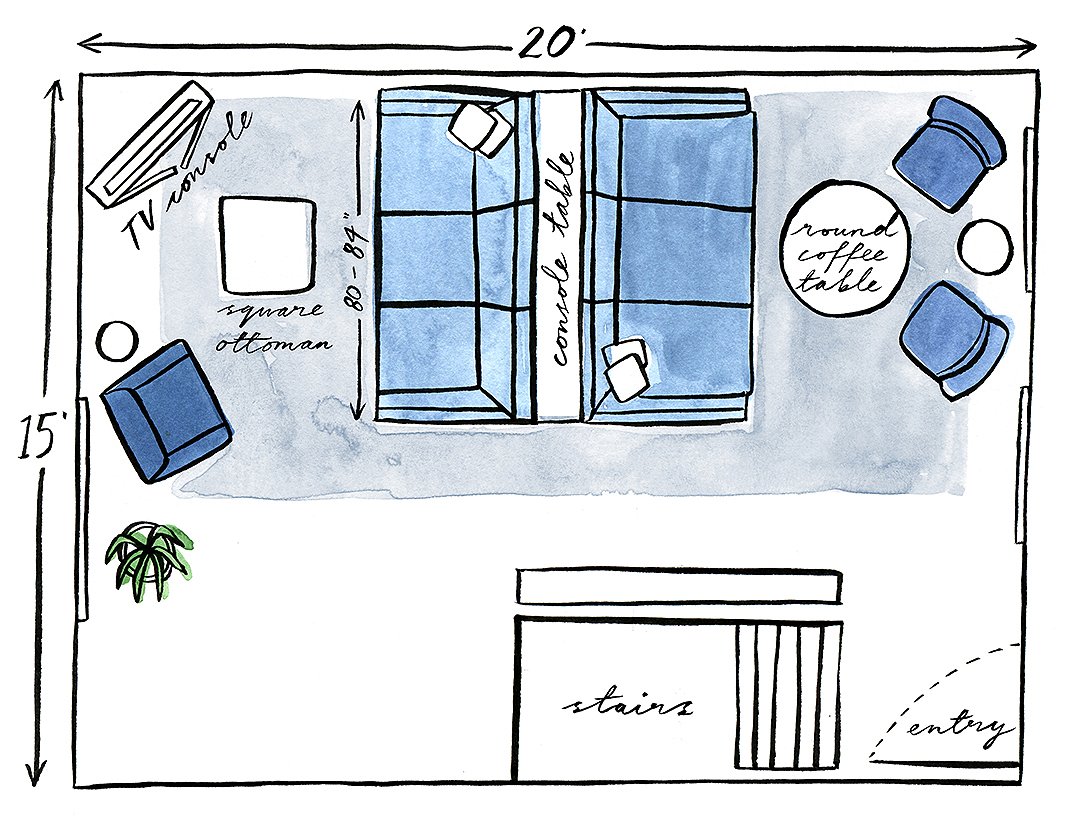 For Double Living Areas
The layout: If your space is large and long, dividing it into two distinct spaces using back-to-back sofas avoids creating a hotel-lobby or airport ambience.
The sofas: matching 80″–89″ sofas
Round out the space by… giving each area a specific function: one for laid-back TV watching, reading, and napping in front of a roaring fire; the other for drinks, family game night, and lively conversation with guests. A console table between the sofas provides a bit of separation and a place for table lamps.