A handful of factors posed a challenge for One Kings Lane's VP of marketing, Michael Krueger, and his family upon moving to New York City from California. He and his wife, Erin, had parted with most of their furniture—which had become worn from years of raising two children—so they were essentially starting from scratch. They were moving into a much smaller two-bedroom apartment, which meant less space and that their son and their daughter would share a room. The new-build layout of the home, while pristine, offered little in the way of architectural details and character. And then there was balancing Michael's strong affinity toward modernist designs with something that felt practical and warm for a young family.
"We did what we could the first year," says Michael of outfitting the new apartment. "It was fine, but we knew it could be more interesting and more pleasant to be in. But we were out of ideas." So they called upon One Kings Lane Interior Design to reinvent the space and make it feel more like a home. "We wanted it to feel clean and serene, a refuge from the city," he says. Read on to learn how it all came together.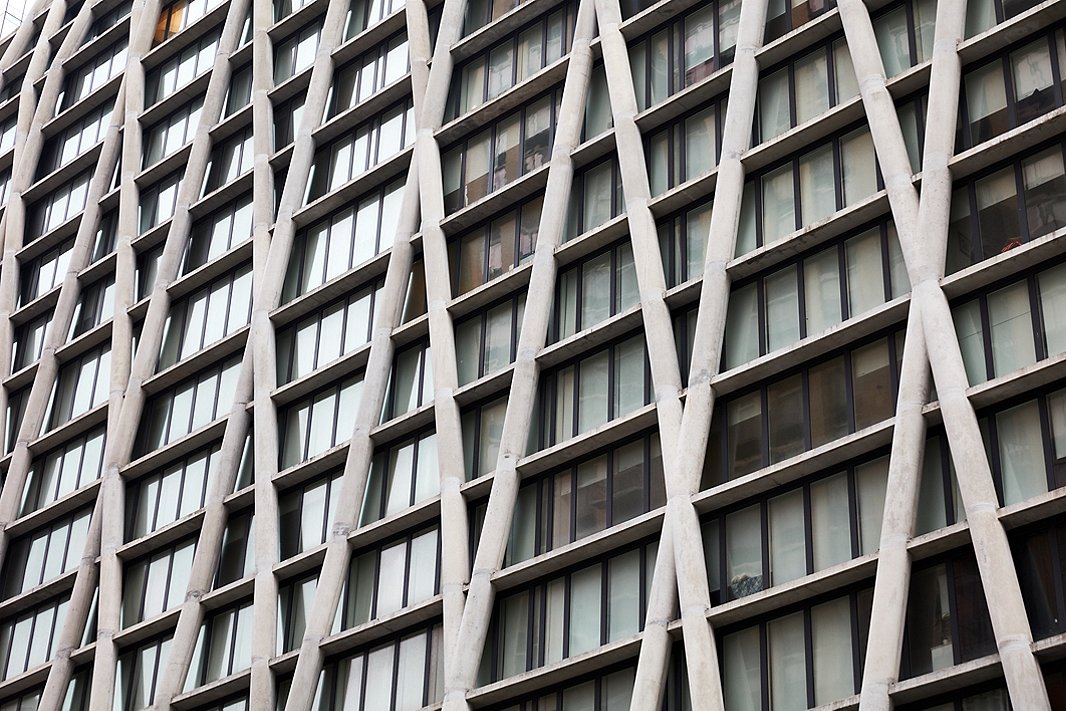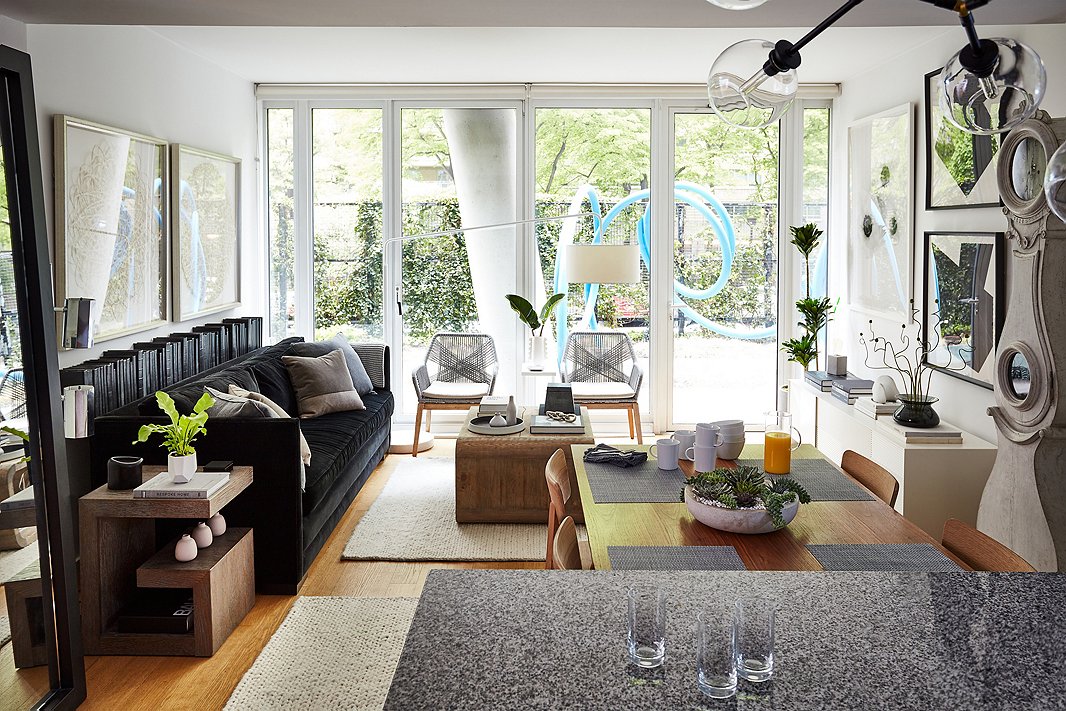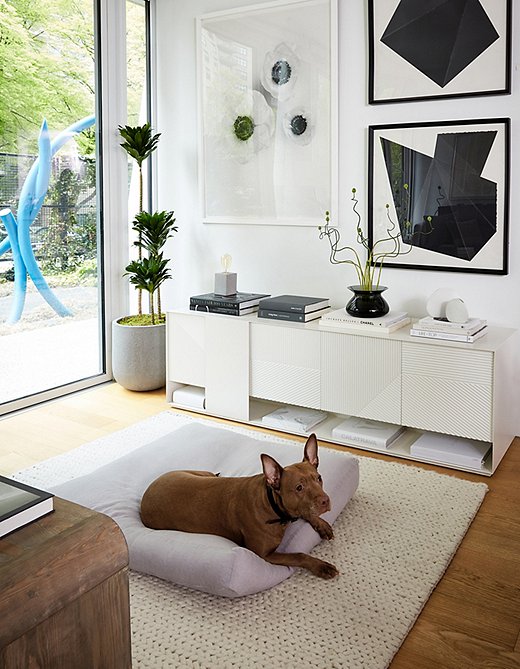 "Less but Better"
The key to creating the finished, practical, and modern home Michael envisioned lay in famed German industrial designer Dieter Rams's 10 principles of good design. Rams's edict of "less but better," perhaps the most famous phrase from his manifesto, served as a mantra as Michael put together the apartment with his designer.
This meant fewer pieces but bigger in scale and better in quality. Also important was a pared-down color palette, but with bold punches of graphic black and glimmering metallics. And with few closets in the apartment, the furniture has to work hard: The bunk beds in the kids' room have storage underneath, and the large console in the living room holds a host of essentials.
Such a streamlined decor approach called for a similar clutter-free philosophy for personal effects. "We've purged a ton," Michael says. "I own almost nothing besides clothes and the furnishings in the apartment. It all goes back to 'Less but better.' To me, it's a whole organizing principle for life."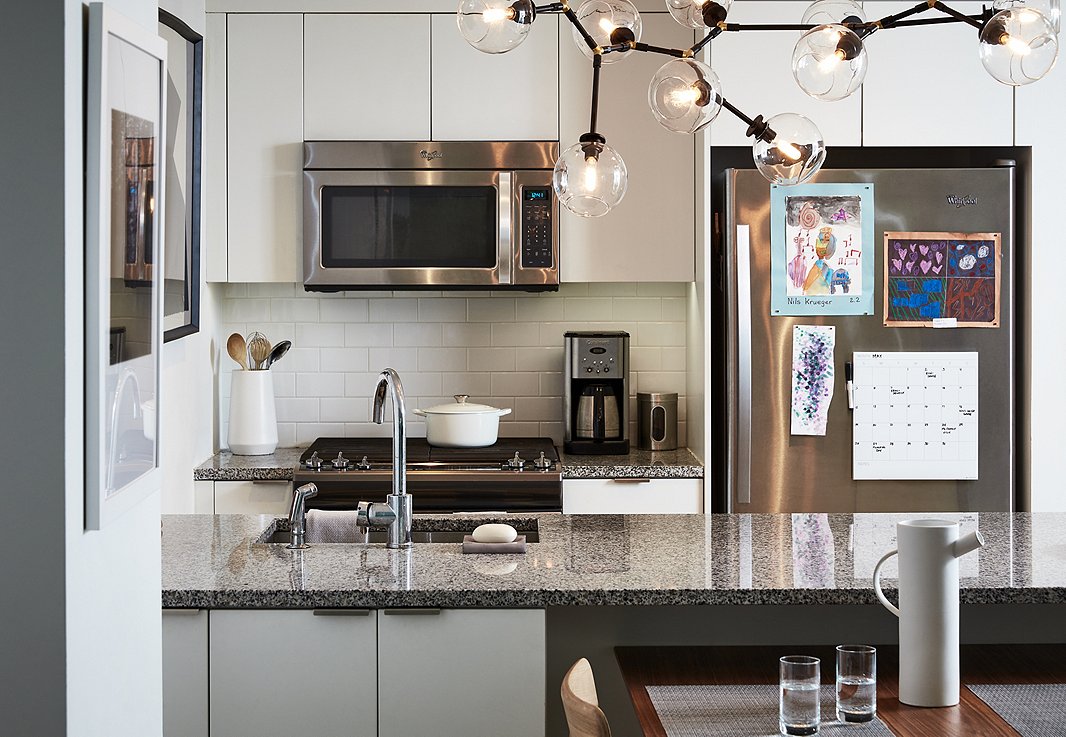 The Art of "Accessorized Minimalism"
While minimalism is a guiding influence in the Krueger apartment, Michael and Erin wanted to ensure it felt livable and like home for their family. This required thoughtful curation and incorporating only pieces that have a purpose, meaning, or both. "I think of it as accessorized minimalism," Michael says. "There are no architectural elements in the apartment, just white walls. If you went straight minimalism, it would be sad and boring. The accents seemed really important."
He looked to modernist architectural masters such as Marcel Breuer and Richard Neutra for inspiration, as well as contemporary interior designers including Robert Stilin, Ryan Korban, and Alyssa Kapito, who are pros at "taking a blank New York apartment and making it look interesting," Michael says.
The first step in adding warmth and cohesion to the space was replacing the two rugs in the living and dining areas with matching white designs. "We were definitely hesitant, having a white rug with two kids," Michael says. "But it was totally worth it. It really transformed the room and made it feel complete, elevated, and calm."
Art was another major player in accessorizing the apartment. His designer paired oversize monochromatic pieces with his existing collection, which includes sculptural works made of paper by Matthew Shlian and Gill Wilson, along with a street-art-inspired Kaws doll the kids love. "Being in the city, the kids have taken a strong interest in graffiti and street art. Anything in that genre excites them," Michael says.
Linking their new home back to places in their past was also important. Michael and Erin are both from Minnesota, so they incorporated several designs from artists and craftspeople based there. Michael surprised Erin with the vintage Mora clock that sits in the living room, which was made in a town in Sweden near where her family originates.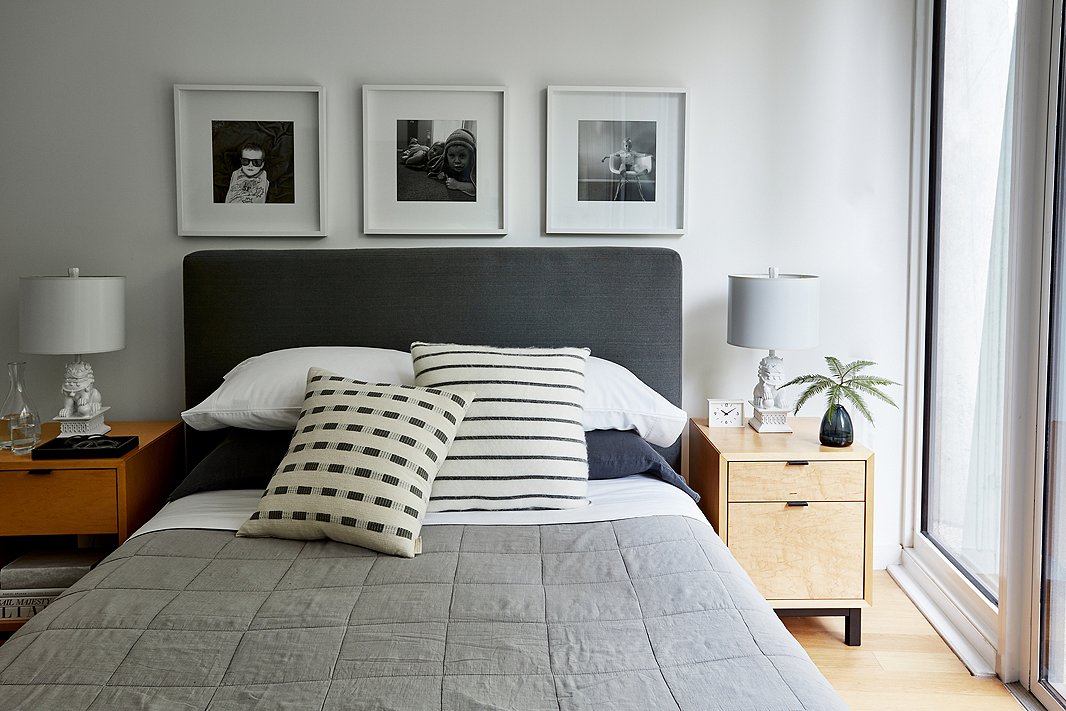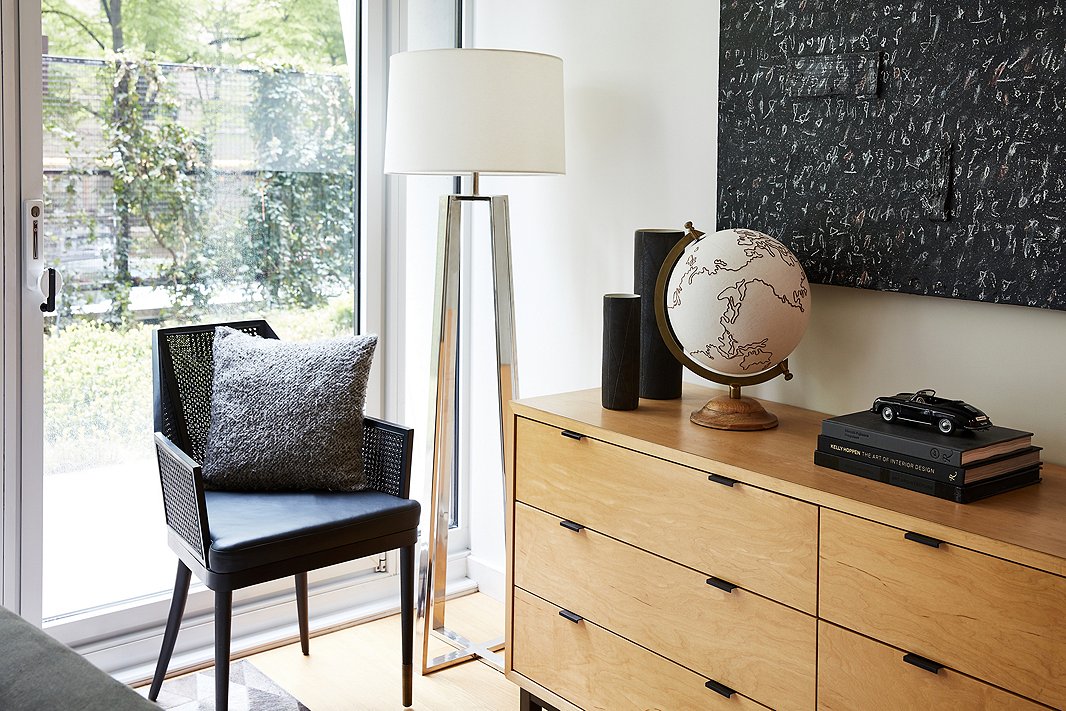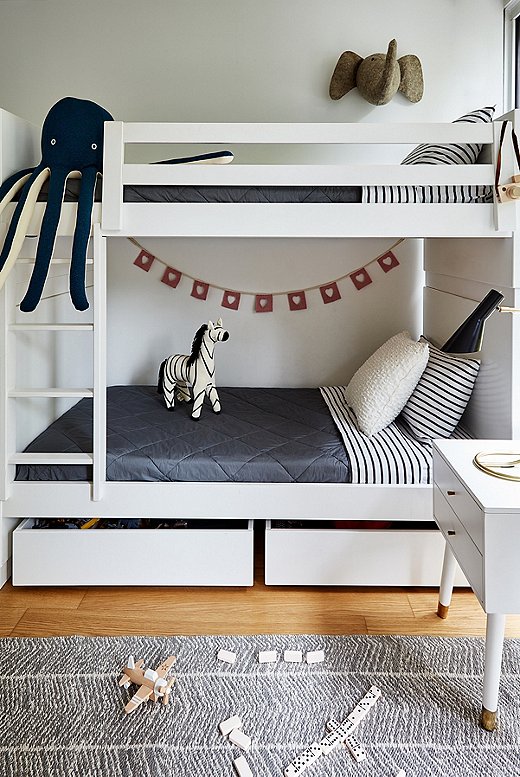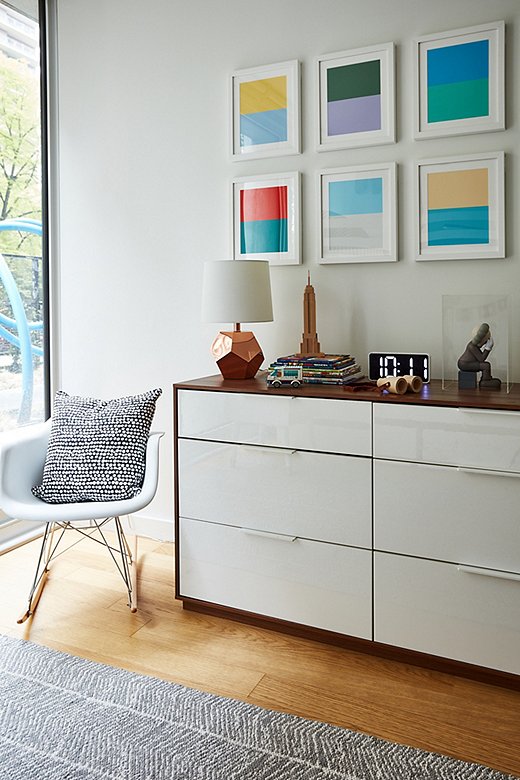 Making Room for Fun
Moving into a smaller apartment has been an adjustment for the whole family—but one that has allowed them to spend more time together. Weekends at home mean hanging out in the living room playing games or reading. "Being in that small of a space, you end up doing everything together," Michael says. "There is no sending the kids away to the basement to play."
Of course, Nils and Elin can always retreat to their shared bedroom, which Michael admits was a challenge to put together. "How could we make it feel like their space? They were moving from 3,000 miles away," Michael says. "We wanted them to both connect with the room and feel at home." They stuck with a largely neutral color palette but added fun pops of color with art and mixed up the textures with textiles and a rug. The result? It's working well so far. "Interesting things happen from being in a small space," Michael says. "It's fun to force them to be in their room together and see what games they invent. They've definitely gotten closer."