Glassmaking didn't originate on the Venetian island of Murano, but its artisans certainly elevated it to an art form. Murano became a bastion of glassmaking in 1291, when the Venetian Republic ordered its glassmakers to move their "furnaces," or foundries, to the island. Ostensibly this was done to minimize the risk of a major fire, though some historians contend the real reason was to prevent visitors to the city-state from having easy access to trade secrets.
Renaissance statesman Lorenzo de' Medici and rock-and-roll statesman Elton John are among those who have collected Murano chandeliers, jewelry, vases, goblets, and the like over the centuries.
Fortunately you don't need to be a boldfaced name to incorporate Murano glassware's brilliant colors, fluid shapes, and dazzling patterns into your own home. Read on to see how Murano glass can give your home a sense of luxury, tradition, and even wonder.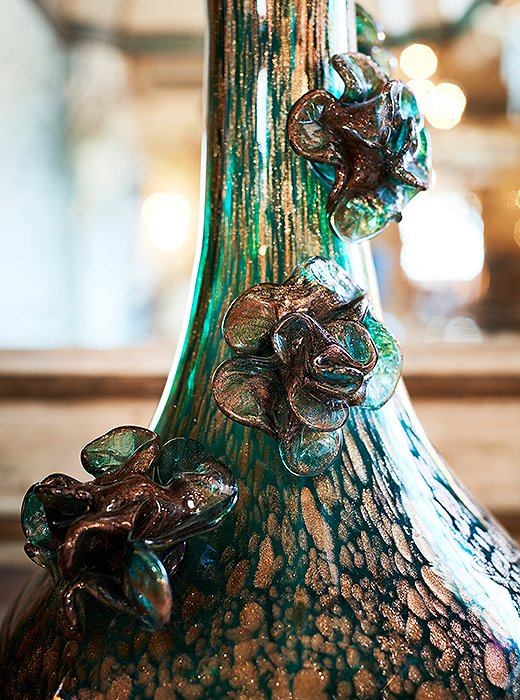 The Centuries-Old Techniques That Remain
Among the techniques Murano artisans have invented or perfected throughout the centuries is millefiori—literally, "1,000 flowers"—in which long rods of viscous colored glass are layered and, once cooled, sliced to give the appearance of a bouquet of varying hues and patterns. Another technique, zanfirico, uses filigrees of colored glass to create brilliant stripes, while sommerso, or "sunken glass," involves submerging molten glass of one color into a larger form of clear or different-color glass.
Collect Murano en Masse
What's better than one Murano vase or bowl? Multiple vases or bowls, of course. Options abound when it comes to shapes, colors, and techniques. To make a real impact, vary the sizes and silhouettes of your collection but stick to a limited palette, though go ahead and mix opaque solids with filigree swirls and reticello lattices.
Make Murano the Star
The first Murano glass chandeliers were produced in the early 1700s. The use of glass in itself was cutting-edge; until then light fixtures were made of wood or metal. Featuring swooping arms adorned with crystalline flowers and leaves, the style of the original Murano chandeliers was dubbed ciocca, or "bouquet of flowers," and is still produced today. While ornate ciocca chandeliers will bestow a room with Old World majesty, more-streamlined fixtures contribute a subtler opulence. Or opt for a ciocca in lattimo, or milk glass: The clean white color gives a modern gloss to the centuries-old silhouette.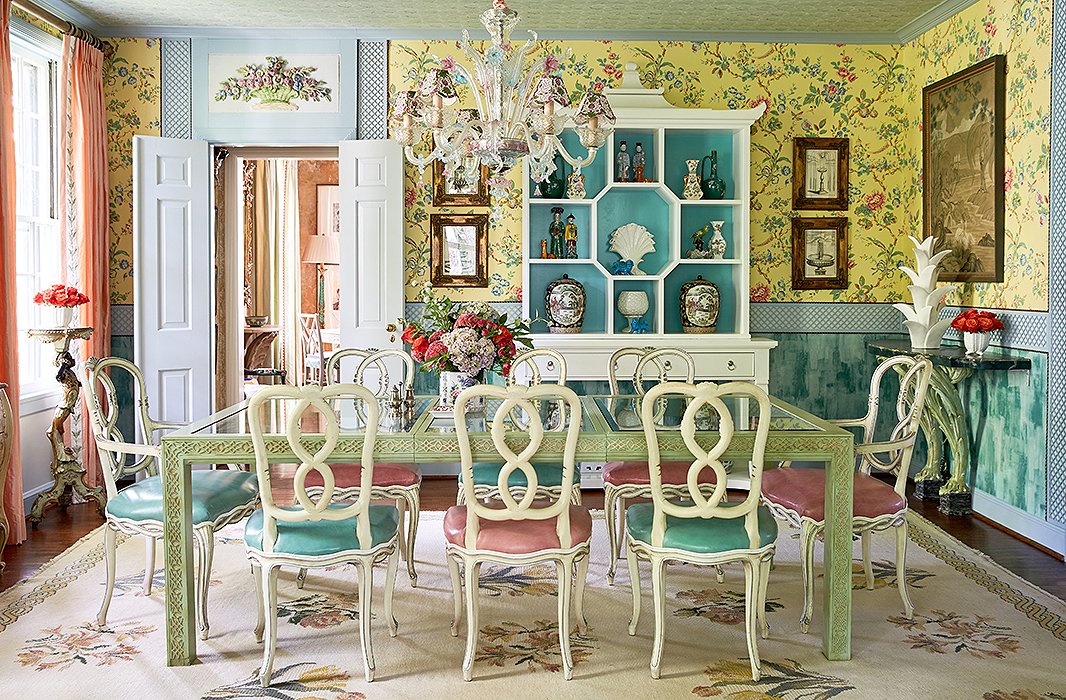 Show Off Murano's Singular Beauty
A smaller investment than a chandelier, a Murano glass table lamp will nonetheless brighten up a room even when it's not flicked on. And there are so many styles to choose from. Rigadin, or ribbed, glass contributes subtle texture to a room of primarily sleek surfaces; the golden glow of avventurina glass, obtained through copper microcrystals, will warm up a room heavy on cool tones; smoked or frosted glass evokes midcentury insouciance.