When you're investing in decorating your outdoor space, you want to keep those new furnishings looking fabulous for as long as possible. Luckily, maintenance for outdoor furnishings (we're talking all-weather furniture, not those pieces designed for covered patios or sunrooms) is pretty simple. Work the steps below into your regular cleaning routine and you're assured many seasons of stylish outdoor lounging.
Teak
A tropical hardwood, teak has a high oil content and a tight grain, making it naturally water-resistant even when unfinished—it's no wonder teak has been used in boatbuilding for more than 2,000 years. The wood is also resistant to termites and other insects, a plus for the longevity of your furniture.
Cleaning and Care
Teak is a relatively low-maintenance material: Once a season, simply use a soft-bristle brush and a solution formulated for teak to remove any dirt or mold that has cropped up (these spots are the natural—and inevitable—result of humidity in the wood and are easily removable). And for the first few rainfalls after the initial purchase of teak furniture, store the cushions separately to prevent stains from the wood's natural oils.

Good to Know
Like all other wood, untreated and unfinished teak will develop a silvery-gray patina with time. If you like this look, nothing more is needed than the regular cleaning outlined above. If you prefer to maintain the original golden color, you'll want to periodically apply a sealant or a specially formulated teak protector.
Wicker

While natural rattan wicker isn't weather-resistant, the selection of synthetic resin wicker (often termed "all-weather wicker") on the market has come a long way in recent years—you can find pieces that look just as good as the real thing that you can use indoors as well as out. Water- and UV-resistant, resin wicker adds a classic look to porches, patios, and beyond.
Cleaning and Care
Resin wicker requires very little maintenance—just wash with a mild liquid soap and water to prevent any buildup of dirt and debris.
Good to Know
The same synthetic fibers used to create all-weather wicker can also be fashioned into caning—a high-design detail that instantly elevates an outdoor living space.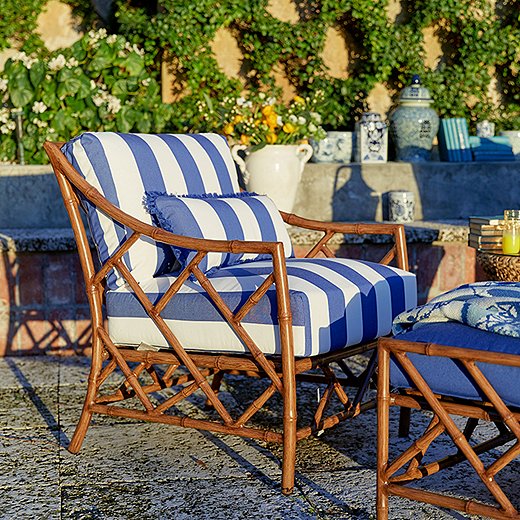 Aluminum
Aluminum furnishings are durable, rust-resistant, and generally low-maintenance—and can be powder-coated in any color under the sun. It's this paint finish that keeps the aluminum from oxidizing (and a high-quality finish should resist chipping, peeling, cracking, and fading too).
Cleaning and Care
Wash aluminum furniture with a mild liquid soap—car wash soap is a good go-to. If your furniture has a smooth finish, a coat of a mild auto wax every six months or so will also help to preserve your furniture's original luster. For textured surfaces, a light coat of mineral oil will do the trick.
Powder-coated aluminum furniture will not rust—but breaks in the finish can leave exposed metal vulnerable, so repair any cracks or chips right away. Always check with the manufacturer for the best approach, but you may be able to sand the area and apply touch-up paint yourself.
Good to Know
You'll see aluminum furniture described as tubular, cast, and wrought—these all refer to the method used to shape the metal. No matter the process used, the cleaning regimen is the same.
Wrought Iron
As with aluminum, wrought iron is a highly durable, resilient material for outdoor furniture—as long as it's finished with a weather-resistant coating. It can be molded and shaped into any number of intricate weaves and graceful curves, giving furnishings a classic European-garden look.
Cleaning and Care
Maintenance for wrought-iron furniture is similar to that for aluminum: Simply clean it regularly with a mild liquid soap, and wipe with a nonabrasive cloth. A mild car wax will again help to restore shine and repel water.
And just as with aluminum, wrought-iron is rust-resistant as long as its finish remains intact. Immediately touch up any scratches or chips following the manufacturer's directions.
Good to Know
If you're after a more bohemian, romantic look, vintage wrought-iron furniture is a great option—the rusted patina makes a gorgeous complement to lush greenery.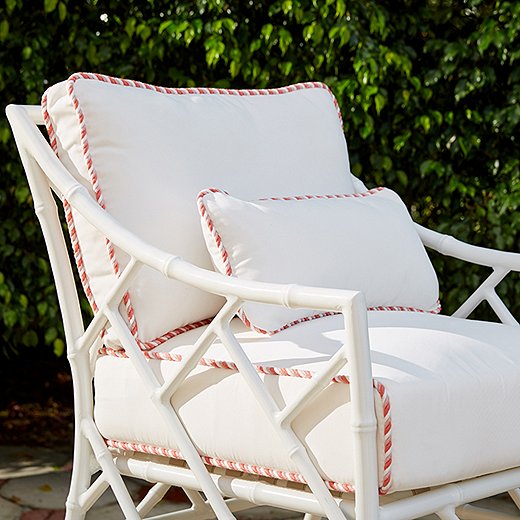 Outdoor Fabrics
The go-to fabric for outdoor upholstery and pillows is solution-dyed acrylic. Often found under the brand names Outdura and Sunbrella, it's resistant to water, mold, and UV rays but can look as luxe as any indoor textile.
Cleaning and Care
To keep outdoor fabrics looking fresh, brush off loose dirt before it sets in and wipe up spills as soon as they happen. You can spot-clean outdoor fabric with a mix of mild soap and water: use a soft-bristle brush to work in the solution, rinse thoroughly, and air-dry. Follow this cleaning process for the entire piece a few times a season or as needed. For more-stubborn stains, check the manufacturer's directions.
Good to Know
Even if cushion covers are removable, they shouldn't be machine-washed, as this can reduce the fabric's water-resistance.
FAQ: Do I really need outdoor furniture covers?
Yes, you really do! Furniture covers will help keep your outdoor pieces looking like their best selves longer by preventing leaves from accumulating and staining cushions and by guarding against heavy precipitation. Look for covers with a soft cloth backing (to protect the furniture's finish) and a breathable, vented design (to stave off mold and mildew).
While outdoor furniture is made to withstand the elements, it's a good idea to break out the covers during big storms and before heading out on vacation. If you plan to keep your furniture outdoors during the winter, covers are a must—just make sure the cushions and frames are clean and dry before storing long-term.