Whether you use your dining area for meals every day, only on special occasions, or hardly at all, the room can be so much more than simply a place to dine.
We asked designer Sara Gilbane—known for her rich and layered interiors—for expert tips and ideas for layouts that help maximize the often underutilized space. "We treat the dining room as a multipurpose space, especially in smaller homes. But even in larger apartments and houses, it doesn't get enough airtime."
Here, Sara breaks down three ways to get more out of your dining room layout.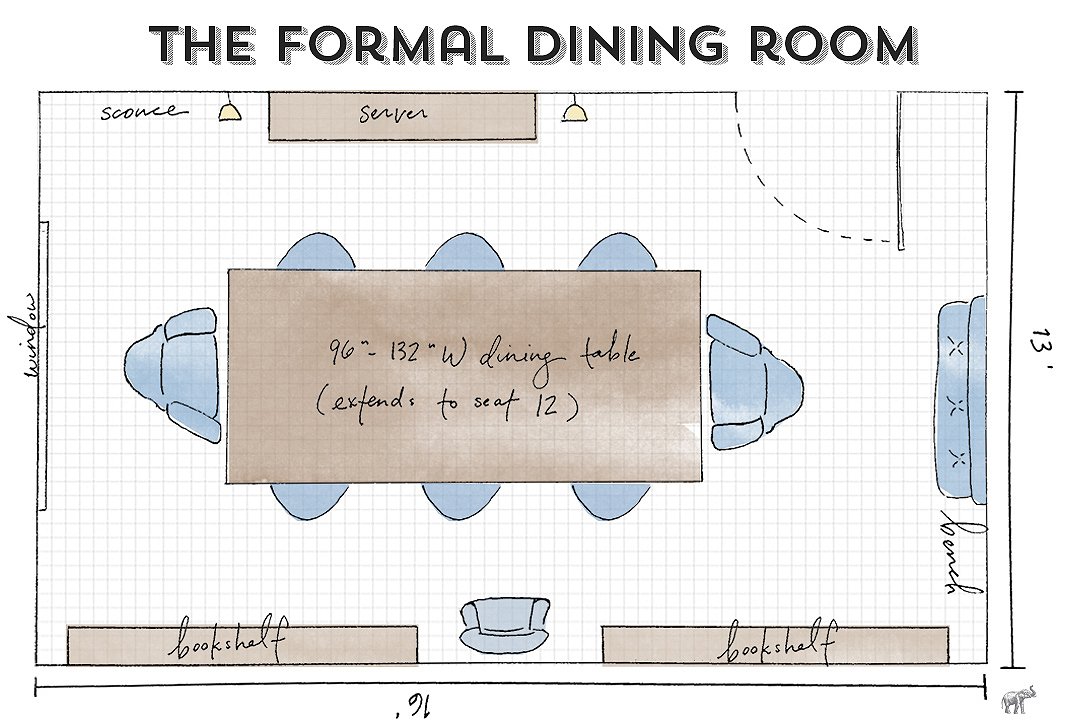 SEATS: Up to 12 (and so comfy for dinners that go all night!)
THE LAYOUT: A trad layout that's big on comfort and an inviting ambience. And while it may veer more formal, it doesn't mean you can't give your dining room some extra oomph.
THE TABLE: Sara suggests using the largest table with extendable leaves you can fit, especially if you like to entertain big crowds. When you're not using the table for a formal occasion, you can take out the leaves to make it smaller.
THE CHAIRS: To break up that boardroom feeling, she recommends choosing different styles for the head and (smaller) side chairs.
THE EXTRAS: Sara is one for adding bookshelves so that the dining room can multitask as a study, a place to do homework, or a spot for spreading out the newspaper as you drink your coffee. "It's pleasant to do those things among bookshelves that are well stocked."
LIGHTING TIP: Place lighting at multiple levels—and places other than overhead (it's more flattering that way). Sconces approximately 52 inches from the ground between bookcases are one way to do this, or flank a server or buffet with a matching pair.
This cozied-up formal dining room is wonderful for those who have a large family or group of friends and often find themselves throwing dinner parties or hosting for the holidays.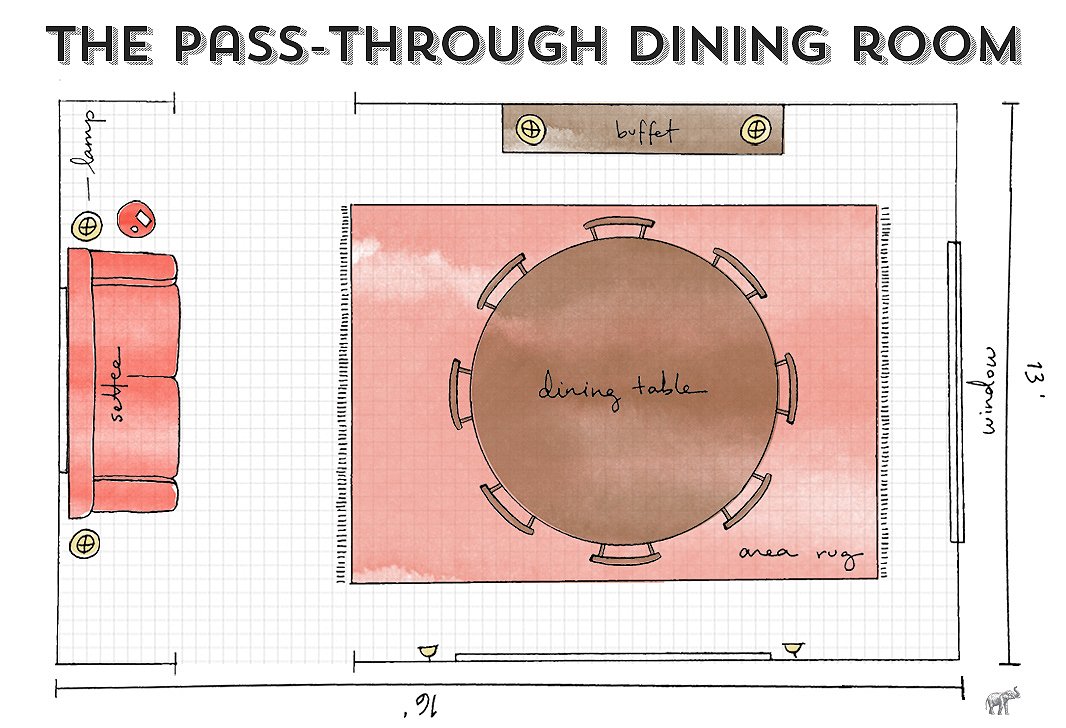 SEATS: 8 (with a cozy spot for drinks for 2 more)
THE LAYOUT: These rooms, common in prewar buildings, feel like less of a "destination," as their name suggests. Create a few distinct areas within to help define the room.
THE TABLE: The idea is to center a round dining table in the larger area between the pass-through and the window.
THE CHAIRS: "The trick with a round table," says Sara, "is that the chairs can't be placed too close to one another—the parts under the table will touch." Consider armless chairs for more-slender silhouettes.
THE EXTRAS: Place a buffet over to the side and hang art or a large mirror on the opposite wall. In the smaller area, put a small sofa, "or you could swap in a settee or a bench, depending on how much space you have," Sara says. "It's a perch rather than a deep, sink-in sofa." Add a couple of standing lamps and a small drinks table, and you're good to go.
RUG TIP: Sara recommends ending the rug before the pass-through area to unify the dining area and prevent tripping. She also prefers the dining table and chairs either completely on or completely off a rug: "The space looks bigger if everything is fully on the rug." However, furniture around the perimeter of the room—sideboards and console tables—should be left completely off the rug. A 24-inch perimeter is usually perfect. Check out our Rug Guide for more helpful tips!
This setup is perfect for a luncheon, a dinner, or a party with heavy apps. The round table is excellent for conversation, and after dinner people can move over to the settee and you can pull up a game table for cards or backgammon.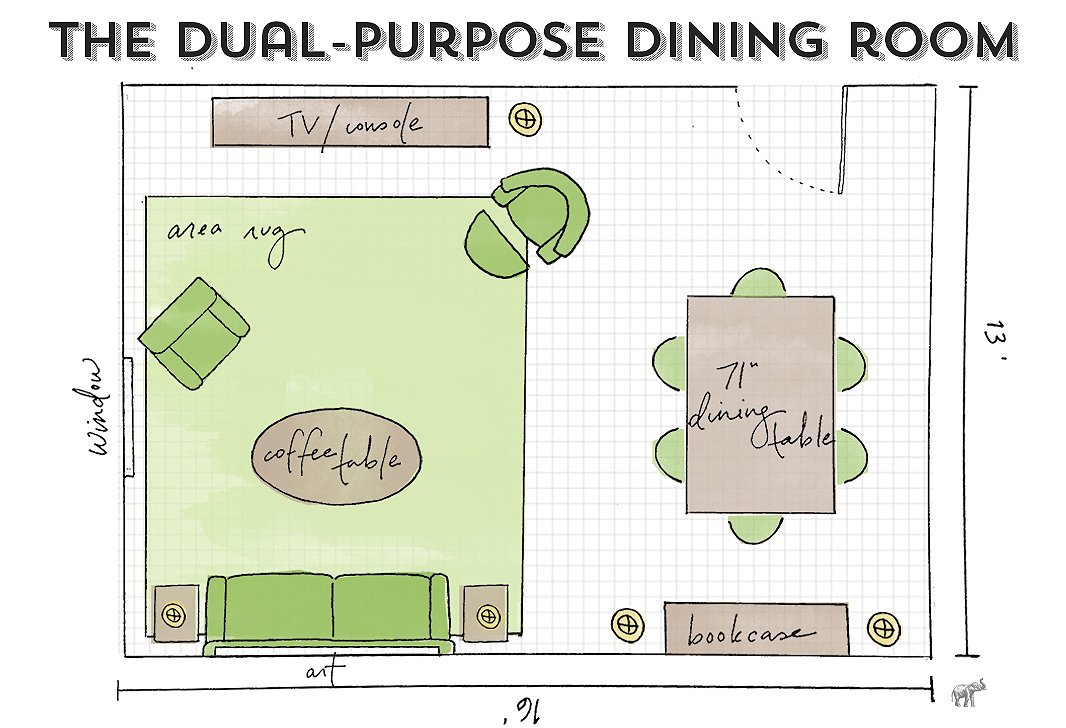 SEATS: 6 (or 10 thanks to lots of lounging options)
THE LAYOUT: While the other two options are meant to give additional utility to your dining room, this layout is a way to maximize your living/dining options in a space-challenged home.
THE TABLE: For a smaller space with an open dining area, Sara likes to turn the dining table into "an everyday comfort space. It's really nice because the majority of the time you're not using it for eating. Choose a pretty table that can be used as a desk or as a serving place for appetizers."
THE CHAIRS: Go with chairs that are portable and provide a good deal of versatility. That way, you can easily move them to the living room for extra seating as needed.
THE EXTRAS: In the living area, a sofa with end tables makes a cozy place from which to watch the TV placed on a console across the room. A club chair and a coffee table create a conversation area. A second club chair and an ottoman, placed between the console and the door, provide a great place to read or nap. It's all about flexibility and lots of seating options.
SOFA TIP: Look for a midsize sofa (about 72 inches wide), which is a good jumping-off point for small spaces.
This works best in a smaller, multiuse space. Having the dining table in your living room allows it to be much more informal and multipurpose. You can use the dining table as a large desk or game table while still being in the mix with people in the living room.