We're going to let you in on a little secret: The key to a well-designed outdoor oasis is to decorate the space like it's your living room. Time and again, this is the advice expert designers share with us. All of the same design rules apply, regardless of the space's architectural structure (or lack thereof). So sit back and relax as we break down the approach some of our favorite styles can take and introduce you to our favorite outdoor collections.
What's Your Style?
---
Let's start with the basics: How do you define your style? We put together a handy guide to help you identify four key style archetypes. Are you a New Traditionalist with a little Eclectic? Or do you lean a bit more Curator with a touch of the Naturalist? Read this guide and find out before you go any further. Then, head down to your identified style type below and check out our best decorating tips for you.
The Style Profiles
The Naturalist: This style is all about organic silhouettes and a refined rustic aesthetic. Our Harper Collection, made of handwoven weather-resistant wicker, combines that rustic simplicity with strong construction. Accessorize your space with planters or mossy statuary.
The New Traditionalist: The classic elegance of an English garden epitomizes New Traditionalist style, which favors timeless silhouettes and soft colors. The Emilia Collection melds Old World elegance with modern ease. No New Traditionalist outdoor space is complete without a garden stool or an array of plush pillows.
The Eclectic: If you covet a boho-inspired, layered outdoor space, then you might be an Eclectic. Fringed patio umbrellas and rugs with intricate designs are hallmarks of the look. The Carmel Collection translates that same showstopping boho vibe to furniture .
The Curator: Nothing says Curator style like clean lines and a subdued color palette. Our new Siena collection is a perfect match with its Scandinavian sensibilities. Curators don't need to go wild with their decor: A simple fire pit will suffice.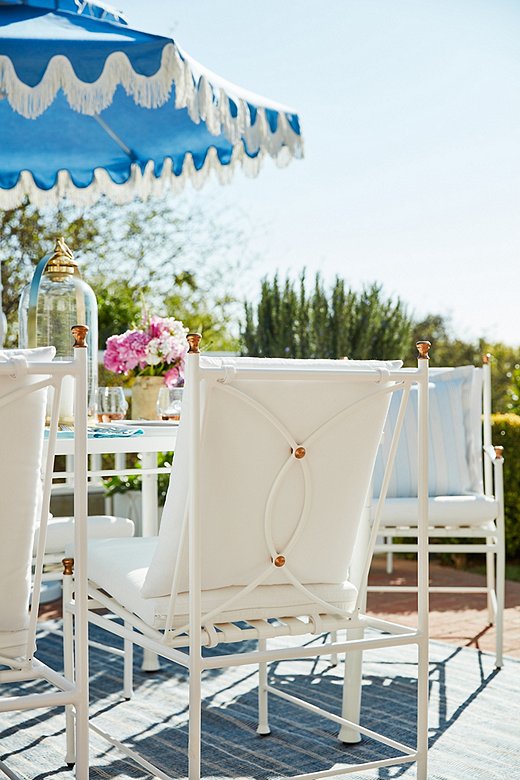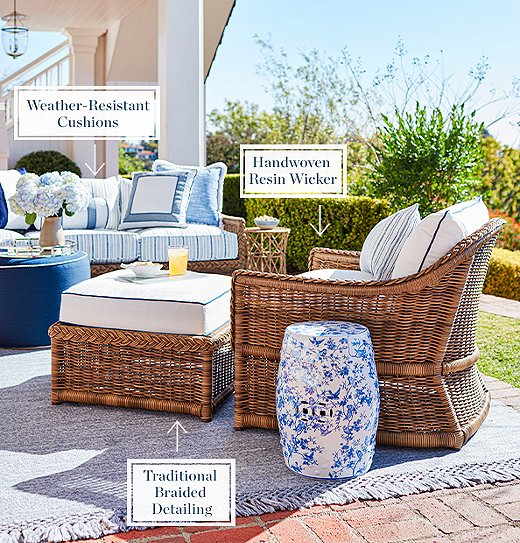 Now that you know your style, take a closer look at the collections mentioned above. From whimsical designs to sleek finishes, One Kings Lane Outdoor has something for everyone.
Meet the Emilia
---
One of the new additions to our exclusive collection of outdoor furniture, the Emilia Collection exudes Old World finesse. The handwoven resin wicker steals the show with intricate braid detailing running alongside the entire collection. The gentle curves of the chairs and sofa and the amply filled weather-resistant cushions make them ideal for alfresco lounging (and don't forget an ottoman!). With a soft color palette, these pieces feel as at home in the rolling hills of Los Angeles as they do in the sandy inlets of the Sag Harbor. If you're a New Traditionalist, this collection is the one for you.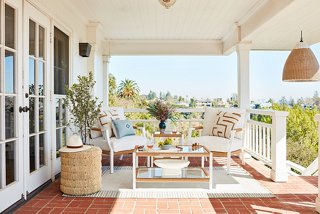 Meet the Harper
---
Dreaming of getting away somewhere tropical? Look no further than the Harper Collection to make an island escape right in your own backyard. With seats and backs handwoven of weather-resistant wicker, the Harper Collection marries island ease with Hamptons sophistication. Each piece is nearly impervious to the elements thanks in part to its resin wicker construction, and that touch of wicker makes the Harper a Naturalist's dream.
Meet the Frances
---
You are probably already familiar with the easy elegance of our best-selling Frances Collection. We're excited to share that the entire collection is now available in white as well as black frames for the first time. Designed by us and available only at One Kings Lane, the Frances is the perfect mix of tradition and glamour. The frames appear to be made from iron but are actually constructed of durable powder-coated aluminum. You never have to worry about rust, and you can easily move them in and out of the sun or shade. The colorfast, mold-resistant pillows and cushions are just as chic, with tassels, fringe, and contrast welting providing extra panache. This classic style fits every profile.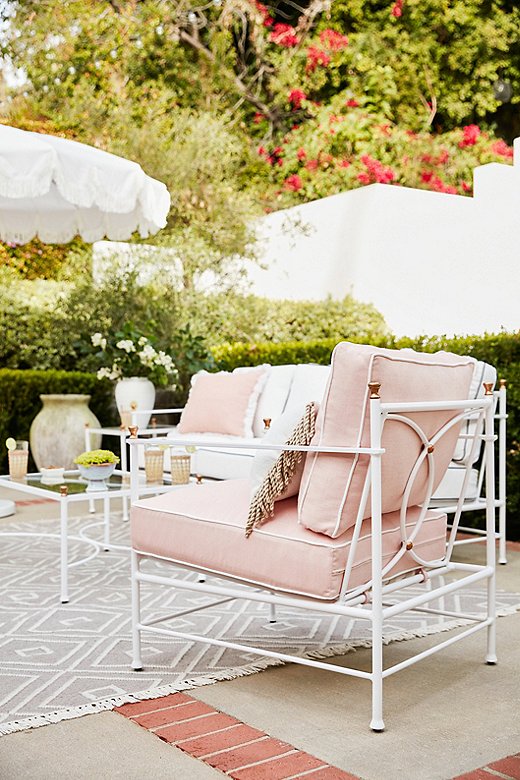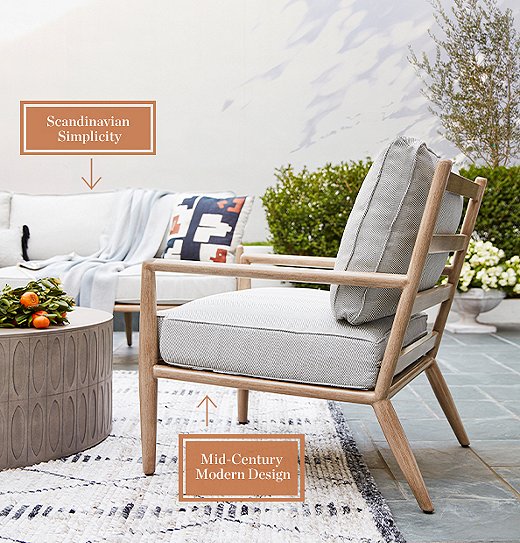 Meet the Siena
---
Calling all Mid-Century Modern fans! Meet the Siena, the other new kid on the block this year. The Siena was inspired by the slim and chic designs of Scandinavian furniture in the second half of the 20th century. With their tight frames and clean lines, these pieces will add a minimalist touch to a lush garden. While the frames appear to be made of pale wood, they're actually crafted of weather-resistant, no-maintenance aluminum. A hand-applied custom finish provides an impressively natural look. Designed by us and available exclusively at One Kings Lane, the Siena is the perfect addition to any Curator's backyard.
Meet the Carmel
---
We love the Carmel Collection because it packs a wallop with only a curvaceous loveseat, an inviting lounge chair, and a side table. It's the perfect collection for those with smaller outdoor spaces. Don't be fooled by the seeming delicacy of these pieces: The frames beneath the resin wicker are made of steel-reinforced aluminum. With an inviting boho vibe, the Carmel fits right at home in the Eclectic's backyard.
---