Palm Springs has become synonymous with Mid-Century Modernism. The desert city even hosts an annual event, Modernism Week, that typically includes tours of homes by the likes of Richard Neutra and Donald Wexler.
You needn't be a fan of Neutra and Wexler, though (or even know who they are!), to appreciate Palm Springs ease. The clean lines of modernism are only one aspect of the style. There's also the seamless incorporation of nature, a dash of glamour, and a sprinkle of whimsy. If you were to create a recipe of Palm Springs chic based on style archetypes, it would be three parts Naturalist, one part Curator, and a dusting of Eclectic.
Below are tips on how you can bring home the look of streamlined silhouettes, organic textures, and sunny serenity.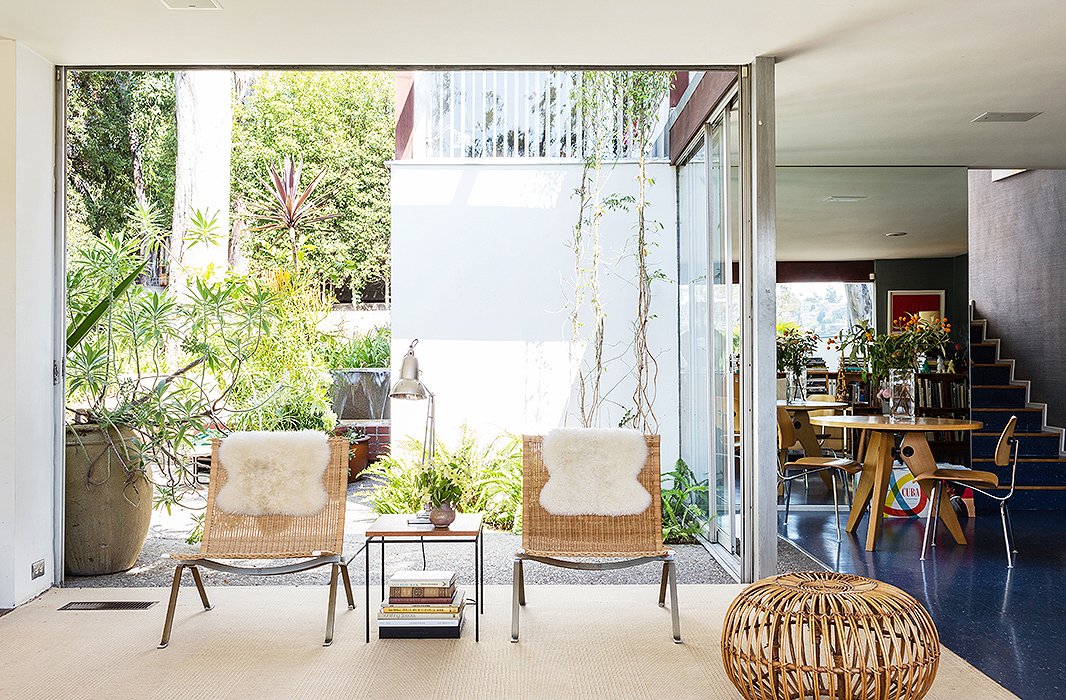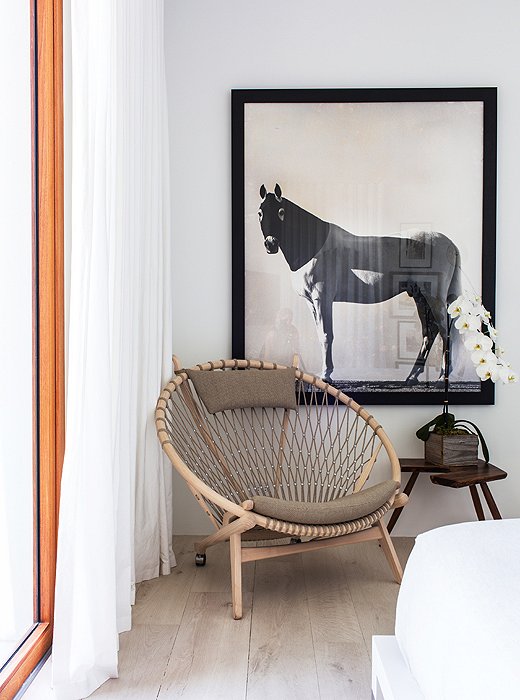 Getting in Shape
Clean lines and sleek surfaces are among the defining features of Mid-Century Modern style in general and Palm Springs ease in particular. Furniture with tapered legs, boxy silhouettes, and intriguing angles dominate. The lack of fluting, reeding, and other potentially fussy details encourages a sense of calm (and certainly makes dusting easier).
But too many splayed legs and other angles can, in turn, make a space feel spiky, almost fidgety. It's the decor equivalent of too much strong coffee too close to bedtime. So the Palm Springs version of modernism makes sure to include plenty of curves and organic textures to literally and figuratively soften all those edges. Arc lamps, round mirrors, and sinuous seating made of curved rattan or bentwood are a geometric counterpoint.
In terms of materials, complement cool chrome with warm wood, acrylic with marble, sisal or sea-grass rugs atop tiled or concrete floors (or a fluffy sheepskin or Beni Ourain rug layered atop a natural-fiber one). It's the balance of the textures and materials, as much as the materials themselves, that makes the Palm Springs take on modernism so inviting.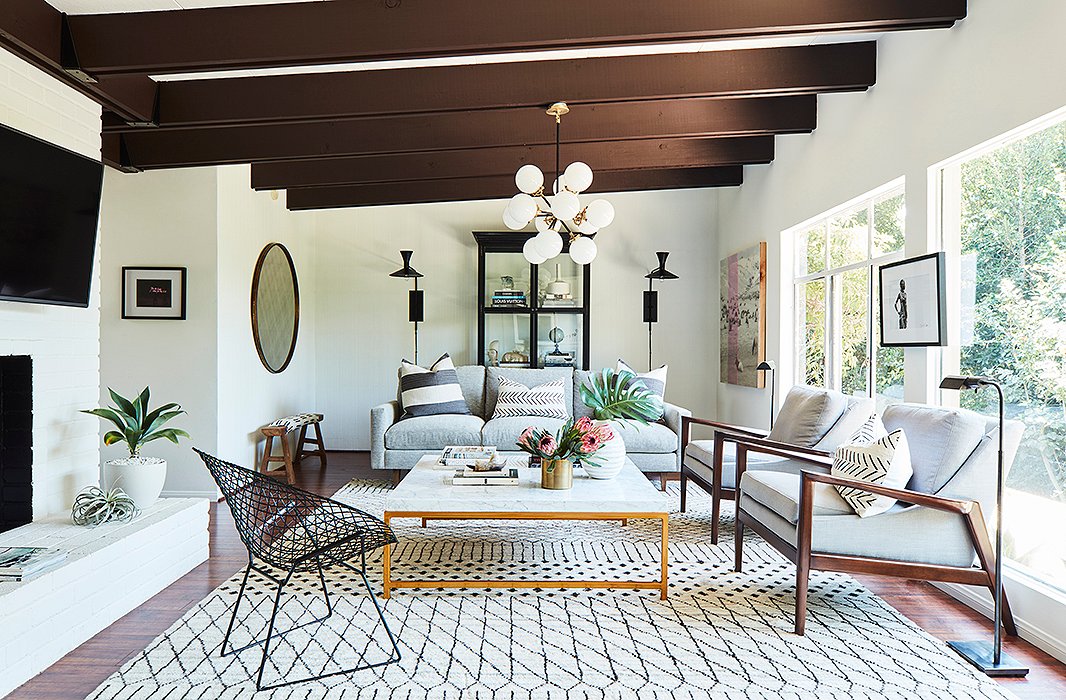 The Glamorous Life
Glamour might not be the first word that comes to mind when thinking about modernism, or organic materials, or the California desert. But hits of luxuriousness differentiate Palm Springs chic from other looks with a Mid-Century Modern slant. After all, Palm Springs was home to the likes of Liberace and Frank Sinatra, and the Kardashians are among the celebrities who own residences in the town today. So be sure to add a few glimmering golden, sparkling silver, or sumptuous alpaca accents.
Also important is a sprinkling of whimsy. The easiest way to add some is by introducing hits of unexpected color to an otherwise neutral palette. The poppier the color, the better; in Palm Springs, because the desert sun can wash out muted tones, hot pink and electric orange are great accent colors. A few bright pillows, a vivid throw, a tableau of colorful pottery, or some art in saturated colors are all you need.
Or perhaps you would like to show off a quirky figurine or an off-the-beaten-track collection but fear that it wouldn't fit it with the more streamlined furnishings. Banish that fear and go for it. The most important aspect of the Palm Springs look is the sense of ease and relaxation (as befits a city of 100 golf courses). If your Pez collection or Disneyland memorabilia makes you happy, it's perfect for your interpretation of Palm Springs style.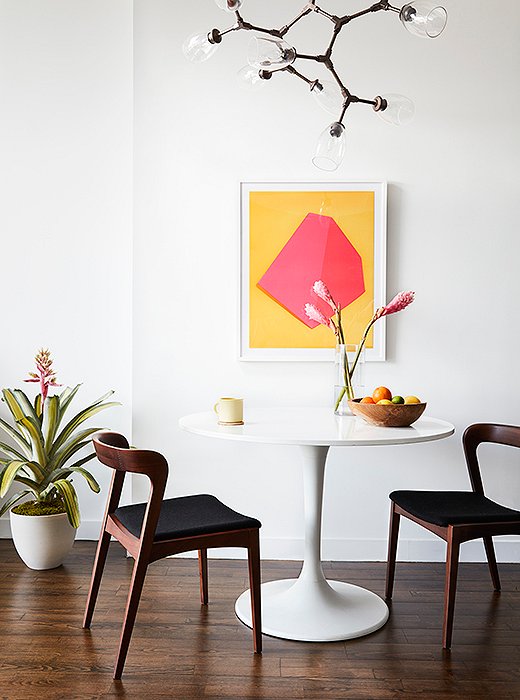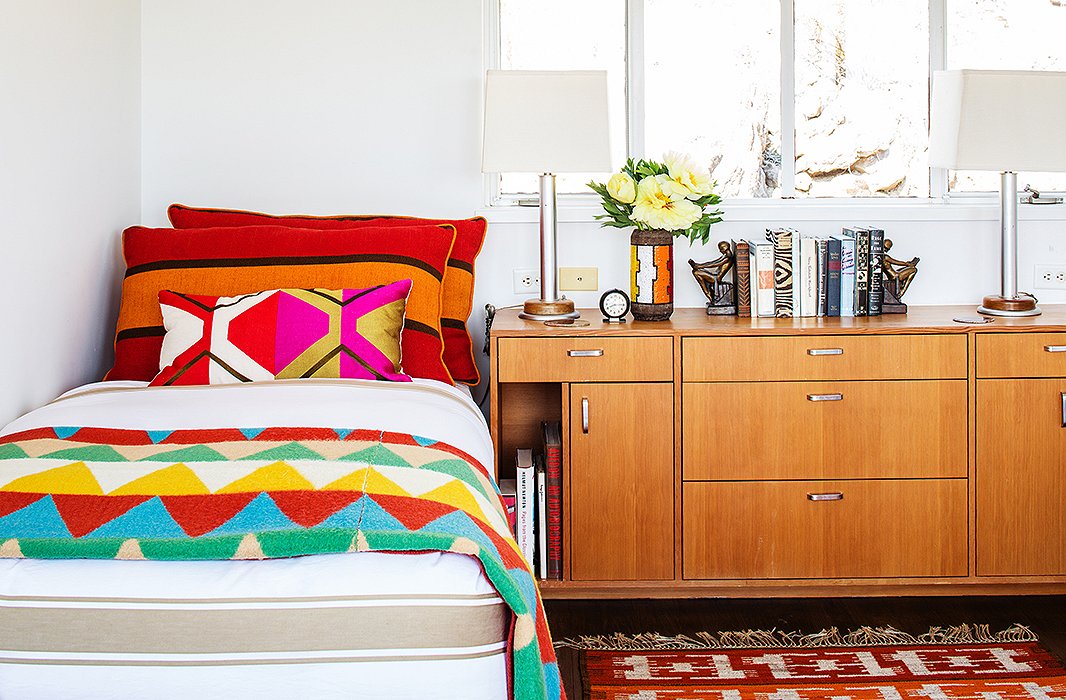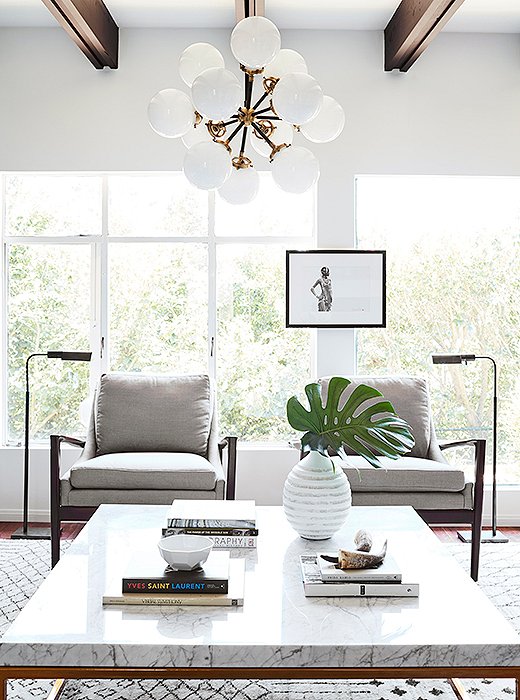 Hallmarks of Palm Springs Chic
• Furniture inspired by Danish modern design, featuring light woods or rattan and minimalist shapes. Examples include the Viggo Chair, the Ebonwood Accent Chair, and pretty much anything from Ethnicraft, Community, or Brownstone Furniture.
• Slim Aarons photography focusing on the beautiful people of the 1950s through '70s. In fact, several of his most iconic images, Kaufmann Desert House, Desert House Party, and Poolside Glamour, feature a Palm Springs home designed by Richard Neutra.
• Tripod lamps, arc lamps, and Sputnik chandeliers.
• Natural-fiber and Beni Ourain rugs.
• Sheepskins, either as rugs or to drape over chairs.
• Shapely Georg Jensen vases and serveware.
• Hand-thrown pottery (such as Currey & Company's Happy collection)