Creating the perfect master bedroom just got a little easier. We gathered 10 of our favorite tips to help you create the ideal retreat you'll love waking up in every morning—and escaping to at the end of the day.
Embrace Color and Pattern
Conventional ideas associated with bedrooms tend to be on the serene and soothing end of the design spectrum, but if that approach leaves you yawning, buck the trend and go instead for bold color and pattern. Lively wallpaper can instantly pep up the design of a bedroom, and coordinating your headboard and bedding makes for a cohesive look. Given the more private nature of the space, it can be an ideal place to really have some fun.
Crown It with a Canopy
It seems counterintuitive, but the soaring height of a canopy bed can actually make a small bedroom feel larger, and it will certainly up the grandness factor. Adding some draped fabric, either on the sides or along the back and top, amps up the romantic, billowy feel; leaving the canopy structure bare is ideal for a more modern look.
Tread Gender-Neutral Territory
When crafting a space that both men and women feel at home in, neutrals and woods are your best friends. A headboard that emphasizes shape rather than color is a great way to avoid a look that feels too basic, and a classic rug, such as an Oushak, is something everyone can agree on. Bedside tables, a bench, or chairs in streamlined wood add a tactile quality to the scheme. Color, of course, is by no means off-limits—just choose those pops wisely.
Play with Contrast
If pattern and bold colors aren't your thing, but you are looking to create a show-stopping master bedroom, consider inky black walls. Ebony has been popping up in bedrooms more and more, almost always with bright white headboards. The result? An urbane look that's cool and confident. White lampshades can turn into sculptural moments against the black backdrop. As for rugs and bedding, consider pieces that pull in a bit of black to tie the look together.
Add Traditional Accents
For a bedroom needing that last layer of personality, a few trad-leaning moments might be just the thing. Layered atop simple furnishings, details such as monograms, Greek key patterns, or toile can ground the bedroom with just the right amount of design gravitas without feeling overly staid.
Consider an Unconventional Layout
Who said a master bedroom had to be all right angles? Placing the room's biggest piece, the bed, on a diagonal might be your ideal layout. Grounding the headboard against a large folding screen or a faux wall can also be a space-separating trick for those living in an open floor plan or a tiny studio that requires creative solutions for a bit of privacy. Sometimes it's fun to think outside the box.
Go for Color Continuity
The number of decisions you have to make when decorating a master bedroom can be dizzying, which is why a tight palette can really come in handy. Landing on just two colors, typically a neutral and an accent color, can help you navigate through each choice without getting overwhelmed. Walls in the accent color? Then go neutral for the headboard. Window treatments? Just match the walls and you're done. Bedside lighting? Seek out lamps in either your accent color or your neutral.
Sync Up with Symmetry
Symmetry is one of the oldest tricks in the designer playbook, and for good reason. The result is a look that's perfectly pulled together and balanced. Purchasing in twos also reduces the number of decisions you have to make. One exception? Art. Somehow it doesn't feel right buying identical pieces of art, so instead look for works that are part of the same series but not exactly the same.
Have a Hot Headboard
An eye-catching headboard can easily act as the focal point for a master bedroom, and sometimes it's all the boom-pow you need. Solid bold-color headboards look great in shapely styles with fun detailing, such as button tufting. A patterned headboard works in either unique or simple shapes. If you know the bed is where you want the attention to be, starting with the headboard and then letting it inform your other pieces in the room is a great approach.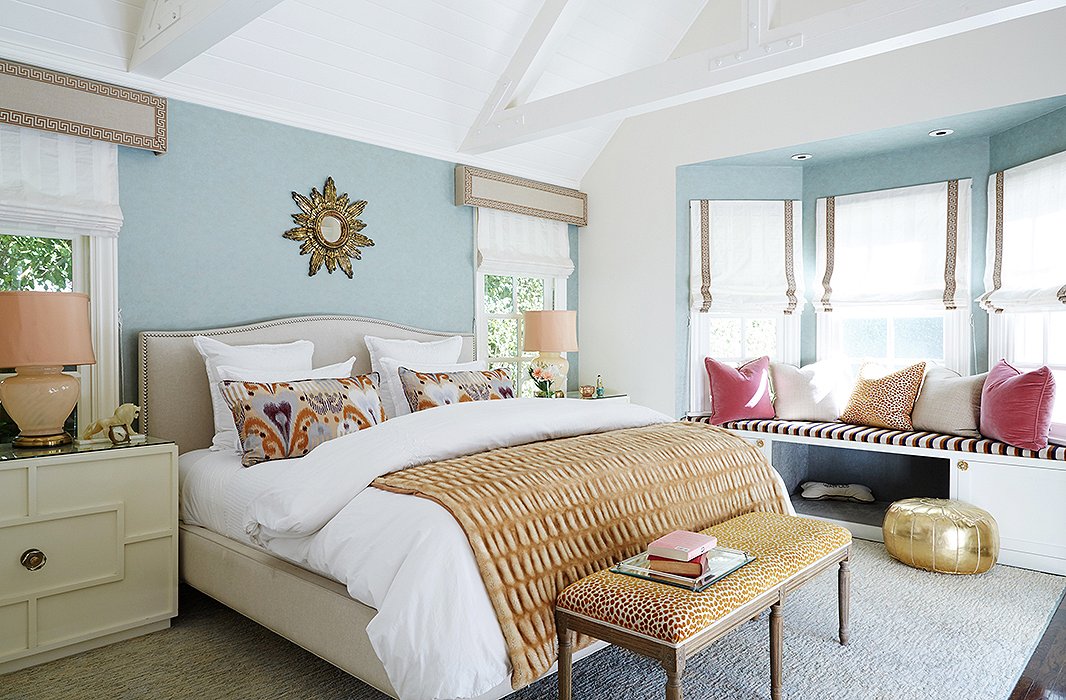 Add Accents to White Bedding
Beautiful high-quality printed bedding can definitely be a commitment, which is why opting for all-white is one of our favorite decorating moves. For those of you worried that it's boring, the trick is in the accents. A pair of colorful throw pillows can instantly infuse the look with whatever personality you'd like, as can a fun coverlet or quilt laid out across the foot of the bed. The key is to keep your foundation simple and your accents anything but, which will let you switch up the look as often as you like.