If you decorate your home with pumpkins for Halloween or adorn your autumn table with them, you might be on a quest for something to do with the fruit afterward. Our friends at Sur La Table have a few ideas: recipes that use pumpkin puree. And you don't need picked-from-a-patch pumpkins for these; canned puree will more than suffice (some say it's even better for cooking than fresh pumpkin).
Thai Pumpkin Curry Soup
Makes 6 servings
Ingredients
2 tablespoons vegetable or peanut oil
3 tablespoons red curry paste
2 tablespoons minced galangal or ginger
1 large garlic clove, minced
1 large shallot, minced
1 red bell pepper, cored and finely diced
1 can (15 oz) pumpkin puree
2 cans (13.5 oz each) coconut milk
2 1/2 cups low-sodium chicken or vegetable broth
2 tablespoons grated palm sugar or light brown sugar, plus more as needed
1 tablespoon fish sauce, plus more as needed
3 ounces shitake mushrooms, stemmed and thinly sliced
1 medium Asian sweet potato or yam, peeled and diced into 1/2-inch pieces
2 yard-long beans or green beans, trimmed and cut into 1-inch pieces (about 1 cup)
1/2 cup loosely packed fresh chopped cilantro, plus more whole leaves for garnish
1/4 cup loosely packed fresh Thai basil leaves, plus more for garnish
Lime wedges, for serving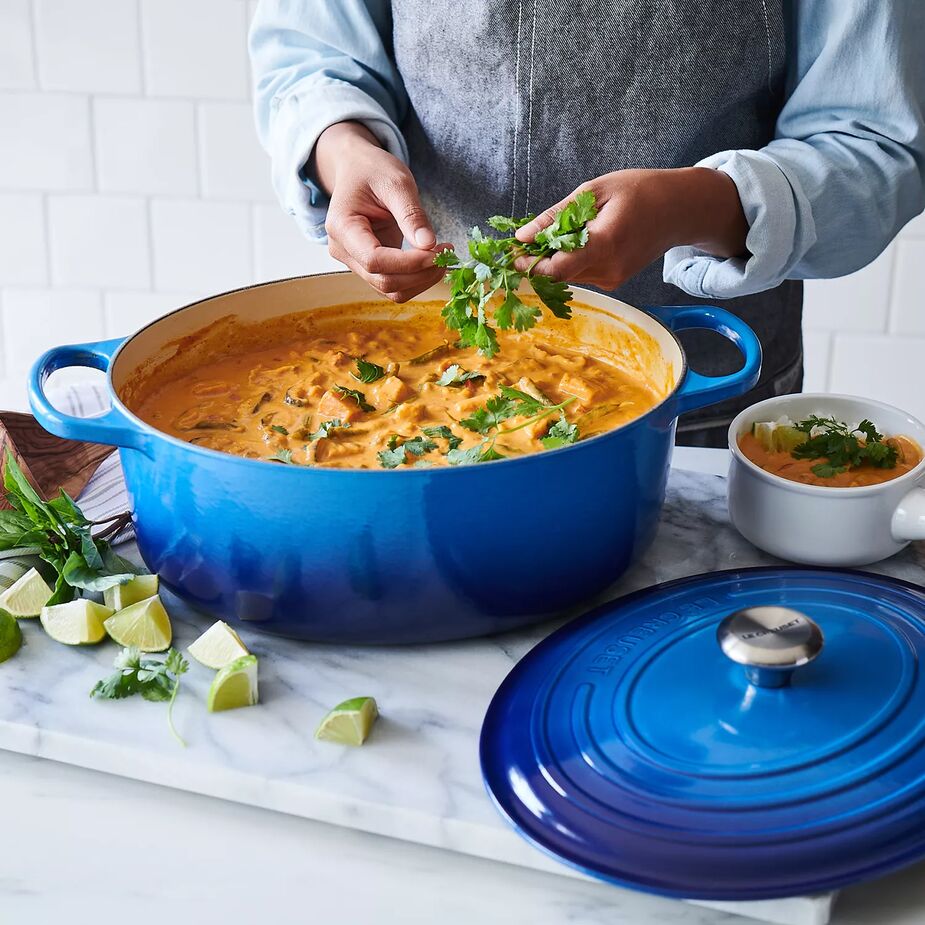 Instructions
To a large saucepan set over medium-high heat, add oil and curry paste. Use a wooden spoon to break up the curry paste, and toast until aromatic.
Add galangal or ginger, garlic, shallot, and red pepper, and cook until soft and translucent, about 3 minutes. Stir in pumpkin puree, then cook until thick and reduced, about 5 minutes.
Add coconut milk, broth, sugar, fish sauce, mushrooms, and sweet potato; bring to a boil, then reduce heat to a simmer. Cook until flavors meld, about 10 minutes. Add beans and continue to simmer until tender, about 7 minutes. Add herbs; taste and adjust seasoning with sugar and fish sauce. Serve with lime wedges.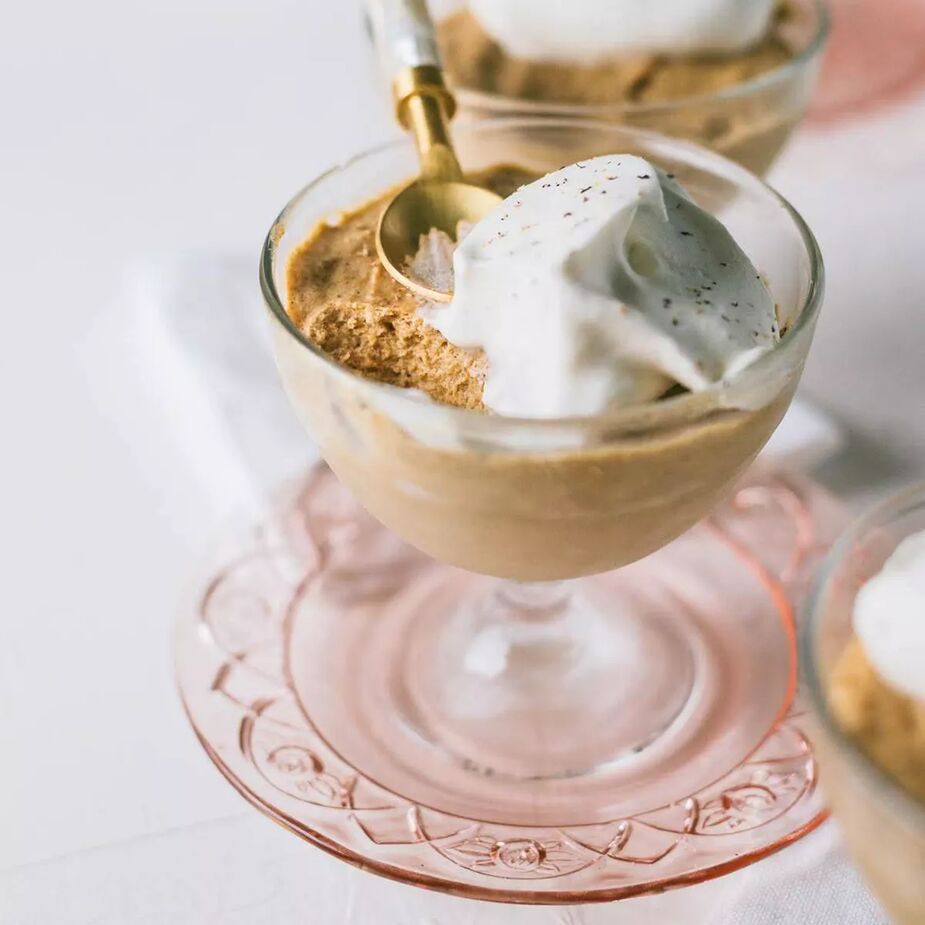 Pumpkin Mousse with Bourbon Whipped Cream
Makes 8 servings
Ingredients
For the mousse:
2 teaspoons unflavored gelatin powder
¼ cup bourbon
5 large egg yolks
1¾ cups heavy whipping cream 
¾ cup granulated sugar
12 ounces pumpkin puree
1½ teaspoons vanilla paste
1½ teaspoons ground cinnamon
1 teaspoon ground ginger
½ teaspoon freshly grated nutmeg
¼ teaspoon sea salt
For the whipped cream:
1 tablespoon bourbon
½ teaspoon granulated sugar
¼ teaspoon vanilla paste
1 cup heavy whipping cream
Instructions
To prepare the mousse: To a small bowl, add gelatin and bourbon; stir to combine and set aside to allow gelatin to bloom.
To a medium saucepan set over medium heat, add egg yolks, ½ cup cream, sugar, pumpkin puree, vanilla, spices, and salt. Cook, stirring constantly with a silicone spatula, until mixture thickens, about 5 minutes. Whisk the gelatin-and-bourbon mixture into the pumpkin mixture, and refrigerate for about 15 minutes.
To a large bowl, add the remaining 1¼ cups of heavy cream. Whisk vigorously until medium peaks form. Using a silicone spatula, gently fold into the cooled pumpkin mixture. Divide mousse among eight 4-ounce ramekins, and refrigerate until set, at least 1 hour.
To prepare the whipped cream: To a small bowl, add bourbon, sugar, and vanilla; stir to dissolve the sugar.
To a large bowl, add heavy cream. Whisk vigorously until medium peaks form. Pour in bourbon mixture and continue to whisk to combine.
Top each mousse with a dollop of whipped cream and serve immediately.
Pumpkin Muffins
Makes 12
Ingredients
½ cup vegetable oil
1¼ cups granulated sugar
2 large eggs
1 cup pumpkin puree
⅓ cup water
1 teaspoon vanilla extract
2 cups unbleached all-purpose flour
1 teaspoon baking soda
¼ teaspoon baking powder
¾ teaspoon sea salt
1 teaspoon ground cinnamon
¼ teaspoon freshly ground nutmeg
¼ teaspoon ground ginger
⅛ teaspoon ground cloves
Sparkling sugar (optional)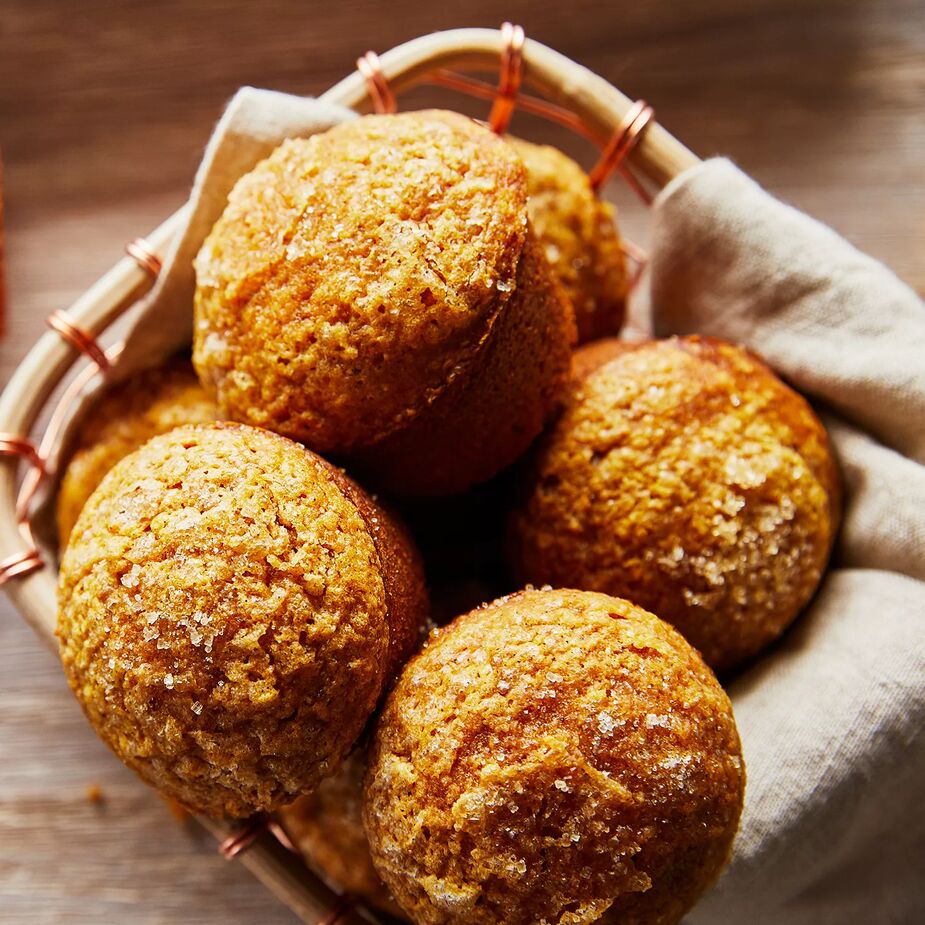 Instructions
Preheat oven to 350°F. Line a standard 12-cup muffin pan with muffin liners.
To a medium bowl, add oil, sugar, eggs, pumpkin puree, water, and vanilla extract; whisk together.
To a large bowl, add flour, baking soda, baking powder, salt, and spices; whisk to combine. Make a well in the middle of dry ingredients and add the wet ingredients. Whisk until incorporated; do not overmix.
Scoop or spoon batter evenly into the prepared muffin pan. If desired, sprinkle the tops of the muffins with sparkling sugar.
Bake in the preheated oven until a cake tester or toothpick inserted in the center of a muffin comes out clean, 25-30 minutes. Transfer muffin pan to a wire rack to cool.