Spring is upon us, which means weekend strolls through the local farmers' market on the weekends and veggies in abundance. Luckily we have friends like Santa Barbara, CA-based photographer and author Leela Cyd to offer guidance on how to make the most of the season's bounty. Her gorgeous book Food with Friends: The Art of Simple Gatherings is packed with ideas and recipes for pros and novices alike. Here she shares one of her favorite recipes for spring carrots, complete with accompanying dip.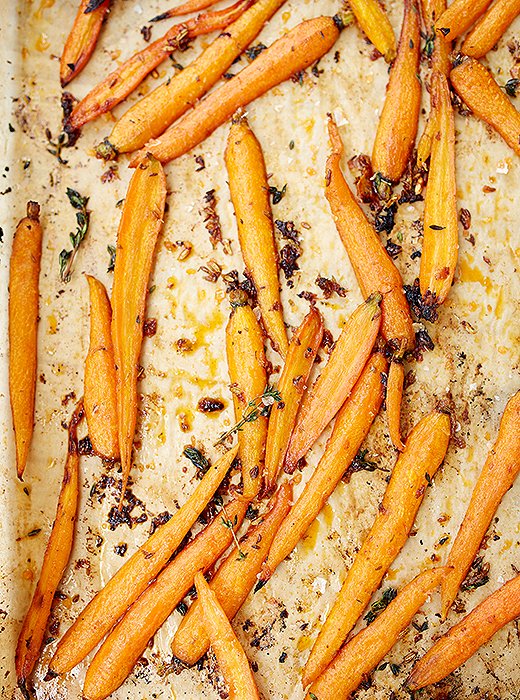 Roasted Carrots with Carrot-Top Harissa
I love this recipe because, in my mind, there's no better way to celebrate spring than a casual hang with a glass or two of chilled white wine, good bread, olives, and a plate of roasted carrots with a sauce made from their tops. The carrot tops have a bright verdant taste that complements the mellow sweetness of the baby carrots. With a kick of chili, spices, and oil, a carrot-top harissa may be my new favorite thing to dip EVERYTHING in. This dish is chic, vegetarian, and very easy to prepare—perfect for a lazy Sunday afternoon or a midweek visit with friends.
Serves 4
Ingredients:
1 dozen baby carrots, peeled and halved length-wise
1/4 cup olive oil
1 teaspoon honey
1 clove garlic, minced
4 sprigs fresh thyme
1/4 teaspoon cumin seeds
1/4 teaspoon caraway seeds
1/4 teaspoon smoked paprika
pinch of dried mint
pinch of Maldon flake salt
Preheat oven to 450 degrees. Line baking sheet with parchment paper; toss carrots with oil, honey, garlic, and spices until evenly coated. Cook for 20 minutes, and finish with a light sprinkle of salt.
Carrot-Top Harissa
makes about a cup
Ingredients:
2 green scallions, roughly chopped
1 cup cilantro, roughly chopped
1 cup carrot tops, roughly chopped
2 sprigs fresh mint
2 sprigs fresh oregano
juice of one lemon, plus zest
2 cloves garlic, roughly chopped
1/2 cup olive oil
1/2 teaspoon salt
1/2 teaspoon coriander seeds
1/2 teaspoon cumin seeds
1/2 teaspoon caraway seeds
1 serrano chili, seeds removed, roughly chopped
pinch of red chili flakes
Place all items in a blender and puree until smooth. Add a little more oil if needed. Garnish with an extra pinch of red chili flakes.
To assemble:
Serve carrots room temperature with a bowl of the harissa on the side; let guests dress their own plates. Offer extra chili flakes and lemon slices as extra garnishes, if desired. Serve with good crusty bread and olives.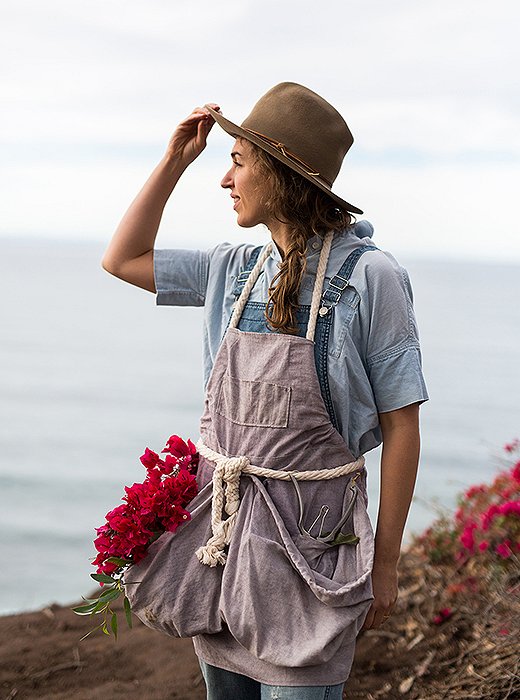 Leela shoots for magazines such as Food & Wine and Condé Nast Traveler. When not making images, she can be found testing out recipes, hosting a tea party, or on a beach walk with a friend. Check out more of her delicious recipes at leelacyd.com.