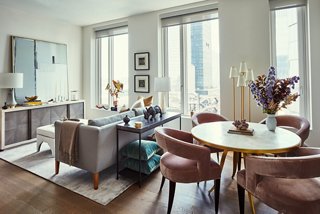 Located in a Manhattan high-rise, this pied-à-terre offers a respite from the hubbub below. Through the large living room windows you have unobstructed views of the city in all its glory out to the Hudson River, dotted with sailboats. Unlike most other Manhattan apartments, whose natural light is blocked by neighboring skyscrapers, this space is flooded with it.
The apartment's owners wanted the interior of the home to complement the beautiful view. So they called on One Kings Lane Interior Design. "They moved in with just their suitcases and a set of flatware," says Becca Roderick, director of interior design at One Kings Lane. "The benefit of working with us is that we're able to provide everything from soup to nuts, from furniture to tabletop." And from soup to nuts, the menu was created.
The plan was simple: Make a space that was zen but also sophisticated. That meant bringing in sumptuous velvets and crisp linens. "Nothing is more elegant than a beautiful set of textiles," says Becca.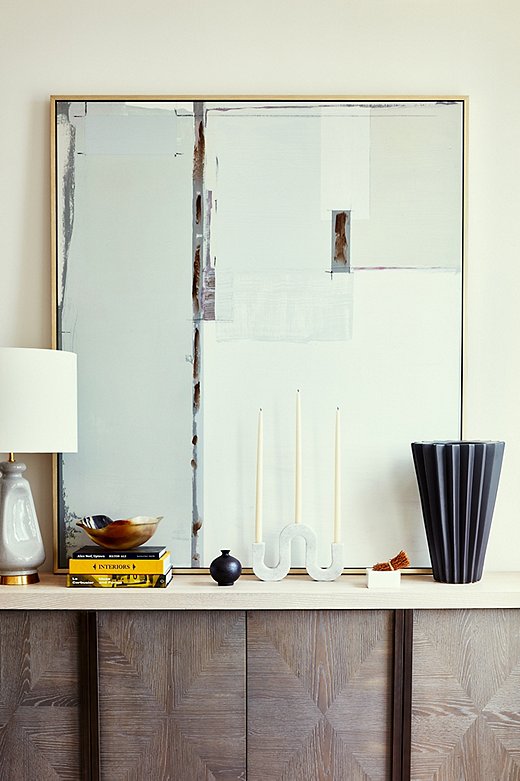 But the true magic is in the mix. "Nobody wants to live in a furniture catalog where everything is matched perfectly," Becca says. So she and the One Kings Lane Interior Design team found modern art and pastoral murals, midcentury lines and classic silhouettes, to create an air of worldly elegance. "It feels sophisticated and cosmopolitan with lavish details," Becca says. "The stone top on the sofa table, the inlay on the sideboard, the touches of brass, that all speaks to the quality of the pieces that were selected."
The apartment is bathed in neutral tones and warm textures. "It is so important for your home to act as an oasis from the hustle and bustle of your life," says Becca. "As our lives get busier, I see more and more clients asking for spaces that are serene and calming," And as this home shows, even the most restful space can be filled with character and panache.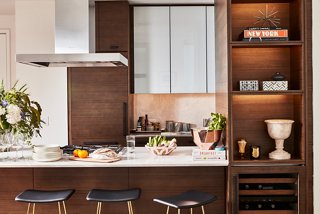 I think it's always important to blend different styles and time periods. Nobody wants to live in a furniture catalog where everything matches perfectly!
It's a nice juxtaposition to have the hard urban landscape just outside the window. The soft lines and comfortable pieces create this feeling of an urban getaway.