As the weather gets warmer and the possibility of gathering with friends grows, we're dreaming of throwing a fun spring soirée. It's been a while since we've been able to have a party of any kind, so we're dusting off our spring entertaining tips and freshening them up for the season ahead. This spring we're tackling entertaining by way of style profiles. Not sure what style you are? Head over to our style guide to find out! If you already know you're more Eclectic than Naturalist, read on below for our tips and tricks on entertaining in style this spring.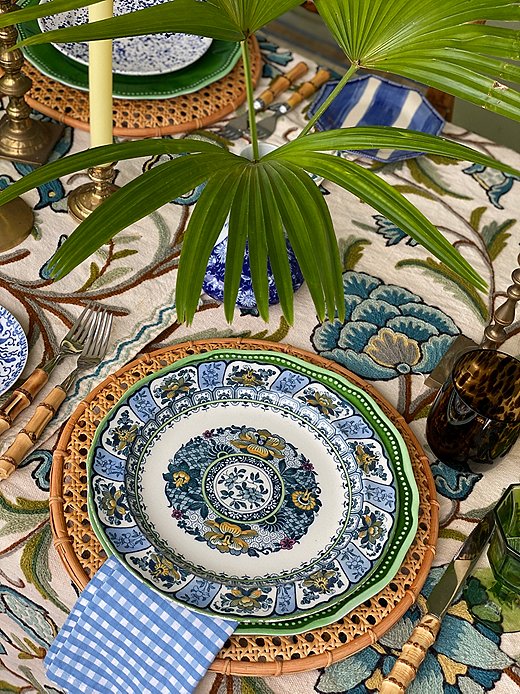 The New Traditionalist
Classic design feels fresh in the hands of New Traditionalists. While their preferred version of entertaining might include classic white tables and the finest silver, spring entertaining gives them a chance to liven things up a bit. A spring tablescape for the New Traditionalist should include fresh flowers, crisp linens, and a fresh take on the classics.
The New Traditionalist Table
Crisp linens are the best place to start. Use gingham, florals, or other springy patterns. If you have a monogrammed set of napkins that you never quite know when to use, this is the time; opt for a classic napkin tuck rather than an elaborate fold.
Bring out the silver to give your patio luncheons an air of sophistication. Just because you're enjoying a meal alfresco doesn't mean you have to skimp on the fancy stuff.
Stick to classic motifs when in doubt. If you're celebrating Easter, include cute bunny decor. If you're having a spring-themed lunch, include loads of floral accents. You also can't go wrong choosing a classic chinoiserie theme for spring entertaining.
The Eclectic
Spring seems like it was made for the Eclectic. Nature's zany color scheme comes into full swing during weeks between winter and summer, providing a world of inspiration. Patterned linens and a kaleidoscope of colors bring the Eclectic's table to life—just don't forget the flowers. 
The Eclectic Table
Layering pattern is how the Eclectic makes a vivid statement. Add ditsy spring patterns on top of bold geometric prints. Give each guest a different dinner napkin to give the table a collected feel. Add some fun throws or outdoor pillows at your table. The more pattern you can integrate the better!
Fresh flowers are a must for the Eclectic. Spring blooms are known for their striking, electric colors. Go out of the box and mix tulips with hyacinths or daffodils with primroses. Now is the time to get wild with your arrangements.
A touch of nature makes the Eclectic style a bit more cohesive. Use rattan or bamboo chairs as a base for your party. If you're entertaining outside, stick to weather-treated or outdoor-approved pieces.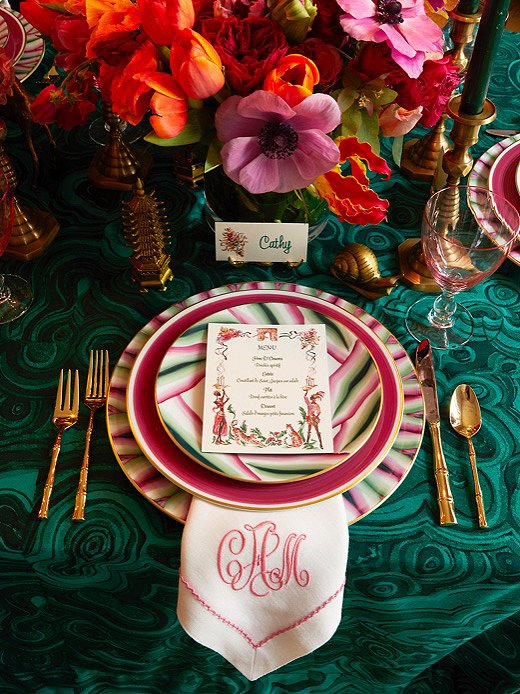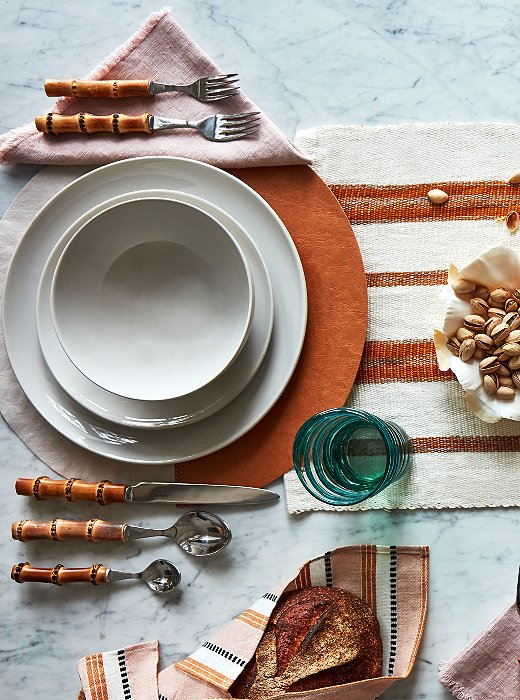 The Curator
In spring, the Curator embraces the luxurious nature of the season's simple pleasures. Fresh-baked bread or a simple flower arrangement is all that's needed to get the party started. Keep things crisp and clean for the Curator.
The Curator Table
A simple color palette is the starting point for the Curator. Go for a subdued tone-on-tone look to elevate the tablescape. Try a serene blush or a beautiful sage green for April. Layer in simple white dishes to create a clean look. 
A clutter-free table is perfect for the Curator. Don't fill it with multiple glasses or flatware for the sake of fanciful entertaining. Keep things simple with a minimal place setting. You can also forgo the seasonal table decorations and multiple over-the-top florals.
Select objects of interest are the way to add variety to the Curator's table without creating visual clutter. Stick to one or two pieces at the most. If you're eating by the ocean, add a shell to the table for salt or sauces. If you're dining in the garden, use a small planter or statue as the centerpiece. The pieces should feel special enough to stand on their own. 
The Naturalist
True to their name, Naturalists will be spending spring enjoying all that outdoor dining has to offer. Their love of unrefined beauty comes through in the artisanal appeal of pottery and tumbled table linens. Like that of the Curator, the Naturalist's table excels when it is rooted in simplicity. 
The Naturalist Table
Handcrafted plates are a great way to lay the foundation for the Naturalist table. Plates that have a hand-thrown look speak to the Naturalist's love of artisanal craftsmanship. 
Natural textures are a must. Go for linen napkins and organic accents. Add woven or wooden place mats. Skip the tablecloth and opt for the table's bare surface — double points if it is wooden. 
Go for greens on your menu to make this a true Naturalist shindig. Embrace spring and serve fresh fruits and vegetables. Take your party to the next level by firing up the grill for the first time this season!