I first had a version of this salad at the Ace Hotel in downtown Los Angeles. It was love at first bite. With the vivid, jewellike beets and oozing decadence of burrata cheese (you'll never go back to plain mozzarella after one encounter of this cream-laden fresh cheese), topped off with the curly harbingers of spring, pea shoots, this combination was straight magic. I modified the salad to be a bit more rustic in presentation and added a bit of bite with malt vinegar in the dressing. This salad is a feast for all the senses and might just be the star savory at your next picnic.
Make-ahead tip: Roast the beets up to a day in advance; peel and trim just before serving. It's much easier to do it this way, as it gives the beets time to fully cool. Prep the pea shoots the day before by rinsing, drying, and wrapping them in a slightly moistened tea towel in the fridge.
Salad of Beets, Burrata, and Pea Shoots
Serves 6-8
Ingredients:
10 medium gold and red beets, washed, stemmed, and trimmed (not peeled)
1/4 cup olive oil
1 bunch pea shoots
1/2 head escarole, washed and trimmed
2 8-ounce burrata cheeses, torn into about 8-10 pieces
For the dressing:
1/4 cup olive oil
3 tablespoons malt vinegar (or red-wine vinegar)
1 teaspoon mustard
1 teaspoon honey
1 shallot, finely minced
salt and pepper to taste
Preheat oven to 400°F. Place beets on a sheet of tin foil, 2 beets per sheet; drizzle with 1 tablespoon of olive oil per sheet, and wrap loosely. Place on a sheet pan and bake for about 45 minutes, until soft when poked with a knife. Cooking time will vary depending on the size of beets. When softened, remove from oven and allow to cool in their tin-foil packs.
Make the dressing by whisking the olive oil, malt vinegar, mustard, honey, shallot, salt, and pepper together vigorously until emulsified.
When ready to serve:
Peel the beets with a paring knife. Cut into wedges. Toss beet wedges, escarole, and pea shoots in a large bowl with dressing. Pour onto a large platter (or 2 large plates), dotting bits of torn burrata throughout the vegetables. Finely chop a few of the escarole leaves and pea shoots, then garnish the salad with them. Top with freshly ground pepper and a little salt. Serve immediately.
Shop Gorgeous Salad Plates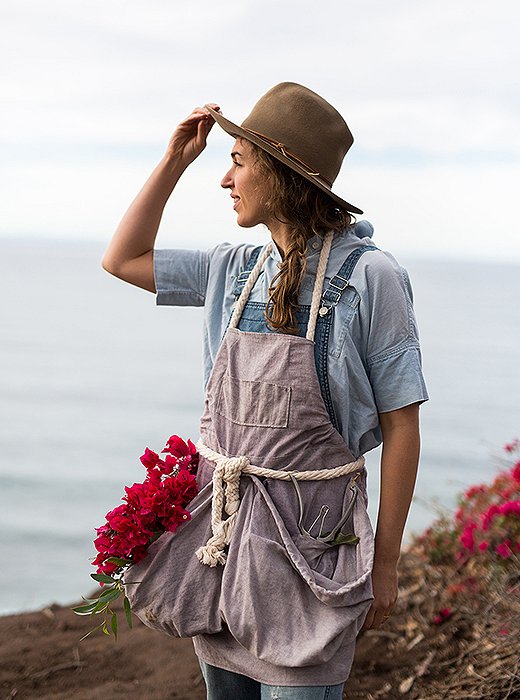 As well as a photographer, Leela Cyd has written several books on food and entertaining, including Tasting Hygge and, with Anne Parker, Cooking Up Trouble.