There's no better time to host a movie night than the week of the Oscars. It's a chance to relish the past work of today's darlings, understand the depth and breadth of their craft, and appreciate their work as art… plus aren't we all just looking for another reason to watch The Notebook anyway? If you nodded yes, then read on, because resident entertaining expert Michelle Wong shows how to create an at-home gathering fit for the big screen (and next Gosling-a-thon.)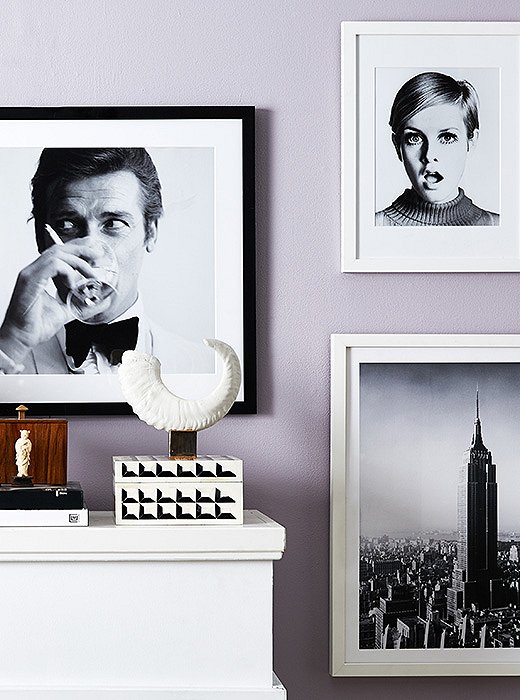 A Theme with Classic Style 
Inspired by a collection of prints from Getty Images and Sonic Editions, Michelle created a gallery wall with nostalgic nods to cinema without an over-the-top theme. Elizabeth Taylor as Cleopatra and Roger Moore as James Bond are just two images in a black-and-white sea spanning film, fashion, and architectural history. It certainly works within the context of the evening but also doubles as stylish decor long after the credits scroll.
Fun fact: Nominated for an Academy Award in 1963, Cleopatra nearly bankrupted 20th Century Fox and served as the catalyst for Taylor's Bulgari-laden love affair with co-star Richard Burton.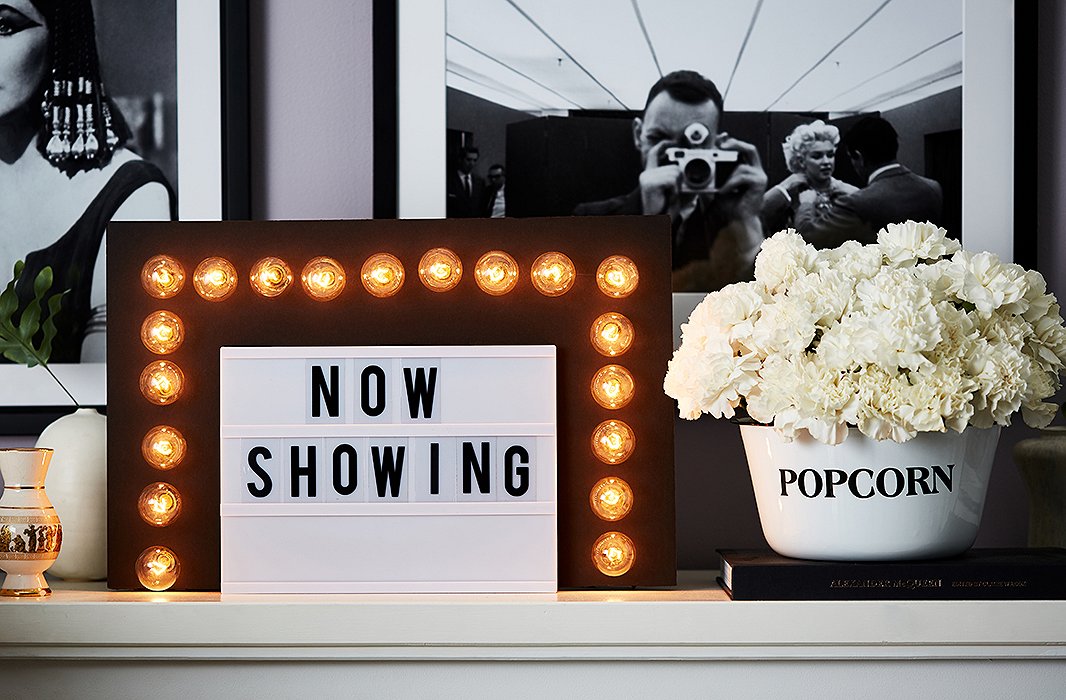 Festive Florals and a Touch of Retro
For a fun twist on a movie-time staple, Michelle used white carnations to create a larger-than-life bowl of "popcorn." Held in place by floral foam positioned at the bottom of the bowl, they add a pop of texture and just the right amount of whimsy to the mantel vignette.
After whimsy comes the next most important element of any party's decor: novelty. For Michelle, that token dose of something just a smidge over the top was a DIY cinema marquee. Using black foam board and a string of outdoor lights she created a frame for a found light box by drilling evenly spaced holes for the bulbs to poke through. Use one to display the evening's presentation, or combine multiple signs for an inventive message board with retro appeal.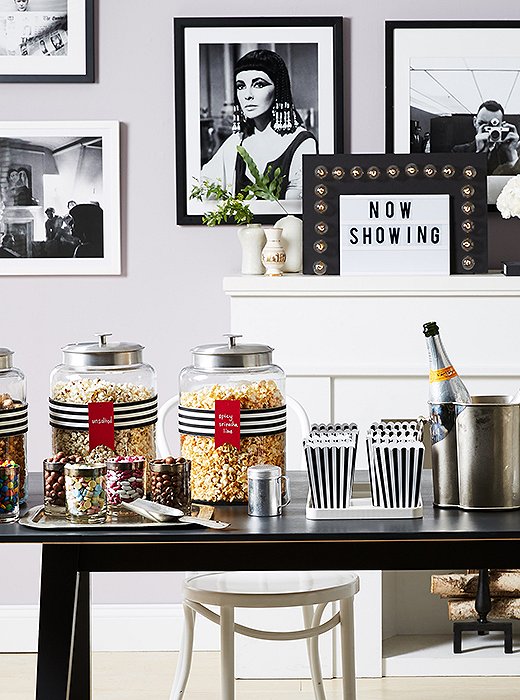 A Fresh Take on an Old Favorite
Michelle opted for an elevated version of everyone's favorite movie snack by way of a popcorn bar. Offering three types—caramel pecan, unsalted, and spicy sriracha lime—she added some flair to plain glass canisters with labels made from grosgrain ribbon, gift tags, and a white paint pen. Candy classics are displayed like bar nuts in a set of midcentury tumblers by Dorothy Thorpe beside a shaker of Parmesan cheese. Supplied with a black-and-white striped container (an aesthetic choice inspired by Audrey Hepburn's hat in My Fair Lady), each guest can scoop and shake as much, or as little, as they please.
Recipe: Sriracha Lime Zest Popcorn
Time: 10 mins
Ingredients:
2 tbsp of oil
1/2 cup of popcorn kernels
1 tbsp of sriracha
1 lime for zesting
Directions:
Heat oil and popcorn kernels in a lidded saucepan with a capacity of at least 2.5 quarts over a medium flame. To make sure the pot is at the right temperature, get three test kernels to fully pop before adding the rest. Keep lid covered and shake the saucepan frequently to prevent burnt kernels. Once the popping slows to three seconds between pops, remove saucepan from heat. In a large mixing bowl add sriracha sauce and mix in popcorn. Zest lime over the top and salt to taste.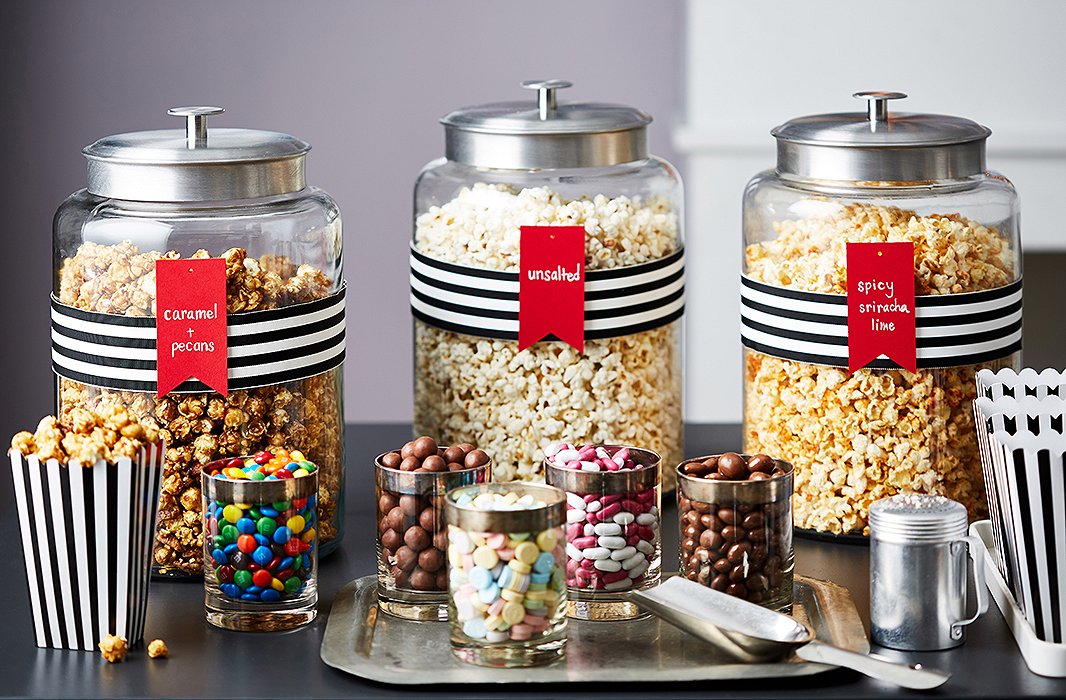 Champagne Wishes
Just as you'd wear denim with diamonds, serve your popcorn with champagne. A bottle of bubbly is way less involved than a mixologist-approved cocktail, meaning you'll spend less time prepping and more time sipping. Michelle selected the two prettiest bottles of Veuve Clicquot she could find and placed them in a silver ice bucket.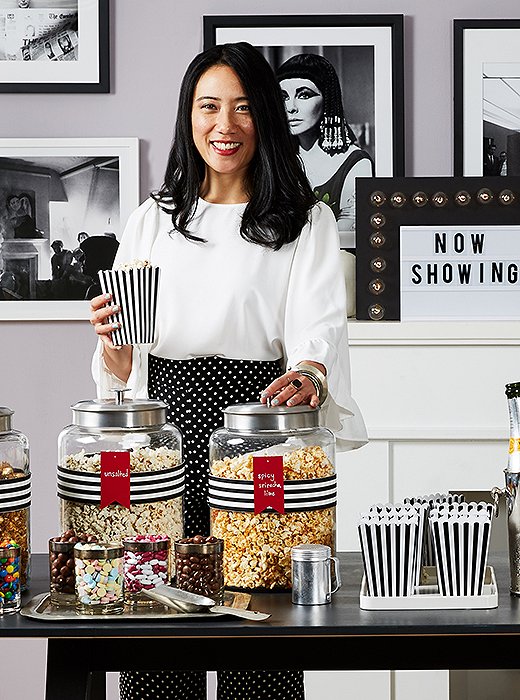 One Kings Lane stylist Michelle Wong is a New York-based foodie and passionate party planner. When she's not dreaming up new ways to entertain for our "How to Host" column, you can find her stirring up inventive cocktails and getting creative in the kitchen of her downtown apartment, noshing her way through the city, or simply taking in the best of NYC's bars and restaurants.