Many dog owners regard their four-legged friends as part of the family. And when those dog owners also happen to be interior designers, you can bet their four-legged family members live seriously stylish lives.
From design expert and author Susanna Salk, At Home with Dogs and Their Designers goes inside the homes of today's top interior designers and profiles the adorable pups who share them. It also gathers a wealth of expert tips for living stylishly with pets (how to protect that gorgeous upholstery from muddy paws, for one). Read on for a peek into the book and get ideas both you and your canine companions will love.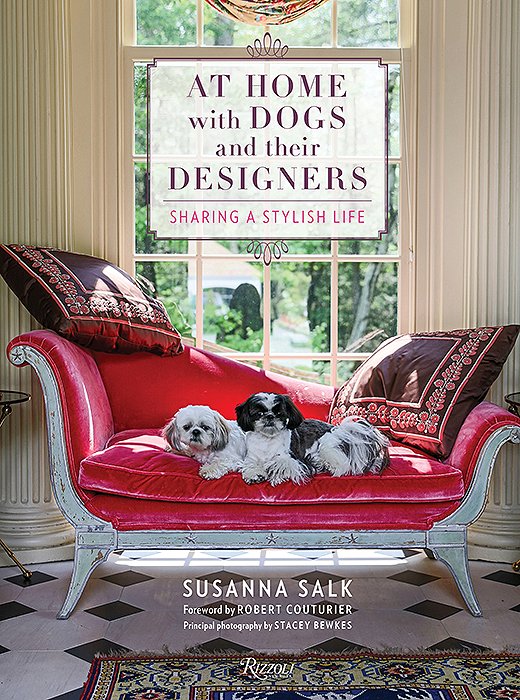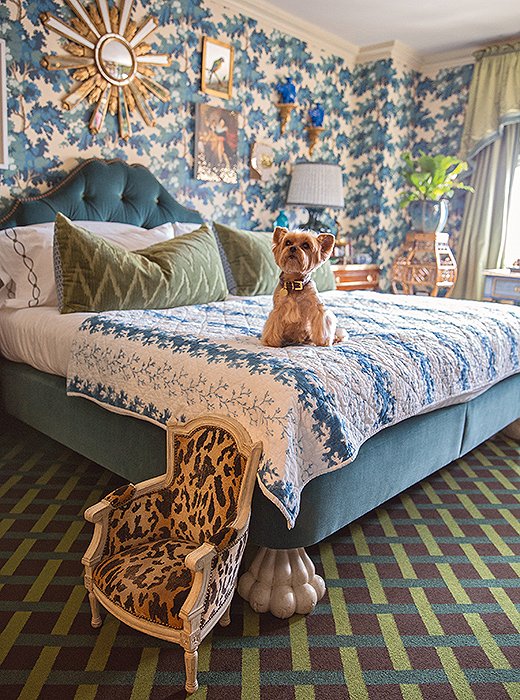 Small Measures
Designer Alex Papachristidis and his partner, Scott Nelson, share their New York City apartment with Teddy, a 14-year-old Yorkshire terrier. "We call him the 'Tom Cruise' of Yorkies," writes Alex. "He knows he is handsome… and he is always a ham for the camera." (You can follow his adventures at #teddynewyorkie).
Alex's tip for living with a pint-size pup? Give him a leg up by placing stylish step stools around the house. "Small antique and vintage chairs next to beds and sofas help to give your pets access to higher ground while also protecting their backs," writes Alex. "I often buy Teddy's miniature furniture from antique stores, pier shows, and auction houses."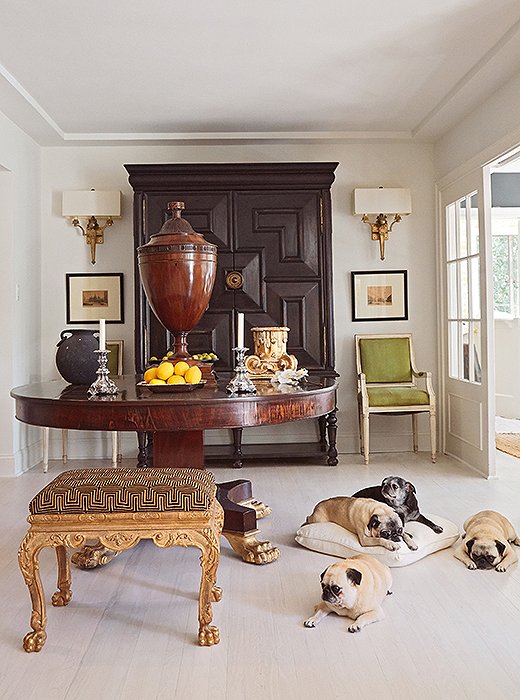 Pack Mentality
In Los Angeles, designer Mary McDonald lives with not one but five adorable pugs. "They always remind me that while we are all each very different personalities, we are always capable of reaching out to love and forgive each other," she writes.
Managing multiple pups can be difficult even for the most attentive pet owner, so organization is key. "If you have a lot of dogs, especially little ones, make sure you have enough leashes at the ready (hanging them on hooks keeps them from getting tangled)," Mary writes. "It's hard to keep track of more than two dogs, so if you have more than that, get in the habit of doing a head count to make sure that they are all inside. (I could accidentally take in a raccoon and not notice, since I am satisfied once I hit five and close the door.)"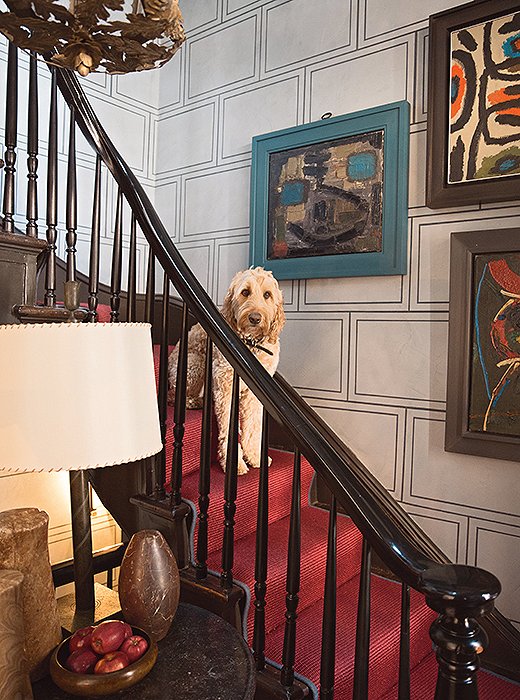 Minding Manners
Sailor, the five-year-old labradoodle of designer Steven Gambrel, lives her stylish life between Manhattan's West Village and a historic sea captain's house in Sag Harbor, NY. Sailor is a champ on boating excursions and other outdoor adventures. ("Labradoodles love the water and will enter it without prompting," Steven writes. "We discovered this the first day we took Sailor out on the boat in Sag Harbor: She jumped right in.") But for Steven and his partner, James Anderson, it was important that she also get accustomed to living well indoors.
"A cheese board finely styled on a low table, prepared for evening guests, is a family tradition, and puppies need to learn that this tempting moment is seriously off-limits, even when the dads are getting dressed upstairs," writes Stephen. "Once we have come to an agreement on this subject, puppies become family."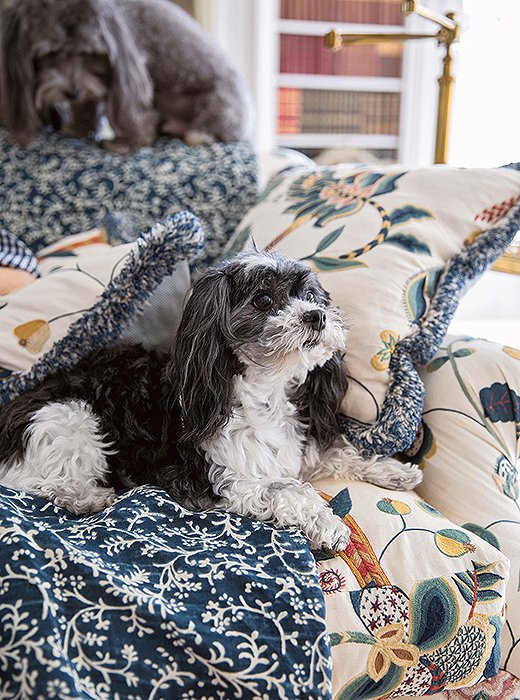 Preventative Measures
"My pups are astonishing individuals," writes designer and author Carolyne Roehm, whose Connecticut abode is home to six dogs between the ages of 5 and 15. "All are different in breed, size, temperament, and personality. I have cuddle bears, great athletes, philosophers, old souls, pranksters, and gourmands."
Because all six pups are allowed to sit anywhere they please, Carolyne makes use of a tip she learned from a Parisian textiles dealer: "Buy extra yardage of a fabric that you are using to upholster sofas and chairs to make matching dog covers. The covers will blend in with the upholstery, and when they get dirty, you can send them to the dry cleaners. I lightly quilt the fabric covers and dress them up with a pretty trim."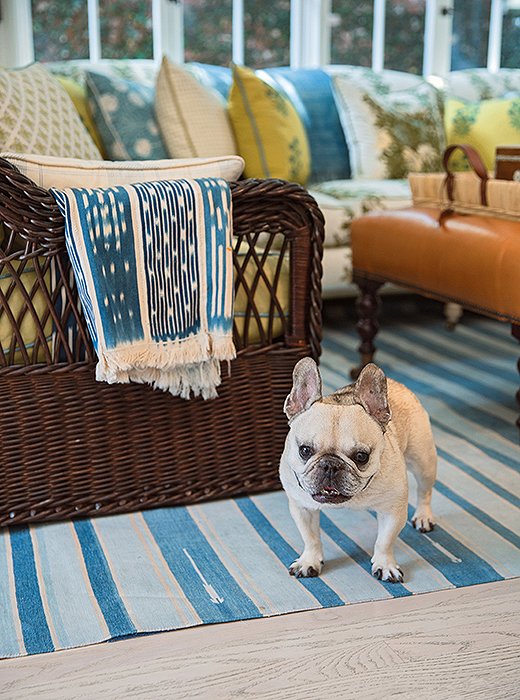 Sleeping in Style
Designer Mark D. Sikes shares his Hollywood Hills home with Lily, a nine-year-old French bulldog. "Lily came to us from Atlanta," he writes. "She is very much a Southern lady in many ways: soft-spoken and delicate, with a special charm. Not to mention she is, of course, adorable. And like every parent, I am totally objective about that." Lily has earned the nickname HRH, Her Royal Highness, "due to the way she expects to be treated," writes Mark, who chronicles her antics on Instagram at @hrhlily.
Lily's favorite nap spot is a striped daybed in the library, and at night she sleeps "in the middle of our bed under the covers with her head on a pillow," Mark writes. Even so, the designer and his partner, Michael Griffin, make sure to provide Lily with plenty of her own dog beds, which they match to the rug in each room to keep things coordinated.