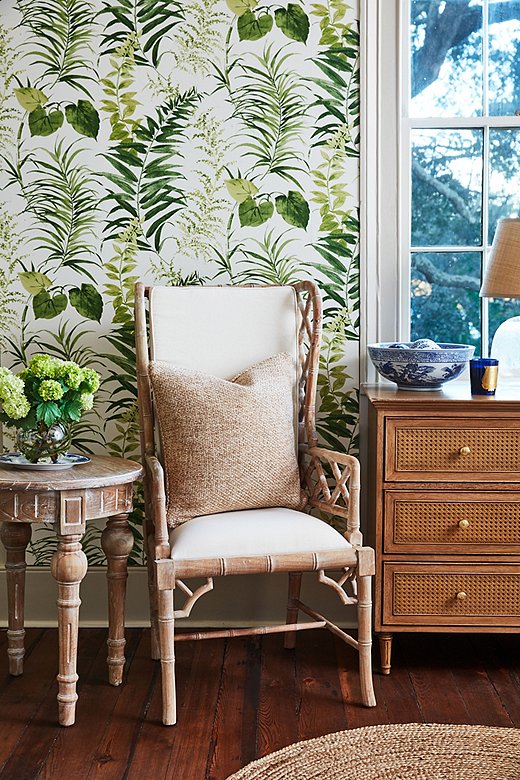 During the past year, it has been nearly impossible to scroll through Pinterest or Instagram without seeing a green velvet sofa. As people started spending more time indoors, they began craving the invigorating shades of the outside world. By the beginning of 2021, it was safe to say that green was everywhere—and we couldn't love it more. No matter your style, whether you're a New Traditionalist, Eclectic, Curator, or Naturalist, there is a green for you.
Green is a chameleon color. Differing shades elicit different responses. The New Traditionalist might like a more standard, British racing green, while the Eclectic would gravitate toward a bold emerald. The Curator might go for a silvery sage, with the Naturalist favoring earthier greens. "Green can be very specific and polarizing," says One Kings Lane Interior Design team member Jordan Schehr. Darker and moodier iterations are reminiscent of the Victorian era and stately interiors, while muddier greens often remind people of the 1970s. Bright celadons are inextricably linked with the sea, while a true neutral green is related to nature and the earth. "Green can be quite dramatic," he says.
Ambient light plays an important part in how green furniture, decor, and paint come across to the average viewer. The only way to determine the right shade of this fluctuating hue is by testing. The classic emerald we've seen take over our social media feeds might work in a bright, light-filled room, but it could also make a darker space feel drab. The key to working with a color trend is to make it work for you. An individualized approach to a widely popular color story keeps your spaces feeling fresh and of the moment.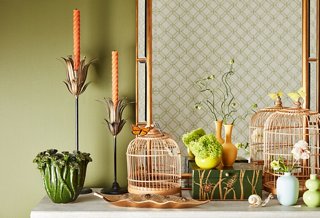 Rules of Engagement
Now that we've laid the groundwork on the mutable qualities of this classic shade, we are turning to the experts. Our team of interior designers gave us their three most important tips on working with green:
Plan in advance. "Consider your green carefully," says Jordan. "Greens have undertones that don't immediately make themselves known, so be sure to consider your complementary and contrasting color schemes ahead of time."
Set the mood. Setting the mood for your space goes hand-in-hand with determining the palette. All your color choices ladder down from the feeling you are trying to create. "I love to use bright greens as part of a color-story mix to create playful and cheery rooms," Jordan says. Earthy, moodier tones sit at the other of that spectrum. "They are an interesting way to add gravitas to a room."  
Review your options. Once you've determined the direction you're going, it's time to determine the shade. Because green can be fickle, you should study your options carefully before committing. Any color will portray a different hue depending on your ligh. Test paint colors and fabric swatches in the spaces you are envisioning first.