With the endless stream of tasks around the holidays, it's easy to stick to the tried-and-true decorations of years past. So we asked stylist Alyssa Lewis to share some fresh tips for a home that's merry, bright, and oh-so chic.
Warm Up
Even a few small additions can make your home feel ready for the holidays. Alyssa brought in cozy accents like a sheepskin rug and knit throws to warm up the relaxed blue-and-white space and give a nod to the season.
Go Organic
While tinsel is fun, there's also something to be said for decorations that highlight the natural beauty of greenery. "We used a garland in a bit of a nontraditional way," Alyssa explains. Instead of pinning and shaping a swag of garland across the front of the console, she let it rest on top, as you would on a mantel. "We also used the beautiful hurricanes," she adds. "You can easily create a holiday feel with the glow of pillar candles."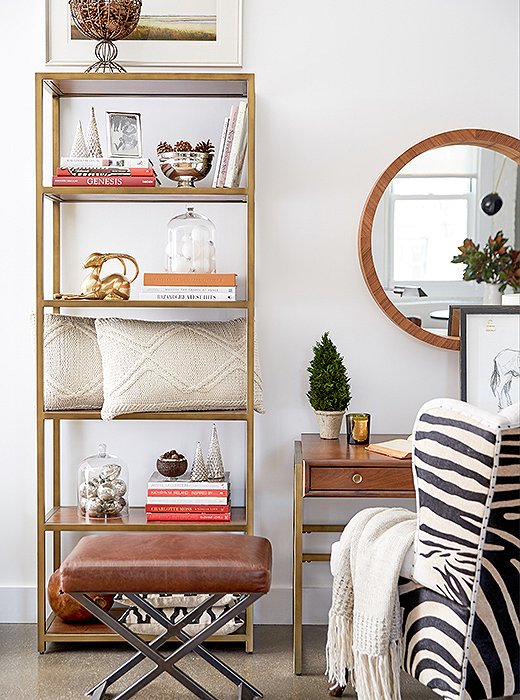 Deck the Halls (and Even the Office)
Some areas, such as a home office, don't get much attention when it comes to holiday decorating, but there's no reason the spirit of the season shouldn't extend to your work space. "You can easily 'holidize' this space with simple hurricanes filled with pinecones or extra ornaments," says Alyssa.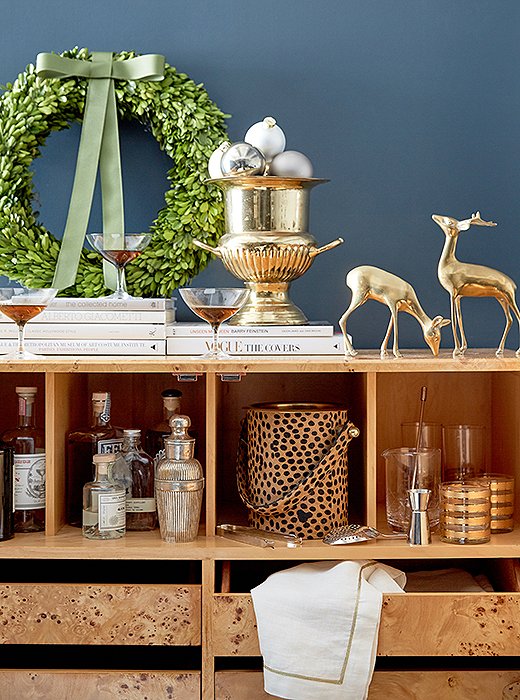 Stock the Bar
What would the holidays be without a cocktail to toast the year gone by? Alyssa paired vintage glassware with a leopard ice bucket to balance classic style and bold influences. "The play between the animal print and the different colored glassware helps bring in a holiday feel," she explains.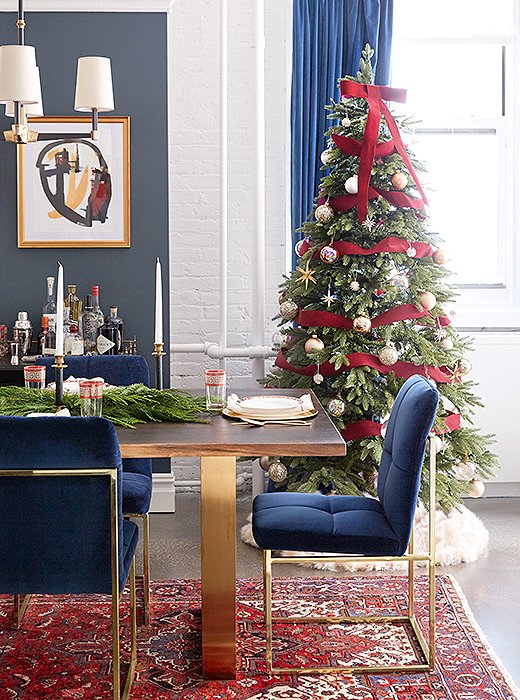 Trim the Tree
Want to brighten up your tree without spending hours untangling strings of lights? A bold, wide ribbon does the trick and can pick up the color palette of your room for a polished look. "We decorated the tree to give it a cohesive feel with the rest of the space, sticking to the velvets, jewel tones, and brass and silver accents," says Alyssa. (Another option is a prestrung Christmas tree.)
A Bit of Glitz and Glitter
Alyssa added touches of sparkle throughout, placing glass ornaments in urns or beneath cloches to give the classic holiday decorations a new twist. The gleaming accents play off the brass and gilded furnishings, while velvet throws and stockings bring in a sense of tradition.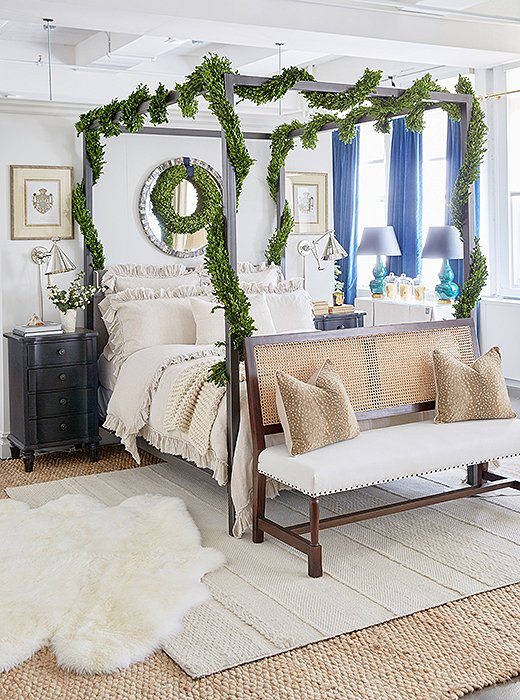 And to All a Good Night
"We love the idea of decorating the bedroom," says Alyssa, who wrapped the frame of a canopy bed with preserved garlands and layered the round mirror with a wreath. "Updating your bedding also always helps bring in a holiday feel."
Play Dress Up
Elevate your displays by adding a few treasured pieces, such as fine china or silver, that you use during the holidays. "We had simple white dishware in the cabinet, but to update—and keep with the white-and-blue theme—we added Spode plates," says Alyssa. She also placed wreaths, fresh greenery, and pinecones throughout to balance the elegant accents and keep the space feeling inviting.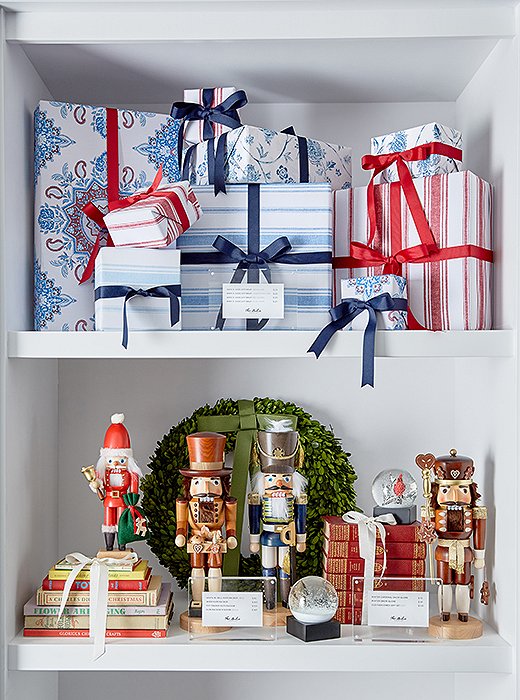 Get Wrapping
As a stylist, Alyssa knows that when it comes to presents, presentation is almost as important as the gift itself. Her secret? "Double-stick tape is a dream! It keeps your gifts looking their best." Alyssa also loves sticking to one color palette for all her gifts and suggests using just two or three colors of ribbon for them all.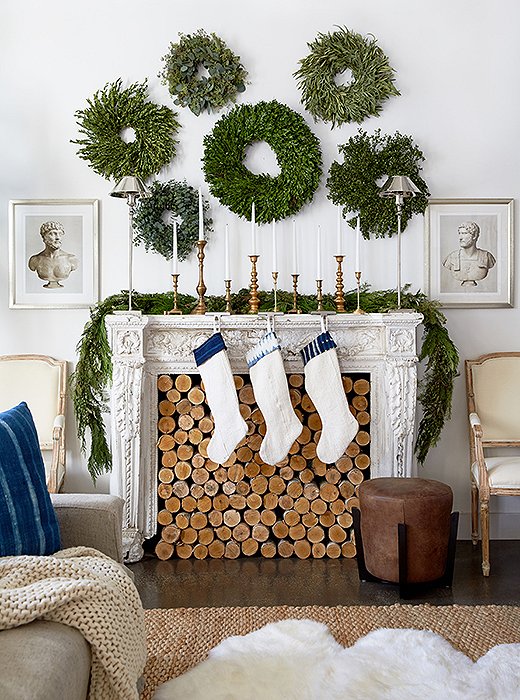 Warm the Hearth
Alyssa put a fresh spin on classic mantel decorations by filling the wall with an array of wreaths in different sizes and types of greenery. A traditional swag is paired with a collection of vintage brass candlesticks, and piles of logs are cleverly displayed inside the (nonworking, of course) fireplace. "We wanted to liven up that space and were inspired to use natural materials," she says.