With a history spanning nearly 175 years, Town & Country is the oldest continuously published magazine in the United States. From rock stars to royals, an endless number of society's brightest have graced its pages, and its roster of contributors—including photographers Slim Aarons and Richard Avedon—is just as esteemed.
It was high time, then, for T&C's Hearst Tower offices in Manhattan to receive a refresh in line with the sophisticated lifestyle the title is so celebrated for covering. In partnership with Ralph Lauren Home, One Kings Lane Interior Design gave editor-in-chief Stellene Volandes's office and a company conference room a bold new look, transforming cookie-cutter corporate into classic chic.
Read on to see how the spaces came together, then shop the cover-worthy look here.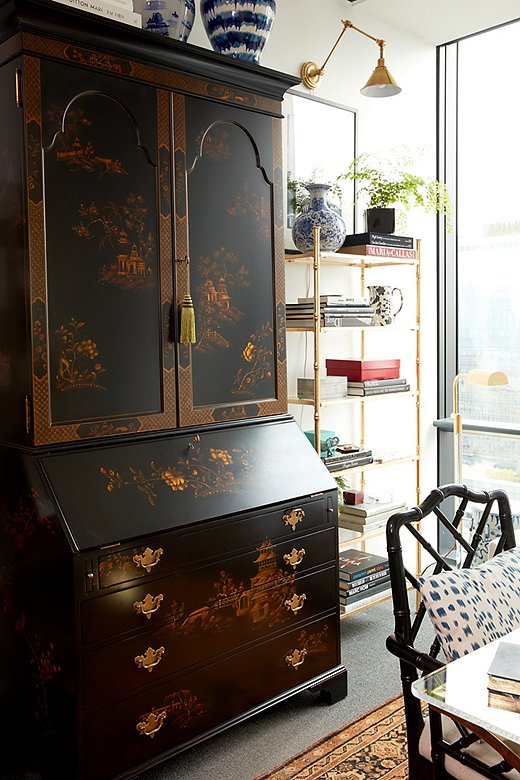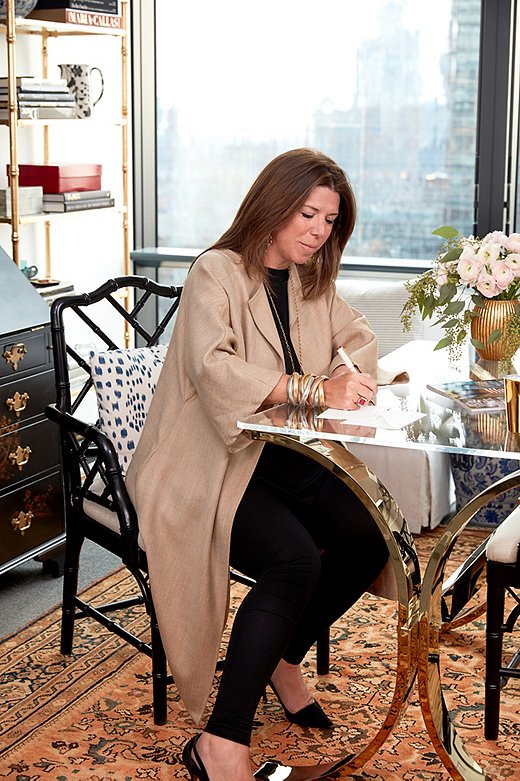 The "Very T&C" Vision
Stellene and the One Kings Lane team looked to the magazine itself for inspiration, with the goal of creating spaces she calls "very T&C." She cites a photograph that hangs in her office featuring a graceful debutante with the boundary-pushing Andy Warhol as an apt metaphor for the classic yet avant-garde point of view the publication has always championed. "It's something that I think people don't quite realize about the magazine," Stellene says. "It was always ahead of its time. That sort of unexpected moment is what we like to call 'very T&C.'"
Another point of reference for Stellene was friend and jewelry designer James Taffin de Givenchy's Midtown office. Outfitted in a palette of rich persimmon and brown with cozy yet glamorous furnishings, it's a space she says makes you completely forget you're in the middle of bustling Manhattan.
With these two musings in mind, One Kings Lane worked with Ralph Lauren Home to source pieces for the office and the conference room—a partnership that felt synergistic from the start. "As soon as we met, I knew it was going to be a great collaboration, because we all spoke the same language," Stellene says. "We love the timelessness of a classic, but we also love the comfort and cool of modernity."
Once the foundation pieces were in place, including a statement secretary, cozy slipper chairs, and a mahogany demilune console, the One Kings Lane team brought in a mix of other furnishings and finishing touches. Jewel-tone vintage Persian rugs liven up both spaces (and cover up the wall-to-wall carpeting), brassy accents pop alongside black-and-white archival photography, and shapely ginger jars provide a chinoiserie touch. "We wanted the space to feel like an escape from the corporate world," says Becca Roderick, the director of interior design at One Kings Lane. "We were hoping the magnetism and warmth that the publication embodies would translate into the rooms and inspire the editors as they come to work every day."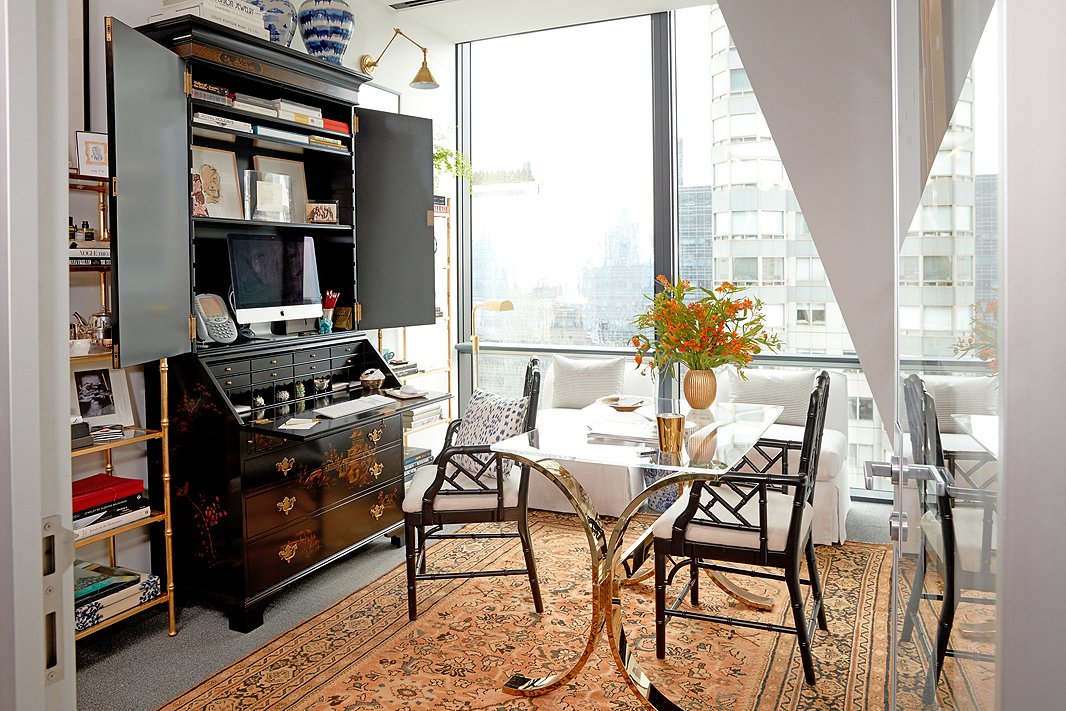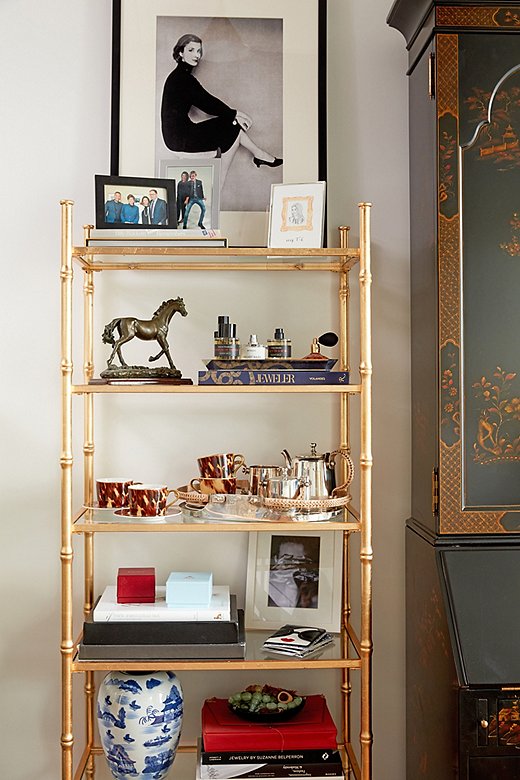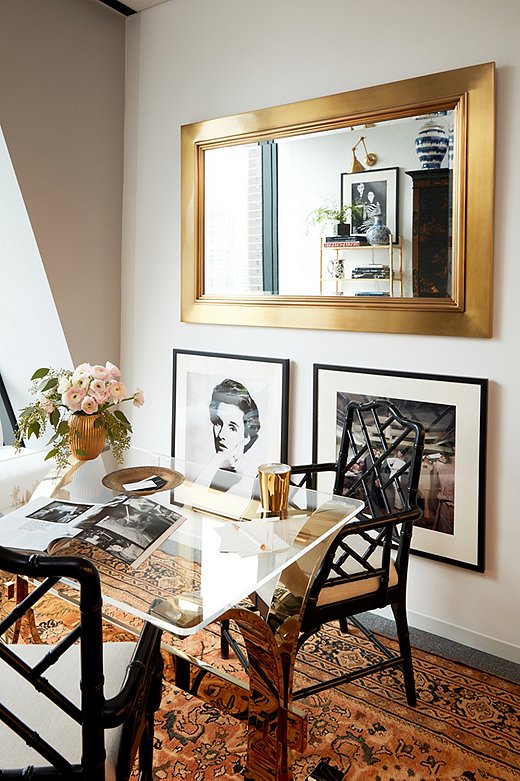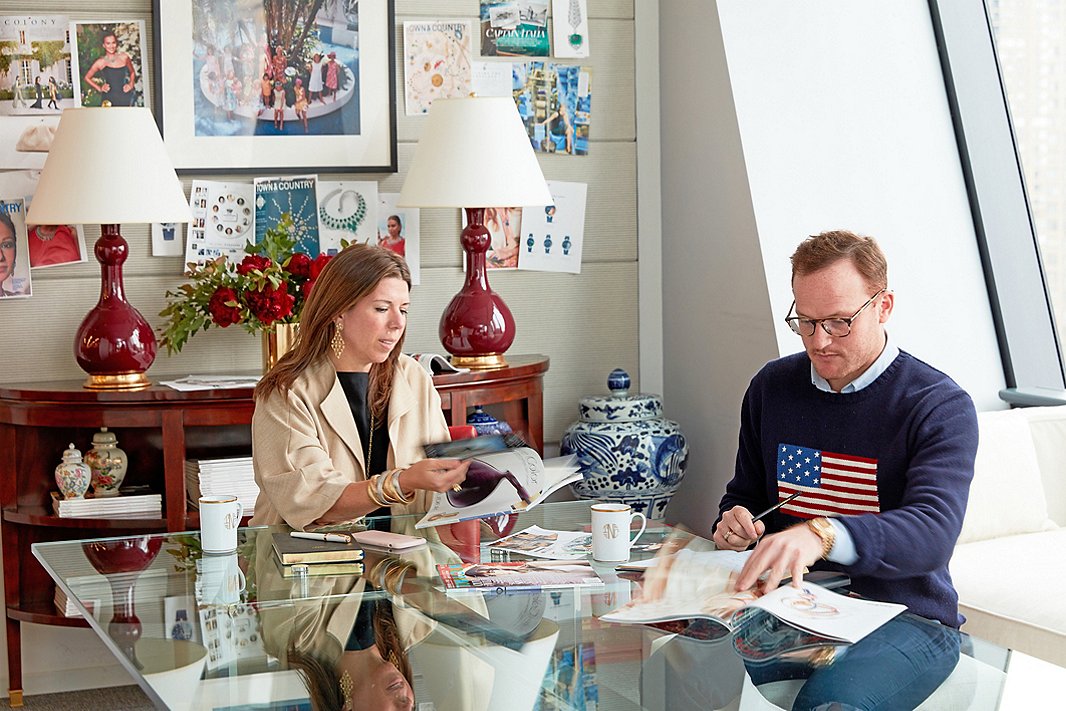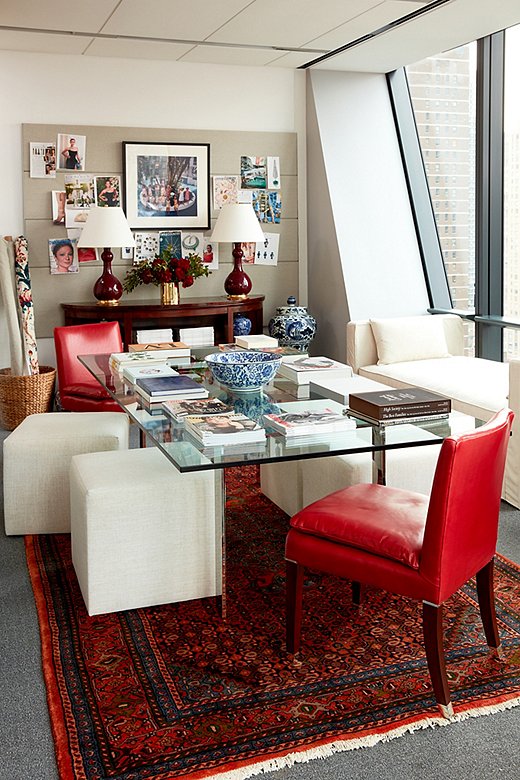 Making the Polished Practical
Though Stellene and the One Kings Lane team wanted to create a homier vibe, the office and the conference room still needed to function as work spaces, which required some strategic planning given that both rooms are on the small side.

Stellene had a few requests for her personal office: She needed a computer desk but also a flat surface on which to review layouts and copy. Storage was important and needed to be easily accessible so that she could quickly tidy up when receiving guests and taking meetings. The ideal solution came in the form of a chinoiserie secretary desk, which manages to keep things in order while making a striking statement.
As for the conference room, creating a multipurpose space that fostered productivity was key. A large table and chairs allow for a group to work collaboratively but still feel intimate enough for editors to use the space on their own. A large console provides storage for back issues of the magazine and holds coffee table books for inspiration.
The new look and functionality is a facelift that's been well received by the Town & Country team and one that feels much more in line with the storied and sophisticated brand. "When people come in here, they gasp," Stellene says. "It's such a warm and inviting space that lets me bring people into the Town & Country world."