Light, bright, airy… Even the most ardent color-lovers among us can appreciate the crisp beauty of an all-white bathroom. Looking to give your own space a calming refresh? We've rounded up a few of our favorite examples here, with tips for pulling off a white-on-white look that's anything but one-note. Read on and get inspired.
Introduce Subtle Pattern
Whether through tiling or wallpaper, bringing a touch of subtle pattern into an all-white bathroom is a sure way to give the space depth and interest. To maintain the airy look, go for prints in pale gray on a white background, or white stone with light-gray veining.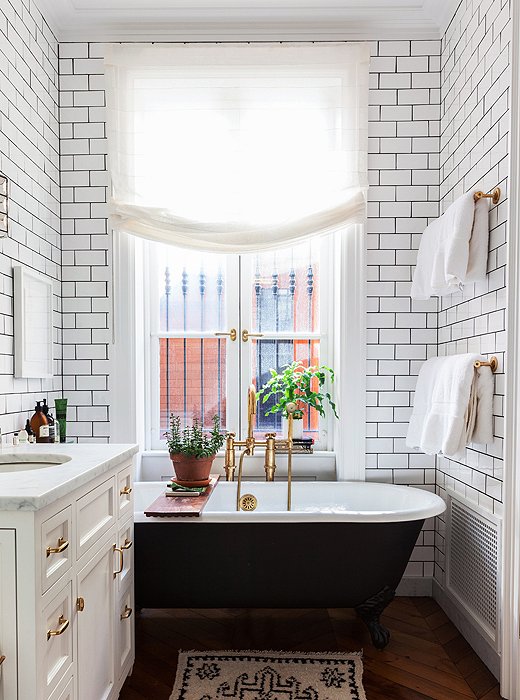 Add (a Hint of ) Color
One thoughtfully chosen element of color can make an otherwise all-white bath sing. Whether it's adding a vintage rug, painting the vanity, or hanging a piece of oversize art, try swapping out something white for a more colorful option and enjoy an instant transformation.
Play Up Antique Charm
The contrast between smooth white surfaces and aged, antiqued patinas can add interest to even the tiniest bathrooms. To liven up a lackluster space, consider changing out basic fixtures for something with a sense of history (we love unlacquered brass) or replacing a plain-Jane mirror with a vintage version. Even hanging artwork in antique-gold frames can help to give a white-box bathroom an elegant boost.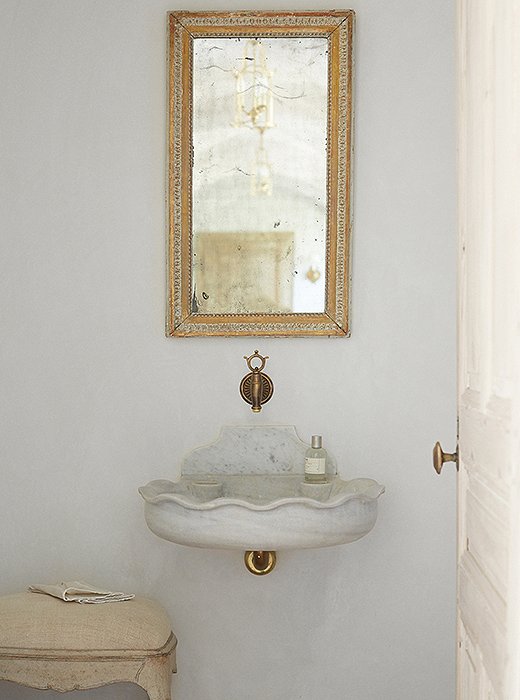 A Note on Powder Rooms
While there's much to be said for going bold in these small spaces, don't discount the option of keeping a powder room all-white. As long as you give it some interest (wallpaper, marble tile, a stunning antique mirror), a pale powder room can be just as statement-making as a pattern-rich jewel box. And guests are sure to love the calming effect.
Give It a Nautical Twist
An all-white bath lends itself well to a crisp, maritime vibe. Beadboard walls, rope details, and bright chrome fixtures will give the space a shipshape aesthetic—perfect for beach houses, lakeside homes, or anywhere else you want to channel coastal ease.