Like many other New Yorkers, as soon as author, journalist, and entrepreneur Julia Chaplin had a child, she realized the allure of family-friendly living in the borough of Brooklyn. "I outgrew my space," Julia says of her former West Village apartment. Finding her dream property on a special block in historic Carroll Gardens, where houses tend to be only two stories high—"they're like mini brownstones"—Julia accepted the challenge of a gut renovation on a landmarked building. The project took nearly two years.
Julia says her neighborhood reminds her of Venice Beach or Montauk (she spends summers in the latter), where big skies and artists dictate the scene. Traveling constantly for work, she needs her home to be her sanctuary. "It's incredibly zen and quiet, a place where I can think and process all the stuff I've picked up running around the world," she says. "Nothing is jarring, loud, or too distracting." This serenity sets the backdrop for unique global finds that promote the gypset lifestyle she's worked so hard to expose the world to. It's a home that's as much about comfort as it is about showcasing the importance of travel to the soul.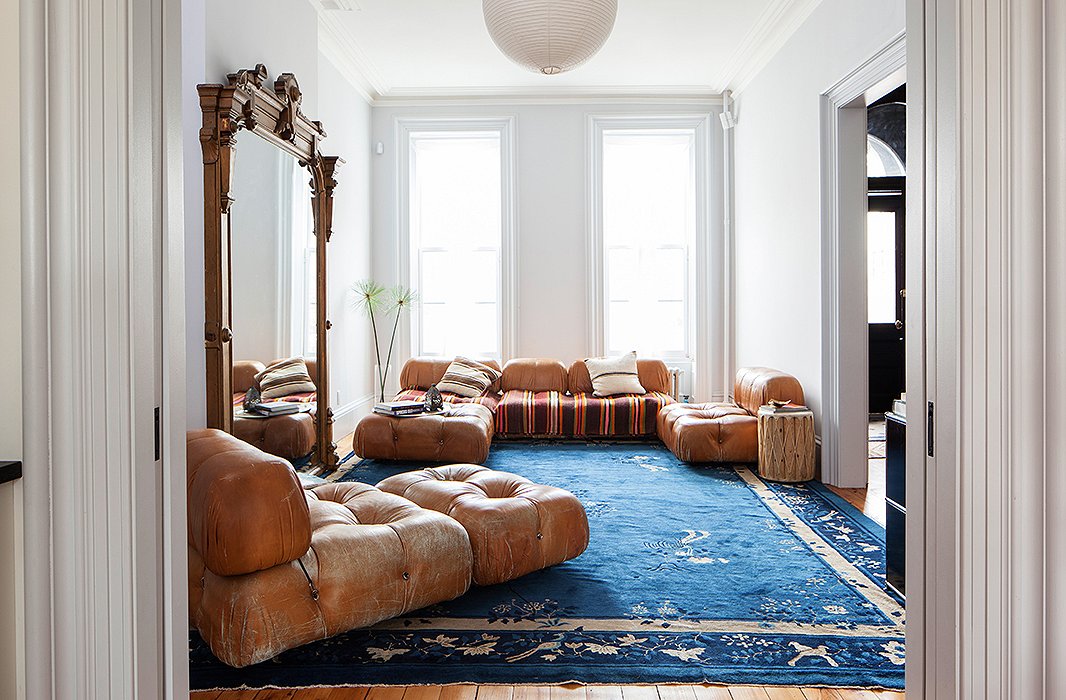 A Rock-and-Roll Approach
From the architecture to the low-slung furnishings, the entire home is modeled after one major pop-culture moment: the Rolling Stones' recording of Exile on Main Street. "I was looking at images of this old French château with grand structural bones," Julia says. "When the Stones arrived, they pushed everything to the side to live on the floor—they converted the formality to fit their lifestyle." A seven-foot gilded mirror and exaggerated moldings mimic that ornateness, while the sofa contrasts with its commune-style vibe. "You can't sit up straight, and there is room for 15 people. It fosters this idea of group socializing, reclining, napping, and putting your feet up."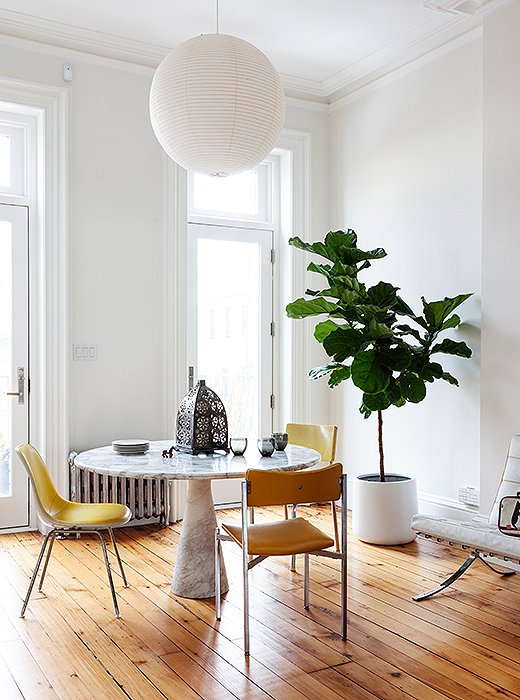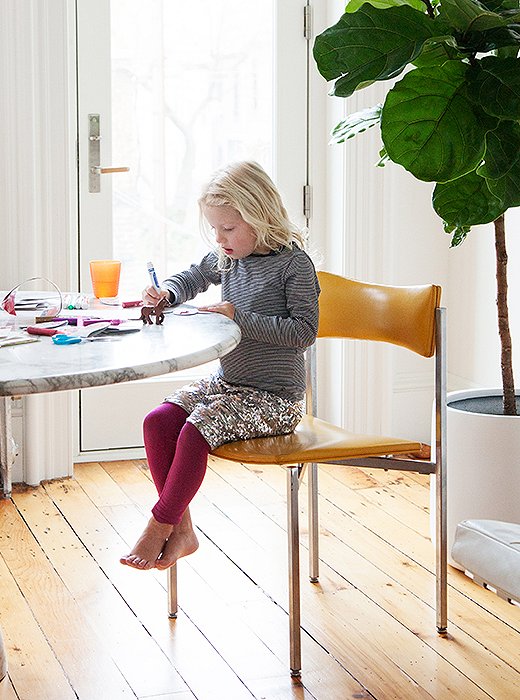 Buying (Only) What You Love
Julia admits she's not only picky about what she's willing to buy for her home, but her preferences often exceed her budget. "I have expensive taste, so I'd rather have nothing than have the wrong thing… though I do have some Ikea placeholders," she concedes. Also temporary are her dining chairs, a mix-and-match array found on eBay. On the other hand, the marble table, a beloved 1970s Italian masterpiece by Angelo Mangiarotti, took a year to find (she finally tracked one down in Paris). "I don't want a big dining table with a lot of chairs," says Julia. "I like it to feel ad hoc with a lot of surrounding space."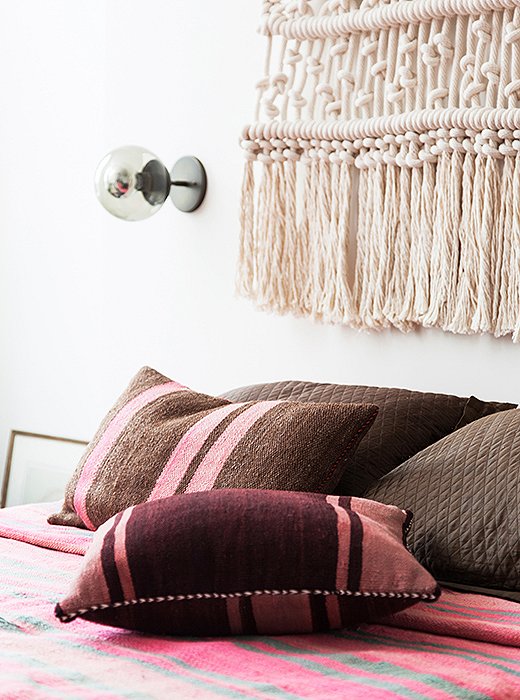 Embracing a Handcrafted Ease
"I buy textiles because I like them," Julia says. "I don't think about where they are going to fit in my house." Her bed is a display of Berber blankets (most of them cut up and sewn into pillows), which she amassed in Morocco and treasures for their simplicity and minimalism. "They're more in sync with how I want to experience life," she says. Handmade pieces dot every corner of Julia's home, each beloved for its imperfections and unfussy colors. "These are palettes that don't exist in the U.S.," she says of the rich earth tones and saturated pinks. "It's a type of color-blocking that comes from the middle of nowhere."
I subscribe to that graphic streamlined surfer aesthetic you would see in the 1960s. It relates to color-blocked textiles and beauty in form and simplicity, but it's fun, not austere.
A Medley of Inspiration
A regular contributor to The New York Times and Vogue, Julia is adept at culling inspiration from past "height of fashion" moments, as her master bathroom demonstrates. "It's a little bit 1970s disco mixed with vintage 1920s and '30s," she says of the space. It's an unlikely style mash-up elegantly translated. "My architect let me infuse so much of me into the design," says Julia. Though she originally wanted a mirrored tub, she was convinced to go with more user-friendly chocolate marble, hand-selected from a Brooklyn quarry.
When you travel a lot, you want the home to be a place that's relaxing and restful, where you can make sense of everything you've seen. It's hard to relax if your eye is called to think too often.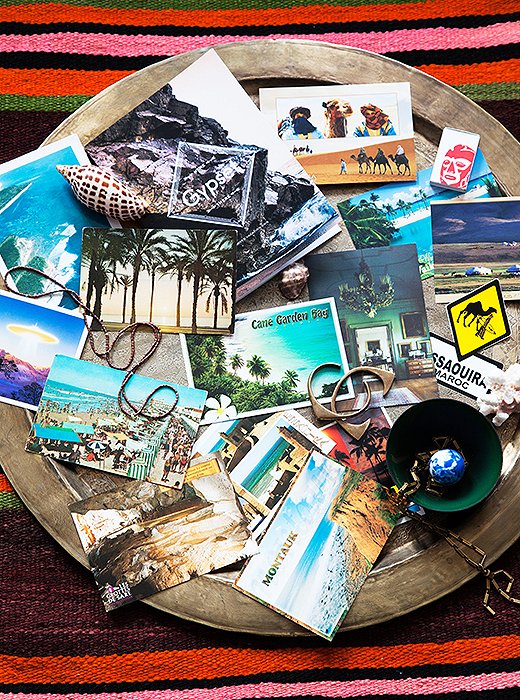 Julia's Tips for Shopping the World
In Mexico, Guadalajara is the place for Equipale furniture made of wood and leather; Todos Santos is for round floor rugs and hats.
In Paris, the flea markets are great for 1970s Italian furniture.
In India, collect low-lying furniture and antiques that can be repurposed as nightstands and end tables.
In Bali, the best finds are antique wooden outdoor furniture.
In Turkey, look for Uzbek suzanis.
In Morocco, Berber textiles, of course!
Gypset literally means a gypsy, jet-set, seminomadic, bohemian approach to life. It's an identity search fusing my hippie upbringing with the life I have created in the city.