A number of guidelines exist for designing a relaxing, inviting bedroom: Opt for blues, greens, and creams; face your bed away from doors and windows; banish clutter. But they don't take into account that one person's restful is another person's bland, one person's cluttered is another person's cozy.
So here we have suggestions for creating your dream bedroom based on your style preferences. Whether you consider yourself a New Traditionalist, an Eclectic, a Naturalist, or a Curator—or some combination thereof—you should find plenty of inspiration below.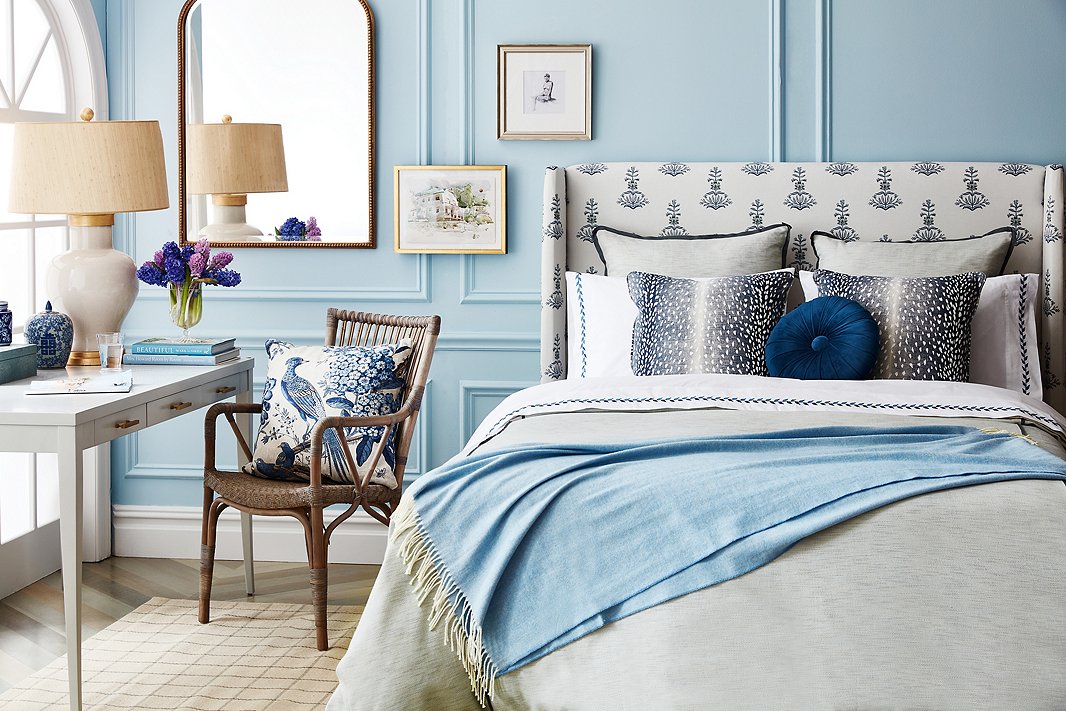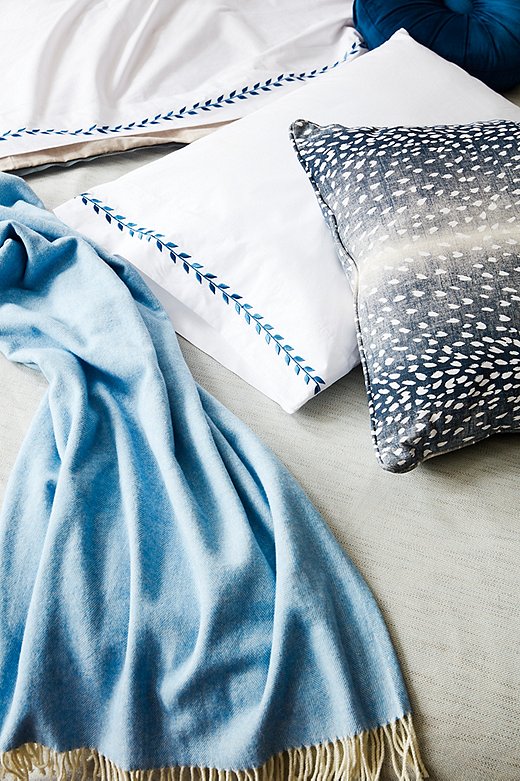 The New Traditionalist
It's all too easy to get caught up in the "traditional" elements of this style at the expense of the "new." New Traditionalists, however, don't want a bedroom that could have been their parents' or grandparents'. Above, for instance, we have a classic (and serene) blue-and-white palette, with chinoiserie jars on the desk, a floral pillow on the chair, and crisp cotton sheets embroidered with a laurel motif. But we also have animal-print pillows, a rattan-and-wicker armchair rather than a fauteuil or a slipper chair, and an unexpected sea-grass shade atop the traditional urn-shape lamp. Even the way the art is hung—asymmetrically, with one piece on top of the molding—brings welcome unconventionality to what could have been predictable.
Other ways to refresh classics are to opt for timeless pieces in unexpected colors or patterns: a ginger jar adorned with cheeky monkeys rather than blue-on-white florals, for instance, or a headboard upholstered in a fabric with a lively motif. Or eschew a traditional palette altogether by swapping out the blues for oranges, yellows, or grays while keeping the style of the furnishings classic.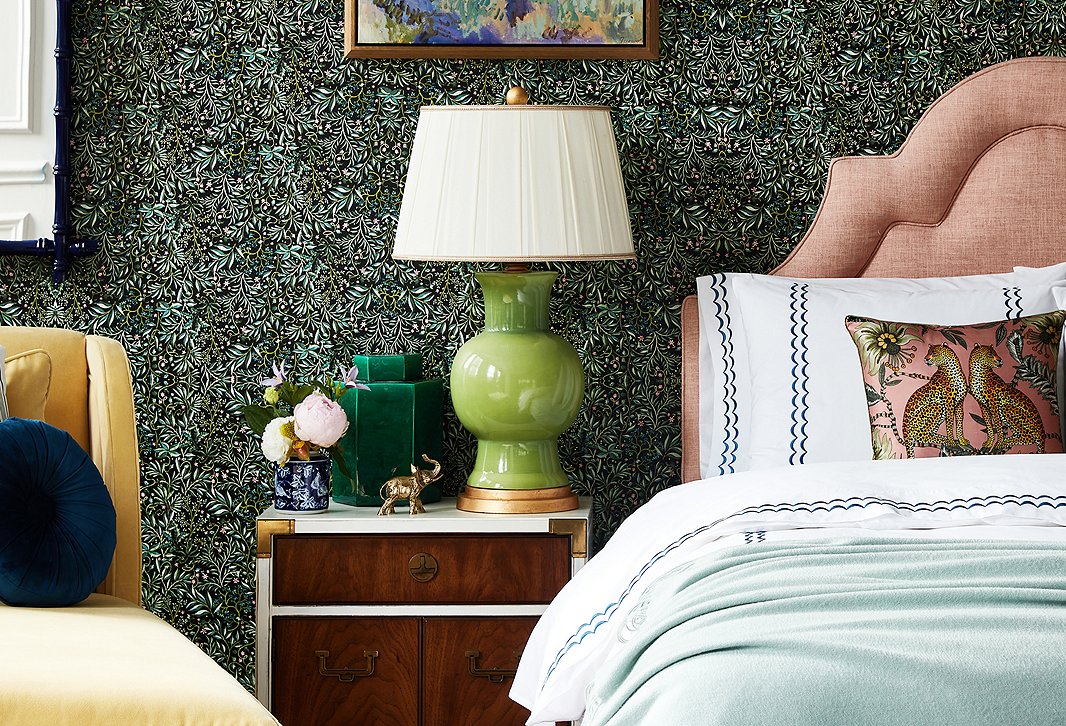 The Eclectic
The Eclectic's "if you love it, go for it" approach leads to rooms that are highly personal, richly layered, and bold. But in a room dedicated to rest and relaxation, even the most idiosyncratic Eclectic might want to lean more toward harmonious than dissonant. (Try finding one person who listens to Arnold Schönberg while getting ready for bed!)
Limiting your palette is one way to do so. You don't have to stick to just two or three colors, but try to ensure that strong colors appear more than once in your room. Above, the vibrant leopard pillow ties in with the pink headboard and the yellow chaise. The blue embroidery of the bedding echoes the color of the chaise's round pillow and the wall mirror's frame. And just about all those colors can be found in the wallpaper, whose rich allover pattern actually ties together all the disparate elements into a cozy, inviting whole.
Introducing symmetry into your space is another way to calm down a bedroom. To the human brain, symmetry imposes a pleasing order to chaos. Even something as relatively simple as having matching nightstands and table lamps flank your bed can make your bedroom more serene while still allowing you to indulge in a glorious array of colors, motifs, and styles.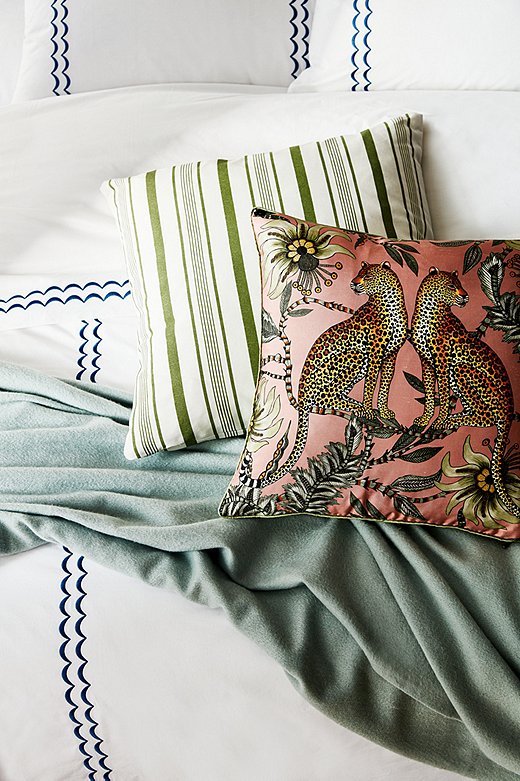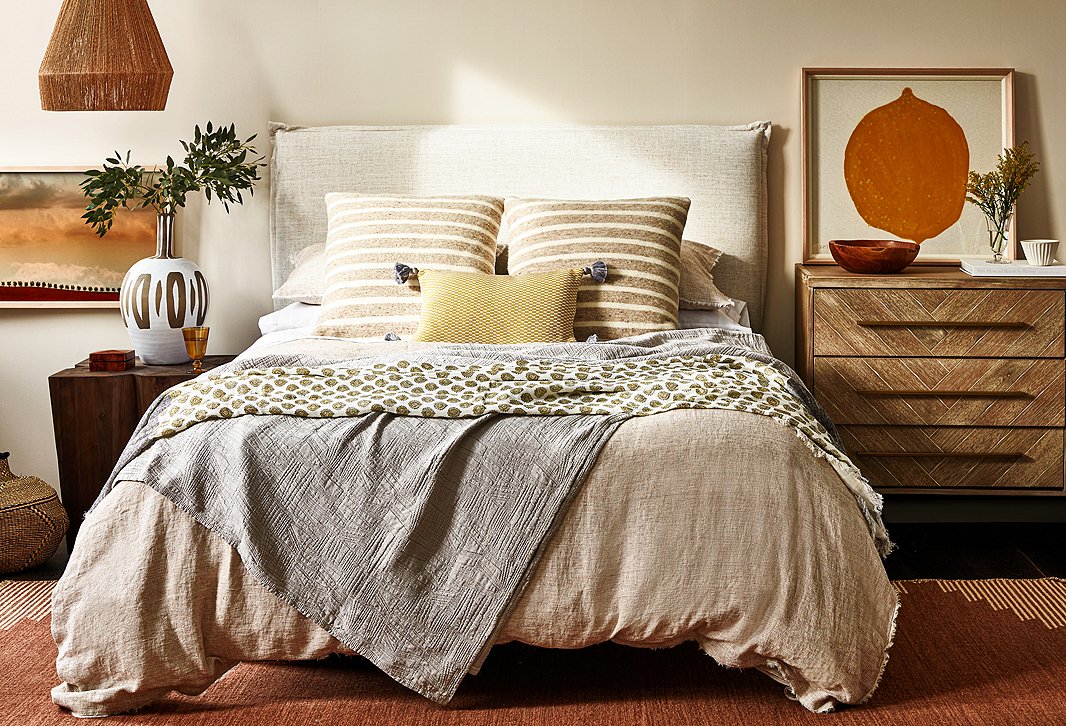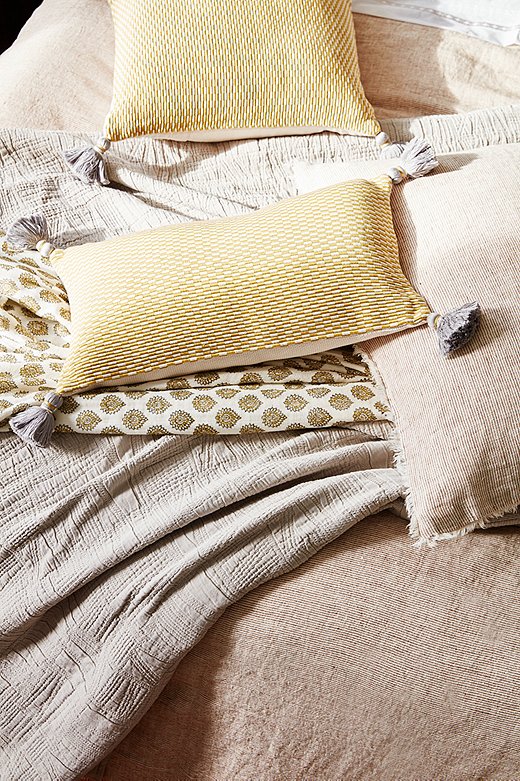 The Naturalist
Taupes, tans, and other neutrals can be quite soothing. An all-neutral room, however, can easily devolve from calming to boring. The Naturalist knows how to remedy that: by layering a cornucopia of organic textures. Place a sleek glass lamp atop a weathered wood nightstand; have a quilted bedspread drape onto a fluffy Beni Ourain rug; use a wicker basket to hold bedside reading materials; pair sleek silk pillows with loosely woven linen ones.
Which is not to say a Naturalist bedroom has to eschew color. Neutrals are the ideal foundation for adding breezy blues, rich greens, sunny yellows—any colors found in nature, really. Or you could make shades of blue, green, or yellow the foundation and layer onto them furnishings made of natural materials. A jute or sisal rug brings an earthy allure to any decor. If you also favor classic styles, consider pieces with traditional silhouettes made of untraditional organic materials, such as our rattan-wrapped Kos collection of furniture or Arteriors' Abaco Pendant. 
Above all, don't forget flowers and greenery. If you don't like the maintenance of real plants or blooms, opt for faux. And never underestimate the power of a floral or woody home fragrance to evoke nature's elegance.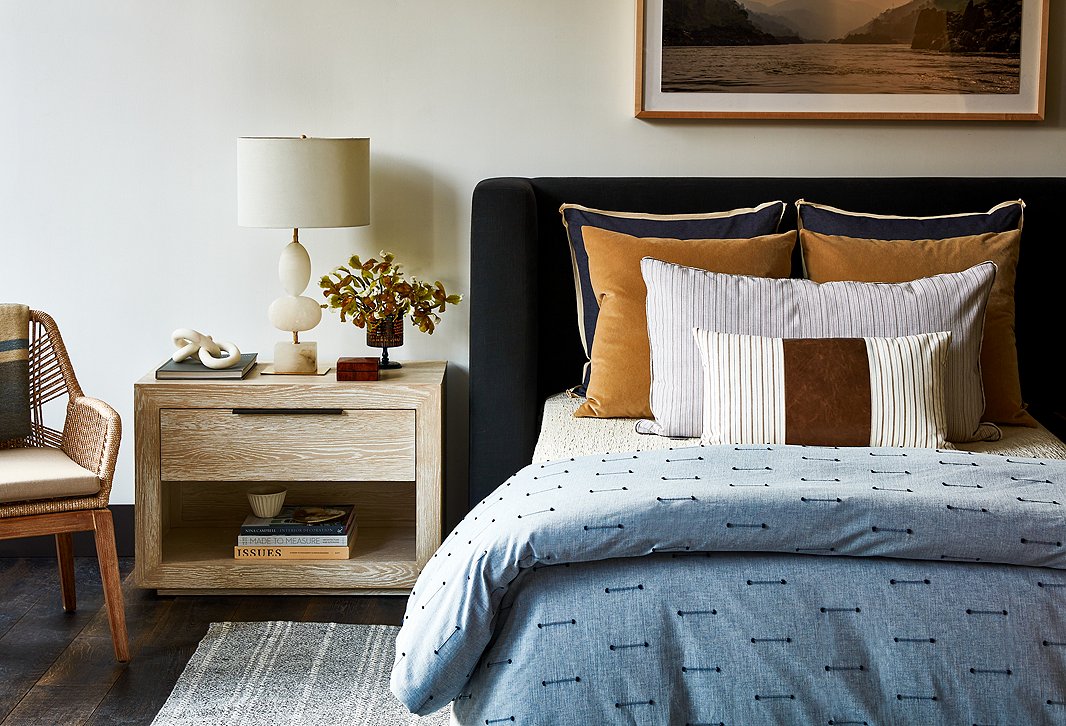 The Curator
In some ways, Curators are like Eclectics: They surround themselves with what they love, regardless of whether the items "match." But while the Eclectic loves pieces that span a vast range of influences and provenances, Curators are, well, more curatorial. Only items that meet their high standards—which typically include luxurious materials and clean lines—are worthy of inclusion in their home. If a Curator's bedroom seems minimalistic, that's not just because they avoid excessive ornamentation but also because it can take them some time to find exactly what they want, and they'd rather do without than settle.
A Curator might have just two sets of sheets, but you can be sure they're made of the finest silk, linen, or Egyptian cotton. Coverlets boast intricate matelassé; mirrors will have golden or bone-inlay frames. Nightstands, vanities, and desks will be sleek in design, with drawers to hide anything but a few artful accents. And while an Eclectic might leave the bed unmade in the morning, a Curator never will.