If the presidential campaign field weren't already so crowded, some might suggest Bunny Williams throw her hat into the ring—the tastemaker, gardener, entertainer, and celebrated interior designer inspires that much confidence. Schooled by the best (for 22 years she worked at the legendary firm of Albert Hadley and Sister Parish), Bunny creates rich, inviting rooms where antiques and contemporary pieces work in harmony. In addition to running her own business and overseeing multiple home decor collaborations, for the past 25 years she and her husband, antiques dealer John Rosselli, ran Treillage, a trendsetting garden shop on Manhattan's Upper East Side that sold patinated urns and weathered furniture long before anybody else did. After Treillage closed, Bunny Williams Home, a showcase for all of Bunny's designs, opened.
Bunny's weekends are as full as her weekdays. Over the course of 30 years, Bunny has worked to transform her weekend retreat, located in the town of Falls Village, in the northwest corner of Connecticut, into a place that's stunning but never intimidating. In addition to renovating and decorating the federal-style house, Bunny has created multiple gardens and used the windowed facade of a 19th-century house to transform the existing barn into a conservatory. Decorated with handsome antiques and sparkles of gold, the house has a sense of history and gravitas, but also of life and change. Collections of favorite things old and new are proudly and playfully displayed, plants abound, and the gardens are never far from view.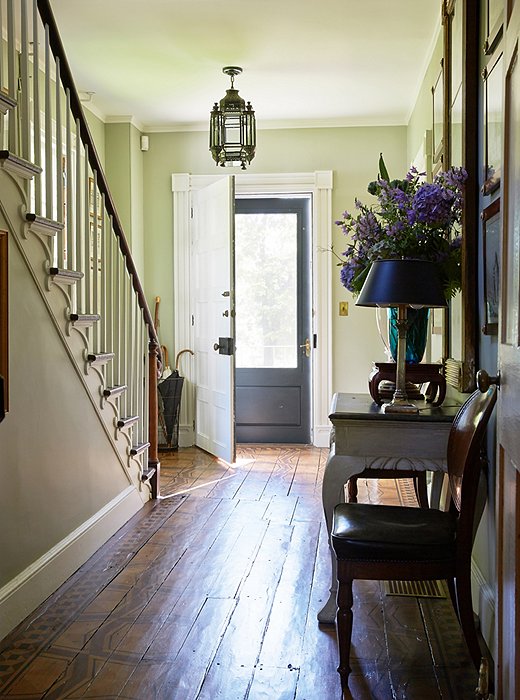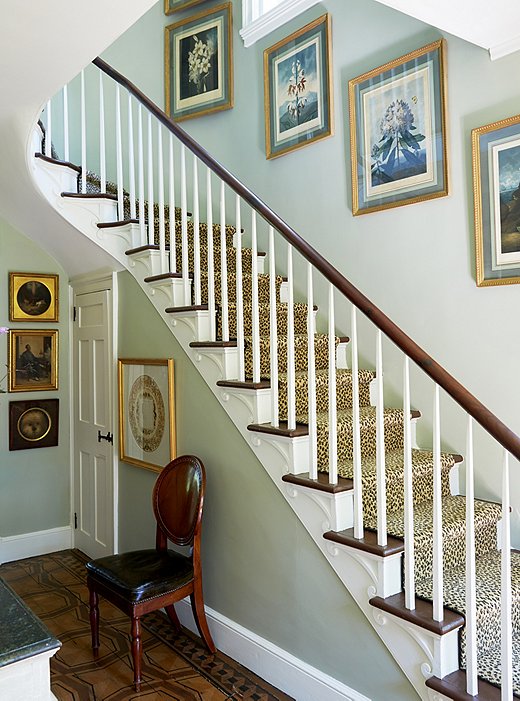 Her House, Her Rules
"People always ask me, 'What's in in decorating?' And I say, 'I don't know.' Decorating to me is an interesting combination of interesting things in a space. Mix modern with old, mix black with white, but give it personality. It shouldn't be thematic." In Bunny's house, the mixture includes polished mahogany furniture set atop rough sea-grass rugs, or a rusted urn on a glossy surface. "You want different textures. You don't want everything white or everything brown or everything black, so it's having a dark wood piece mixed with something that's gold or glass with wood."
This mixing creates a timeless feel and keeps the house from ever feeling out of date (the inevitable downside of a trendy home) or what Bunny calls "dead" (the curse of an all-traditional one). On tables and mantelpieces are lively collections of ceramics and servingware coupled with animal figurines—all from different decades and regions, all in different styles—and everywhere there is gold. "Every room should have some gold in it. It reflects light, and to me it's not formal—to me it's happy."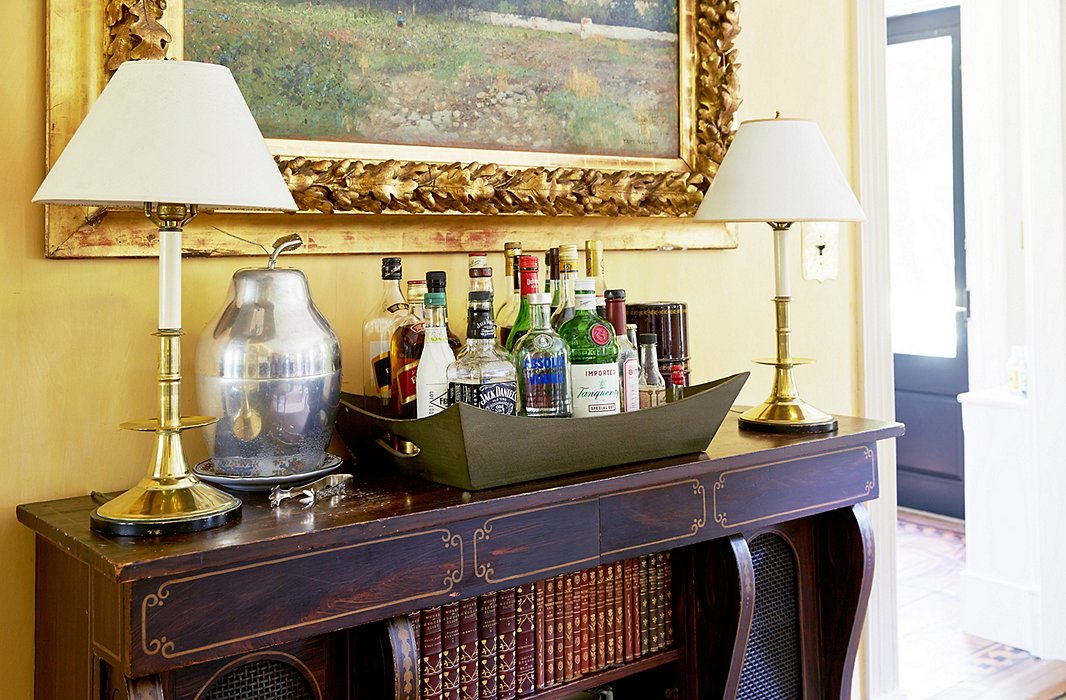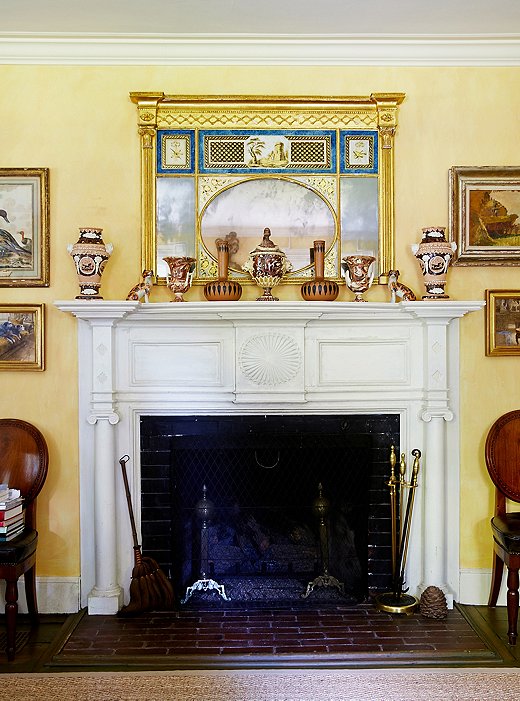 Every room should have some gold in it. It reflects light, and to me it's not formal—to me it's happy.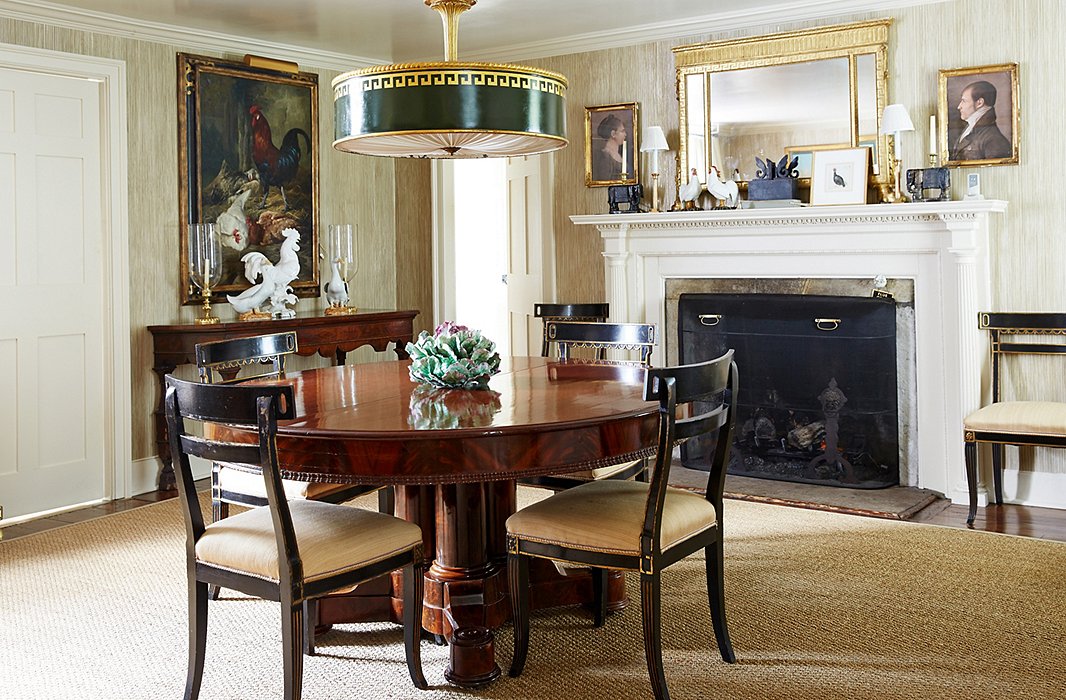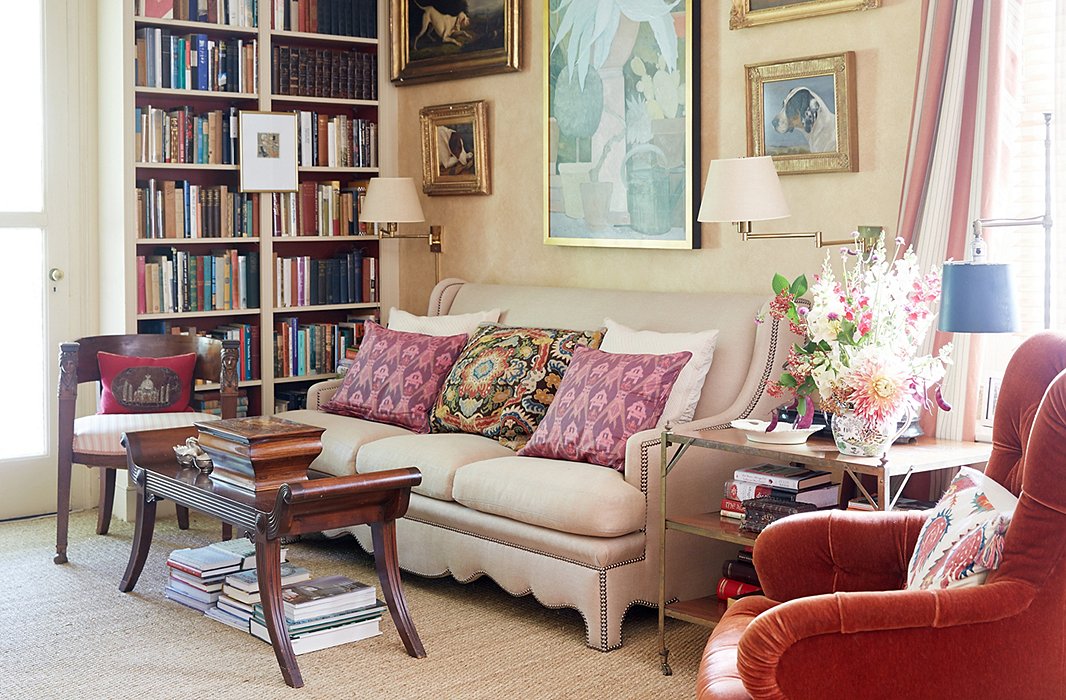 Moving Past Perfection
Not everything in the house is perfect, and this is by design. "Perfection puts people off. That's why I love going in a room that's a little messy or the chair cushion is a little sagged—I know they sit in it. If you walk into a room and it looks like no one has ever sat on the sofa—well, guess what? You're not going to sit on it." Though she's a self-proclaimed "fanatic" when it comes to cleaning and maintenance, she is a firm believer in the value of patina (patinated objects were one of the things Treillage was famous for) both aesthetically and for its ability to put people at ease.
A few of the home's inhabitants, namely their three mixed-breed dogs, also require a more laid-back approach to living well. Until recently there were only two dogs, says Bunny, but "a dog adopted us last weekend." Bunny tops her sofa cushions with washable throws and uses sea grass as a floor covering in many rooms because she likes its casual feel and how easy it is to clean, whether she's dealing with dirt, "dog mistakes," or red wine. "And I think it's pretty to put a rug on top of the sea grass. In my library I have wall-to-wall sea grass because it's a strange-shaped room, and then I can put an area rug on top of it in front of the fireplace so that the sea grass becomes a sort of backdrop."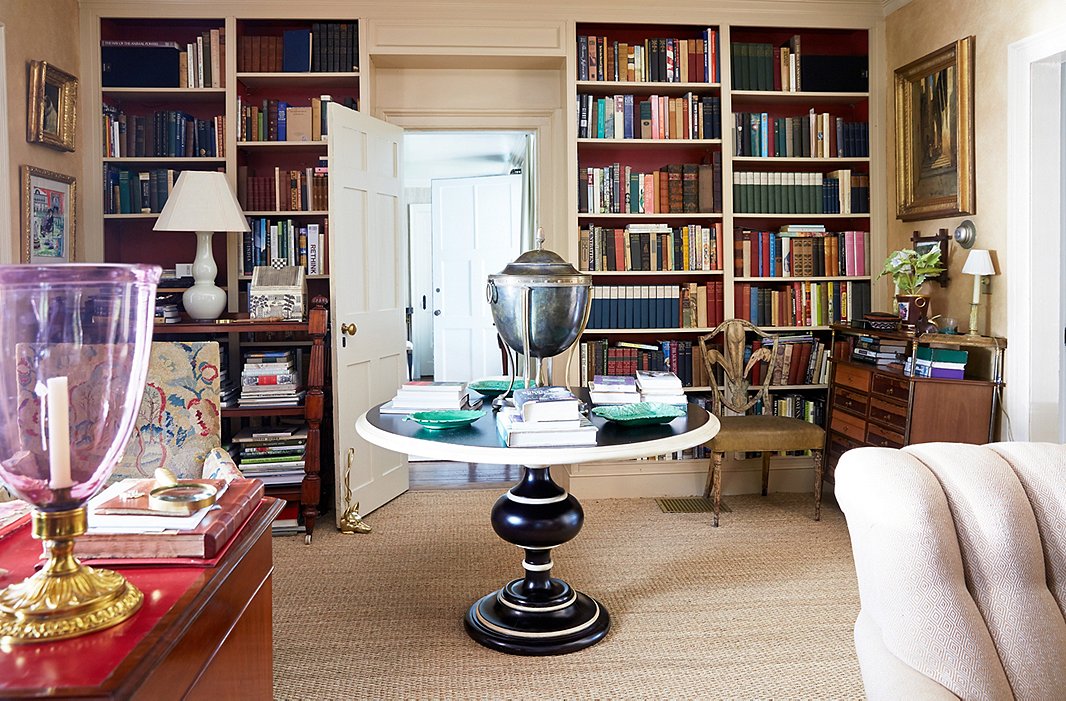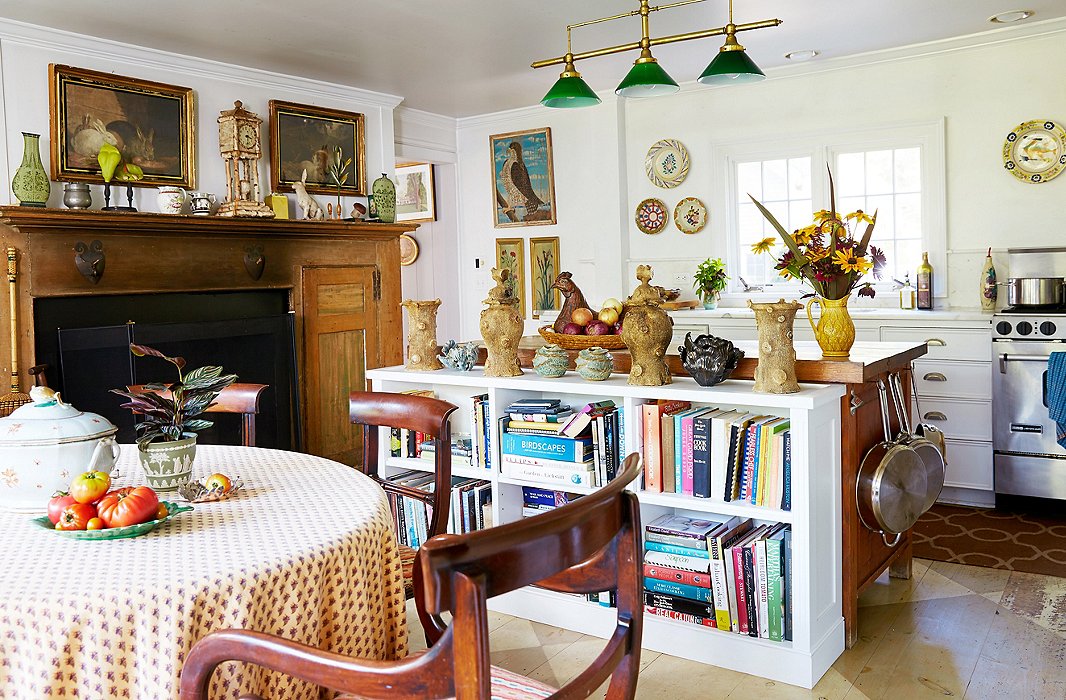 Dinner for Eight—in Two Hours
Bunny and John are very social, hosting dinners for friends in groups of up to 12 several times a week. "We love entertaining. We love being at home, we love good food. It's not hard for us. John is an extraordinary cook, and he loves to cook, and I love setting the table—I can set a table in 15 minutes because we have all the china and everything."
To people who don't do much hosting or who are nervous about the demands it makes, Bunny says relax. "People get overwhelmed by it, but there isn't any reason to get overwhelmed. You don't have to be in the kitchen for eight hours. John will come in with tomatoes from the garden and make the most delicious spaghetti with tomatoes and Parmesan cheese and a salad and an apple or a peach tart, and that's dinner, and that takes two hours." And the labor that goes into it not only has an immense payoff, but it also diminishes over time. "You open some good wine, and it's just a joy. I think people enjoy being in someone's home so much more than a restaurant. People think entertaining is overwhelming, but it's like anything, it's like learning to dance: The more you do it the easier it gets."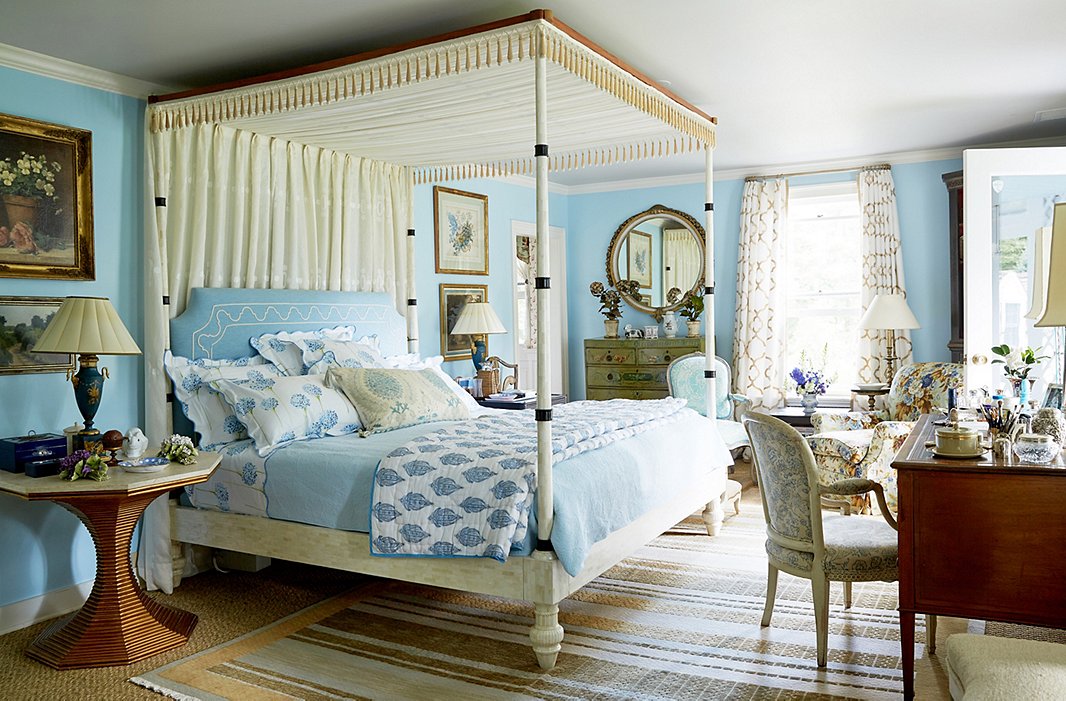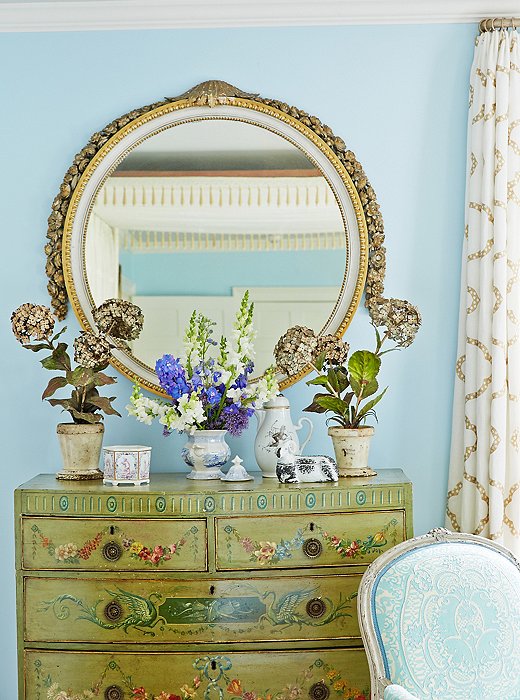 Decorating to me is an interesting combination of interesting things in a space. Mix modern with old, mix black with white, but give it personality.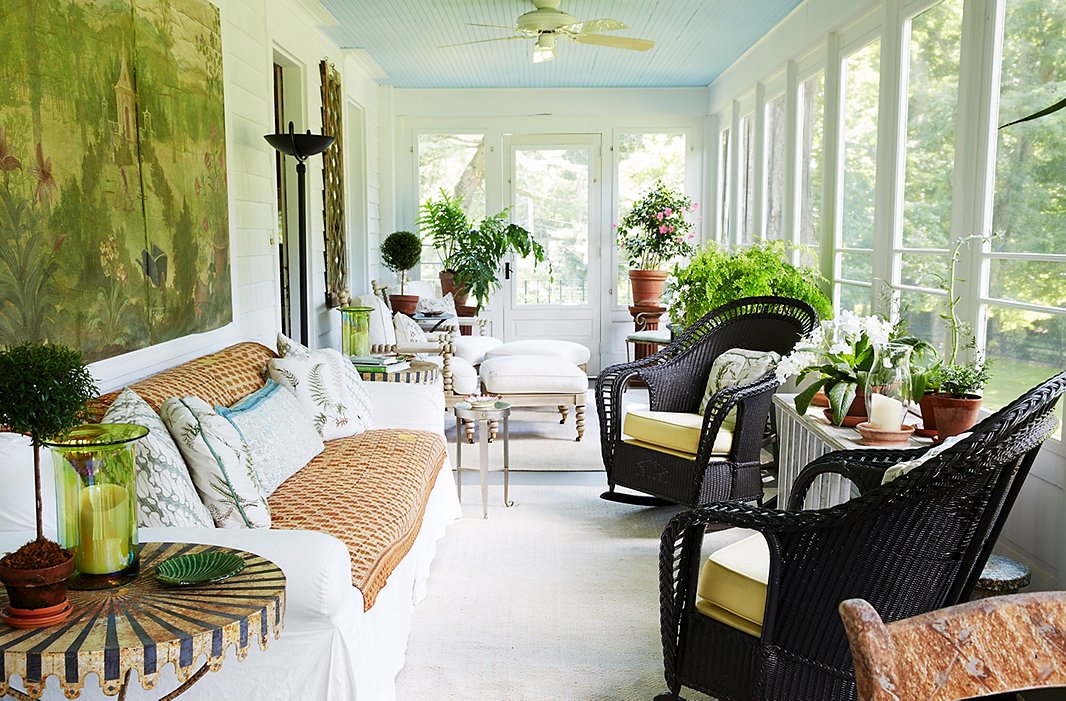 A Plant-Centric Home
Bunny has a grand conservatory, but she also has plenty of plants indoors—and ideas about how to show them to their best advantage. "You want to get the plants up over your head. You don't want everything low. If all of your plants are on the ground, you don't see them. But if you put them on pedestals and elevate them, it is much more dramatic, and it makes the room so much more interesting."
Inside the house, her plants don't stay in one spot; to maintain their health, she regularly moves them around. "Frankly, no plant does perfectly indoors. Plants are meant to grow outside, and they will do well for a while indoors, but then they go into a stage where they don't look so good, and you have to take them out. If you don't have a greenhouse you can take them to a sunny back porch or someplace, so you're always getting your plants to the point that when you put them out for show they're in good shape."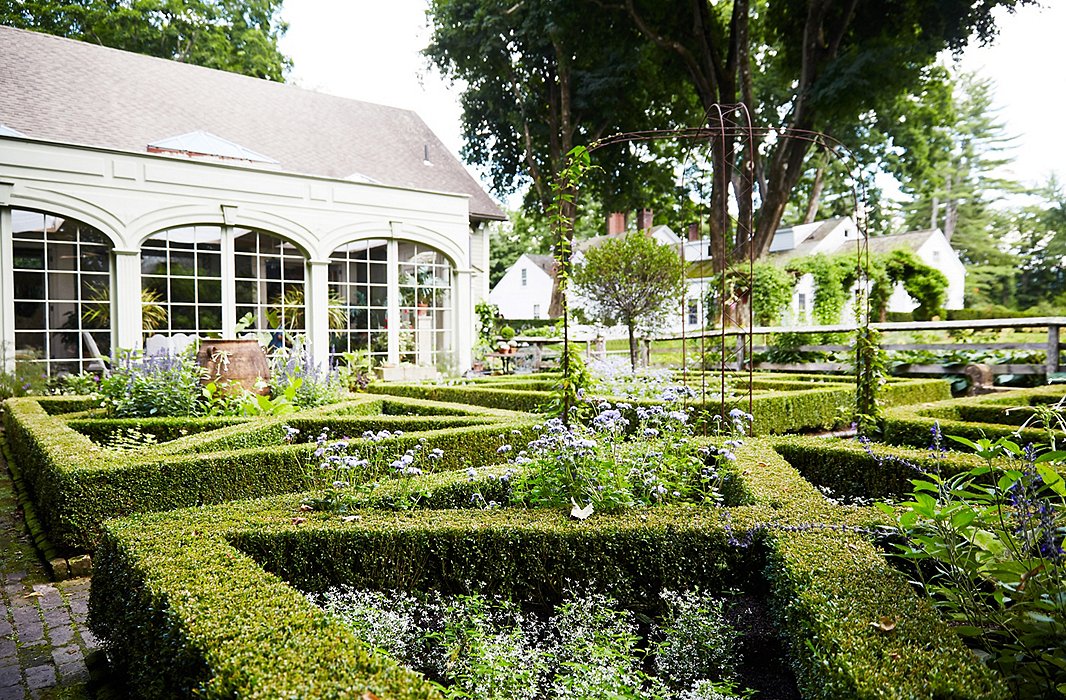 A Garden from Scratch
Bunny has always loved nature. Her mother was a gardener, and she herself grew up "way out in the country in Virginia, so I would say that my soul is in the country. I get more pleasure looking at trees and fields than almost anything." She freely admits that before she bought this house she knew nothing about gardening. To bring herself up to speed, she spoke with every gardener she knew, and when she traveled to gardens across the United States and abroad, she talked to every gardener she met, squirreling away the accumulated knowledge. She also learned a great deal from the people who watered and weeded her own garden during the week, when she was away, people well versed in the particular conditions of the region.
Bunny enjoys the beauty of her gardens, but she's also passionate about the work they entail. "I love dead-heading, I love weeding, I love cleaning. There is nothing better than to go outside on a beautiful day with your scissors or your clippers, the dog lying there on the grass—it's fantastic. It's good exercise, you're outside, and what's more beautiful than a flower? I'm not religious, but you can't help but look at a passionflower and think, 'Oh my God, how does nature make this?'"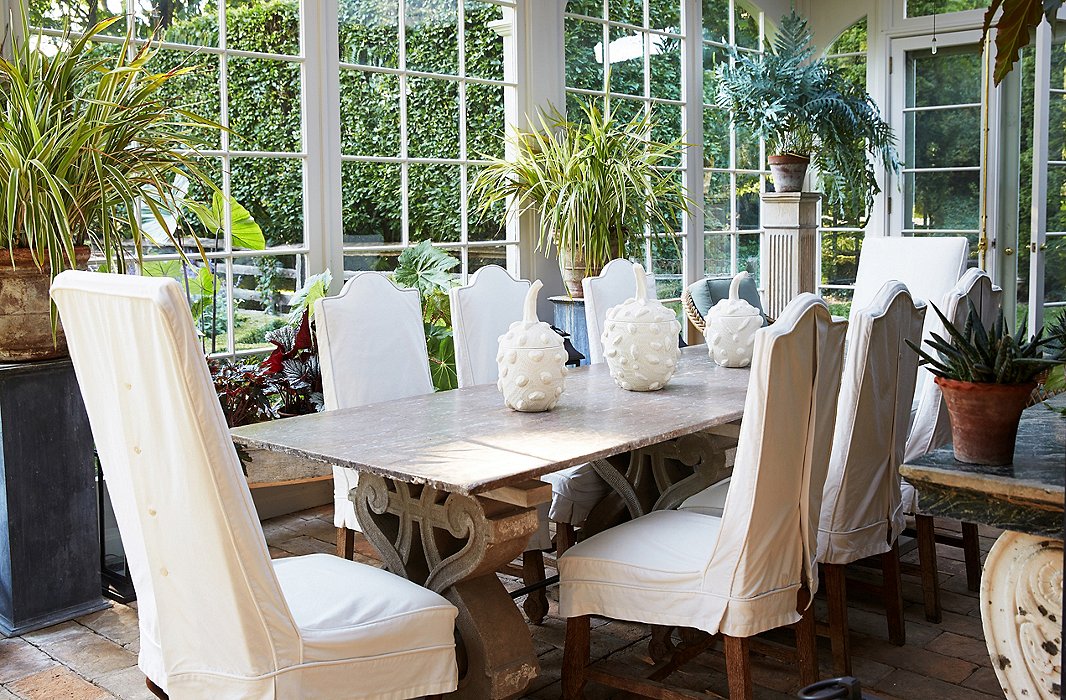 A Working Conservatory
The conservatory is one of Bunny's favorite places to entertain—it's common for her to serve dinner to 10 to 12 people at its limestone-topped table—but it's not just for show. The room is designed to nurture plants, so the floors are made of French roofing tiles set in sand, with drains built underneath, so that the floors, even after a heavy watering, won't remain wet. The chairs are slipcovered to survive in a space where water is splashed around, and the furnishings are in pale colors so that they don't compete with the colors of plants in bloom.
Bunny is a huge fan of hurricane lamps, and of candlelight in general. "I have two tall torchieres that bounce light off the ceiling, and everything else is candlelight." For a time she used real candles but eventually switched to electric-powered Luminara candles. "They are fabulous. They are wax, and they look like real candles—the flame flickers and moves. I used to have to go around and light all of these candles, but that took too long. So now I have my little remote control and I light them all at once."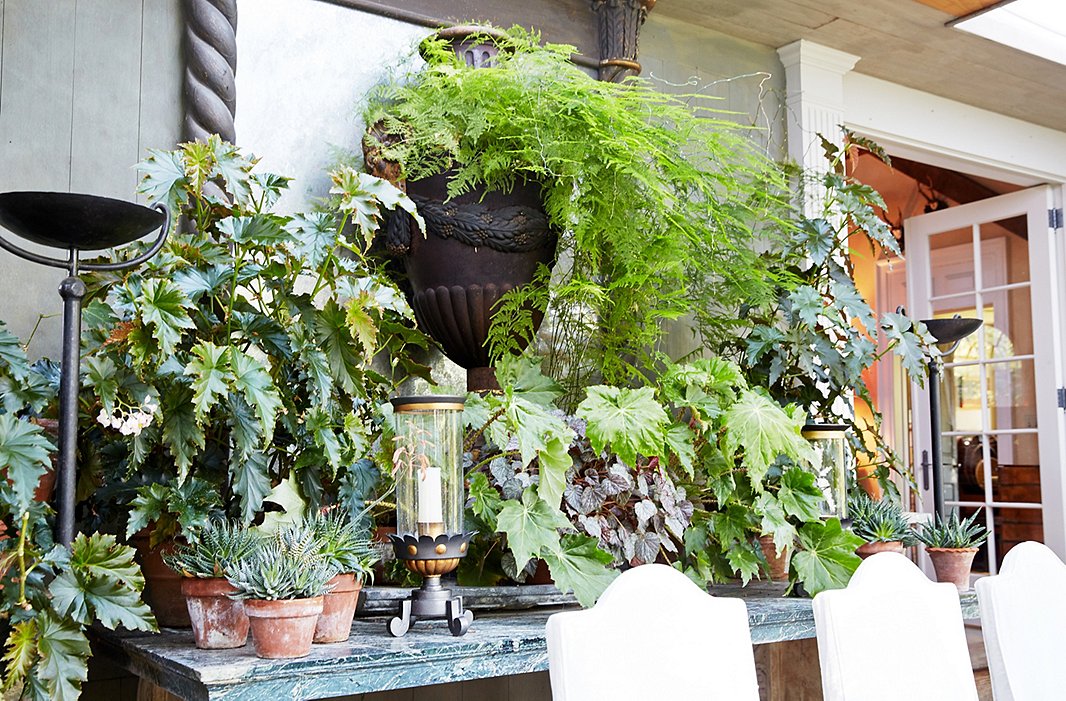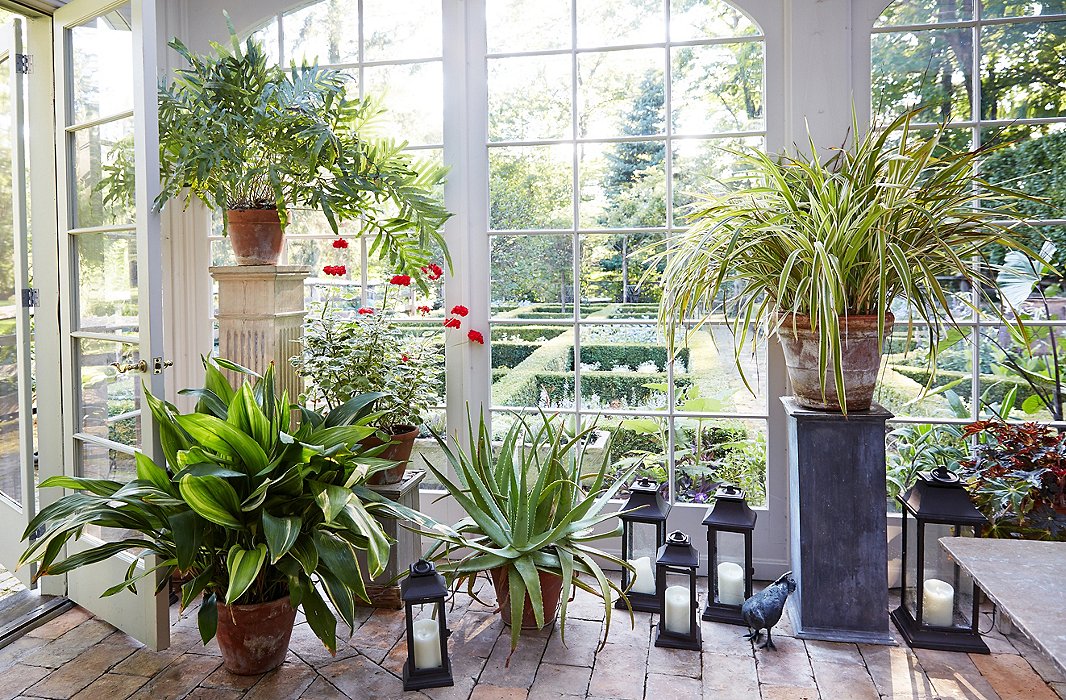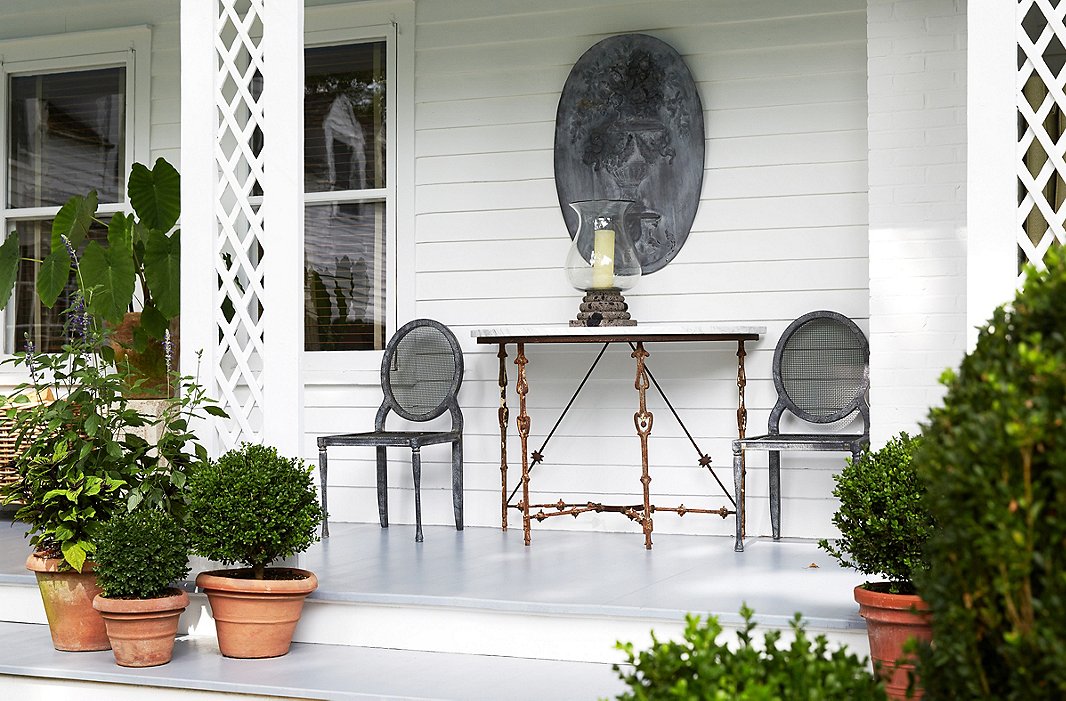 There is nothing better than to go outside on a beautiful day with your scissors or your clippers, the dog lying there on the grass—it's fantastic.