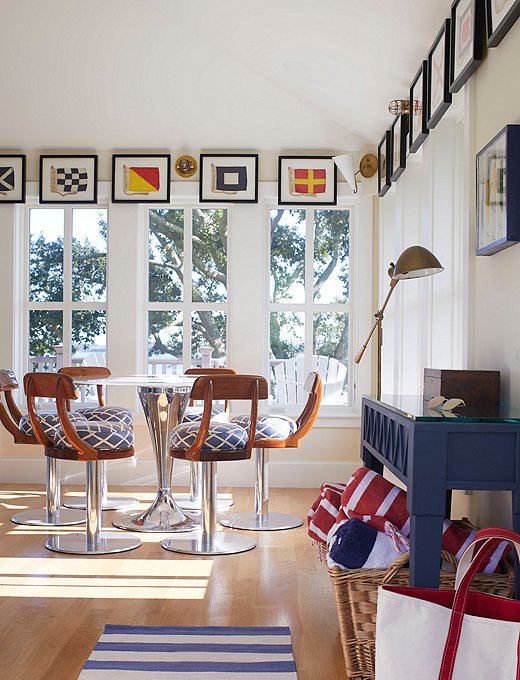 For many, Cape Cod is a restful haven, offering up serene seaside views and the opportunity to slip into a summertime of New England ease. Such is the case for designer Lisa Hilderbrand's clients, who have been vacationing on Pleasant Bay every summer for 20 years and were looking to put down roots in the area. After keeping tabs on the market, they finally found their perfect home: a large waterfront residence situated on three grassy acres with a guesthouse on the shoreline.
For the guesthouse, and the space above the garage they refer to as the "party barn," the directive for Lisa was to play into the nautical vibe of the Cape while making it comfortable for their family and the constant stream of guests that visit all summer long. "My intention for this house—and every house—is to create a classic home with its own distinctive personality that feels welcoming and not overly decorated," Lisa says.
Read on to hear more from Lisa and how she mixed new, vintage, and custom pieces to create this wonderfully nautical home.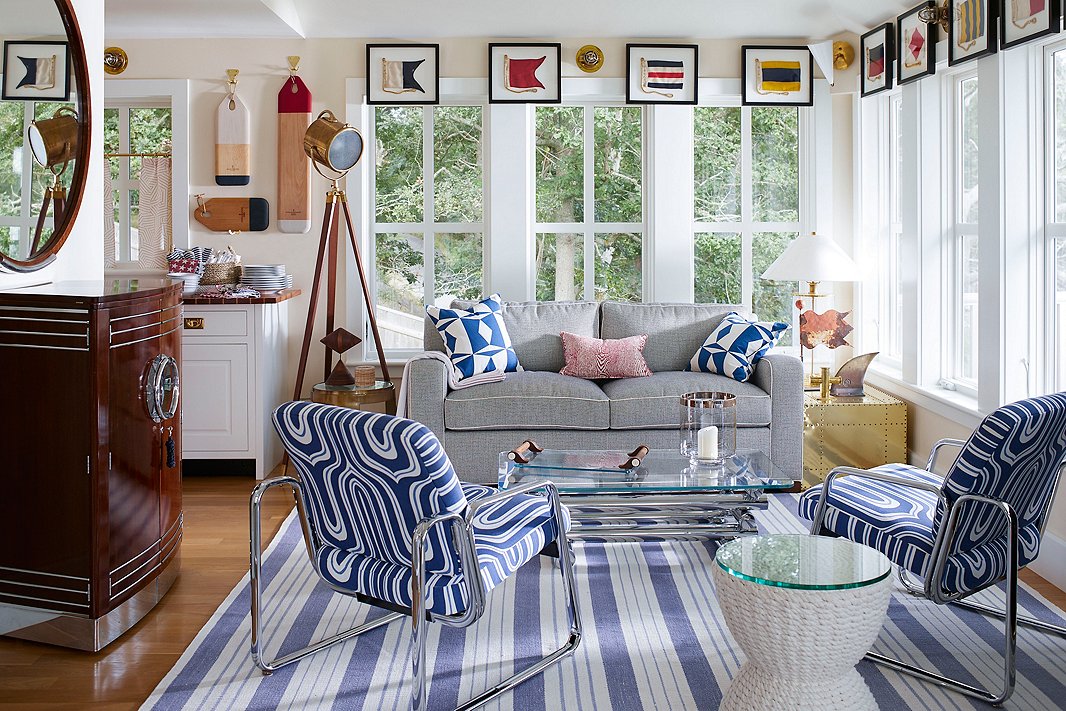 That the property has a waterfront guesthouse is a novelty, since homeowners are no longer permitted to build that close to the coast in this area. The clients completely renovated the interior but kept the architectural footprint of the structure the same so that it could remain in its seaside spot. Once the construction was complete, Lisa set out to dress the interiors. "Aesthetically, we wanted a classic, nautical, old-school yacht-club vibe for the space," she says. "We didn't want it to be a miniature or downgraded version of the main house, which is slightly more formal. It needed to have its own personality."
The guesthouse functions as a second home for summer visitors away from the main residence. Multiple bedrooms make it suitable for families with kids, and the ample living room and dining room seating allows groups to gather for cocktails after a day at the beach.
Above the garage, which sits away from the house and is connected by a breezeway, is the party barn—a hangout and sleeping spot for the many teens and college kids who come in and out with the clients' children. It's meant to be a space for spreading out and relaxing—and perhaps making a little more noise than is encouraged in the main house. Fittingly, everything in the space is sturdy, durable, and comfortable. "We didn't want it to seem like just a room above the garage," Lisa says. "We wanted it to be nicely put together."
To create the roomy yet cozy look her clients craved—and to pull off the classically nautical vibe they were after—Lisa leaned into her background in auctions and antiques, sourcing vintage and authentic nautical finds all over the east coast. "I love hunting for interesting things that don't come off a container and aren't mass-manufactured," Lisa says.
The set of vintage framed nautical flags lining the main room in the guesthouse, which are from a shop in the Hamptons, served as a strong centerpiece and jumping-off point for the space. "They fit perfectly and really changed the character," Lisa says. From there, she layered in lighting and seating salvaged from ships with plenty of pieces in blue, red, and white.
Several midcentury and Art Deco scores add an unexpectedly modern layer. The living area features a coffee table with a chrome base, chrome armchairs reupholstered in a mod fabric, and an Art Deco chrome-mounted mahogany bar. Lisa was particularly excited to stumble upon the bar: "It had to be restored, but it's my favorite piece. It looks like it could be on a yacht."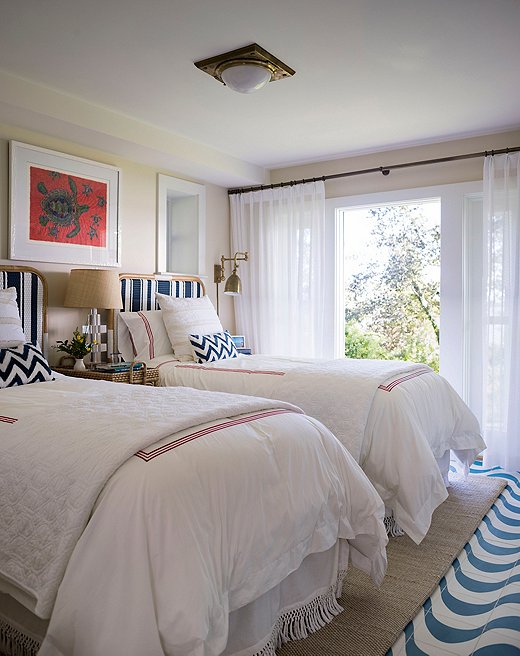 My intention for this house—and every house—is to create a classic home with its own distinctive personality that feels welcoming.