For a year and a half, jewelry designer Jennifer Meyer spied on this home going up in her Santa Monica neighborhood. "I kept passing it and looking at it and looking at it and thinking, I don't know… There's just something about that house. It kept pulling me in," she says. "When it was finished I was in love and knew it had to be mine." The rambling two-story beauty was new but soulful, filled with enough natural light to make sunglasses inside seem reasonable.
It needed to be a functional family home for Jennifer and her two kids, Ruby, 10, and Otis, 8, but she still wanted it "decorated in a way where everything felt clean, not fussy, but rich in texture and color." So for the first time in her life, this designer enlisted the help of a designer. Two, actually: her friends Louisa Pierce and Emily Ward. The pair make up on-the-rise design duo Pierce & Ward and have developed a rock-and-roll following for their rich, layered style that flirts with Southern sass and effortless Cali sex appeal, a testament to their splitting time between Nashville and the West Coast. "I was nervous to work with friends, but I was really nervous to work with a designer because my tastes are so specific," Jennifer says. "But Em and Louisa just got me. They were on point with everything."
To lend a hand with the sourcing of some special pieces, Emily and Louisa tapped One Kings Lane Interior Design. Together the trio, with a little help from their friends at OKL, pulled off that most elusive of design goals: the sleek, chic family home.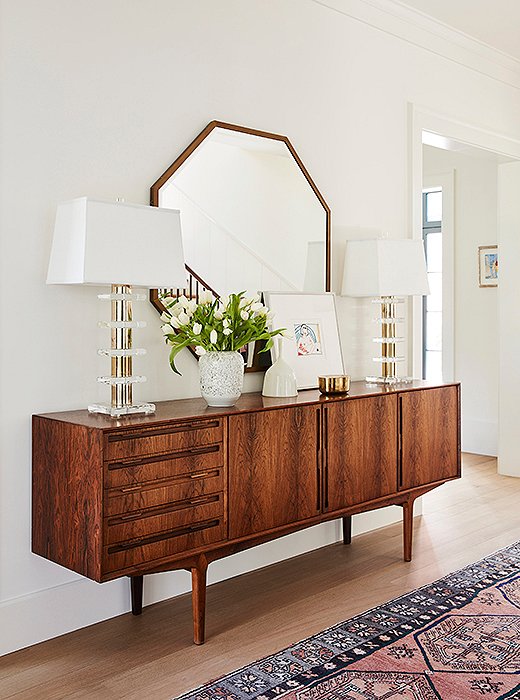 First Impressions
"The way you walk into the house—the entryway alone—sets the tone for the rest of the style of the house," says Jennifer. Throw open the front door and light streams in, dappling the vintage Tabriz runner. Like a "Walk This Way" sign, the pink-and-blue runner—just the right amount of faded—draws you inside. Working with an extra-wide entryway, Emily and Louisa had ample space to pull together a simple vignette, which looks crisp and streamlined against clean white walls (a common theme in Jen's house) painted Benjamin Moore's Swiss Coffee. ("We're for ivory over bright white—always," says Louisa.) Two Lucite-and-brass lamps top a Kurt Østervig for Jason Möbler sideboard, creating subtle symmetry, while an octagonal mirror round out the mini moment.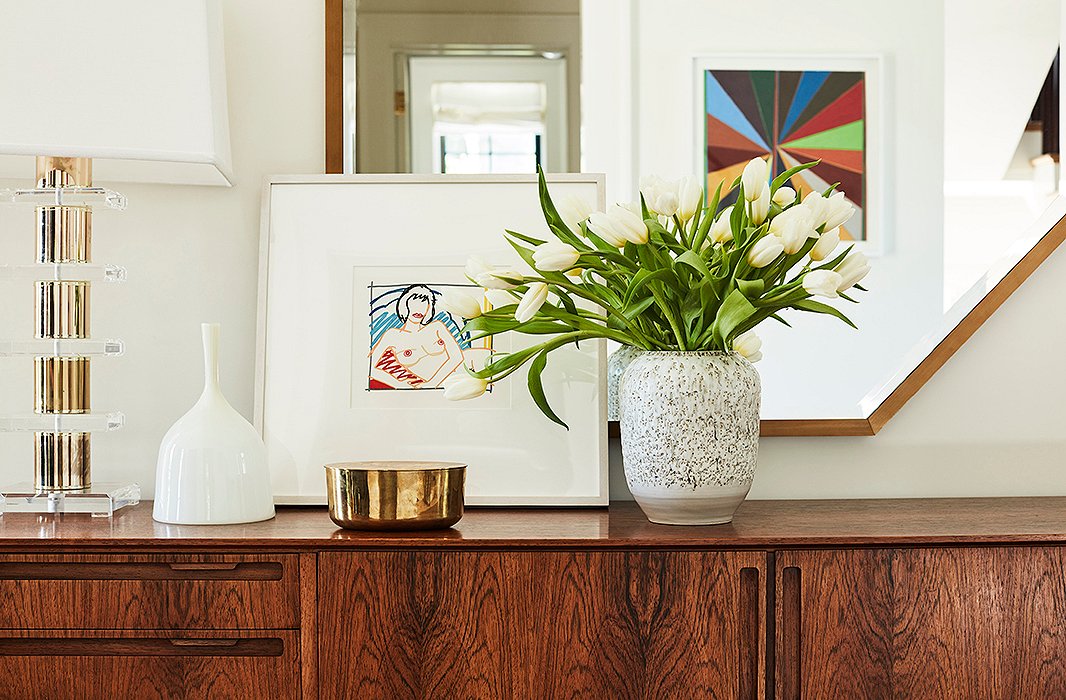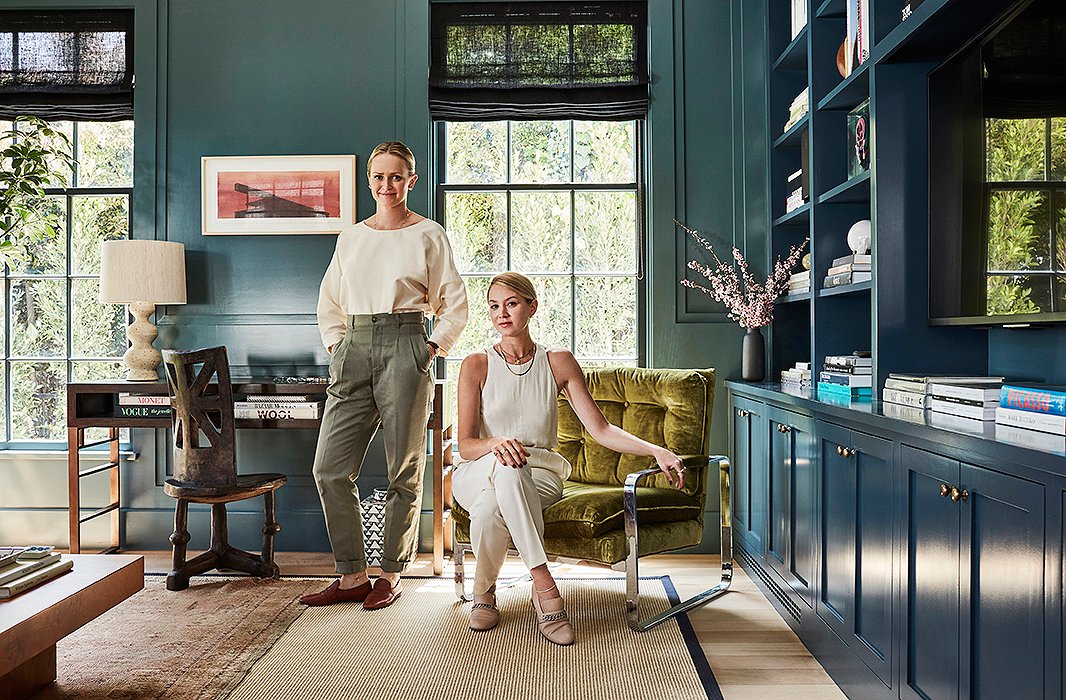 Designing Women
Introduced one night in a bar in Manhattan's East Village, Emily and Louisa developed an intense and immediate BFF-hood. After they both landed in Nashville (Louisa's husband is a Rolling Stone editor, and Emily had been hitched to Black Keys drummer Patrick Carney), "spending days rearranging each other's furniture" and receiving some gentle kicks in the butt to "just do it already" by mutual friends, the two launched their design company. And what a launch: One of their first projects was the quirky English-cottage-inspired home of model and singer/songwriter Karen Elson, followed soon after by the pad of Kings of Leon frontman Caleb Followill and model Lily Aldridge. Nashville royalty, in a nutshell.
"I first met Pierce and Ward years ago—Emily first, actually," says Jennifer. "We were thrown together during a family-and-friends vacay to Hawaii," says Emily with a laugh. "And we pretty much fell in love at first sight—we were crying-laughing in about half an hour. Jen's my big-little sister. A best friend." Back then, Emily was considering dipping a toe into interior design with Louisa, and Jennifer was nothing but encouraging. Fast-forward to Jennifer landing her dream home. Pierce & Ward now had a burgeoning portfolio and a honed style sense. "I'd been seeing the stuff Emily and Louisa had been doing, so when I purchased this home, there wasn't even a question that they would do it," says Jennifer.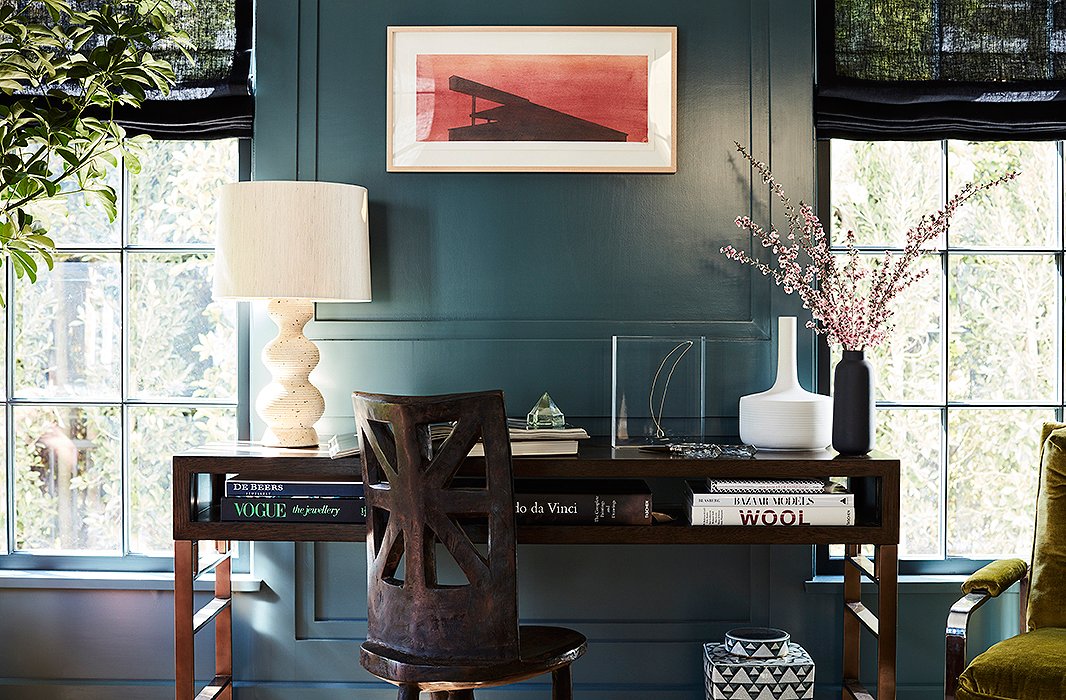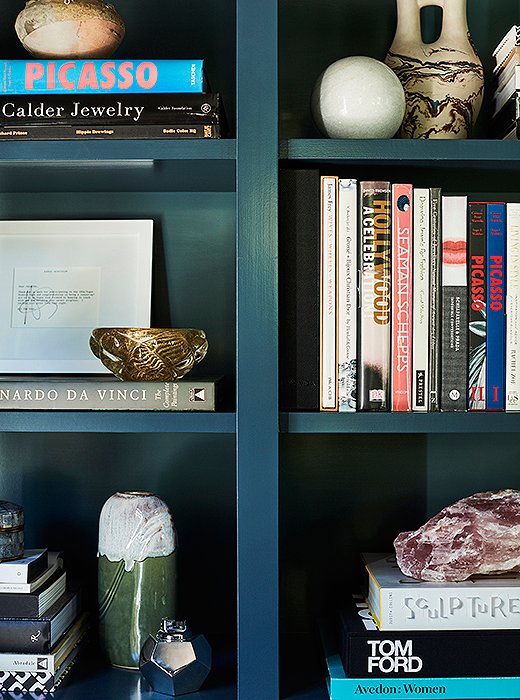 Creative Force
In the office, a tableau of pieces with architectural silhouettes pop from the backdrop of the Farrow & Ball Inchyra Blue-painted walls. "Often our clients don't have strong opinions," Emily says. "But Jen approved everything down to the paper towels. She holds up a mirror to everything and really knows what she likes and doesn't." Her practiced designer's eye helped curate spontaneous visual feasts such as this, where pieces including an ivory triple-gourd lamp and a three-legged Makonde chair work in tandem.
I caught the bug doing this house and really had to hold myself back because I could have gone crazy on pottery, vases, glassware, tableware, and pillows. Right now I'm like, I don't care about clothes, all I want to do is buy house stuff all day long!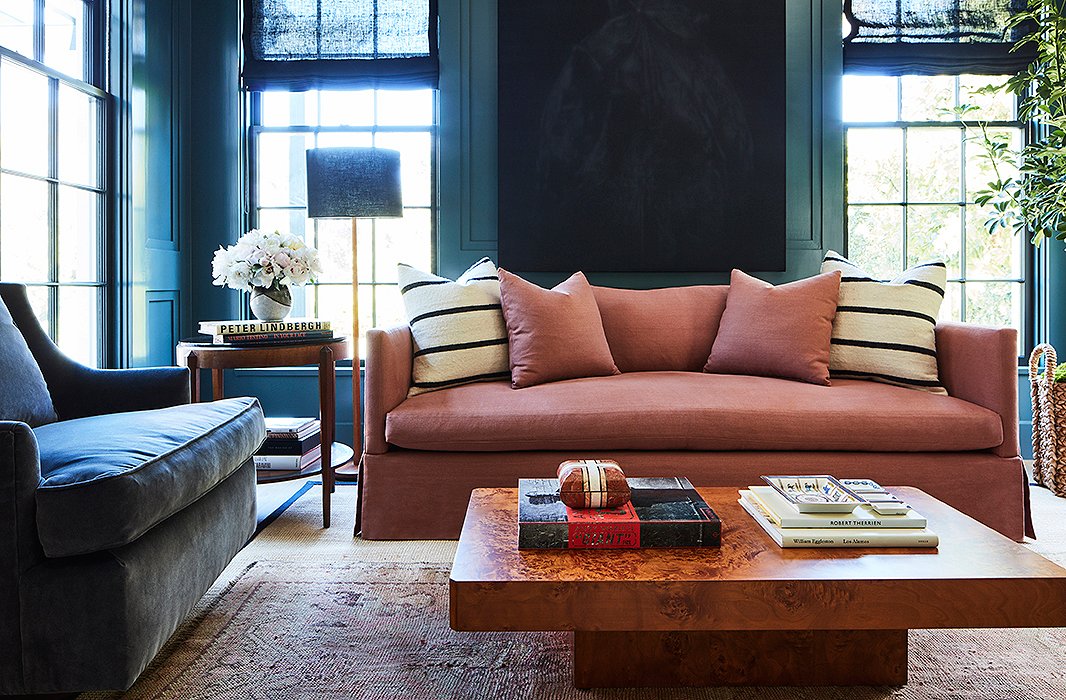 Hang Time
"When designing this house," Jennifer says, "it was most important to me that it felt like a home—that it didn't feel too precious, that it felt cozy, and that each room was a place my kids could play." This desire perfectly gelled with the designers' ethos: "We try to create spaces that look like the person has lived there forever," says Emily. "We want them to feel really comfortable but so fresh."
When it came to the den—well lit but snug, and tucked into a back corner of the house—"I wanted an oasis," Jennifer explains. "A little home away from home within your own home. A place where you could cozy up and have some privacy with your girlfriend but also do work and get on the phone and get stuff done. It's not my man cave; it's my female cave." She and pals—male and female alike ("It's a testament to the design when the women are in love and the men are in love," she says)—kick back on the couch, and "nobody wants to leave."
Emily and Louisa figured out the balance between the masculine and the feminine to make it feel cozy and beautiful but with this incredible edge to it.
Dining In
The first thing that strikes you when stepping into Jennifer's dining room is the light—it positively glows, with windows looking out on the front yard and multiple sets of French doors opening out to the back. The second thing is the size. Jennifer's dining table (walnut, one of her favorite woods) accommodates 12 sleek chairs on a huge overdyed rug, so perfectly worn that it functions as a neutral. On the wall hangs a painting by art-phenom Alex Israel, a collaboration between him and writer Bret Easton Ellis for the Gagosian Gallery. "I bought the painting a year ago," says Jennifer, whose passion for art was initiated by her dad, who'd take her to museums and galleries on weekends. "But I didn't know where it would go—where it would live in my life. And it's as if it was made for the wall in the dining room. I lucked out."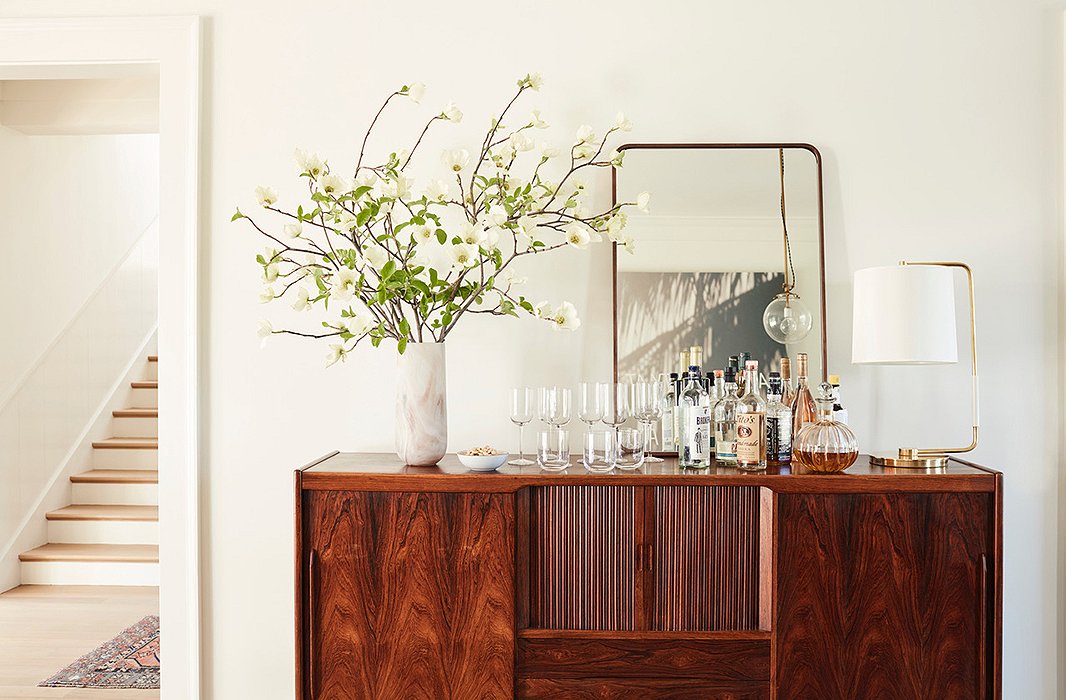 Entertaining Essentials
"In a dining room you need a table and chairs, of course, a rug to define the space, a buffet because it's nice to have storage, and lamps to make it moody," says Louisa. Though this buffet isn't a twin of the sideboard in the entryway, with their color similarities and slatted doors the two could easily be cousins—leading to a cohesive, pulled-together flow that carries from one room to the next. A vase of blossoming branches (an easy for even the black thumbs among us) riffs off a table lamp on the other end, a piece Emily and Louisa consider a design staple. "We're constantly saying, 'What can we use there? A lamp!'" says Emily. "You can never have enough lamps!" Especially in a room primed for frequent nighttime use, where Jennifer plans to "have a lot of big, long dinners and do what we do best—which is eat."
I am happiest at home when the house is full and loud. When my friends are over, when my kids are here, when their friends are here, and a bottle of wine is open. My heart is full when that's happening.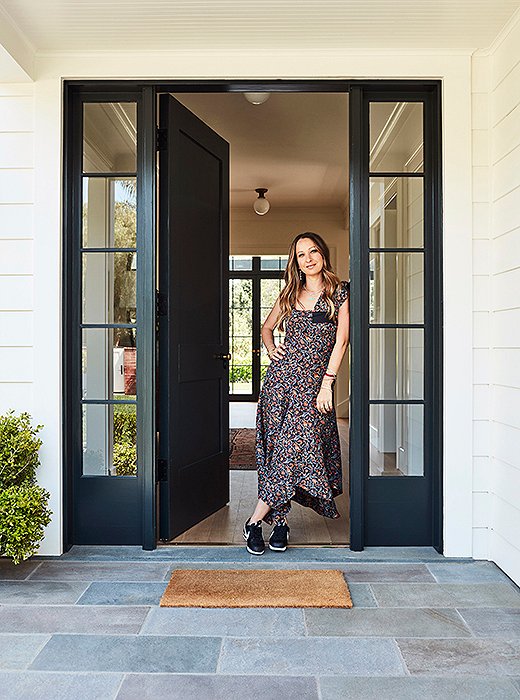 Jennifer Opens Up Her Little Black Book to Los Angeles
"I love so many places in L.A. One of my favorite spots is florist Eric Buterbaugh's gorgeous new perfumery, where he sells perfumes, candles, and flowers. It's this great garden spot, and if you go in to shop they give you champagne and it's the perfect little place to hang. John's Garden is a great sandwich place in Malibu—delicious. If you're going to Malibu definitely do that. If you want a beautiful drive up the coast hit Neptune's Net. It's not fancy at all, but it's the best fish you're ever going to have. If you want something fancy, go back down to Nobu in Malibu, which is right on the beach, and the food is incredible. Very fancy but worth the splurge. My favorite Italian in Los Angeles—in the world, really—is Giorgio Baldi, which is in Santa Monica. Get the sweet-corn ravioli and you will not be disappointed. And you know I love the Santa Monica Pier; that's a great place to go with your kids. There's a little something for everybody."